Mii Amo Spa in Sedona, Arizona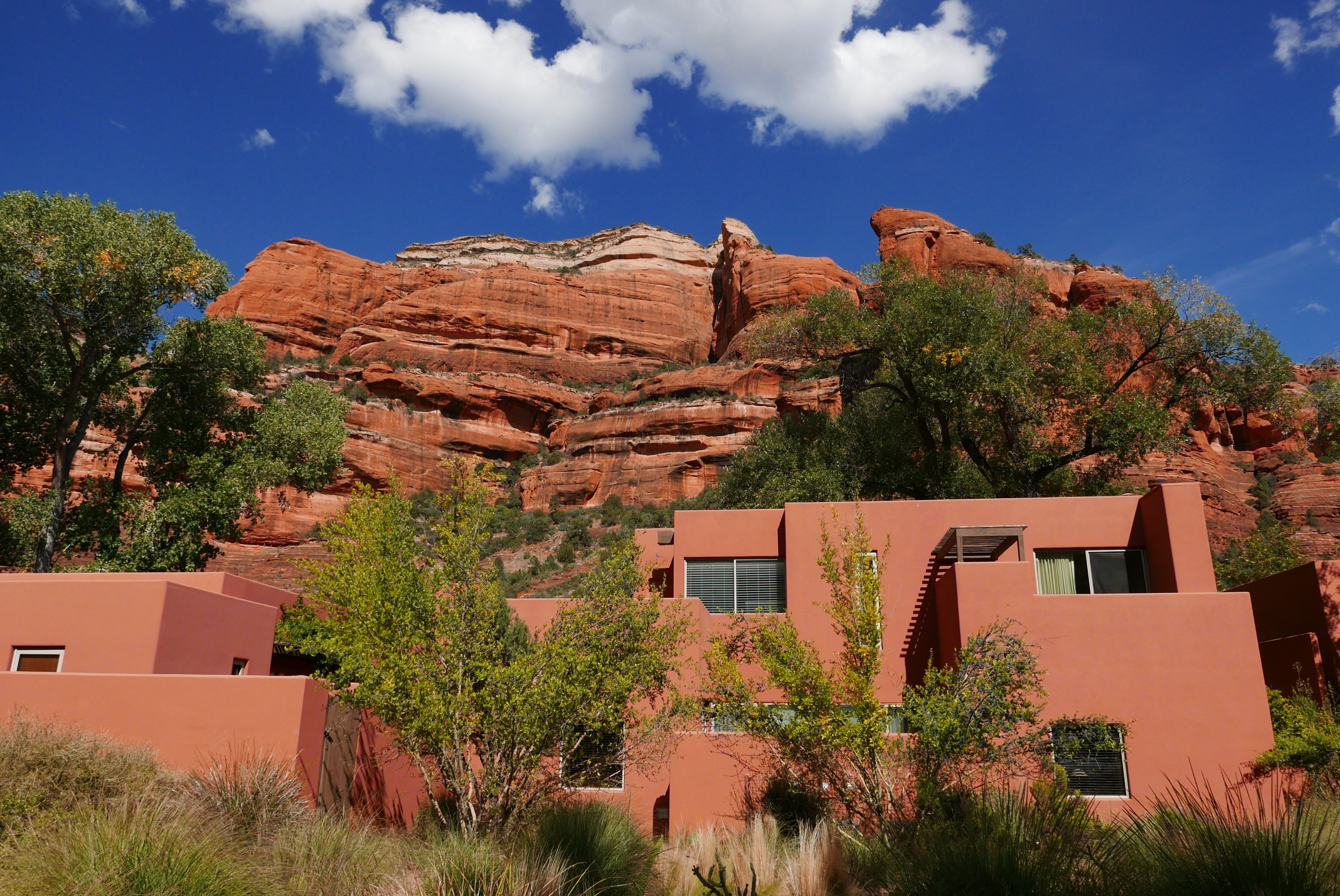 At an elevation of 4,500 feet, Sedona's arid air flows thin. It is a two-hour drive north of Phoenix to get here, through Arizona's canola-yellow grass plateaus and vistas dotted with saguaro cactuses, their spiky arms stretched skyward as if in catatonic yoga poses. The high desert approaches unmistakably in the form of red rocks.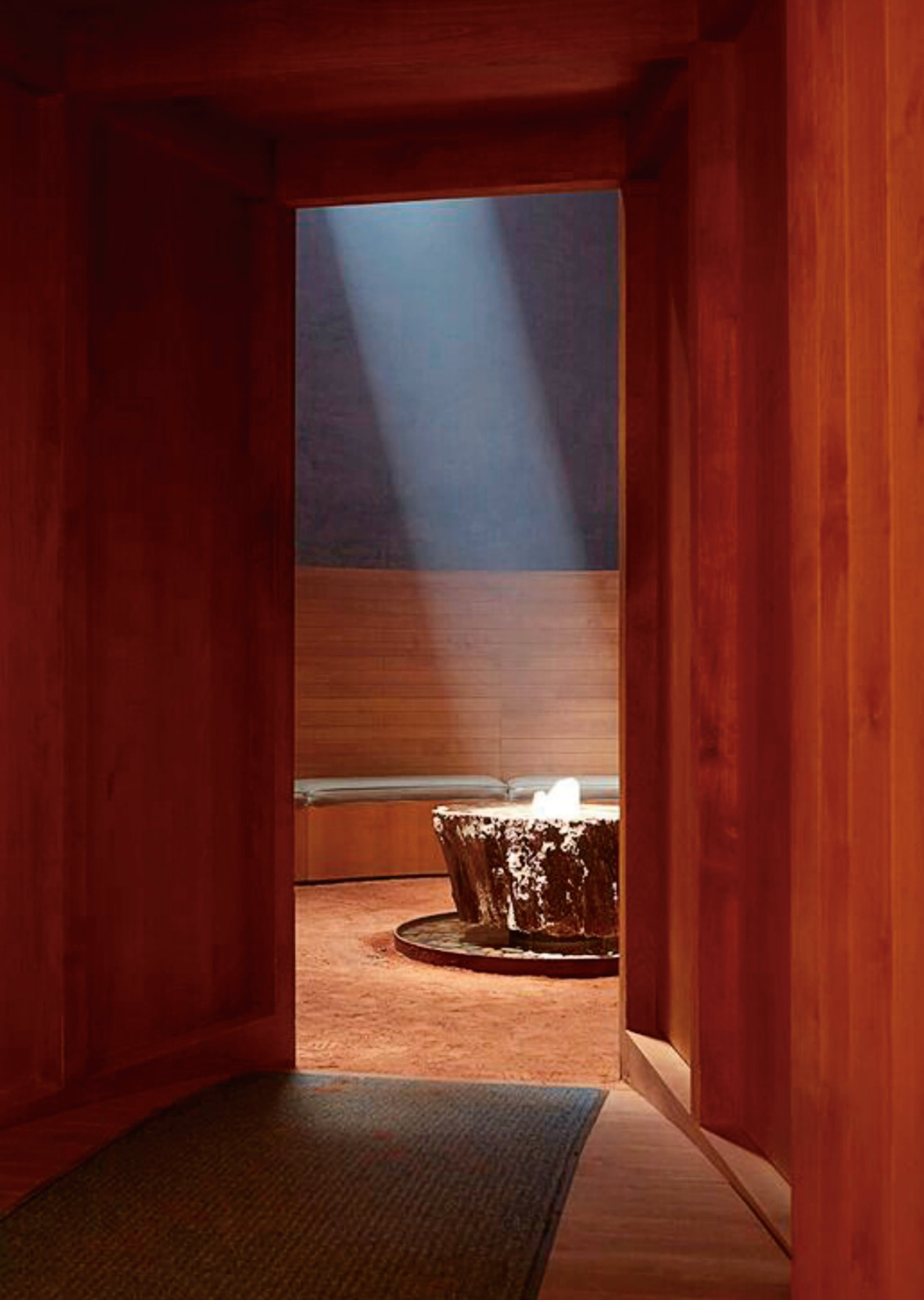 Sedona is sometimes called Red Rock Country for those geological monoliths that oscillate between burnt umber and crimson, and layer in mesas and spires. They are also said to magnify healing properties in the human body by connecting with chakras. Buildings are painted in colours that complement the terrain and only here will you find the McDonald's golden arches painted not yellow, but turquoise, due to city code. Sedona is also a mystical area, which seems to inhabit its own dimension altogether and attract those seeking spirituality along the way. (Immediately noticeable in places like the Center for the New Age, which promotes Vortex Info, UFO Tours, and Psychic Readings on its windows.)
Sedona is a mystical area, which seems to inhabit its own dimension altogether and attract those seeking spirituality along the way.
"Look up," says Komala Rhode, nodding toward the cliffs of Boynton Canyon. "Thousands of years ago, these rocks were buried beneath water. But still, they stand strong." Rhode is an an energy worker at Mii Amo, a wellness destination spa and resort set upon 70 acres of private land in Boynton Canyon, adjacent to endless acres of protected park. She is leading me in a meditation class on a patch of land imbued with energy: it is one of four places in Sedona famed for its spiritual vortices, which are storied sites of concentrated energy that draw some skeptics, but many believers. Associated with the special energy of ley lines—ancient "paths" in the landscape with spiritual significance—Sedona's majestic Cathedral Rock, Airport Mesa, Bell Rock, and, yes Boynton Canyon, are all considered major sites for those seeking a heightened sense of spiritual connectivity.
Mii Amo is a resort like no other. Accommodations are composed of 16 luxe casitas, built in an Anasazi adobe style and tucked away beside a big brother resort called Enchantment. It is a boutique offering outfitted with an excellent restaurant, café, fitness rooms, pools, and a spa that has ascended to legendary status for treatments that range from intuitive massage and body wraps to past-life regression and hypnosis. The spa attracts gifted therapists and healers, just as the resort attracts repeat guests.
Purchased by Enchantment Group in 1995, the land upon which Mii Amo resides passed through the hands of many private owners—a Montana rancher, the literary secretary of western novelist Zane Grey, and tennis legend John Gardiner to name a few. Gardiner's legacy is visible today in the numerous tennis courts set upon the scenic valley floor, but the property also takes cues from the area's original inhabitants: the Yavapai-Apache people, who consider the canyon the very site of their creation story.
"We do not take our location in Boynton Canyon lightly," says Bruce Grosbety, managing director at Enchantment Resort. "We work with local tribes to protect the canyon as a sacred location and have developed the Boynton Canyon Preservation Fund, dedicated to honouring and preserving the canyon." A portion of the fees gathered from activities goes toward that very cause, and Enchantment employs an in-house Yavapai-Apache program director.
It doesn't take long to realize that you're a guest on hallowed ground. "Most people don't sleep well on their first night," admits a café staffer, tossing chunks of fresh ginger into a juicer. "They just feel something different. It can take a few days to adjust."
Mii Amo comes from a Native American word meaning pass or move forward, and its dedication to holistic wellness is incorporated into every aspect. A welcome ritual allows you to set the intentions of your stay—called your Journey—in the dimly lit Crystal Grotto, seated among the healing energy of quartz stones and a raw red-earth floor. Each Journey includes a series of spa treatments that address mind and body. An energizing, limb-pretzelling Thai massage takes place on a traditional Thai floor mat; a signature facial finishes with a light polish of mineral makeup. The exfoliating Anasazi Ubtan body wrap borrows from Ayurvedic traditions and purifies the body with apricot seed oil, over which a dry powder of desert chaparral, juniper berry, corn silk, hibiscus flower, and clay is dusted. The fragrant rub smells like the spicy layer of a cinnamon bun and rinses to reveal skin like silk.
Mii Amo comes from a Native American word meaning pass or move forward, and its dedication to holistic wellness is incorporated into every aspect.
As sumptuous as the beauty services are, it's Mii Amo's menu of spiritually therapeutic treatments that distinguishes it among wellness aficionados. It's also the ideal place to try out colour therapy.
Aura-Soma, as it is known, is a method of healing created by apothecary expert Vicky Wall, an English clairvoyant who was endowed with a "second sight". Blindness struck her in the 1980s, but did not affect her ability to see auras, and around that time she developed the Aura-Soma Equilibrium range using plant and crystal extracts. Wall believed that when people gaze upon the varied hues, their own vibrations are mirrored in various frequencies of colour, allowing them to access ancient parts of themselves in a process of self-discovery. Only certain therapists can perform the readings and Bhakta Ruttiger, who has studied Aura-Soma for 28 years, is one of them.
"Take your time," she instructs softly. "Narrow your gaze." I stand before a wall gleaming with 102 bottles of bi-coloured oils. "Choose the colours that call to you." My fingers reach for a vial of light and dark pink, never shades I normally gravitate to. I tentatively select three more. When we sit down to discuss my choices the reading is intimate and humbling, similar to a horoscope that uncannily hits the mark. Using metaphors—a tree full of cherry blossoms, a dark winter—Ruttiger pinpoints exacting traits from my past and personality.
Early one morning I stroll to nearby Kachina Woman, a sacred rock formation in the Red Rock–Secret Mountain Wilderness reserve beside Boynton Canyon. As sunrise illuminates far corners of the valley, I spot two, three, four hot air balloons lifting silently against a tapestry of Sedona colours.
Descending in a cloud of the canyon's butterflies I feel at once buoyant and grounded, treading carefully through sparkly red sand and prickly pears blooming with magenta flowers. And all is well.
Spa photos provided by Mii Amo. For travel information go to VisitArizona.com.
_________
Never miss a story, sign up for NUVO's weekly newsletter, here.