Fresh's Vitamin Nectar Face Mask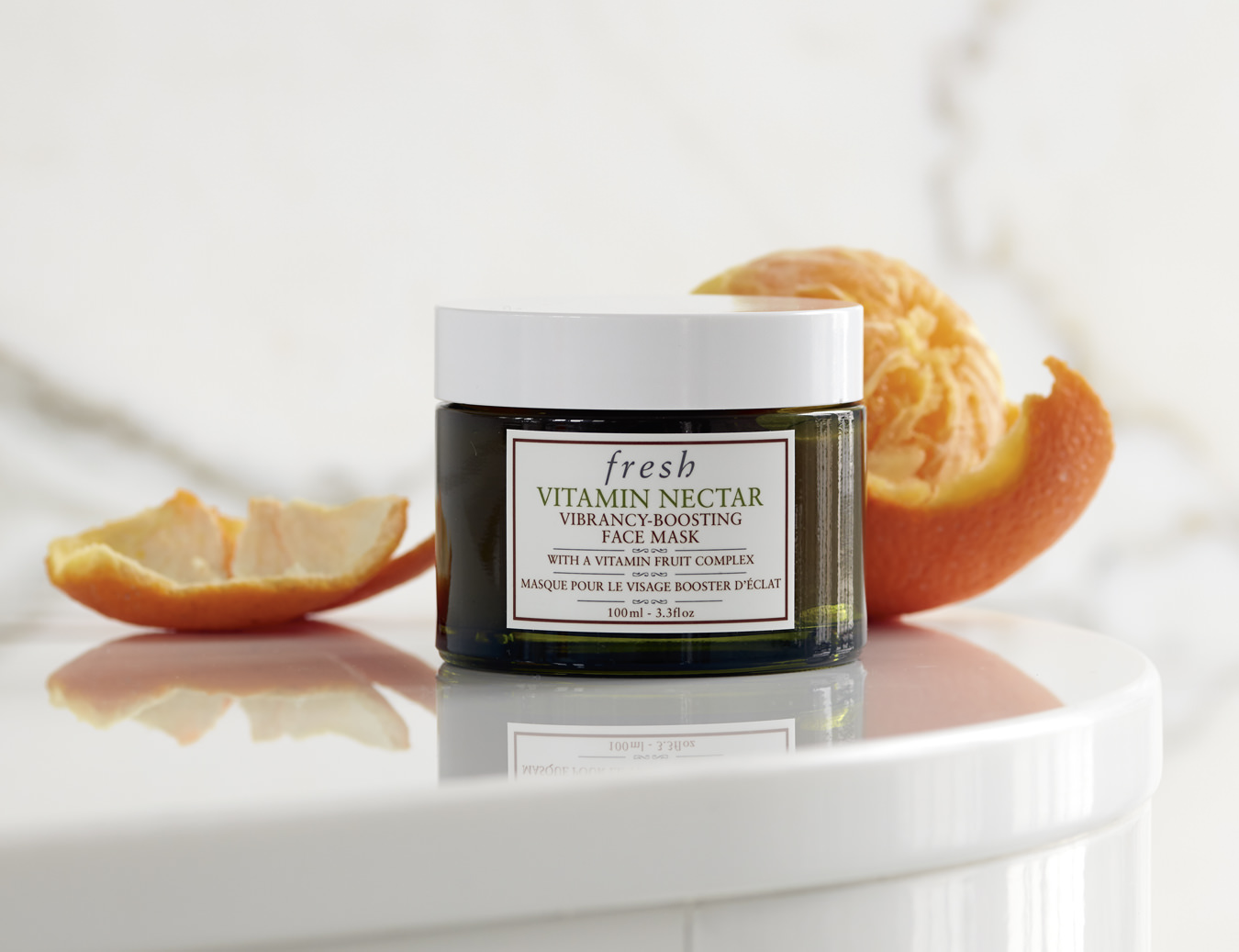 In the fast-evolving world of skin care, face masks are having a golden moment. But with so many brands, ingredients, and labels touting benefits, it's easy to get confused. There is a steady stream of eyebrow-raising novelties out of Korea; meanwhile, other products carry on the farm-to-table ethos, such as Fresh's new Vitamin Nectar Vibrancy-Boosting Face Mask. Until recently, masks were an underappreciated component of skin care routines. Used twice or three times a week, a good mask can go a long way in drawing out impurities and brightening dull, tired skin.
"I'm a maskaholic," confesses Lev Glazman, co-founder of beauty brand Fresh. "On a Saturday I have free, I use a lot of masks on my face. Each mask addresses particular issues." The key, as Glazman points out, is to make masking routine. "The same way I take vitamins, I mask daily. My morning ritual is I get up, drink water with lemon, take my supplements, and mask."
Fresh, the company Glazman and Alina Roytberg started with a bar of soap, is celebrating 25 years in business. In honour of this milestone, Fresh released the Vitamin Nectar Vibrancy-Boosting Face Mask, a highly concentrated medley of crushed oranges, lemons, and clementines (harvested in the Mediterranean). The mask has the sensory appeal of tea time marmalade, but comes loaded with antioxidants. The paste is so pure, it's edible in its raw form. The fruits' natural alpha-hydroxy acids (AHAs) dissolve dead skin cells, while the ground rinds slough skin smooth.
Used twice or three times a week, a good mask can go a long way in drawing out impurities and brightening dull, tired skin.
Glazman has been experimenting with food as skin care since he was a little boy—putting fruit and whatever else he could find on his face. Unbeknownst to him, this predilection would last long into adulthood and would even shape his career. Fresh has grown steadily into the powerhouse it is today (the number one–selling cleanser at Sephora is the Fresh Soy Face Cleanser) with a range of skin care, fragrances, hair care, and even candles. The company was sold to LVMH in 2000, a move that gave Glazman and his team full autonomy paired with state-of-the-art resources.
Each Fresh product has been created from a personal need, not "as a result of a focus group or marketing research," states Glazman. "The exploration of the idea of Vitamin Nectar was in my head for years. [My question was] how do you apply supplements to your skin the way that you would ingest supplements?" After four years of research and development, Glazman et al. at the Fresh Research Lab on the LVMH campus outside Paris have managed to do just that. The Fresh Vitamin Nectar Vibrancy-Boosting Face Mask consists of 50 per cent citrus fruits also fuelled by the proprietary vitamin fruit complex, a blend of vitamins C, E, and B5; lemon and orange extracts; and revitalizing minerals. "We are diving full force into the world of vitamins," says Glazman. The Vitamin Nectar mask is the first of an entire line of Vitamin Nectar products that will be unveiled in the spring.
Vitamin C is a familiar ingredient in skin care and there are products on the market that use fruit, but "there is no product out there where 50 per cent is made with real food," asserts Glazman. "It doesn't exist. What we are giving you is a magnified effect of vitamins that you apply on the skin. The point with any Fresh product is to have a high amount of active ingredients." Fresh claims that during testing, the mask improved participants' skin glow by 30 per cent after just one use—unprecedented efficacy for a wash-off product. I tried it and now use it. You might say that Vitamin Nectar is my jam.