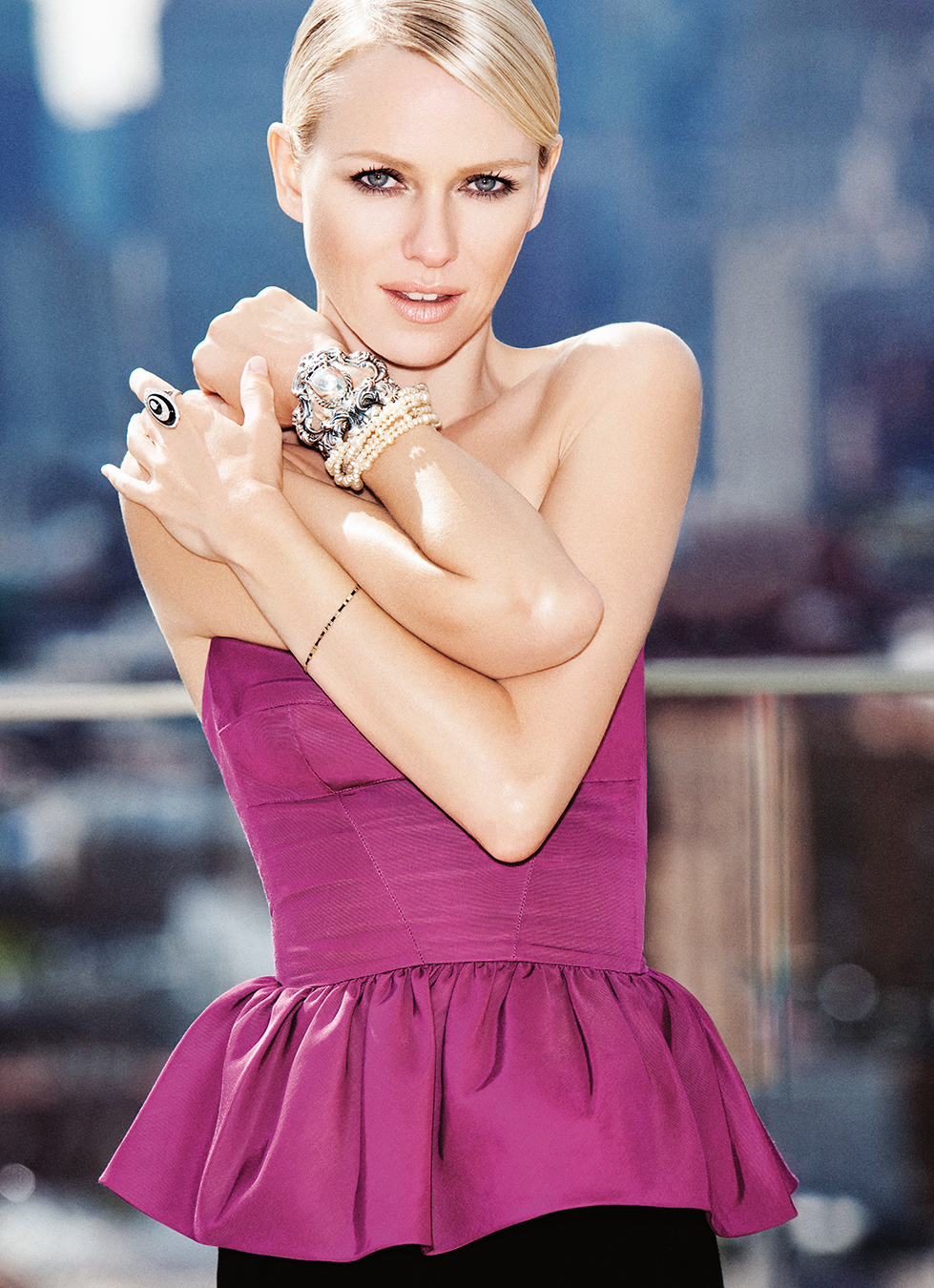 The bright, brisk Manhattan afternoon gently hints at the season to come, leaves yet to turn and squash soup only recently appearing on menus. Coming down a few well-worn wooden stairs leading off of a quiet NoHo street is Naomi Watts, back-lit and bustling. She brightens the room, even if she is not in any obvious way a movie star but rather an articulate, thoughtful mother of two and partner to fellow actor Liev Schreiber.
There are the readily available facts about Naomi's move from England to Australia at a young age, and her struggle with relative obscurity in a profession that rarely opens its doors to stardom. Her relationship with Nicole Kidman, more friend than mentor if you add it all up. A classic big break, and a resulting body of work, that belies her supranatural ability to work at the height of her abilities within the structure of a team and under the eyes of directors and producers who have a lot of options but consistently come to her with roles to play.
Her film count is more than 20 and rising. The roles are notable for their almost wild, random variety: the protagonist in a preternaturally scary remake of the Japanese horror film The Ring; her strong role underpinning the dramatic mosaic of Eastern Promises; the parts in distinctly French-flavoured films shot over the years ("I have a soft spot for French film," she says); the intelligent and sensitive leading lady slapsticking her way into the heart of King Kong; the character with the kinetic energy in 21 Grams that earned her an Academy Award nomination for Best Actress; her breakthrough role in David Lynch's Mulholland Drive; her role in an upcoming Woody Allen film, yet to be officially titled. If there is a discernible common link, it is that she seems to always find a way to make a real connection with her fellow actors, to relate to the material, and to convey a certain smart, tough-minded, yet somehow vulnerable, quality that audiences connect with. For Naomi, it is also essential that "the characters I play show some growth." It is a little like the brightest moments of Kim Novak's performance in Vertigo, or Tippi Hedren in The Birds, and even Grace Kelly in Rear Window. Not surprising at all, then, that a rumoured remake of The Birds may see her reprising Hedren's performance.
The Hitchcock theme is purposeful: he was an auteur through and through. And, for Naomi Watts, "film is a director's medium." She pauses, affirms the idea. "I truly believe that. To share a film with them is a privilege. Actors are there to facilitate the director." Having said that, the director is not the only motivation for accepting a role. "The script is vital but also who the other actors are, even where the filming will take place, how long the shoot is, the paycheque—it all factors in. Still, I'd be rubbish in a film if I didn't like the role."
The choices, the options, are plentiful now, but it was not always so. "I nearly quit this profession several times, when I was in Australia and even after I had moved to California," she says. "But at each turn, just when I thought it was over for me, something would come along, and it would keep me going. It was a period of castings and auditions leading to nothing. I was desperate to get a meeting with the assistant of the assistant casting director or something in the early days, but after my big break, everything changed."
That big break was David Lynch and his offer to cast Naomi in what was originally a television series pilot. Lynch had already achieved cult success with the TV series Twin Peaks, and with Mulholland Drive, he challenged the network powers that be to the point that they decided to not air the pilot at all and cancelled options for the series. "Some friends and associates of David's told him there was a feature film there [with Mulholland Drive]," says Naomi. "All he needed to do was shoot a few more scenes to create a conclusion. So he did. We did those scenes nearly a year after we had wrapped the first shoot." She pauses; the immense, apparent randomness of it all has obviously sunk in with her. "David casts his leading ladies by asking for a huge stack of publicity shots. He goes through them and picks two or three out of a stack of 200. He then asks to meet those two or three and makes his decision. He picked my photo out of that stack. He knows intuitively who he will like. When we met, he and I just chatted for a while, and he made the decision the next day."
"I nearly quit this profession several times, when I was in Australia and even after I had moved to California," she says. "But at each turn, just when I thought it was over for me, something would come along, and it would keep me going."
Filming with Lynch was a unique experience. "He obviously had the complete story in his head but kept things to himself. I remember when he would call, 'Cut!' and my character was in the middle of a naive, happy smile." She stops, puts on a broad smile, and claps her hands to her cheeks, demonstrating how impossibly cute the character was played in the early parts of the film. "I always knew the character was not at all normal, that she would turn bad."
Mulholland Drive had its world premiere at the Cannes Film Festival in 2001, and Lynch won the Best Director award. It was followed by an Academy Award nomination for Best Director. "That evening, after the premiere, things already had begun to happen," Naomi recalls. "It was literally overnight—offers started coming in for parts from agents wanting to represent me, all at a volume that tells me most of it was from people who had not even seen the film." Still, she returned to Australia and recommenced filming some television work. "It was strange, really. We'd be filming in the middle of nowhere, dust everywhere, the heat, and suddenly a bouquet of flowers from an agent would arrive, beautiful flowers there in an empty field, with a note telling me they loved my work and would like to represent me." She smiles at the thought.
The film opened a whole new vista in her career, and her next major role, intriguingly, was in The Ring, the film Gore Verbinski made before he launched the Pirates of the Caribbean franchise. "I did not think of it as a risk or a sellout at all. Nor did I think of it as potentially a big box-office hit," she says. "I'd like to say you know before you begin, but it's not really true."
There have of course been instances in her experience when the on-set chemistry has not worked, and those are challenges Naomi approaches with a professional eye. "I always know if the scene, or the way two actors are playing two characters, is not working. In that situation, I do try to take different approaches to my own character and see if there is a way through it. Sometimes, there is a solution. Unfortunately, sometimes the characters don't fully mesh, at least in terms of the choices actors are making, and that becomes very hard work." Yet the overwhelming evidence of her work to date suggests she is very adept at finding both the essence of the character she is playing and how that works within the context of the whole film. "When things go well on set, it is a wonderful thing. It seems to come together, and the experience of being an actor in those conditions is a wonderful thing." She has had her fair share of moments when, either during rehearsals or actual filming, a bit of alchemy transpires, and the scene goes to an unforeseen place and is better than anyone hoped. "But I have had the opposite, too, when things just don't seem to work, or happen almost begrudgingly. And then you just have to find a way to make it work."
It has been only one day since her appearance at the Toronto International Film Festival in support of her latest film, Mother and Child. It is an "issue" film, the issue in this case being adoption. It is not the first such film for Naomi, nor likely the last. She makes it clear, though, that "the issue may well be something I am interested in, or support in some way, but it still has to be a role I can work with. For Mother and Child, it was also a chance to work again with Alejandro [González Iñárritu], who directed 21 Grams, and with director Rodrigo Garcia, and that was important for me. I doubt anyone will make a penny on it, but it was a project I wanted to be involved with."
It is also only a few days removed from her London film shoot with Woody Allen. She is still abuzz with the excitement of it. "He is an icon, a legend. It was a thrill to work with him. I had been forced to say no twice before due to other commitments, but I was so happy he asked again. I kept the letter he sent me—you know, he still types them on his old typewriter, errors crossed out and all—in which he explained the character. " For an actor who values film as a director's medium, being part of a Woody Allen film captures a high point for Naomi.
"That evening, after the [Mulholland Drive] premiere, things already had begun to happen," Naomi recalls. "It was literally overnight—offers started coming in for parts from agents wanting to represent me, all at a volume that tells me most of it was from people who had not even seen the film."
Among the legion of opportunities to come her way since Mulholland Drive is her current work with designer Thierry Mugler. He was searching for a new face for his fragrance Angel and wanted Naomi Watts. "We had a rather short meeting, to be honest," says Naomi. "He explained what he wanted, and I was certainly flattered. And, you know, it surprised me somewhat." And here she looks downward ever so briefly, says, "You know, since I'm a bit older." Born in 1968, that makes her all of 41, and an extremely youthful and elegant 41; in this instance, Mr. Mugler has my vote. But it is an indication of how remarkably level-headed Naomi is about her profession, about the business realities of it, and how age is of course a factor in it.
Mugler, in fact, is almost effusive in his explanation of why Naomi Watts was his choice: "I was looking for an image of depth and sweetness, the kind that children carry along without second thoughts—a tenderness also combined with an absence of fear. Any kind of fear, of danger or judgment. Children can approach animals that way or talk to stangers without any consideration of race or age. The definition of innocence maybe. Naomi Watts characterizes this sweetness … The [Angel] campaign reflects this quest of innocence and the evocation of it, combined with the quest of absolute, to approach the stars and talk to them, like angels do." These are specific qualities that Mugler wants to evoke with his perfume, and Naomi embodies them.
At some points in the conversation, she breaks into a little song or quotes a line from one of her roles. In these moments, she becomes instantly luminous, incandescent even here in this earth-friendly café, a new order of energy flowing from her. It is effortless, or seemingly so, and reveals at least a little of the magic captured, for one example, in her role in I Heart Huckabees, all whimsy, guilelessness, and mirth, but still with that consistent note of groundedness and some kind of growth. And so, when she must leave to retrieve her two young children from daycare, it is a bit difficult to see her go.
That must be what keeps her so gainfully employed. She is a great person to be around, for sure, but she is a thorough professional as well and invests some key inner part of herself in every character she plays. Back across the floor, past the now-empty chairs and cleared tables she goes, and on through the door and up those worn steps into Manhattan's late afternoon. The server comes by and says, "She is so nice, isn't she? Such a real person. We really like her." Disregarding the fact that no one on premises had previously indicated in the slightest that they knew the movie star Naomi Watts was in the house, this comment seems to be the best last word. She is her own testament to the harmony she brings, and exudes, all lit up, incandescent.
Thierry Mugler beauty note: Radiant Light Complexion Enlighter, Latex Kohl Black and Grey Eyeliner, Flash On Lashes Black Mascara, Cils Vinyle Black Eyelash Gloss, Flash Lips Nude Lip Foundation, Rouge Unique Denude Lipstick, Styling by Anna Bingemann for the Magnet Agency. Hair by Kevin Mancuso for Nexxus Salon Hair Care. Makeup by Genevieve for Sally Harlor. Manicure by Bethany Newell for the Magnet Agency using Essie Nail Lacquer. Location: Cooper Square Hotel, New York.