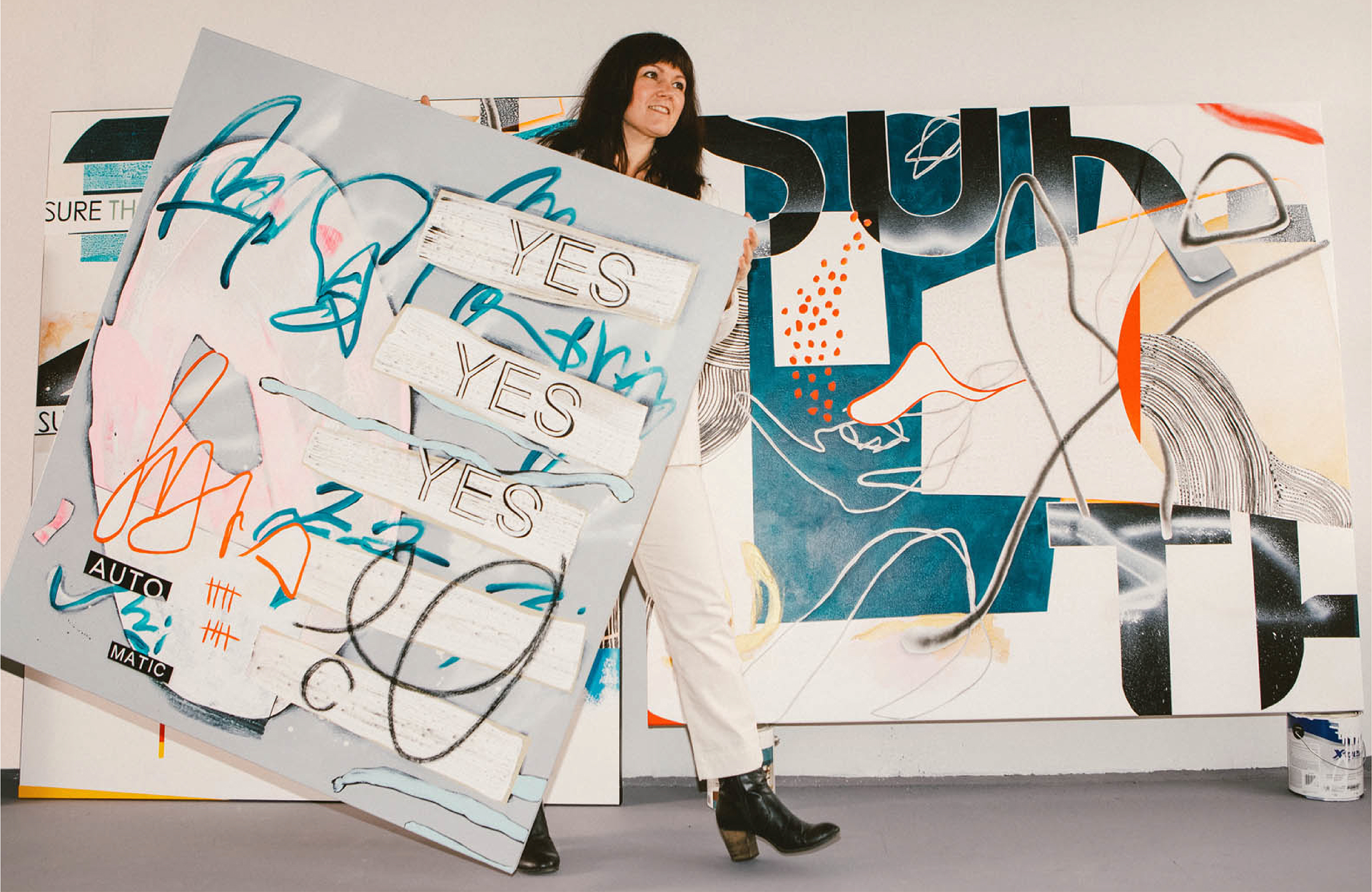 The Artistic Evolution of Fiona Ackerman
The painter on saying yes, reptilian inspiration, and her new solo show at Calgary's Herringer Kiss Gallery.
For Fiona Ackerman, inspiration struck in the form of a little brown lizard that appeared one day in her Vancouver home, likely an IKEA plant stowaway. The abstract painter was trying to prepare for a botanical-inspired show at Bloedel Conservatory that she just couldn't get excited about when the lizard, a brown anole, caught her eye crawling in the hallway. "It ended up being this whole afternoon of a text thread with my girlfriends," Ackerman says. "Lizards are symbols of rebirth and starting fresh and all of this stuff that I really wanted to imbue this little lizard that I found, and I got thinking about the whole reptilian brain and just not overthinking things."
Though the lizard ultimately met an untimely death, accidentally squished while being transferred to a glass container, her "Jesus lizard" got her thinking about how she approached her work. "I just decided, okay, you know what? I'm going to go to the studio. I'm not doing this botanical show. I'm doing lizard brain," she says. "I'm going to go to my reptilian self. I'm going to stop overthinking everything."
The unbridled attitude ended up helping her overcome her creative block, and the resulting works became Lizard Brains, one of her most recent solo shows, presented at Gallery Jones last year, a series of drippy and textural paintings splashed with colour accompanied by the story behind it: "Now I am in the corner too, being small with the lizard. How have I never been here before, to this dusty hall corner at the top of the stairs, behind the potted plant?  From my new perspective, the ceiling is towering above and I can smell the dirt in the pot at my shoulder. I don't want a lizard, but here we are," she writes, a poetic and intimate reimagination of an artist's statement.
A common thread of serendipity weaves through her life, a mix of funny coincidences and subtle symbols, like the lizard, that would go unexamined for most people—but not Ackerman, who exists in perpetual metamorphosis. She seems content to define her life by its journeys rather than its destinations: curiosity trumps ego, exploration outweighs comfort, and creativity eclipses repetition.
Ackerman grew up in Montreal, raised by a single mom who ran a theatre company. "Art was very much part of the culture of our life," the 45-year-old painter remembers. A school choir trip to Europe when Ackerman was 13 ended up changing the trajectory of her life. On a stop in Germany, she went to meet her father, who turned out to be an abstract painter in Berlin. Five years later, she joined one of his academies, where she spent a summer studying painting, drinking wine, and learning from her father with a handful of other students. "That was sort of the first initiation of getting to know who this person is, getting to know who I am, discovering that I love painting, discovering that I have access to this amazing mentor. And it really launched me on a long mentorship," Ackerman says. Though she'd always had an interest in art, the time she spent with her father that summer opened her eyes to a much more rigorous professional practice. "It really lit something in me. So absolutely it was instrumental."
After beginning her studies at Concordia, what was meant to be a one-year exchange at the Emily Carr Institute of Art + Design ended up as a permanent move to Vancouver with her then boyfriend, now husband. After graduation, her father advised her not to blindly chase exhibitions—"Just because you got a degree doesn't mean that you actually have painting sorted out in a way that you are ready to be a professional painter," she recalls him telling her. Ackerman took his words seriously and got a job at a diner while continuing to paint, punching into her studio the same way she punched in at the restaurant. "I made sure that I was, at least one hour a week, a painter, not a server, to disbalance that, and then I just really tried exploring painting."
Ackerman's first major professional solo show came in 2009 at the Diane Farris Gallery in Vancouver. Now, represented by Vancouver's Gallery Jones, Calgary's Herringer Kiss Gallery, and Ontario's Oeno Gallery, as well as a gallery in Berlin, her work has shown internationally. She has presented at art fairs from Seattle to Budapest, created murals for Arc'teryx and Vancouver's City Centre Motor Hotel, and was longlisted for the National Gallery of Canada's Sobey Art Award in 2015. Ackerman's collaboration with Bluerider Art in Taipei and Shanghai marked a milestone for the artist. "It feels like a very exciting step to have my work go places I myself have not yet been. It feels like the work has a life of its own."
Through her work, Ackerman explores the world around her, bringing a sharpened curiosity and hunger for understanding on many different subjects, from botany to literature to music, and using her mathematical mind in the studio. "I found that the process of doing abstract painting feels a little bit like using calculus, as a metaphor," she says. "In a sense, it's a little bit of intellectual problem solving, composition, colour, and it's how close can you get to something without actually getting there. So it's paring down until you can get just as close to that balancing point as possible."
Instead of on an easel, Ackerman's paintings often come to life on the floor. She rolls out 22 feet of canvas in her Strathcona studio, staples it down, and paints unselfconsciously, letting the work evolve organically before she focuses on a smaller area that she will ultimately cut out from the larger piece. "I can't make anything out of nothing. I have to start with something and then clean it up," she says. "It's that kind of puzzle mind, the problem-solving mind, where you need a big chaos in order to say, okay, now I got this. Like Rumpelstiltskin, I can turn this into something."
_________
"The most exciting part of the painting, to finish it, is to see it and go, 'I didn't know I had that in my mind.' It's to surprise yourself." —Fiona Ackerman
Artists often rebel against confining themselves to a single style, yet to the outside eye, it's almost always there. But Ackerman quietly and proficiently delivers on her pledge of continued reinvention, each series more unexpected than the last. Much of her work feels collaged, though she works primarily with paint—colours are layered, and textures swirl and overlap. Sometimes, like in Lizard Brains, moments of orderly pattern—neat circles of houndstooth or stacks of diamond shapes—play and contrast with chaotic squiggles, smears, and drips. Other times, she demonstrates a keen understanding of realism, as with Heterotopia, where she depicts objects in artists' studios. In another series, Entangled Form: Order in Entropy, part of her years-long Modern Botanicals series, she blends detailed botanical drawings with abstract shapes and linework. Sometimes, she uses vivid colour—crimsons, teals, and lilacs—but muted tones and greyscape are just as likely.
Each of Ackerman's series is like a book of short stories that spin a unique tale. "The artwork changes as I get interested in new things. And I also want to be constantly challenged. The most exciting part of the painting, to finish it, is to see it and go, 'I didn't know I had that in my head.' It's to surprise yourself, to see something you didn't know could exist or that you hadn't pictured beforehand."
One of her recent paintings, You Are Here You Are!, completed in 2022, offers a look into the complexity of Ackerman's work. Simple cartoonish heads are stacked on a stick figure body and float along the top of the canvas, overlaid on coloured rectangles and erratic lines. Two yellow speech bubbles proclaim to each other "You are here" and "Here you are." It's a simple but disorderly Basquiat-like take on the whirlwind of life that shows Ackerman's mastery of linework and composition, all with a comedic tinge. "That's actually one of the ones that surprised me even more than a few others that I've done because it's so goofy. The thing with painting is that when it comes together, it feels familiar. It's hard to describe what it meant or the intention going into it," she says. "You end up with this goofy painting, but it's like, I've never seen a painting like that out of myself before, and yet it feels familiar because it's a small room in the back of your mind."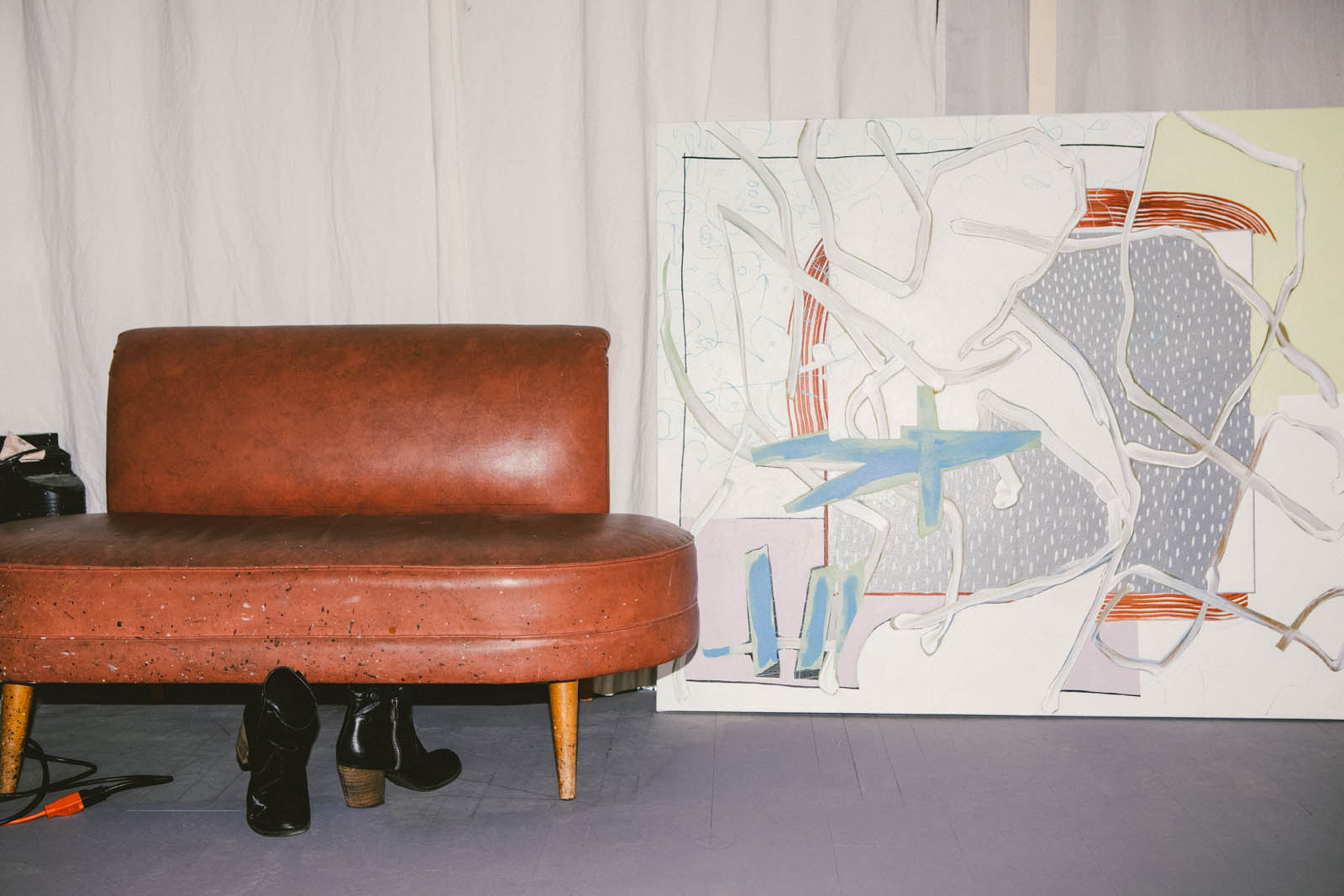 Ackerman isn't confined to the canvas—she recently started integrating music and video into her work. "It's opened up a whole world where I can make images move, give them sound. So that's been a really interesting new area to explore for me," she says. While music has always been part of her life—she's currently in a punk band with a couple of girlfriends—her self-taught foray into moving art began in 2017, when she created a video project that projected moving patterns and colourful plants and flowers onto the Vancouver Art Gallery as part of the Façade Festival. In 2021, seeking connection during the pandemic, she collaborated with musician and video artist Arjan Miranda on Metamorphosis II: The Cosmic Tiger to create a piece that brings motion to her paintings, accompanying them with music.
For her next show, opening at Herringer Kiss Gallery on May 27, Ackerman continues along the path her lizard friend set her on with Automatic Yes, which serves not only as the show's title but also the mantra behind its creation. "I decided with this show, if I get an idea, if I want to splash down some really random colour, and I might think hmm, I don't know if that's going to work. Automatic yes—try it. Push yourself outside of your comfort zone." The exhibition, which is primarily an abstract show, though Ackerman says there will likely be some audio or video component, is meant to be positive and playful and inspire courage. Knowing Ackerman, it's a goal almost certain to be delivered on.
After Automatic Yes, which runs until July 1, there's no telling where the painter's work will go next—and Ackerman is happy to be along for the ride. "I still feel like how long do I get to be emerging for—forever? It's a constant process of let's keep this moving. Let's explore new things. I don't ever feel like I've arrived anywhere. I'm just in the middle of it all the time." 
Ackerman's Automatic Yes opens at Herringer Kiss on May 27 and runs until July 1, 2023.
Hair and makeup by Melanie Neufeld for Lizbell Agency. Photographer's assistant by Alfonso Lara.