Performing in the clutch.
The world of Formula 1 racing is fast, on and off the track. Speeds these days top 300 kph, the activity in the pit is a controlled thrum of precision that threatens to but never reaches panic level, and everywhere the smells of oil, hot rubber, and money. The sport has come a long way, from Giuseppe Farina's win for Aston Martin at Silverstone in 1950, the first F1 race ever, and, with teammate and legend in the making Juan Manuel Fangio winning three of that year's races, to complement Farina's subsequent two, through Ferrari's first appearance, a profound one, in 1951, and then in 1952, Ferrari on the winner's podium a full seven out of eight races, and on through legends, individual and team wins, crashes, and much more than its fair share of death on the track, the F1 version of the sport has a firm grip on the popular imagination, and seems unlikely to relinquish it any time soon.
The illustrious car company has won 14 team championships, ahead of Williams' nine and McLaren's eight. While Fangio did win one of his five championships in a Ferrari (1956), the true marriage to which one should admit no impediments is Michael Schumacher and Ferrari. He has won the championship seven times thus far, the last five of those consecutively, all for the flying stallion. He has won 83 races in his career to date, well ahead of Alain Prost's 51, and the closest active driver, David Coulthard, has 13 wins. It is the kind of dominance that Tiger Woods and Michael Jordan might envy, should they fall prey to such an emotion (unlikely).
Schumacher is a private individual, not overly loved by his fellow drivers, necessarily, but when you are so profoundly at the top, there has to be a lot of acceptance of flak from below. And it does not follow at all that Mr. Schumacher actually likes all of his fellow drivers, either. There are well-publicized incidents, with Coulthard, with Damon Hill, and most infamously with Jacques Villeneuve, himself not in the running for any popularity contests on the circuit, that show Schumacher at his most intensely competitive.
Jackie Stewart, another legend, left the sport cold one day, after his good friend and teammate Francois Cevert died at Watkins Glen in 1973. Schumacher, he says, though, is not necessarily deserving of his reputation as a risk-taker. Stewart notes the great increase in safety features for today's racers, and of course notes that the sport was never, and will never, be known as a "safe" one. Schumacher has survived some vivid crashes, has suffered numerous broken limbs, but still competes at the highest level.
Michael Schumacher is, at this writing, a day or so away from racing in the Bahrain Grand Prix, and is only a couple of months away from the Grand Prix in Montreal, the only North American stop on the F1 circuit at this time. He agreed to answer a few questions, and we are delighted to share his comments with you.
NUVO: Of all the tracks you have driven, which would you call the two or three most challenging and why?
Michael Schumacher: Clearly my most favourite track is Spa. I just love that track. Not only is it technically very demanding but also it is beautifully situated in the landscape. And for some reason I have always done well there, I seem to have a link to it. The other track I like a lot is Suzuka, mainly because it is a great technical challenge.
NUVO: What (if any) differences have the new regulations concerning tire and engine changes had on your style of driving, both in qualifying and in the race itself (especially in terms of engine and tire wear versus aggression on the track)?
Schumacher: Very simply: you have to adapt to the rule, partly in the way you are hinting in your question. For example you don't drive the tyres [sic] as hard as last year, when you could change them during a race. But in the end you have to do that every year anew. Every year you adapt your driving style yet again, to new aerodynamics or new rules or new tyres. This is what makes the whole thing so interesting.
NUVO: You are widely acknowledged as a "regenmeister". What is your secret for driving in wet conditions?
Schumacher: There is no secret. I just happen to handle rain situations, but there are other drivers who do the same, like Rubens. You just drive very sensitively and trust in the people who lead you through the rain via radio.
NUVO: Would you be able to isolate three keys to your unprecedented successes?
Schumacher: Talent. Discipline. Look into the details and always try to improve.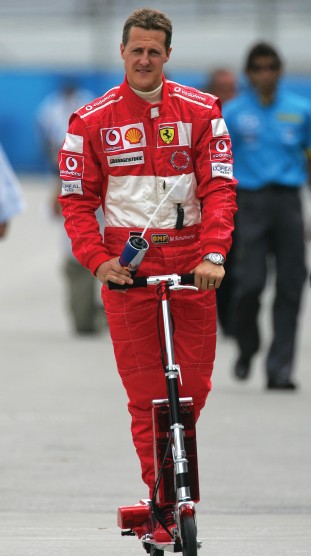 NUVO: Will you retire at the end of 2008? What do you think about retirement in general; how much will you miss the intensity of the sport?
Schumacher: You know, to be very honest, I do not even want to speak about that topic. I get asked very often when I will retire, but first of all why should I when I still love the sport so much? And then, how could I know what I will be feeling like at the end of 2006 or 2008? So sorry—I don't even think about it.
NUVO: What would your plans be, whenever you retire?
Schumacher: No clue. My mind is full of racing. I only know that for the first months I will not do anything and just enjoy hanging around.
NUVO: How large is your automobile collection now? Do you still own the Bugatti? (The 110th anniversary edition, yellow EB 110.)
Schumacher: I have some pieces, yes. The nicest thing is that I have most of the racing cars I have driven. We have this exhibition in Kerpen, at our Karting Centre there, where we show all of them. This is something I like a lot.
NUVO: How do you see the future of F1? The increased restrictions on certain advertising, more races outside Europe, the increasing costs of technology, other possibly competitive racing series, and internal F1 issues. Is the future secure?
Schumacher: I think so, yes. Formula 1 has always survived, and still the worldwide interest is immense. Going outside Europe in my view makes sense, as this is where the future markets are, but also because we are driving a world championship, not a European championship. And there are still a lot of countries wanting to host a race, so obviously they find it attractive. I think it is normal to discuss things in the organization, and in the end it will work ok.
NUVO: Two or three most memorable moments, good or bad, among the many hundreds that have marked your career.
Schumacher: I presume you go for the sporting memories, and probably the nicest one was Japan 2000, when we finally managed to get this title after so many years of hopes and despair. Seeing the guys on the team, who have worked for so many years in Ferrari, burst out in joy, seeing their tears, everything was indescribable. I still struggle to find the right words for it. Obviously the first world championship title was special, too, but then I was so full of mixed emotions I could not really understand it. Silverstone '99 was bad, when I had the accident, mainly because I knew I would not be able to fight for the championship any longer. Jerez '97 was bad, my move to Jacques Villeneuve, clearly something I would like to change if I could do it. But in the end I am lucky as the good memories are much deeper than the bad ones.
NUVO: What is your opinion of the F1 in Montreal and your impression of Canada overall?
Schumacher: I'm a big fan of North America in general. I like Canada and the people a lot. They are just so laid back, same as the atmosphere during the race weekend. I always look forward to travelling there.
Photos courtesy of ©CORBIS/MAGMA.