Grece Ghanem, the Montreal-based microbiologist turned style influencer, has a serendipitous story and quinquagenarian chutzpah that renders her larger than life.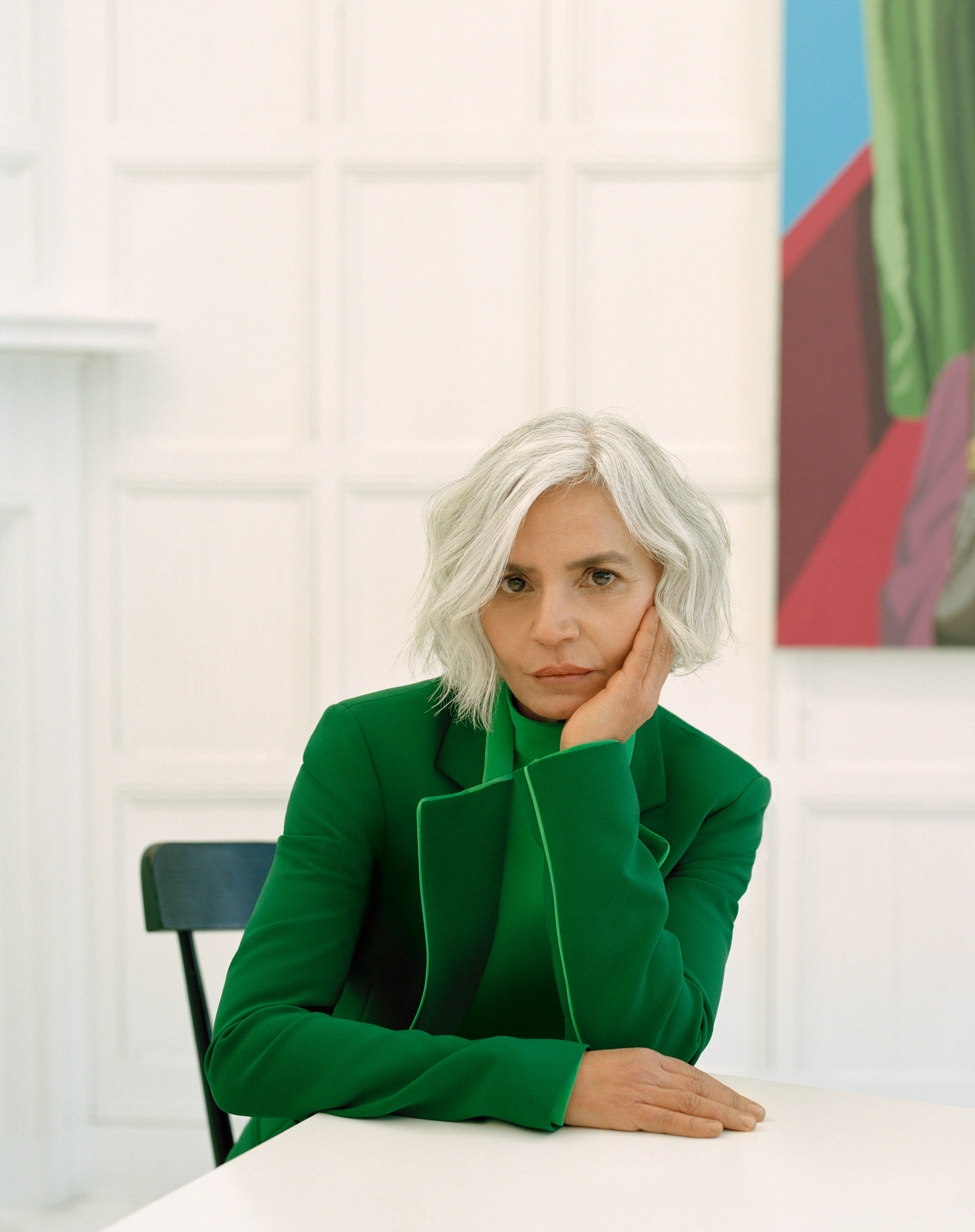 Grece Ghanem's voice, sporadic giggle included, is innocent and feminine. It suits her five-foot-two frame—although you might not guess these details by looking at her Instagram feed, @greceghanem. "When people meet me, they say, 'Oh my god, you're so petite!' " Savvy iPhone angles coupled with supermodel poses may give the illusion that she's much taller, but it's Ghanem's serendipitous story and quinquagenarian chutzpah that render her larger than life.
At 54, Ghanem is a social media phenomenon. (Her first name, pronounced "Grace", is actually a misspelling on her identity card.) The numbers are there in black and white: nearly 72,000 followers on Instagram—and counting. While a picture is worth a thousand words, Ghanem's photos can rake in over 4,000 likes, which in Instagram currency translates to dollars and cents. Campaigns for Sephora, Reitmans, Kérastase, Browns x Adidas, and a handful of collaborations, such as the recurrent one with Club Monaco, have ensued and fans—or in Instagram-speak, followers—can expect more in 2019.
Ghanem immigrated to Canada from Lebanon with her then–nine-year-old daughter in 2005. What started out as a mother-and-daughter hobby in the summer of 2016 has snowballed into a tiny enterprise. Cheyenne, now 23 and a graduate of McGill's finance program, is her mother's photographer, creative director, and manager, posting photos, answering e-mails, and finding "the good angles". Last September, Ghanem was interviewed by Vogue, the holy grail of fashion.
But life hasn't always been floral Gucci pantsuits and oversized Balenciaga sneakers. In Ghanem's war-torn homeland, she lived in constant fear. "When I was living in the dorm [at the American University of Beirut], I didn't know if I would make it to see my family on the weekend. I didn't want this future for my daughter. This is why I moved to Canada."
And when in Canada, her master's in microbiology didn't translate to the Canadian system. Having subbed for a fitness instructor in Beirut, she turned to Montreal's YMCA and completed a one-year program to become a personal trainer. "I had to take care of myself and my daughter," recalls Ghanem. "I had to start again from scratch."
One result of all that working out is Ghanem's compact, tightly sculpted physique. Beneath the bold fuchsia chin-to-ankle dresses, voluminous sleeves, and layers of mixed patterns is a body that would make Madonna proud. And it is Ghanem's self-expression that resonates with fellow 'grammers, many of whom are much younger than she is. "It's very motivating, challenging. The more I get followers, the more I feel the pressure. I feel like I have to keep on working and inspiring. A big number of my followers range from their late 20s to 40s."
Ghanem's American counterpart and social media forerunner is Lyn Slater, 66, internationally acclaimed for her beauty-knows-no-age-limit blog Accidental Icon. Both of them sporting silver bobs, the two follow a trail blazed by style icon Iris Apfel, who is well into her 90s. Apfel published a book last March entitled, coincidentally, Accidental Icon.
If Ghanem's audacious spirit and flamboyant style are a marketing dream, she remains wary of the business aspects of nurturing her brand. "I'm still at the point where it's not my source of income. I still have my personal training job and I love it, but also I love comments I get on Instagram. It challenges me in another artistic, stylish way."
At times Ghanem's advice might echo beauty pageant rhetoric, but to know her is to know her words are pearls of wisdom gained through personal experience. "I take seriously not the number [of followers], but the messages, the genuine messages, and that I'm an inspiration, and that they want to look like me when they grow older."
Ghanem still has a number of bucket list items to check off. "I'm not going to stop here. I always wanted to be a model. My dream is to one day walk the runway in Milan or Paris. It might be when I'm in my 60s or 70s, but I hope to achieve it one day." Though she be but little, she is fierce.
Beauty: NARS Multi-Action Hydrating Toner; NARS Radiant Creamy Concealer in Cannelle; NARS Orgasm Liquid Blush; NARS Climax Mascara; NARS Velvet Matte Lip Pencil in Bettina; NARS Orgasm Afterglow Lip Balm.
Art Director Mark Reynolds.
Hair by Steven Turpin for TEAMM using R+Co.
Makeup by Melanie Belisle, NARS Senior Artist, using NARS Cosmetics.
Shot on location at Le Livart in Montreal.
_________
Never miss a story. Sign up for NUVO's weekly newsletter.