The Margravial Opera House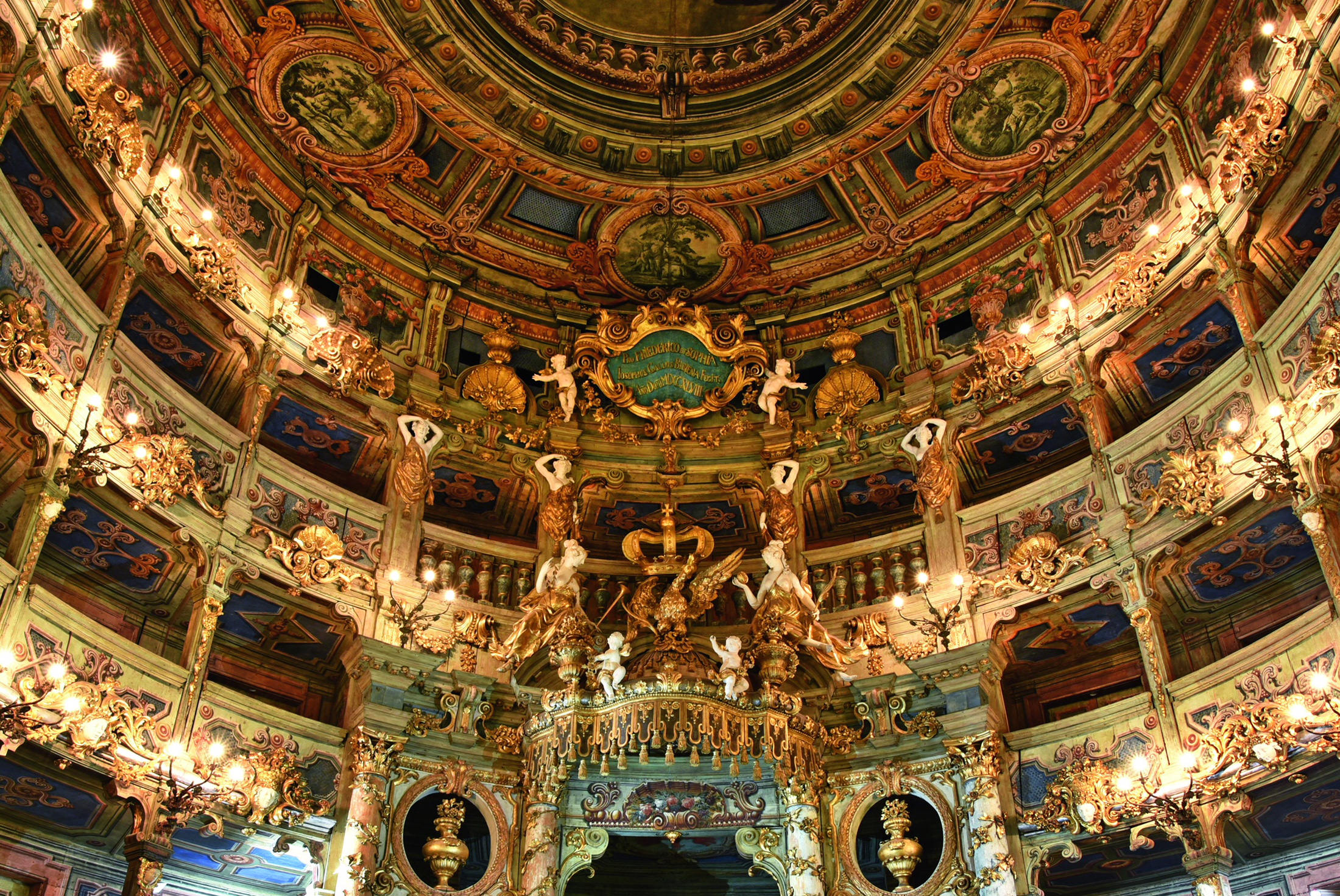 Compared to Berlin or Munich, the German town of Bayreuth is pretty sleepy. That is, until the curtain rises on the annual Wagner festival. But while that event—and the opera house King Ludwig II helped fund for the maestro—is what put this Bavarian town on the map, Bayreuth has other charms, thanks to its 18th-century royals, Margravine Wilhelmine and her husband, Frederick. Wilhelmine was determined to give it a Versailles-like glamour, with gardens, palaces, and a jewel of an opera house. With its sandstone façade and an interior constructed of wood, the Margravial Opera House is a remarkable expression of baroque theatre design. After a multiyear restoration, the UNESCO World Heritage site reopens with a performance on April 12 of this year and will fully open to the public five days later.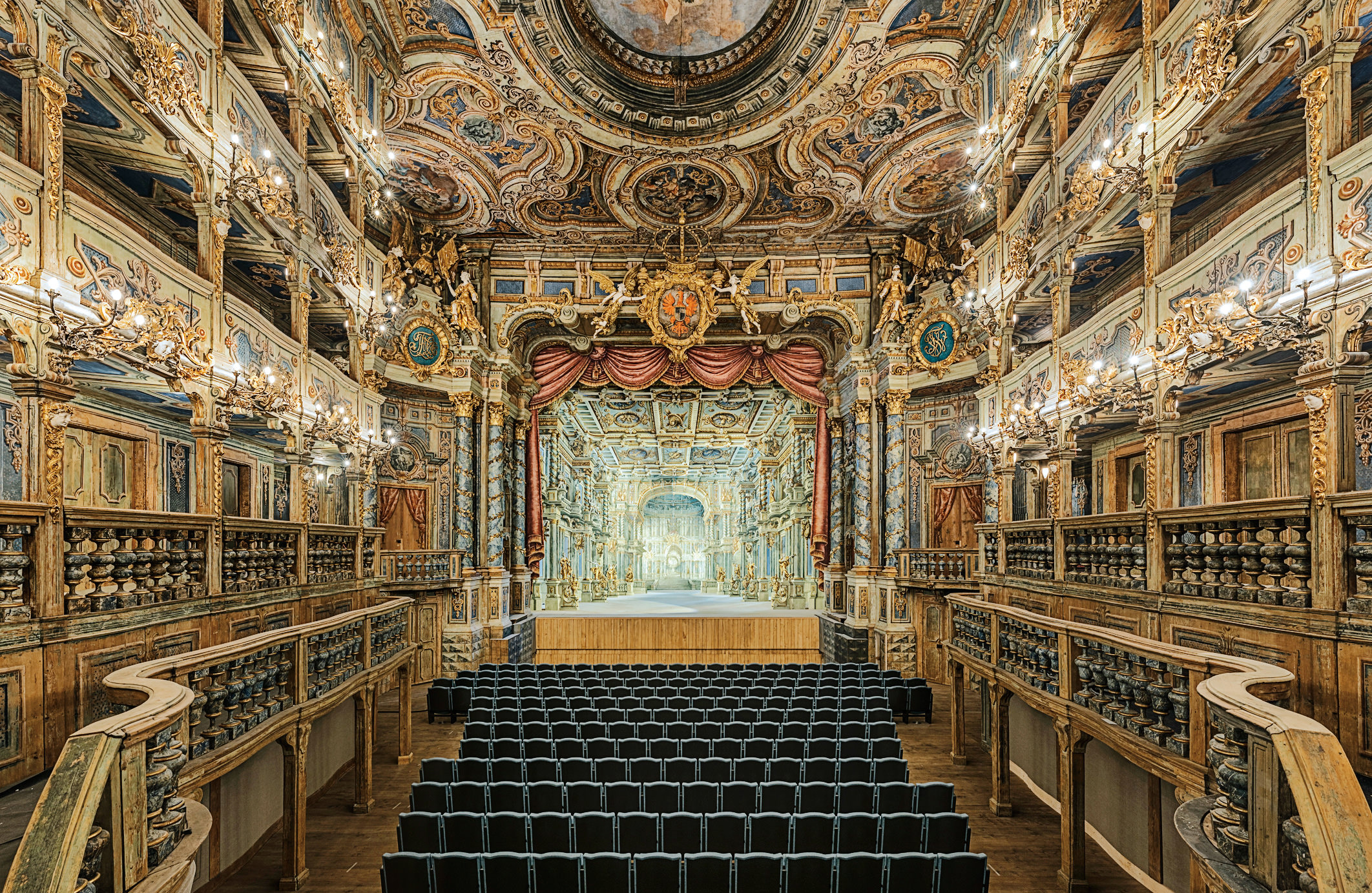 The opera house is situated in the centre of town and has a neoclassical façade that complements the other handsome buildings on its street. The structure seems almost domestic in scale and, stepping inside, you don't see a soaring vault or sweeping staircase, but instead a low, unadorned vestibule. The passageway leading into the auditorium is anything but grand. And then? Pure magic. Designed by Giuseppe Galli Bibiena, the Margravial Opera House is a glowing chamber where cherubs play on high and Apollo sails across the painted ceiling.
With its sandstone façade and an interior constructed of wood, the Margravial Opera House is a remarkable expression of baroque theatre design.
The opera house was as much an extension of the royal residence as it was a place for making music. So it's no wonder that when the building was inaugurated in 1748, it was in honour of the wedding of Wilhelmine and Frederick's daughter Elisabeth to Duke Carl Eugen von Württemberg. The festivities that day included a performance of the opera Artaxerxes, with a libretto written by Wilhelmine herself.
The glory days of the opera house didn't last long. Wilhelmine died in 1758 and with Frederick's death in 1763, it closed. In 1871, Richard Wagner inspected it as a potential venue for his festival, but passed. He did, however, take to Bayreuth and stayed on to build his own theatre. In recent years, the Margravial Opera House has welcomed Placido Domingo and German tenor Peter Hofmann. And it has appeared in several film and TV productions, including the biographical film Farinelli about the famed Italian castrato.
Despite periods of disuse—or perhaps because of them—the opera house has survived with very few changes. Over the past six years, a team of conservators has worked with a light hand, removing dirt and paint from the elaborately carved interior. Elements of the stage decor, along with the curtain, have been reconstructed to better reflect Bibiena's original designs. While the theatre continues to operate as a performance space for the occasional opera or concert, with its reopening, it will function primarily as an architectural site, a stunning manifestation of royal ambition and baroque aesthetics.
_________
Never miss a story. Sign up for NUVO's weekly newsletter.