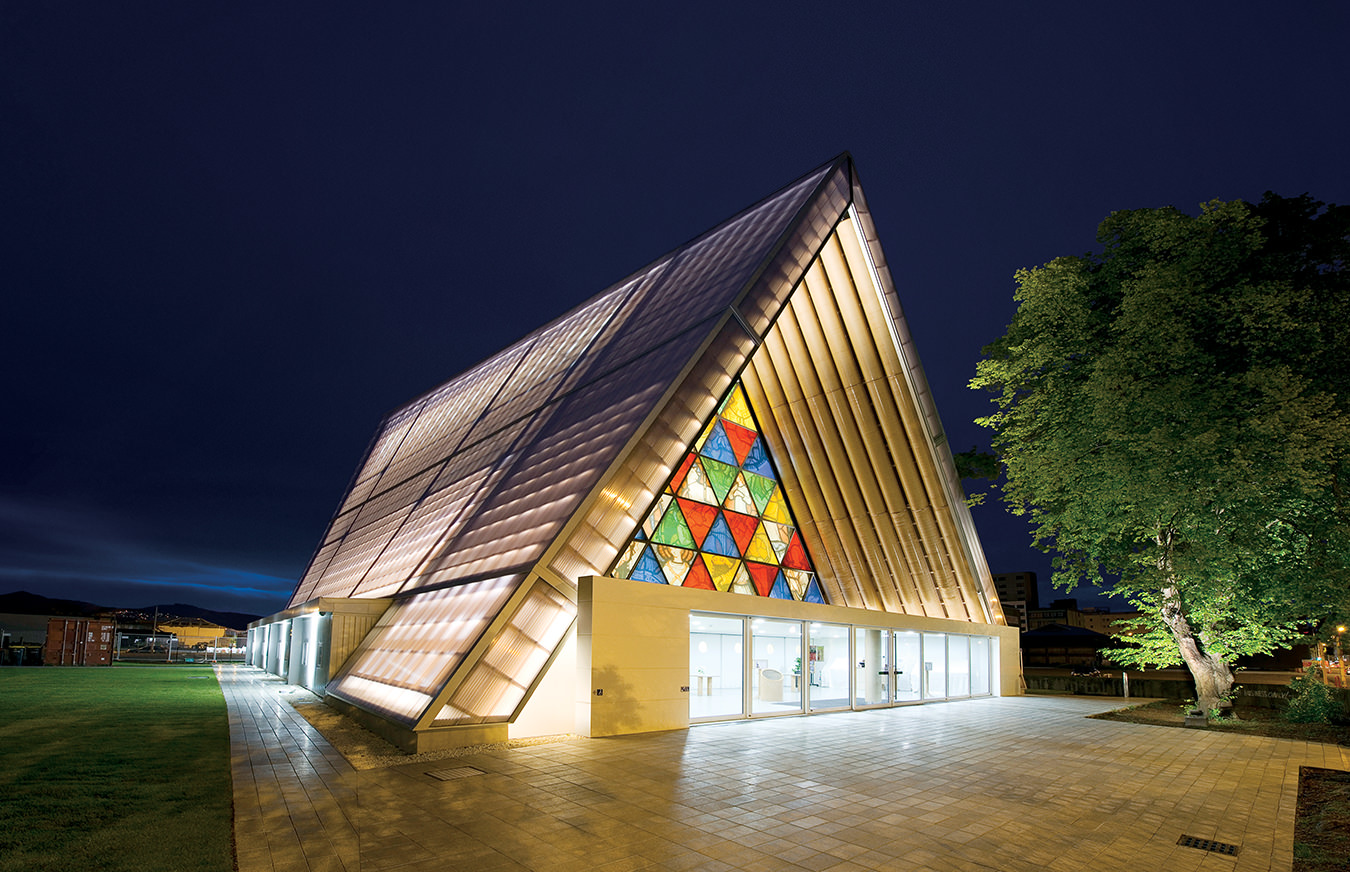 It was the smaller follow-up earthquake that did it for Christchurch and its eponymous primary landmark. The first, a 7.1 magnitude rattler that struck New Zealand's second-largest city on September 4, 2010, had injured locals, shaken buildings, and raked downtown's beloved cathedral with cracks and broken windows. But the ChristChurch Cathedral—a hulking, Gothic revival icon built in 1881 that loomed over the city centre and dominated South Island postcards—remained standing, comforting Kiwis as a symbol of strength in the wake of a frightening seismic event. Until February 22, 2011, that is.
This time, across the Canterbury region thousands of buildings weakened by the previous quake crumbled, collapsed, or peeled apart like slivers of wet cake. Video footage shows locals violently shaken off their feet as streets rose, shifted, and fell back like agitated blankets. When the dust settled, 185 bodies were discovered.
Jagged rubble also encircled the fatally damaged Anglican cathedral. The huge spire had snapped from its tower, parts of the roof had caved into piles of jumbled masonry, and the cherished rose window was so severely damaged that it later collapsed into a skeletal wreck. The initial quake was scary, but its 6.3-magnitude encore was a catastrophe.
"During the first earthquake, the cathedral bells rocked and swayed, ringing out across the city," recalls cathedral dean Lynda Patterson. "But the second time around, the bells didn't ring. The damage was much more serious, and it gave the lie to all our thoughts that the building was invincible." Staff scrambled to restart services for its shell-shocked congregation, but it soon became apparent that restoring or rebuilding the ruined church—now open to the elements and quickly colonized by roosting pigeons—would be a monumental, multiyear task. But what to do in the meantime?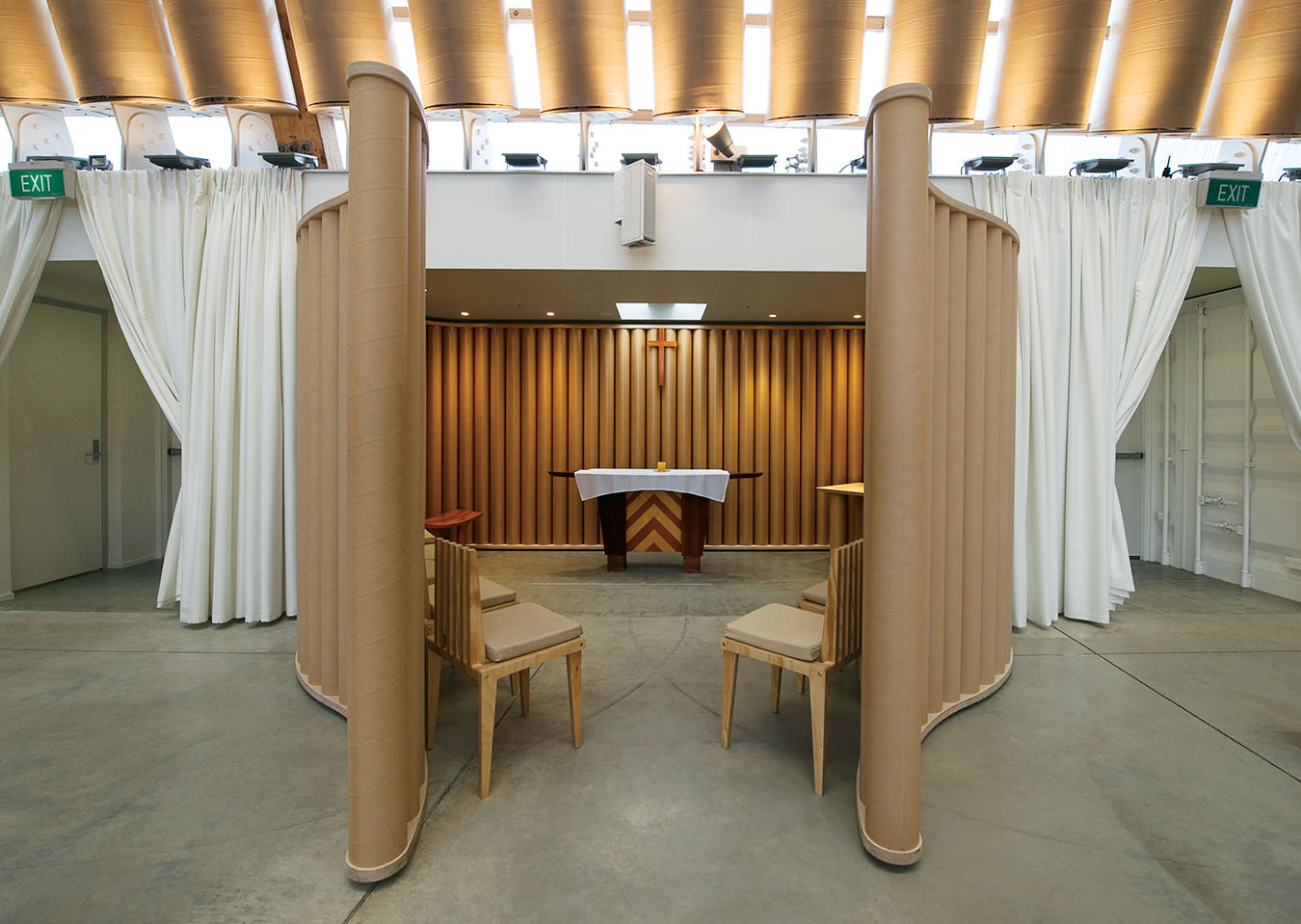 "One of us spotted a magazine story about emergency buildings made from cardboard that were used after the Kobe earthquake [in 1995]," says Patterson. "We went online and eventually found an e-mail address for the architect. He immediately replied and told us he had already been about to contact us."
The architect was Japan-born Shigeru Ban, who is internationally renowned for buildings including the Tokyo Curtain Wall House, the Centre Pompidou-Metz, and a paper pavilion for Hermès at the Salone Internazionale del Mobile in Milan. But in recent years, he has specialized in disaster shelters and structures made from recycled paper and cardboard. Working pro bono, Ban took just six weeks to come up with an initial design for a temporary replacement, officially called the Transitional Cathedral, and affectionately known as the Cardboard Cathedral. On August 6, 2013—a year after building began—the city opened the doors on what instantly became the world's most famous cardboard construction.
"Buildings made of concrete are easily destroyed by earthquakes, but paper-tube buildings can survive without damage," the notoriously media-shy Ban told The Guardian after the opening. The article itself also makes a solid case for cardboard: "Cardboard is the perfect building material. It's environmentally low-impact; it's virtually a waste product; it's easy to manufacture; it has good insulating properties, an attractive texture, and it's cheap."
When you step inside the cathedral for the first time, it's also aesthetically striking. The building is ostensibly a 40-metre-long A-frame structure lined with 98 heavy-duty cardboard tubes—each between 16.5 and 20 metres long and made from three tubes joined together. The effect is light, airy, and optimistic, pushing your gaze skyward to the points where the tubes meet. At one end is a gigantic wall-mounted cardboard crucifix over choir stalls fenced with smaller tubes, while the bare concrete floor is flanked on each side with white-painted shipping containers repurposed as chapels, offices, and a kitchen. In a departure from the sparse contemporary look, there's also an antique, eagle-shaped, wooden lectern, rescued from the rubble of the old building. It faces the cathedral's most attractive feature.
The kaleidoscopically coloured triangular window fills one end of the Cardboard Cathedral and acts as an irresistible invitation to those passing by outside. Designed by long-time Ban-collaborator Yoshie Narimatsu, its 49 triangle-shaped panels—each 2.1 metres high—echo the complex patterns of the lost rose window. Throughout the day, it paints streaks of colour across the pale wooden chairs inside.
A kaleidoscopically coloured window fills one end of the Cardboard Cathedral, acting as an irresistible invitation to those passing by. Inside, the window paints streaks of colour across the wooden chairs.
But although the effect is of a cool temporary pavilion at a futuristic expo, Ban has said he doesn't overly focus on the limited lifespans of his postdisaster buildings. "There is no difference between the temporary and the permanent," he told Blueprint magazine. "Concrete can be temporary, if the building is just to make money; and a paper church can be permanent, if people love it. It is whether people love a building or not: this is what makes it permanent."
Other factors can also govern longevity, however. "We were delighted with how quickly Shigeru came up with his design, but at the time we didn't yet have a site, and that was initially a big problem," says Patterson. "Since the old cathedral was still in place, we needed a brand new location—but we didn't have much money to buy one." Eventually, the parish church of St. John's Latimer Square, which had to be demolished after the second quake, offered its now-empty lot. But there was a proviso: the St. John's congregation wanted to take over the Cardboard Cathedral for themselves after 10 years, by which time the city's permanent new cathedral is expected to have been rebuilt.
That meant changing the building's design from a decade-long temporary structure to a permanent church that would last at least 50 years. While also addressing some other building codes requirements, Ban revised and upgraded his blueprints, adding strengthening features such as laminated timber beams inside each tube and a hefty concrete raft foundation that took 151 cement trucks to fill. "We're now at 130 per cent of the earthquake code," says Patterson. "If the Alpine Fault goes again, we won't have anything worse than a paper cut here."
The city's cardboard creation was initially controversial, as some locals thought the church should save its money for the eventual permanent cathedral. But since opening, it has become a runaway success. And while it is now also a de facto community centre, hosting everything from concerts to fashion shows, its speedy completion is in stark contrast to the rest of Christchurch. Three years after the second quake, raked gravel lots are the city centre's dominant feature, ghostly reminders of buildings lost forever but not yet replaced. And although downtown is a symphony of hammering work crews during the day, the evenings quickly descend into an eerie silence of deserted streets, broken only by the flapping of loose tarps on innumerable derelict buildings.
Slowly, though, the rebuild is starting to gather pace as insurance claims are settled and fresh projects are approved. Alongside new and refurbished tourist accommodation (such as the grand, century-old Heritage Christchurch hotel, which recently reopened), restored shopping strips like New Regent Street and brand-new developments like the boutique-lined Tannery complex are emerging. While downtown's popular vintage trams also returned to the rails last fall, the cleverly designed Re:Start outdoor mall—a slick complex of refurbished shipping containers housing cafés, bookstores, and even a Lululemon Athletica—has lured many back to the city centre. A 15-minute stroll away on bustling Victoria Street, new and rebuilt bars and restaurants such as Mexicano's and King of Snake are also popping up. Talk to the locals, though, and they'll typically tell you how impatient they are with the pace of the rebuild. It's a frustration often shared by business owners.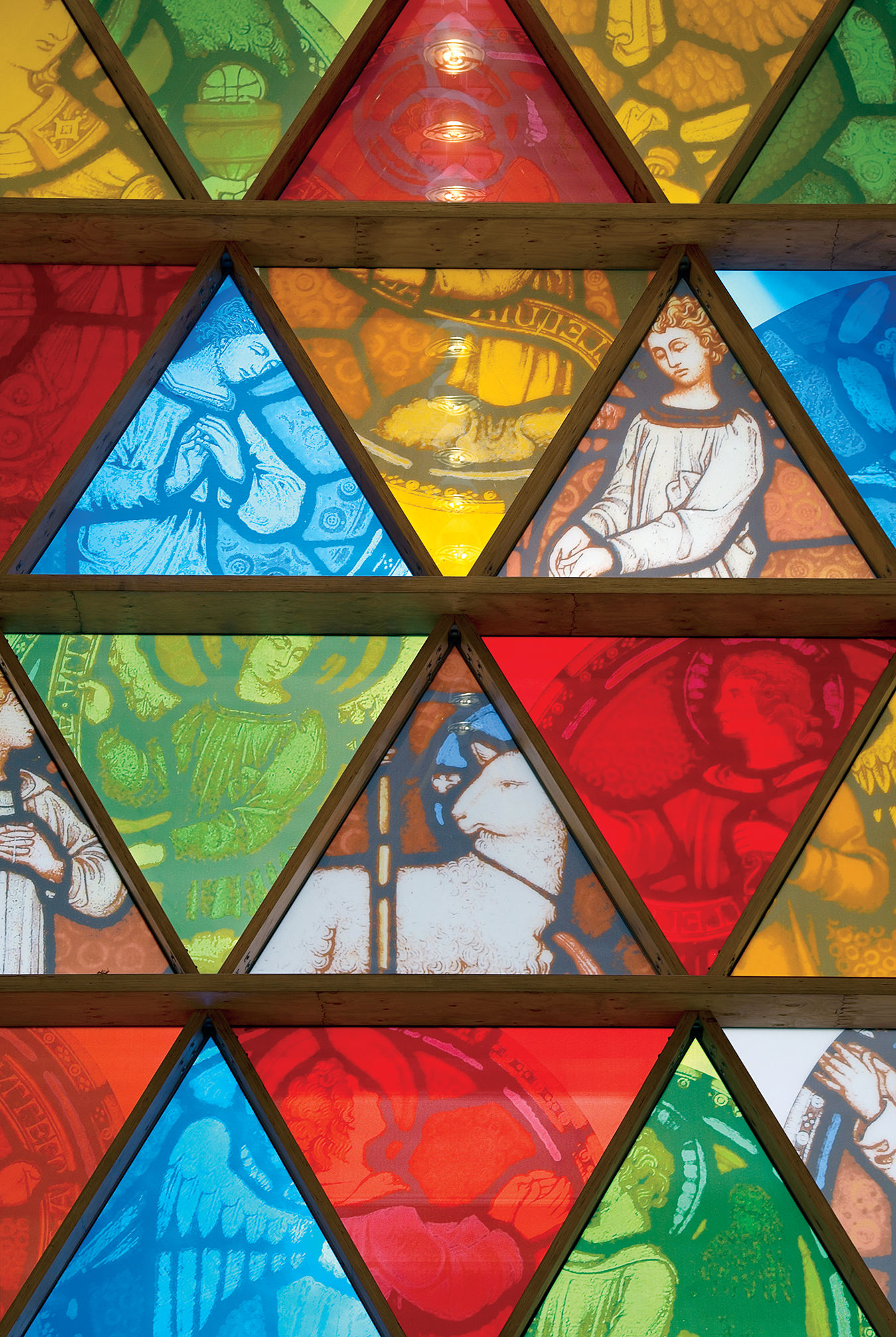 Michael Esposito is the managing director of Christchurch Gondola, a 20-year-old attraction that takes visitors to a hilltop summit for spectacular views across the region. It's located just five kilometres from the epicentre of the second quake, and he was advised to shut down because of a perceived rockfall danger. "We had no major structural problems, but the regulatory authorities basically said we should just walk away," he says.
He had no intention of doing that. Approaching experts around the world, Esposito found a viable way to restart his business by improving facilities to a level that would surpass the authorities' heightened expectations. "We created lots of models and we rolled rocks down the hill to simulate quakes. We showed that earthquake rockfall would not damage the cars—but it took us a year to convince the authorities." The entire process, including creating models and simulating earthquakes, took two years, and the gondola finally reopened in 2013.
Since then, locals have been visiting the attraction in record numbers, but overseas visitors are still down by 75 per cent compared to pre-quake levels. The only response, says Esposito, is to remain positive and look to the future. "The speed of recovery here is frustrating, but the design of the new Christchurch—the new layout and the hotels, for example—will be much better for tourists. I'm committed to staying, and I'm sure I'll be proud of what's accomplished when it's finally finished. The only question is how long it will take."
For now, though, high-profile projects like the Cardboard Cathedral are luring curious visitors to one of the world's most unusual destinations and projecting a hopeful view of the city's rebuild project. "This is a time to look ahead, plan anew, and think outside the box," says Patterson. "We sometimes have a staid reputation in the church, but we think this cathedral symbolizes the future for Christchurch."