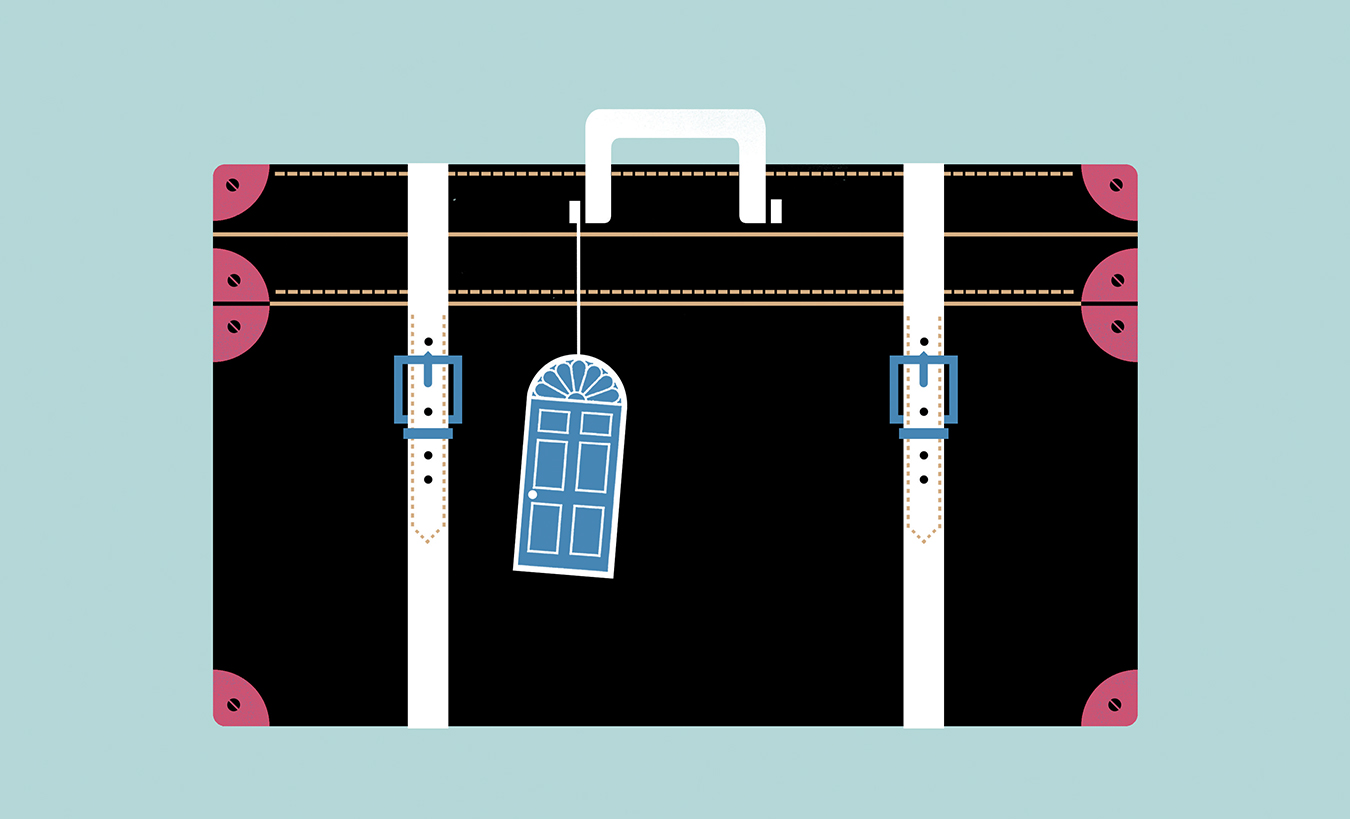 If you were to identify one significant difference between home life and travel life, it might be friends. Or it might be washing your laundry in the sink, but I understand not everyone does that. No, the key difference is personal relationships. Most of us travel to visit museums, temples, and monuments; when we're at home, we visit friends.
That's why I've always considered it a particular privilege to be asked into someone's home while abroad. To accept hospitality is to cross the threshold from simple tourist to something more. Making a friend means making a connection. No longer just a day tripper, you become, in some small way, part of a faraway place.
Some destinations have a particularly dehumanizing effect. Cairo is a city that will reduce any visitor to the status of a walking wallet. I have been to other cities where my identity seemed condensed to that of a potential economic opportunity, but nowhere else had the assault been so relentless. Only a couple of days into my visit, ordinary human contact already seemed a distant memory. People were friendly enough. But the turn from initial hello to hard-sell pitch for some souvenir shop or pyramid tour rarely took more than 30 seconds. Most distressing of all, thus far there had not been a single exception to the rule. Whenever some smiling bystander struck up a conversation, there could be no doubt where it was going. Even the guy who instantly produced a Vancouver keychain from his pocket to prove his interest in my hometown was in the next breath pleading with me to follow him for big savings, leaving me to speculate about how many different civic tchotchkes he must carry around every day.
Then there was the hissing. Apparently it's standard procedure there—people coming up behind on bicycles or attempting to get someone's attention across a room will hiss, occasionally adding some creepy smooching noises. It all combined to create a depressingly cynical mindset and a hunched, defensive posture. Walk briskly, avoid eye contact.
Giza was the worst. As I gazed at the Great Pyramid of Khufu, a vendor hustled toward me. "Here," he said, attempting to drape a scarf around my neck. "A gift."
I demurred, ducking away. He became enraged. "I said it was a gift!" he screamed.
At the white-capped Khafre pyramid, I was ambushed by a camel. "Best tour," the rider grinned. "Ninety minutes."
I declined. "Best price," he said.
I walked away. He followed. I began to trot. The camel began to lope. "Very good tour," the rider suggested. I was trying to outrun a camel in the desert—not likely. My pyramid visit was over.
I fled away from the pyramid complex, down a dusty street into what appeared to be a quiet residential area. Only a few locals ambled down the road. A man drove a small herd of sheep with the help of a shepherd dog; a donkey cart trundled by. Two bearded men paused nearby. "May I help you?" asked one.
"I'm just wondering where the road leads," I said.
"My brother and I are headed to the market," he said. "You are welcome to join us. Afterward we can have tea at our home."
A souvenir shop, no doubt. I was leery. But a local market seemed just the remedy for my recent experiences, so I fell in. "I am Mohamed," the man said. "My brother is Kamel."
Kamel bid us goodbye and Mohamed led me to the market. This was no tourist trap, but rather a chaotic enclosure full of ducks and rabbits and melons and severed sheep heads and local shoppers. It was a world away from Khan el-Khalili, the tacky, trinket-stuffed market touted as a must-see in every tourist guide. I bought some oranges while Mohamed filled his shopping list. Then we walked down a quiet, dusty street to his home, a narrow three-storey complex of apartments. Mohamed introduced me to his parents and his pregnant wife, gathered around a TV in a dark sitting room where heavy curtains kept out the heat. They stayed behind while Mohamed escorted me upstairs to have tea and watch the BBC News. In his bedroom. "There is a Canadian teacher living downstairs," said Mohamed. "He is homosexual."
Oh, dear. Chronically suspicious after several Cairo days, I expected ulterior motives at every turn. If Mohamed was not interested in selling me something, perhaps he was seeking a bit of romance. "Homosexuals are nice people, I think," Mohamed said. "Very peaceful."
I've always considered it a particular privilege to be asked into someone's home while abroad. To accept hospitality is to cross the threshold from simple tourist to something more.
Certainly true, I agreed. On the other hand, the European football championships are coming up, and hey, aren't those pyramids something?
To my relief, Mohamed seemed quite content to drop the subject. He escorted me out to the balcony, which did indeed offer a lovely pyramid view. He was by all accounts simply a man honoured to extend hospitality to a foreign visitor. On the way out, I sat down and chatted with the family. Mohamed gave me a phone number and told me to drop by on my next visit. I felt a little ashamed of my nervousness, but the sad truth is that if a few days in Cairo don't make you paranoid, you probably don't know the whereabouts of your wallet right now.
Not every overseas invitation provokes such concerns. In Rome several years later, I would fall in with a group of locals and be invited to a couple of parties. The first would be a lively social scene populated by artists and expats from around the world; the other would pull back the curtain on an unforgettable world of Roman opulence.
It started when I discovered the lovely Caffè Della Pace, not far from Piazza Navona. Unlike the traditional Italian coffee bar, Della Pace is made for relaxing at a table and watching the world go by. One day, as I sat with a travelling friend, we were interrupted by a little blonde spaniel nosing about our feet. We fussed over the dog as her owner apologized. The dog's name was Wendy; the owner's was Oddone. Soon we were joined by Oddone's friend Andra, a Romanian expat working as a Della Pace server. On subsequent trips to the café, I became friendly with both of them, and on my return to Rome the following year, Andra invited me to a party. It was held in the Trastavere district at the home of Andra's friend Valeria.
Trastavere is the cross-river district known for narrow lanes, alternative galleries, student beer joints, and little shops offering cheap pizza and snacks. Valeria's lovely apartment was on the top floor of a three-storey building, above a cinema-themed book store on Via dei Fienaroli.
The rooftop terrace was set up Moroccan-style with cushions and throw rugs. Among the guests was the Mark Kostabi. You may even own a piece of his art, if you ever bought either of the Guns N' Roses Use Your Illusion albums. A documentary about him had just played the Tribeca Film Festival—it was called Con Artist. He was pleased. "I do a thousand paintings a year," he told me. "I don't paint them. I don't come up with the ideas for them either—I pay people to do that. I just sign them and sell them for a lot of money."
It was an interesting crowd. Our host, Valeria, had just written and illustrated a darkly attractive book for children. There was a lovely young Australian woman who had made a tidy sum exporting soap from Tuscany, and a man showing off clips of the amusing music video he'd recently been shooting.
Earlier that day in front of a small gallery near Campo dei Fiore, I had admired nudes set among multicoloured flowers, set off by large bunches of similar flowers in the gallery itself. I didn't catch the artist's name. As it turned out, it was Adina Drinceanu. She introduced herself that evening as we danced on the rooftop. The DJ played James Brown, and some people having their own party on a nearby rooftop started dancing along. The party was going viral.
Later, I rode back to my cheap hotel, crammed together with tipsy young Romans. On the evidence of this trip, they seemed more charming than our own drunks. Forming a circle, they began to sing some national song that was picked up by many others on the bus. That night, Rome seemed like a small town.
Another party was in the offing. This one was to be held at the home of Andra's boyfriend, Valentino—he was lending his place out for someone's 40th birthday party. Apparently it was going to be big, and Andra had urged me to change my travel plans in order to attend. I arrived early, locating the old apartment building on Via della Scrofa. I'm not sure what I was expecting—a cozy two-bedroom flat and some lovely homemade antipasto, perhaps. Shortly after entering the second floor apartment I was looking for my bottom teeth, which had scattered when my jaw hit the floor. It was a veritable palazzo. I counted at least 20 rooms, most with vaulted and coffered ceilings painted with cherubs. Framed paintings covered the walls, and while not all were certified masterpieces, they weren't purchased by weight, either.
A chain of salons ran the length of the apartment, including a billiard room and a smaller chamber at one end where an open bar was set up. White-jacketed servers swanned about with trays of snacks including arancini, deep-fried risotto balls typically filled with cheese. Two of the rooms contained tables laden with food—snowy-white circles of mozzarella, slightly chewy, with a delicate flavour that cried defiance to the typecasting of Domino's; prosciutto carved by request; and an entire roast pig waiting its turn to be sliced up for porchetta sandwiches. The DJ had been brought all the way from the Italian–Austrian border region. Based on everything else available, I could only assume that it is prime DJ territory.
Technically the host of the event, Valentino, was not actually footing the bill. Happy news—Andra guesstimated the damages at around €15,000 ($23,500 Canadian) for catering alone. The crowd looked suited to the circumstances, with many a gown apparently having made the trip from the windows along Via dei Condotti.
Soon a little group of us had gathered in the billiard room—Valeria, Adina, Oddone, Andra, Valentino, and me—munching mozzarella and porchetta sandwiches, and watching the crowd swirl. A sociable clique, just as might form at any gathering—even 9,000 kilometres from home.
Travellers who set out to see the world must accept that not every world is visible to those passing through. You need a little help to open those doors. That's what friends are for.