Lorenzo and Massimo Cifonelli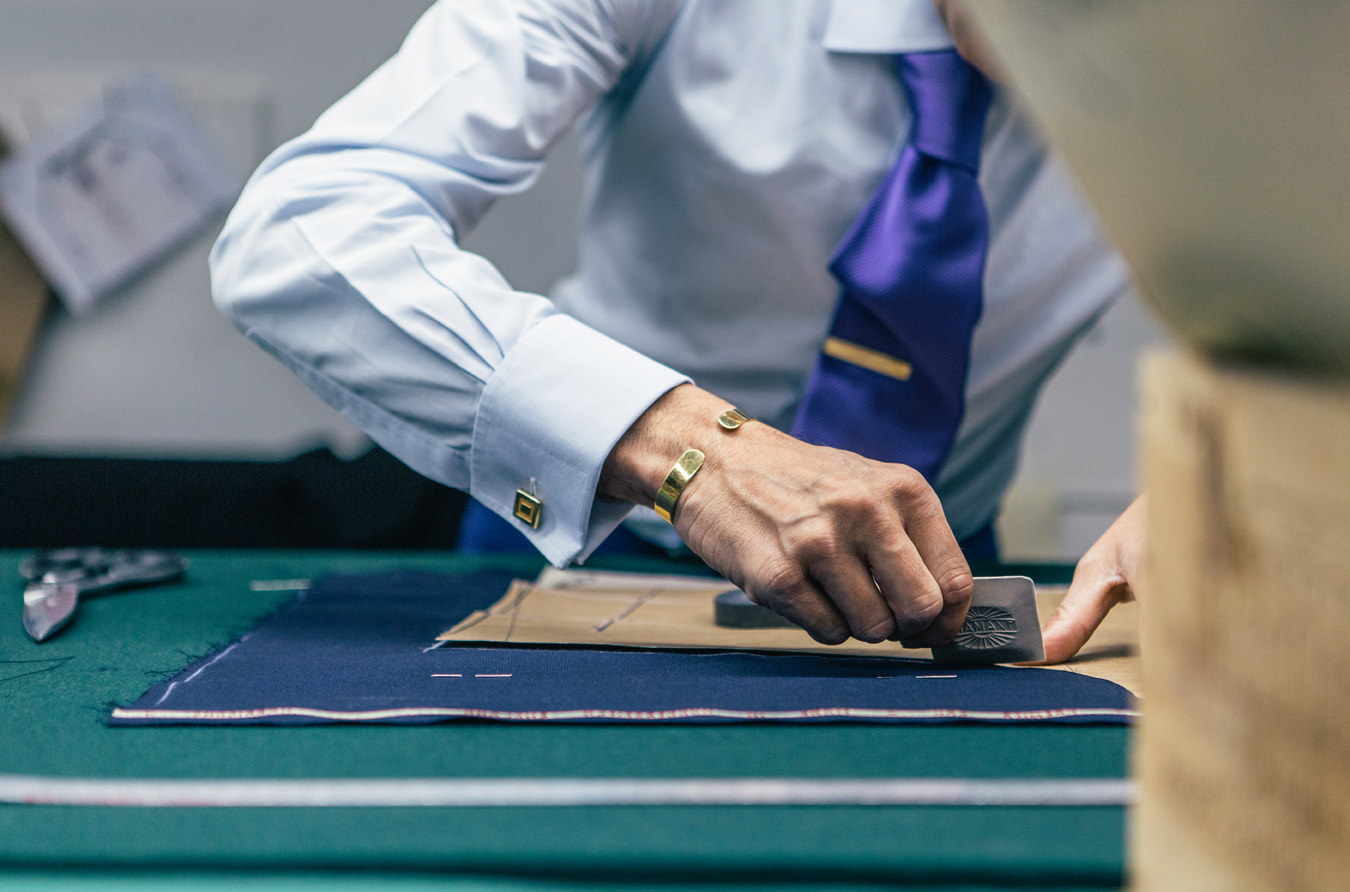 Dandy extraordinaire Beau Brummell once said, "To be truly elegant, one should not be noticed." Clearly, this is not the goal of fourth-generation master tailors Lorenzo and Massimo Cifonelli, who turn heads wherever they go.
Descendants of one Giuseppe Cifonelli—their great-grandfather, who created the original Cifonelli label in Rome in 1880—the cousins enjoy a cult-like following for their bespoke suits. If their popularity seems a remarkable feat, it is because Cifonelli endures against the current of fast fashion and has survived despite the dominance of the titans of menswear (Tom Ford, Ermenegildo Zegna, Ralph Lauren, etc.), who swim in the same consumer pool.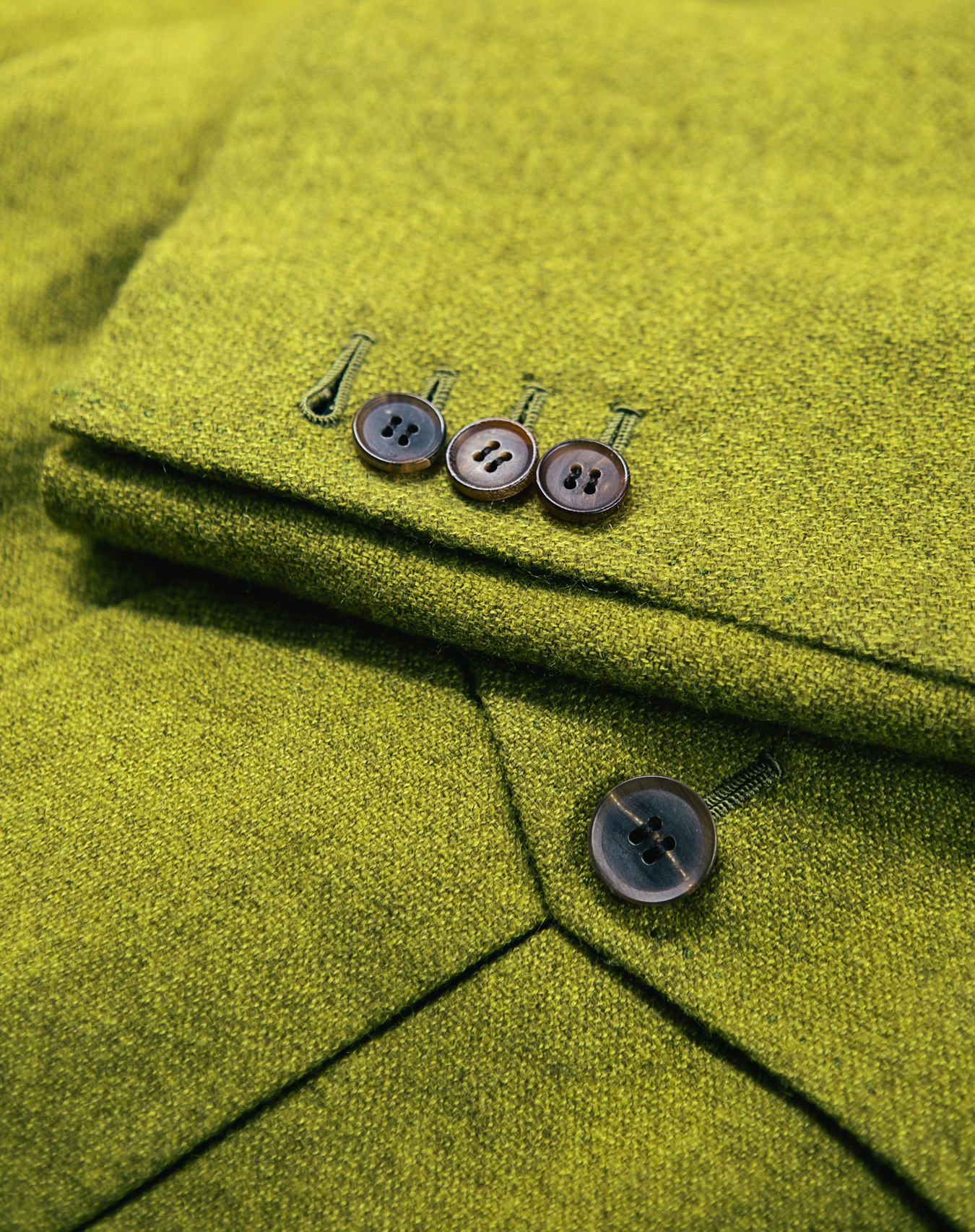 In 2014, the duo expanded their portfolio to include a ready-to-wear collection, which is sold at their new flagship store on Paris's prestigious rue du Faubourg Saint-Honoré, as well as various luxe department stores around the planet. With a public relations office in Milan (where Cifonelli has joined the fashion-week circuit) and a second storefront opening next year in London, the Cifonelli pair are, effectively, dressed for success.
The heart of Cifonelli (pronounce it with confidence: "chee-fonelli") is the atelier on rue Marbeuf, the street-turned-menswear mecca of Paris's Golden Triangle district. It is here, atop an iron-lace staircase and behind broad Haussmannian doors, that I meet Lorenzo, 48, the more fashionably audacious half of the Cifonelli tag team (and, I might add, a diehard David Bowie fan). He is outfitted in neutral hues: a creamy one-button jacket plus pocket square, pleated white cotton slacks cuffed at the ankles, tan leather shoes, and herringbone socks.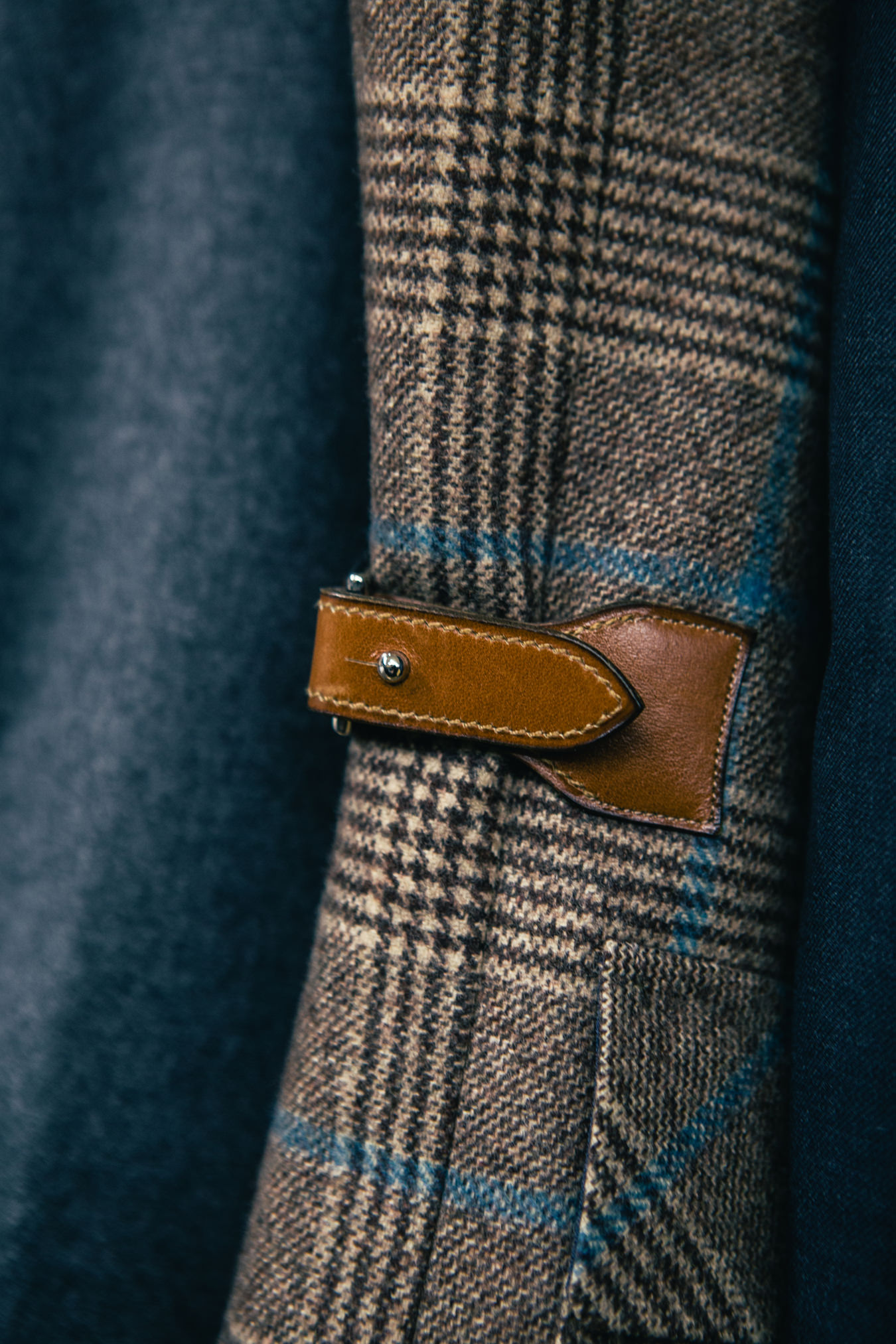 "Twenty-five years ago," he whispers in buttery Parisian French, "I asked myself, 'What is the future of Cifonelli?' " Swirling a tidy white beard through his fingers, he admits, "I never would've imagined that we'd have as many clients as we do today, young bespoke clients—never! Never!"
As we chat over espressos, his cousin Massimo, 46, nods warmly in our direction from a nearby table stacked with catalogues, bundles of fabric, buttons, and lookbooks. Decked out in head-to-toe blue with purple suede tasselled loafers and his trademark bulging tie, Massimo is, I notice, in mid-consultation with a certain British actor of "superhero" proportions.
"They come from all over the world," Lorenzo whispers to me, eyes widening, as if he still can't believe the Cifonelli phenomenon himself. "Moscow, Singapore, New York, Seoul, Tokyo." And curiously, from London, home of the storied Savile Row.
Descendants of one Giuseppe Cifonelli—their great-grandfather, who created the original Cifonelli label in Rome in 1880—the cousins enjoy a cult-like following for their bespoke suits.
All those who enter this well-kept address among the gentleman's elite pass a brass sign that reads "A. Cifonelli". At first, this appears to be a tribute to Lorenzo's father, Adriano, who still works part-time in the family business, but it actually refers to Lorenzo's grandfather, Arturo, who opened a workshop at this very address in 1936. Quite the globetrotter, he was the pioneer who left Rome to study at the Minister's Cutting Academy in London. Arturo is also the mastermind behind the signature Cifonelli style.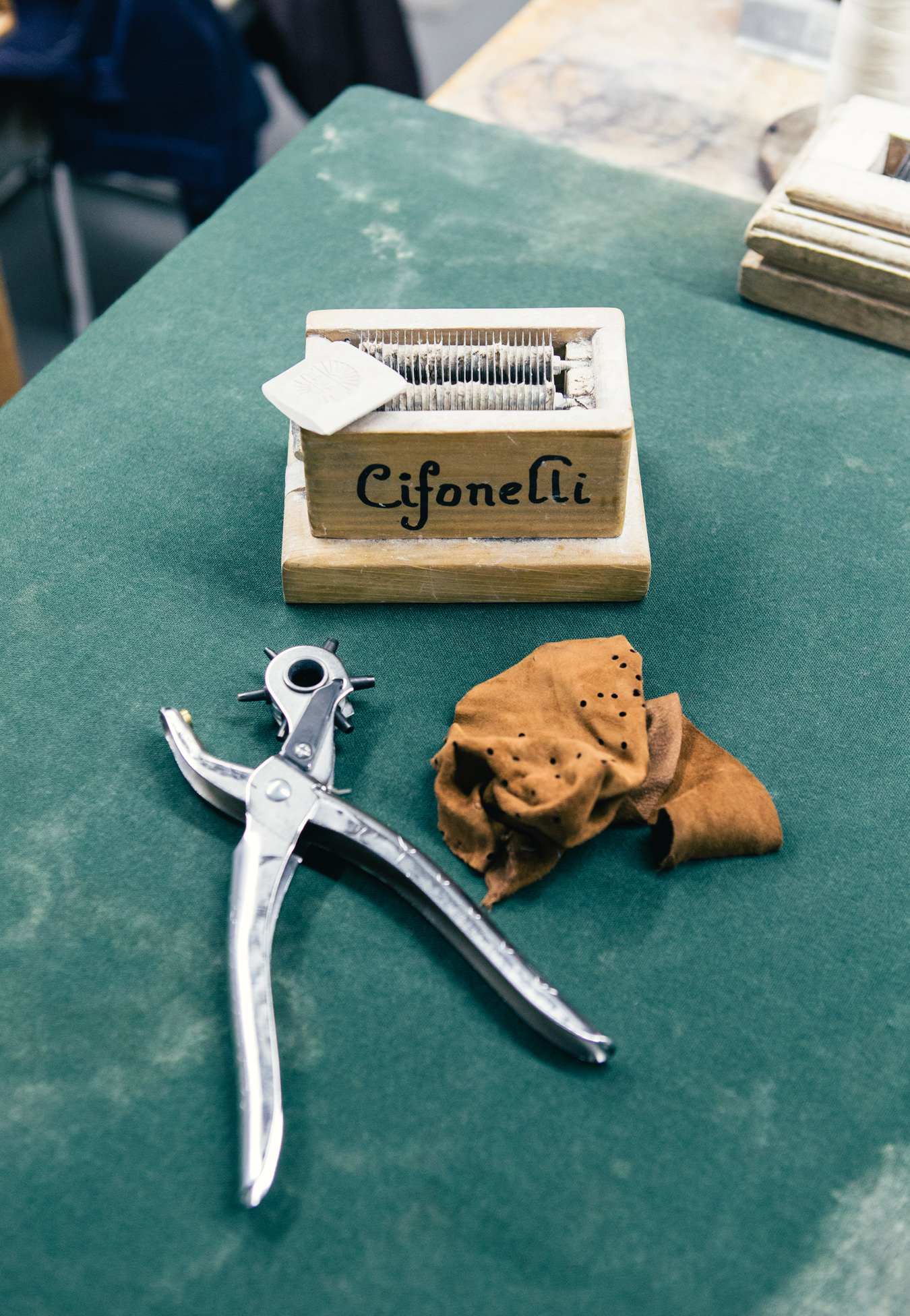 "English suits at that time tended to be military-like, like armour," Lorenzo says, "whereas Italian suits were very soft in the way the jacket and inner lining were constructed. Therefore, my grandfather took what he learned about cut in London, and when he came back to Rome, he made a kind of mix between the two. Over a century later, we still work in inches."
Arturo also invented Cifonelli's celebrated shoulder, la cigarette. Constructed with soft padding and intricate piping, its slightly forward pitch produces a narrower chest and a wider back for a look that is at once natural and comfortable. Über-icon Karl Lagerfeld famously remarked that he could recognize a Cifonelli shoulder from a distance of a hundred metres. In fact, Massimo and Lorenzo maintain that they are the only two who construct la cigarette.
"In the end, Cifonelli is a mix of three countries," Lorenzo states, noting that a third important element was added after Arturo moved to Paris in 1926. "The French are known for their quality finishings." As if by osmosis, Cifonelli's fine tuning evolved: hand-stitched buttonholes, exquisite welt pockets, razor-sharp notches, precision peaks, martingale belts, musketeer cuffs, and Mao collars, all of which continues in 2017 by Cifonelli's team of 45 tailors and petites mains.
Clearly, though, not all tailors are cut from the same cloth. Certain ones have a mission. "You can put Superman in a suit," Lorenzo teases, referring with a glance to the celebrity still present in the adjacent room, "but if he looks like a bodyguard, I have failed. It has to be sexy."
Is sexiness in the scissors, then? The word tailor, derived from the Modern French word tailleur, "a cutter", has evolved to have a richer meaning—and in the Cifonelli sense, a magical one. To Lorenzo, a man's silhouette is an architectural project. One exceptional technique employed by Cifonelli to bring out the "sexy" in a client is to cut the lapel from a second piece of cloth, allowing the fabric to drape independently along the chest, instead of being a folded flap. The complicated process demands careful stitching to camouflage the seam, precision cutting, and, of course, passion.
Massimo later tells me, "We are about artisanal work in which beauty is translated in the number of hours invested in the product, as well as the demands of quality." In concrete terms, a single Cifonelli suit takes 70 to 80 hours of handiwork and requires at least three fittings. From 1992 to 2008, the house oversaw the bespoke line for Hermès, for which the label read, "Hermès par Cifonelli".
In concrete terms, a single Cifonelli suit takes 70 to 80 hours of handiwork and requires at least three fittings.
Nevertheless, even though bespoke clients tend to have deep pockets, the cousins agree that their family legacy is not about luxury, but about craftsmanship. To understand this inside out, I tour the atelier with Cifonelli's flagship store manager Romain Le Dantec. In his cement-grey ensemble, he's a kind of poster boy for the millennial dandy. Le Dantec's admiration for Cifonelli is displayed in his earnest choice of adjectives to describe a fabric—"Sublime!"—or an artisanal detail—"Incroyable!"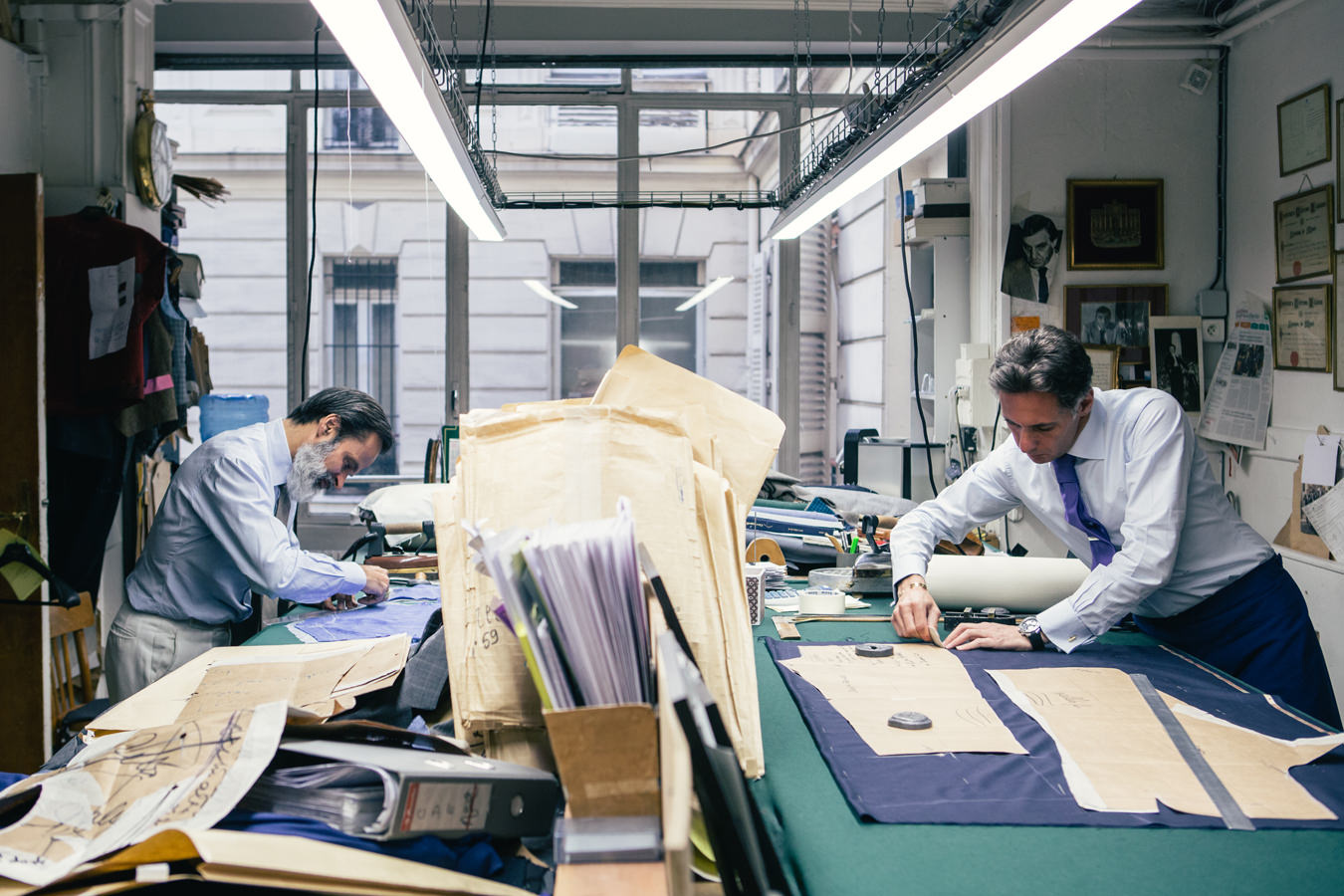 "Feel this," Le Dantec cajoles, laying down a sporty mustard-yellow jacket. Cut from ultra-exclusive yak wool, the garment is soft and light like cashmere, but strong like wool. He explains that the Tibetan supplier works with nomadic communities and it can take months to acquire each shipment of wool.
My tactile tour peaks at the touch of a delicate, silky material called Grand Cru from one of Cifonelli's many esteemed suppliers, Vitale Barberis Canonico, a fabric mill established in 1663 in the province of Biella, northwest of Milan. It is known to be the finest wool in the world, and Le Dantec caresses the swatch like a stray lock of hair around a lover's face. He asks: "Can you believe it's wool?" No, I cannot.
The real backstage action happens in a labyrinth behind the cafeteria, where I find a clutter of pattern templates, spools of thread, irons, needles, buttons, and pins, all manipulated by meticulous hands with the same end goal—a Cifonelli garment. In a final little nook, I meet a shy woman working on a pair of tuxedo pants. Le Dantec eyes the strip of satin expertly inserted along the outer leg and points out the handiwork around the pocket. "This is her bébé," he says, and she blushes.
It was a logical step to expand the brand, Lorenzo explains. "Here [at the rue Marbeuf atelier], it's like a cocoon, a secret. People know who we are and that we do bespoke, but there is also a cost for that."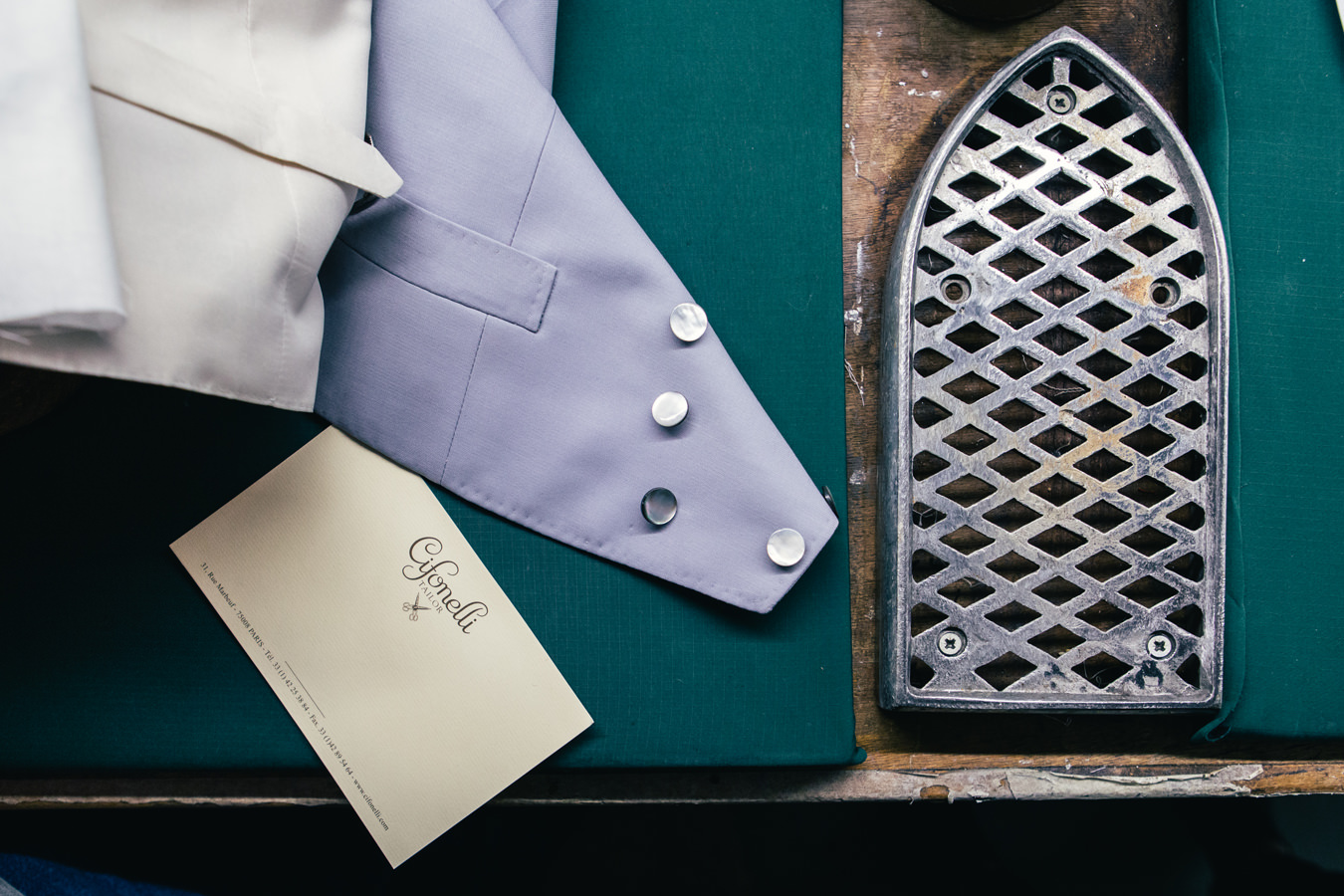 To oversee the prêt-à-porter collection, Cifonelli welcomed John Vizzone as creative director. Vizzone was formerly in charge of the high-end Black and Purple Labels for Ralph Lauren in New York, a post he held for 25 years. Massimo says, "John knows the DNA of the brand, having been first a customer of Cifonelli and then a friend for a long time."
Vizzone's vast experience with a marketing and lifestyle heavyweight also injects an air of commercialism to the Cifonelli brand. "John knows about accessories and other components we need for a complete collection," says Lorenzo. In addition to a line of ready-to-wear separates, customers can peruse cufflinks, umbrellas, and even shoes developed in partnership with Savile Row's Gaziano & Girling.
In keeping with Cifonelli's bespoke reputation, Lorenzo assures me that all measures are taken at the retail level to reflect and respect it. "Everything is studied and thought out. Nothing is just purchased and we put a Cifonelli label on it." Besides embroidery styles with which to customize your monogram and the unique "cigar pocket" hole, which can be used for a cellphone or glasses should tobacco not be your vice, there is also the valued service of "demi-measure", in which the framework of a suit is ready-made but bears unfinished details. This allows, for example, the length of a jacket's sleeve to be adjusted—by hand, by an on-site master tailor—to a client's arm, exposing the much-desired quarter- to half-inch of peekaboo shirt cuff.
"Here [at the rue Marbeuf atelier], it's like a cocoon, a secret," explains Lorenzo. "People know who we are and that we do bespoke, but there is also a cost for that, around 6,500 euros per suit. This limits access to the brand."
The day I visit the retail store, I somehow walk right past Le Dantec and only turn when he calls my name. It's amazing that the brand survives without the muscle of any major marketing campaigns, relying on word of mouth not only through contemporary streams, such as social media, but also through a kind of sartorial inheritance. Inside the boutique, a gentleman looks on while his twenty-something progeny shops for a suit to wear to a wedding. Le Dantec says of the father, "He's one of our regular bespoke clients. And that's his son."
.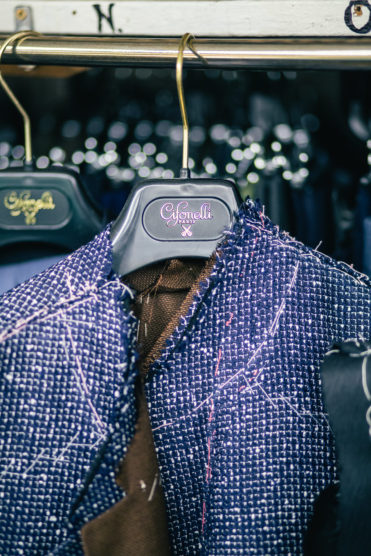 It must not be overlooked that although Lorenzo and Massimo are the dapper frontmen of the company—their Instagram accounts are worth a look—they are also master tailors, a title bestowed upon one who has surpassed the "proper tailor" designation (someone who has practiced for at least seven years) and gone on to work for a few decades in the business. They are the handlers who take your measurements, cut your pattern, and oversee all the steps to arrive at your final product. They are also the eyes and ears that keep the Cifonelli brand fresh and modern. Two of the label's most popular items are from its collection of 40 exclusive in-house designs: the 6×1 and the iconic three-piece suit, which includes the one-button suit, the double-breasted waistcoat, and trousers.
Lorenzo remarks, "It surprises me how many young people come to Cifonelli asking for these two items." The former is a 2.0 version of the traditional double-breasted jacket, which Massimo loved, but viewed as overly structured and constricting. To open it up, he created a deeper lapel that overlaps toward the bottom hem and closes with a single button. There are six classic buttons on the front, but only one of them is functioning (along with a hidden button inside). The rest are just for show. Thus, the 6×1. Buyers can customize the style to suit their whim. One version of this jacket, cut from Japanese cotton jersey, has been baptized "Spy". The soft material has a sporty appearance, and Massimo and Lorenzo envision the wearer as someone who cycles to the office wearing the suit and a pair of sneakers, then transforms at work by slipping on a pair of dress shoes and a tie.
The waistcoat is another double-breasted article of clothing currently enjoying a comeback, and one that Cifonelli has tweaked to make their own by pairing it with their emblematic one-button jacket. (There is even the Cifonelli Canadienne, a one-button sport coat with slanted chest pockets, inspired by Canadian hunting jackets.)
The future of Cifonelli is now—the destiny of the brand is in the hands and on the minds of its current proprietors. La relève, or "the successors", is an issue that hangs above their heads. "Yes, it's a problem," Lorenzo admits, caressing his beard once again as if feeling his age. "There are always young people in training. We have to anticipate what will happen in three or four years. You can't let it pass you by, because there will be people retiring. You can't just say, 'We'll see what will happen.' "
Finally, when it boils down to the Cifonelli passing of the torch, or rather the scissors, the conversation turns to Massimo's 10-year-old son, Vittorio. "I won't put pressure. If I see he has an interest, then I will help him," says the modern dad. Granted, a woman could very well become Cifonelli's fifth-generation master tailor; Vittorio has an older sister, Chiara. Lorenzo, who has two daughters, emphasizes the reality of being a master tailor (male or female): "This profession requires passion and talent, the talent of being hardworking."
Like father, like son, like daughter? While the Cifonelli empire slowly blossoms before our eyes, the question of lineage remains. But whatever and whenever a change occurs for La Maison Cifonelli, we can be sure of two things. First, the Cifonellis will be dressed to the nines and, second, the world will take notice.
_________
Never miss a story. Sign up for NUVO's weekly newsletter, here.