Calico Wallpaper in Red Hook, Brooklyn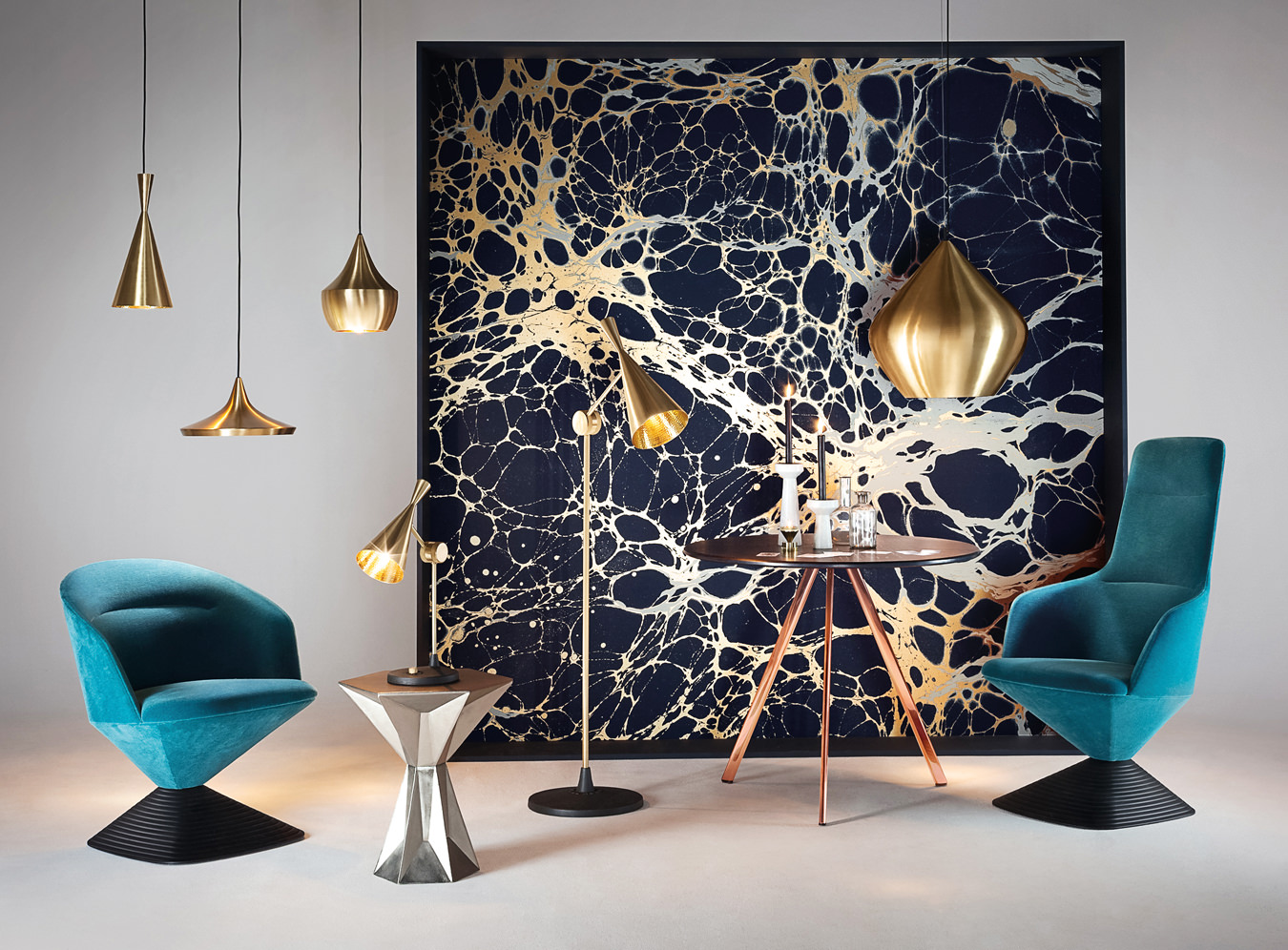 In a world that sometimes feels bound by digital walls, we turn and return to the handmade. For the last three years, in Red Hook, Brooklyn, husband and wife Nick and Rachel Cope have been making wallpapers that synthesize antique handmade techniques with digital technology, tap esoteric inspirations, and feature irregular patterns and colours. They play with gradients, metallics, and woven natural fibres and create large-scale marbling, watercolour-like washes, pigments coaxed from fragments of Belgian bluestone, and blended ombrés. Their influences are emphatically material, or abstract and impalpable, or both: NASA telescope imagery; the moody mist of dusk; the Blue Ridge Mountains and Chinese landscape paintings; the reflection of willow trees on water.
The Copes met in 2007 and have a 19-month-old daughter named Willow. Rachel, who has worked as an art therapist in a number of psychiatric hospitals, grew up painting, drawing, and collaging in Martha's Vineyard. Nick's mother practises feng shui, his grandmother had a business that dealt in East Asian antiques, and his father, a financial planner, taught Nick about entrepreneurship. Nick's previous businesses have included contracting, interior design, and decorative painting. Following Hurricane Sandy in 2012, Nick found his projects on hold while Rachel was placed on paid leave for six months.
The two began mining everything from the print archive at the New York Public Library to the Internet and old curio shop books in order to study marbling techniques. Rachel, who had learned marbling and papermaking as a child, created a home set-up. "We felt that paper marbling should have a larger place in architecture," says Nick. "That was what catalyzed our first collections." They began to experiment in earnest with traditional art forms like Turkish ebru and Japanese suminagashi marbling, creating a collection, named for their calico cat, of custom-fit, non-repeating wall murals. They creative-direct and design together, Nick digitizing large-scale artwork that Rachel crafts in the studio and then customizing it to the dimensions of the space where it will be installed, as if to a tailor's measurements.
"We felt that paper marbling should have a larger place in architecture."
"The large scale of our original papers is enabled by the digital print technologies that we use when we lay out our murals," says Nick. "By scanning large handmade artworks, we end up having a tremendous amount of data to draw from for printing."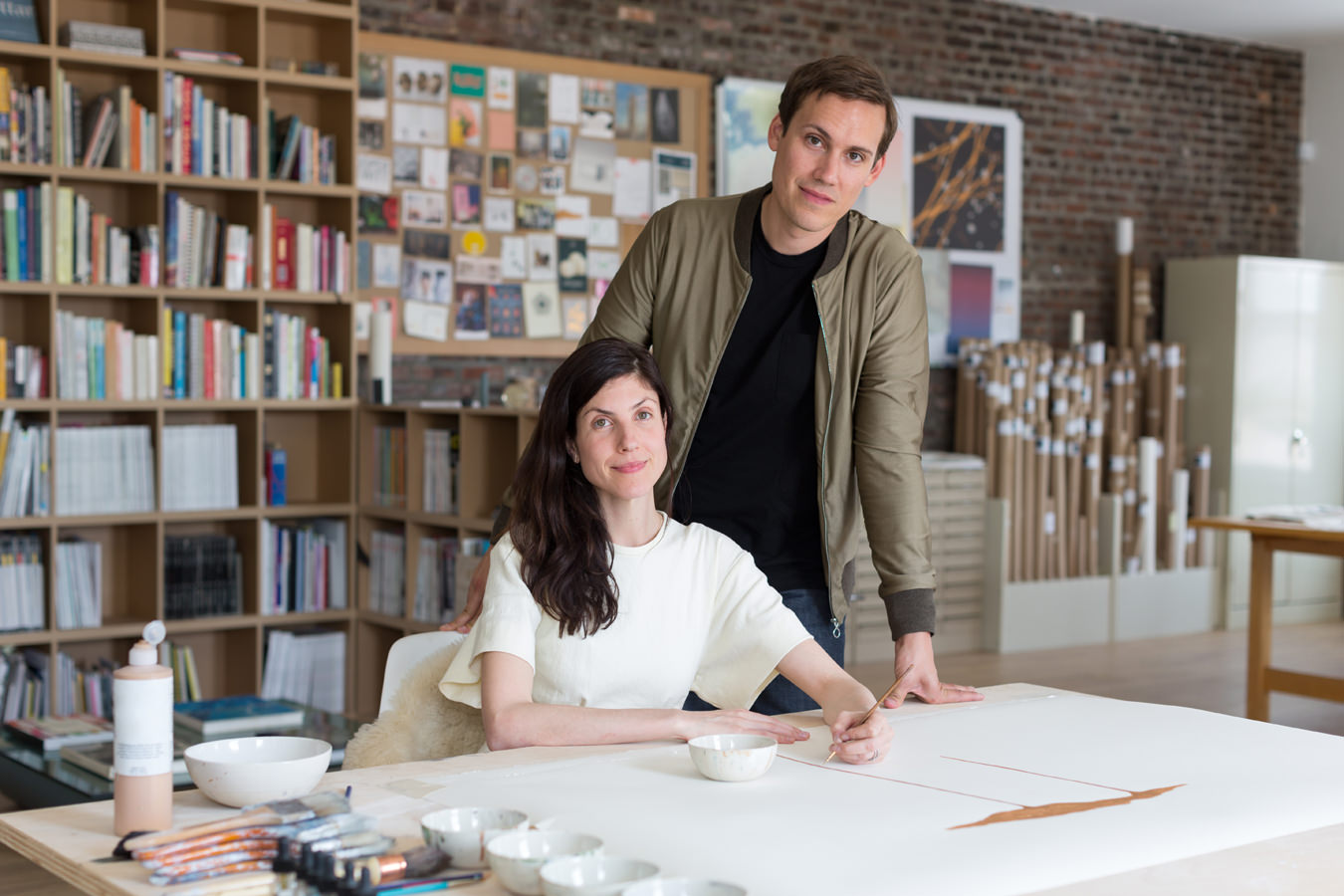 The Aurora collection's 16 unusual gradients were inspired by fabric dyeing, and they use pigments like ultramarine and indigo suspended in liquid and transferred to linen. "We did not anticipate the time that would be required to get Aurora right," Nick admits. They put dozens of samples from Rachel's original paintings on the floor—sunrises, sunsets, and horizons—and pushed them around until they found "the right mix" and then resampled them to fine-tune the colours.
Iridescent and metallic, Brasscloth continues Aurora's investigation of gradient to play on the vintage interior woven grass wallcovering called grasscloth. Rendered in burnished mineral hues on a reflective base material, it is printed so as to reveal the underlying substrate. Even in its darkest colourways, Brasscloth is luminous.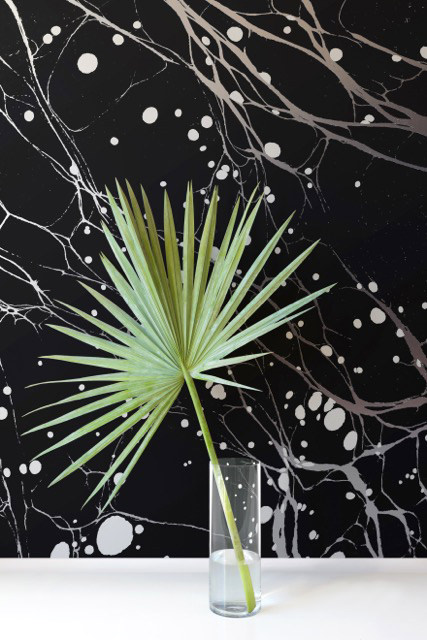 At NYCxDesign week this May, the two introduced Cirrus, a pattern that combines big brushstrokes and translucent washes with a reflective glaze over gold and silver metallic ground material to suggest the formation of clouds against an abstracted horizon. Also new was the Satori collection, featuring metallic leaf, aquarelle tints, and wall-size drips inspired by kintsugi, a Japanese method of pottery repair that uses lacquer mixed with powdered gold, silver, or platinum to preciously showcase the breakage. Nick layered Rachel's hand-painted drip pattern to map out negative space where the metallic ground (representing the repair line) was exposed amidst the watercolours.
The couple has already printed some of their patterns on clothing for Swords-Smith.com, and plans to apply others to rugs, textiles, and other decorative homewares. This spring they created 12 patterns for an artisanal sea salt and chocolate collection by Brooklyn's Mast Brothers, using a modified salt-resist technique combined with watercolour painting. It seems that whatever form a Calico project takes, the studio's work will use both art and algorithms to return imagination to the surfaces we live with.
Never miss a story. Sign up for NUVO's weekly newsletter.