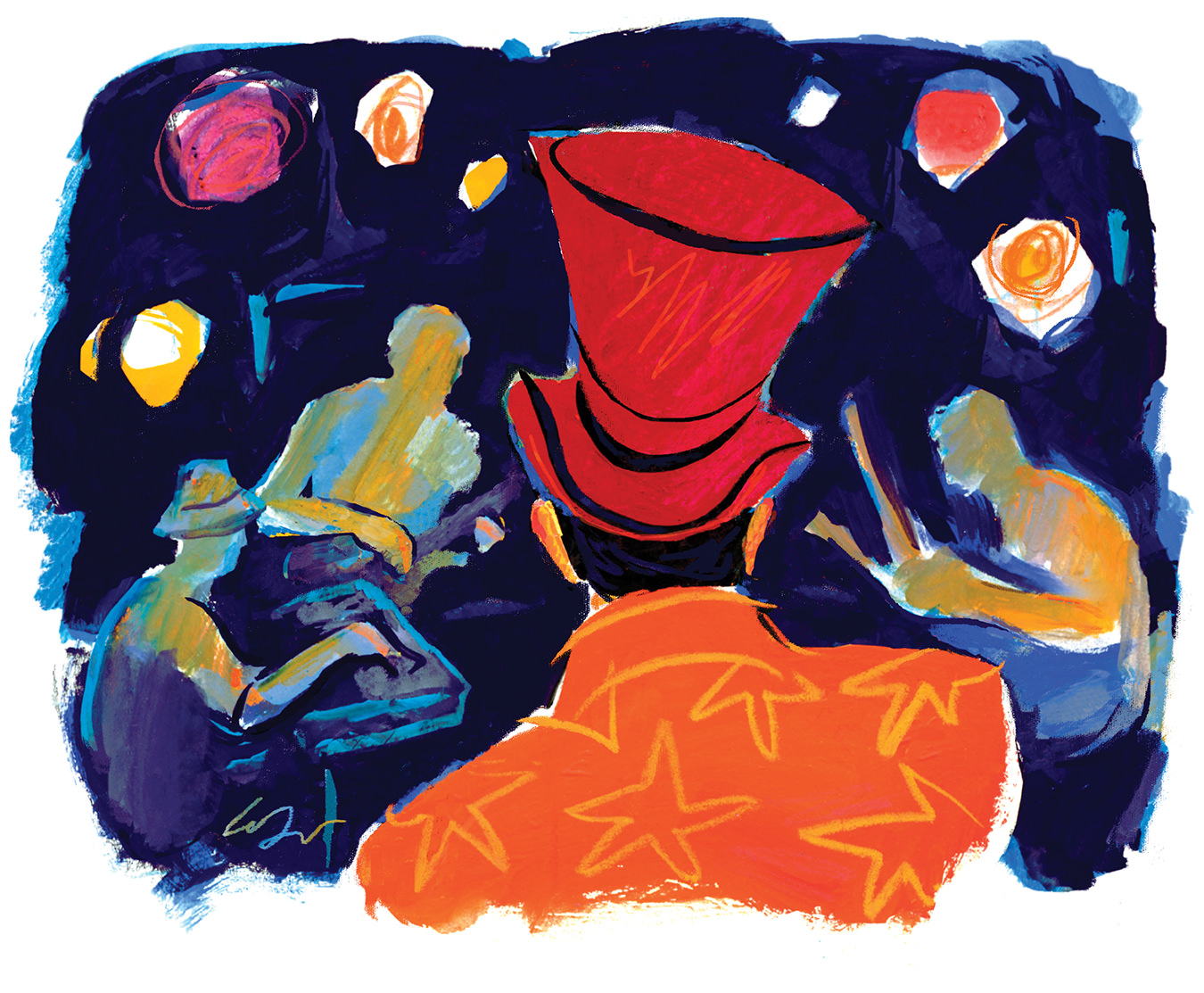 Life seems full of basic truths, casual bits of knowledge that enhance our experience of the world. Avoid, for example, restaurants that propose to "add chicken for $4" to an already lackluster Caesar salad. Shun any movie billed as "hilarious". And never, ever, consider the purchase of a downtown house described as "charming, with original character".
So, what to do when a popular Canadian band asks you to manage them? Pitfall? Opportunity? After all, legions are 'on the road' stories of ferocious over-indulgence, sleepless journeys, loud smoky bars and over-zealous fans. Well, the thing about supposed truths is that they can be pretty fun putting to the test.
For the last couple of years, I've had the privilege of managing the Canadian band The New Deal. This Juno-nominated trio is known as pioneers of a new musical form, loosely termed "livetronica". Three musicians—on bass, keyboard and drums—create improvised, hard driving house music that has found a niche amongst jazz fanatics, club kids and fans of the Phish or Grateful Dead. While hard to characterize, the band's distinct sound has been flatteringly described as a "sonic shitstorm". Their creativity attracted major label attention from Jive Records (with label-mates *NSYNC and the little-known Britney Someone-or-other). And public demand took the band across North America countless times. They have enthusiastically performed over 450 live performances since 2001.
Glam, eh? Well, it can be. Fancy tour buses, with cozy interiors and groovy sound systems can be a nice way to travel. Until the brakes burn out, as they did last summer, on a downward plummet towards a busy crossing in the mountains of West Virginia. While I was silently bidding adieu to our 10-person crew and band, it donned on me that the bulk of the experience had been rather fun. I recalled laughing hysterically each time a particularly quiet member of the crew would casually announce—invariably in the confines of an over-crowded rental car—that he "may have farted". Or the Rock Star greeting that the band's shaggy-haired tour manager would receive when we arrived at a new venue. It took many bar owners a while to figure out that this strapping character wasn't actually performing in the band, deflecting some of the attention from the musicians slumbering in the dressing room. Or the hysterics of the band gently segueing into brief covers of Madonna or Journey completely on the fly, to the audience's amazement. We survived our brush with disaster that day, and I may have smoked a pack of cigarettes by the side of the road once we got the bus to stop.
The type of intimate camaraderie that being on the road creates is hard to describe. A new language develops, where bad breakfasts (or any other sub-par experience) would be deemed a "fail". Buffets were generally awarded "fails", as were the countless motels we visited that insisted on deposits to use the telephone. Or simply didn't have telephones. Particularly glamorous was our late night return to lodging in a previously prosperous city in upstate New York, where we were greeted by yellow police tape, and a corpse amidst the shattered ruins of a glass table in the lobby. While we had missed the gunfire and scuffle of a few minutes earlier, the tragedy did have a grim upside—you'd be surprised what type of room discount you can get under the "dead body in the lobby" complaint.
"Pass" was an assessment used less frequently, and was generally restricted to characterizing particular physical attributes of pretty young things in the audience. However selective, some impulse purchases (including most clothes sold at truck stops) were awarded "pass" status. And, incidentally, our near-fatal bus trip was deemed a "full fail". Quite appropriately.
If you've ever lamented airline travel, you should try it with 1,300 pounds of audio equipment, crammed into a couple dozen big black cases. "Any bags to check?" became a pretty ominous question, with road cases stacked high in the background. We became intimately familiar with airlines baggage policy, which was generally geared to dissuade our type of travel. Faced with a particularly stringent check-in agent, we found it advantageous to suggest that we were enroute to a charity concert for wayward children. In select southern states, proposing that we were scheduled to play church fundraisers proved to alleviate some of our baggage non-compliance issues. And we may have actually played those gigs.
Now, as a band manager, I wasn't required to be on the road all the time with the band. There were important office responsibilities. Curiously, I missed one cross-Canada tour that was arranged for February and March. As I gathered from innumerable curt voice mails from the band, the trans-Canada isn't much fun in relentless snowstorms. For the record, it's now a truth that touring in Canada, outside of glorious summer months, is a "full fail". The same can't be said, however, for California in June. Or New York City in July. Part ringleader, part entrepreneur, part travel agent and part mediator, being a band manager requires, above all, some basic common sense. I still haven't seen Fredericton in winter.
It's not as though I didn't bring experience to this enterprise. Over the last couple of decades, I've variously been a DJ, a bouncer (very briefly), a promoter who nurtured the rave culture in Canada, an artist agent and the owner of a high-profile club in Canada. So I knew a bit about the business. So imagine the band's shock when—after packing 500-plus fans into a club in Quebec—we departed with the princely sum of $250. This financial fiasco was a lesson of epic proportions, with two major conclusions: one, there's always someone smarter (or shadier) than you, and two, there's nothing classier than working with a band that quietly let me lick my wounds, and saw this financial fiasco as water under the bridge. The same mistake was not made twice.
But there have been some pretty glamourous moments in the adventure too. It's hard to forget a monumental New Year's performance to the hometown crowd in Toronto, where the extraordinary attendance required a Beatles-esque security escort from the dressing room to the stage. The 200-foot journey jostled us for nearly ten minutes, while security at the venue desperately tried to hold our audio engineer and his equipment from being swept into the throngs. Or back-to-back sold out performances in one of New York's top live venues—complete with fans begging for tickets on the sidewalk—when the band's performance soared to such heights that the magic was undeniable. We shared stages over the years with phenomenal DJs, as well as legendary artists like Herbie Hancock, Moby and Fatboy Slim.
The essence of music is live performance. Much has been made in the last five years of declining CD sales, under siege from the technological ease of digital reproduction. While the New Deal actively encouraged fans to create audio recordings of our live performances, which are traded ferociously amongst fans online, what can't be reproduced is the visceral experience of seeing the band live. And the New Deal puts on an exceptional show. It's been a sight to behold when the band has hit a particularly infectious groove, and the crowd explodes in a flurry of sweaty appreciation. In the midst of it, the band's sound engineer would be meticulously tweaking and shaping the sound, while our animated lighting operator would be dancing uncontrollably while his wiggling lights washed beauty through the room. It takes a special person to commit to this type of lifestyle, full of compromise, hard work, limited sleep and tremendous responsibility. We lost some exceptionally talented new crew members to the vigours of life on the road; it's a baptism by fire that many can't endure.
And so the truth seems to stand. The life of being on the road is full of tedium, punctuated by explosive highs, and occasionally lightened by uncontrollable laughter. It can seem like a holiday interlaced with work, or pure drudgery made worse by illness, terrible weather or loneliness. In an effort to preserve collective sanity, the New Deal will not be touring for a single day in 2004, a decision that was at once difficult and entirely sensible. But some of the unique linguistic stamps still stand—I still describe lackluster meals a "fail"—and the memories of creating temporary magic across North America will last a lifetime. Thanks guys, for taking me on the road.