Hinterhouse, Mont-Tremblant's Latest Hideaway
Ménard Dworkind's new design showcases the valley's seasonal splendour.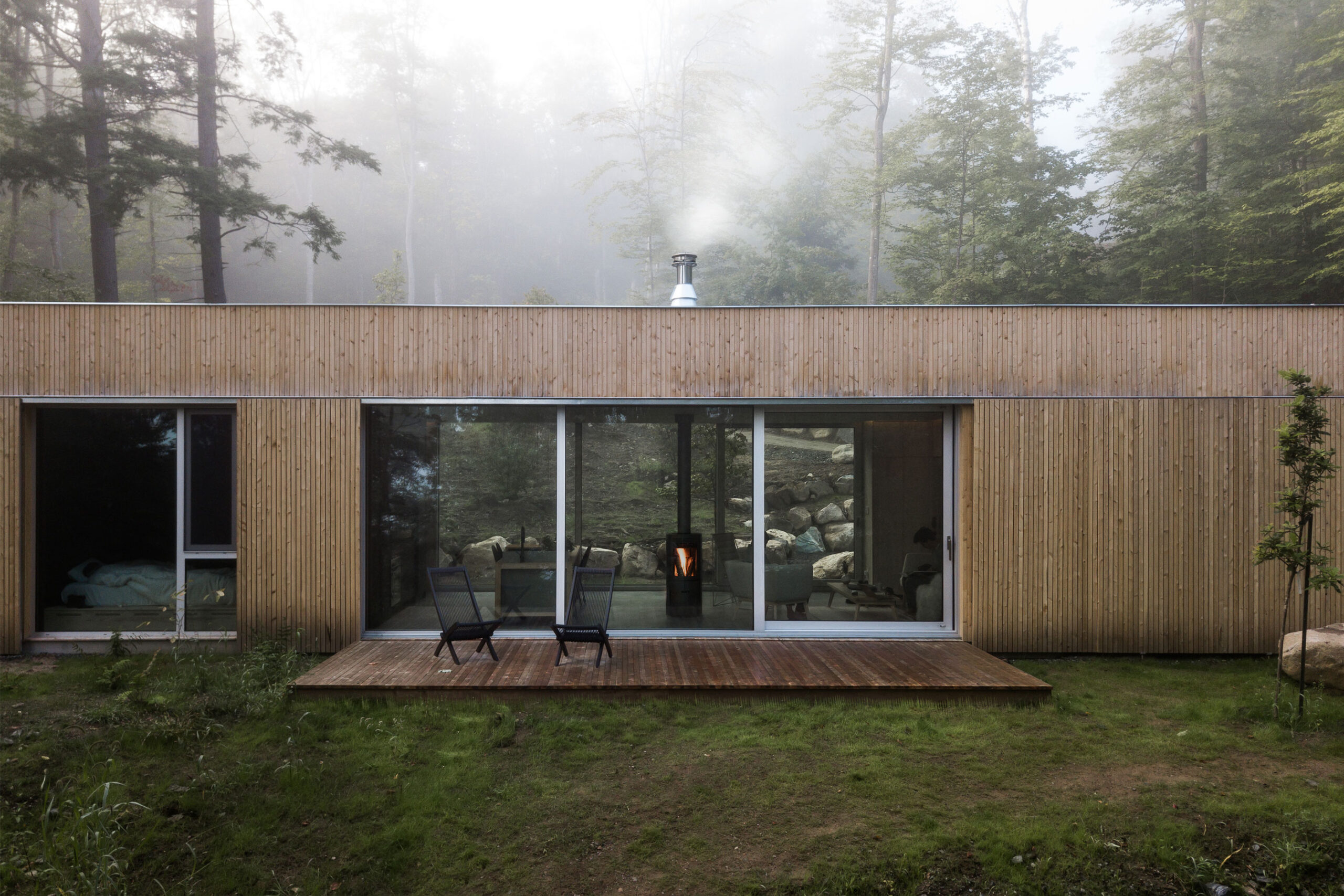 Like the rest of 2020, Hinterhouse, a new holiday rental on a forested hillside near Mont-Tremblant, didn't go according to plan.
"The client's concept was originally to start a prefab company," says David Dworkind, architect at Montreal's Ménard Dworkind architecture & design. "But throughout the process it evolved into being a short-term rental business, which has proven to be extremely successful—especially given the COVID WFH trend."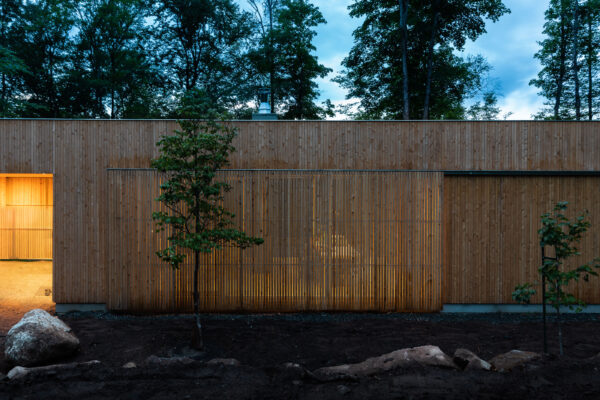 Ménard Dworkind's final result is nonetheless fit for the times: effortlessly compact and nestled in nature, the clever trappings of its original prefab concept work in its favour.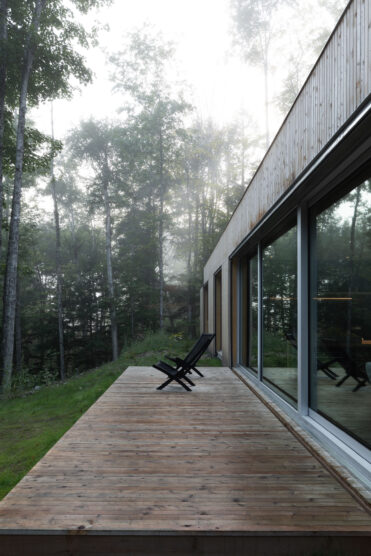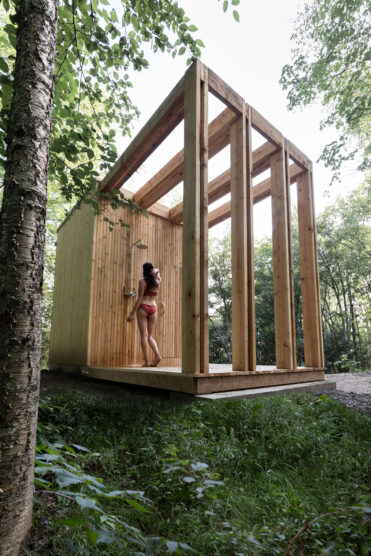 A 15-minute drive from the Tremblant ski resort, the rental creates a sense of space where you least expect it, making the most of just 980 square feet. With two bedrooms, one bathroom, and an open living area, it feels tailor-made for cooped up travellers.
Of course, it helps that Hinterhouse is 60 per cent glass: views of scenery pour straight through floor-to-ceiling windows from one side to the other. "The changing seasons have proven to be amazing in the house this fall," Dworkind notes.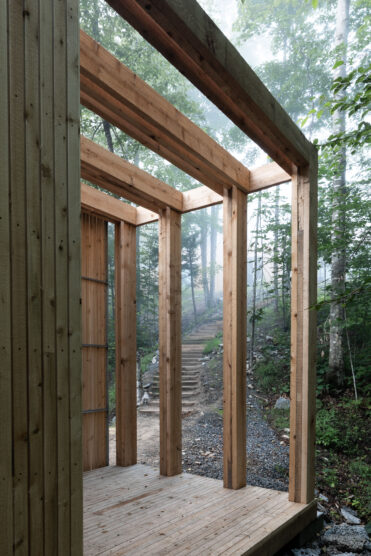 Bedrooms feature wall-to-wall queen beds resting on platforms with built-in storage and sliding panels that reveal hidden TVs at the foot. In the bathroom, concrete slabs ease into a curbless rainfall shower where a large window overlooks the forest. Pine veneer cabinetry carries the eye back inside and across the vanity, and white steel trim stretches beyond the cabinet's edge.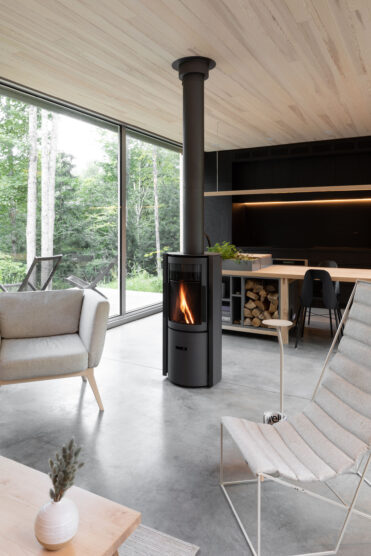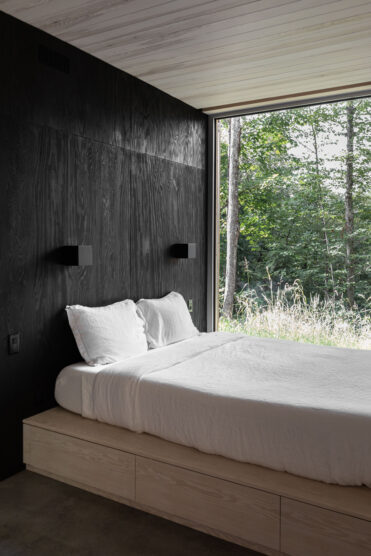 Materials matter to Ménard Dworkind, which crafted the bulk of its design using native and sustainably forested wood. Interiors, mostly clad in red pine planks oiled in white, are anchored with polished concrete floors. Reinforcing the setting, the exterior is clad in white cedar boards, destined to age into the setting, while matching sliding shutters enclose the unit's massive windows.
Taking it all one step further (in the right direction), Hinterhouse plants 10 trees for every booking.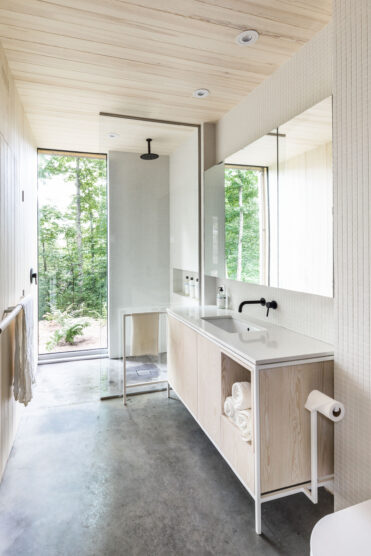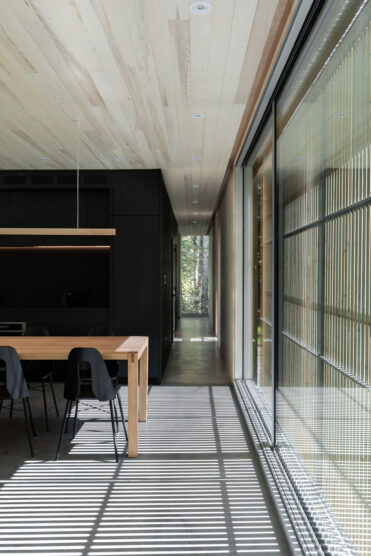 In the living area, Hinterhouse opens up the possibilities of multipurpose design that incorporate the trademarks of compact living. An open kitchen, backdropped by ebony-stained Douglas fir plywood, reveals a handsome farmhouse dining table that works overtime as a kitchen island, too. A custom compartmentalized sink incorporates a lively backsplash—a small herb garden with basil, mint, and sage—next to a cutting board that raises from beneath the vessel sink to a comfortable level.
Not to be overlooked, a central wood stove swivels a full 360 degrees so that guests can see the fire wherever they sit, cook, or work—and for an extra dose of warmth, a private sauna rests outside and just down the hill, built like a small replica of the house with floor-to-ceiling windows framing views of the forest.
Arriving just in time for winter, Hinterhouse might be the holiday hideaway of the moment—and beyond.
_______
Never miss a story. Sign up for NUVO's weekly newsletter here.