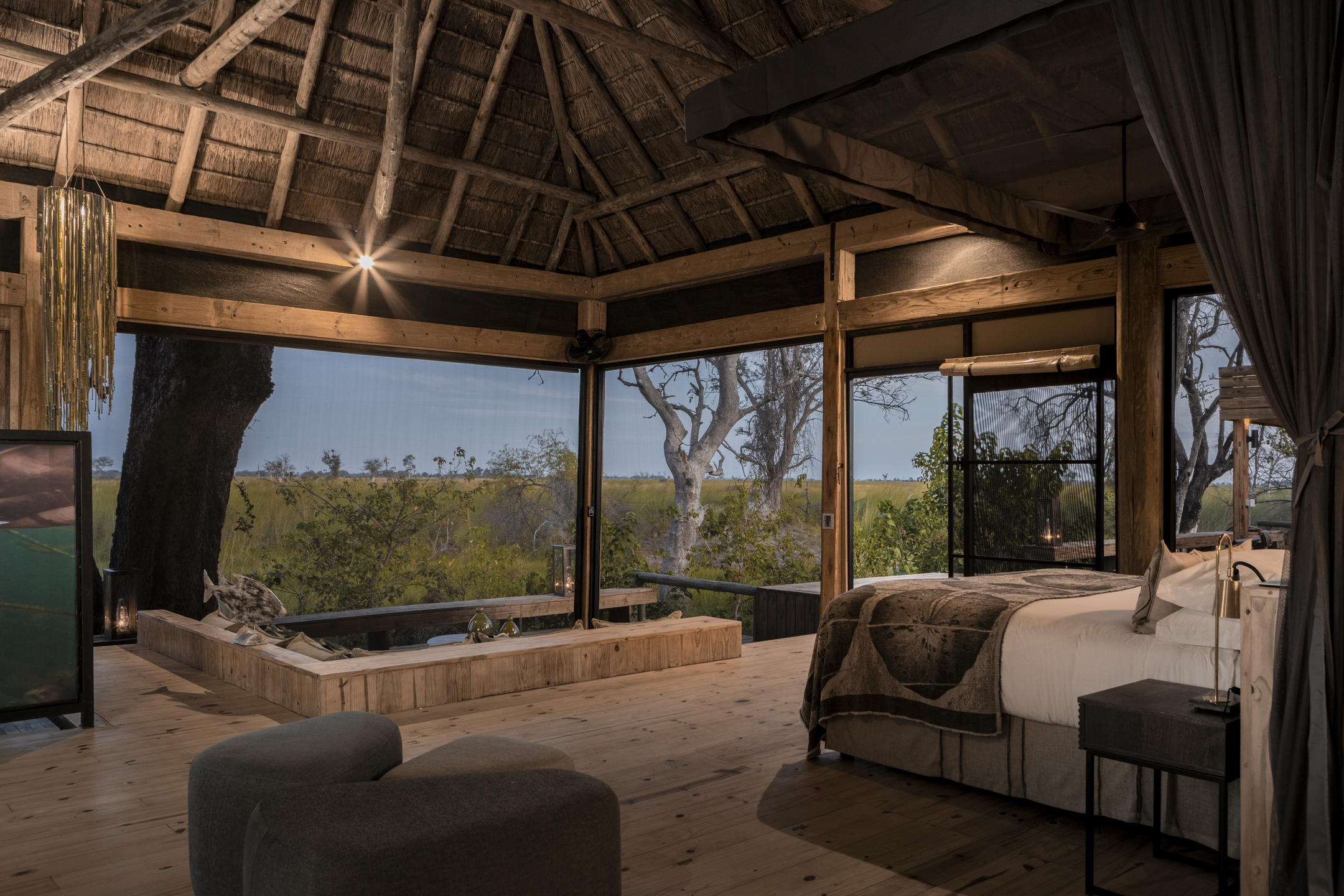 This Botswana Safari Highlights a Conservation Mission Through Design
From the Okavango Delta to the northern Linyanti region, these camps act as a bellwether of sustainable luxury in the country.
Outside my window, the Okavango Delta's flood plains shine and wink like a shattered mirror under the afternoon sun. The bush plane dips and shudders as it begins its descent, and an astonishing array of wildlife comes into view. Zebras mingle with giraffes around mopane trees, elephants stomp along reedy tributaries, and hippos flash their toothy grins from the water.
It's this cast of animals that draws travellers to Botswana, but although the Okavango Delta is a protected UNESCO World Heritage Site, the country and its wildlife still face threats. In the absence of tourism during the pandemic, poaching skyrocketed, and now advocates warn that oil exploration in neighbouring Namibia threatens the river delta's ecological integrity. Raising public consciousness about what's at stake here is key to keeping the spotlight on these issues, and ecotourism company Wilderness Safaris is taking a unique approach, highlighting its conservation mission through the design of its newest camps.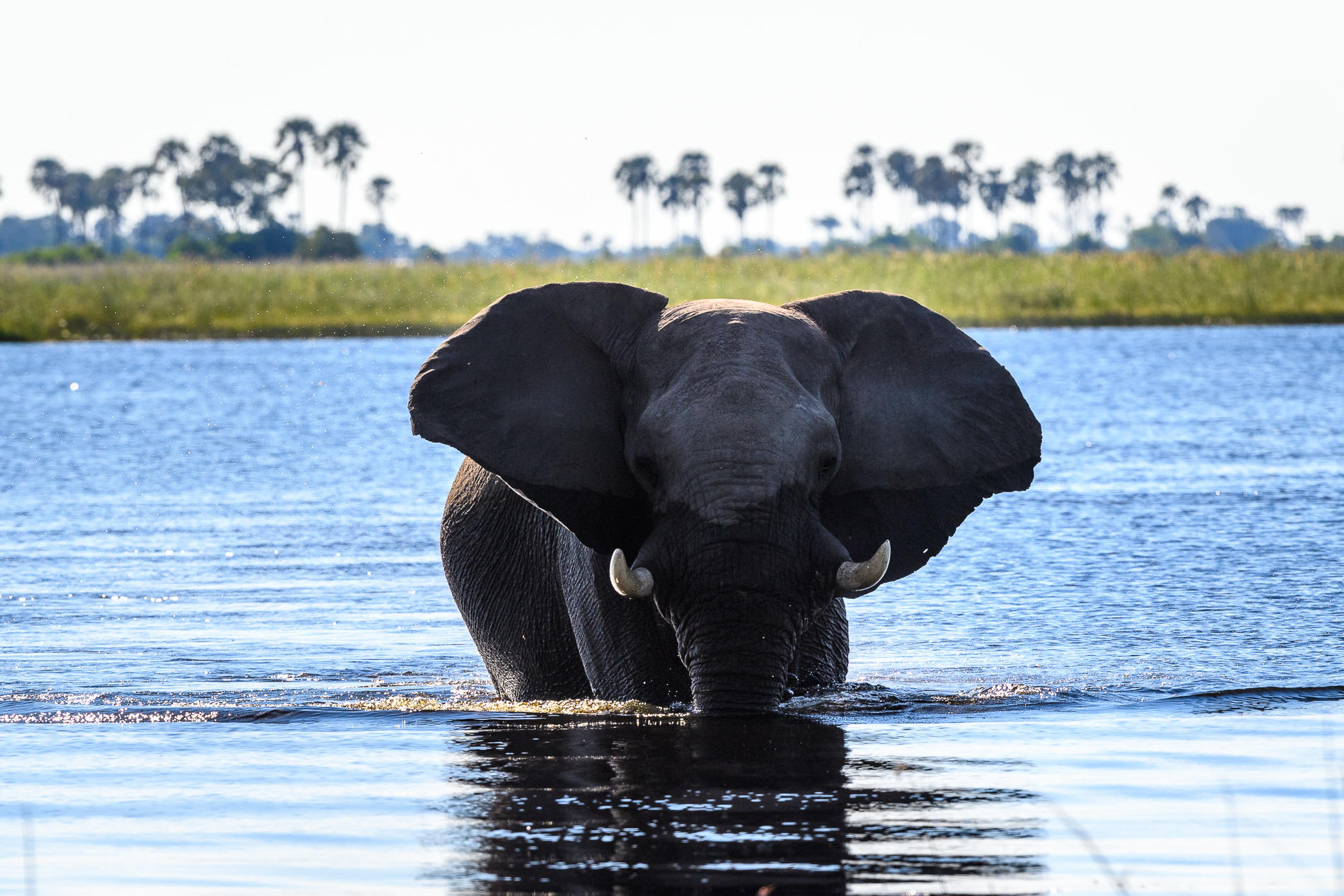 "We want people to be aware of what's here," says veteran Wilderness Safaris guide David Luck, after our small group of safari-goers clamber into a Land Cruiser. "Now that we're back in the camps, we can monitor things," he adds. The jeep picks up speed, and we fly along sandy trails flanked by wild sage, slowing only to see-saw across rivers, where herds of wading kudu antelope turn their mask-like faces toward us. As the sun sets, we pull up to the Vumbura Plains camp, ensconced in the flood plains, or melapo, under a canopy of acacia trees.
The newly redesigned camp, which opened this April, celebrates the surrounding communities. Design elements and art installations that evoke local culture and heritage highlight the purpose of the camp, a partnership with the Okavango Community Trust. The OCT benefits five local villages and works to build positive attitudes toward wildlife conservation by spearheading projects like Ecoexist, a nonprofit that aims to reduce conflict between elephants and people.
In the open-air lobby at the Vumbura Plains camp, an entire wall above the sunken lounge is devoted to a prismatic installation of handwoven baskets crafted by staff members, many from the villages that form the OCT. The installation, along with other accents that nod to local traditions like fishing, including a fish trap turned into a pendant light, were imagined by interior designer Cate Simpson of Reflecting Africa and artist Gina Waldman.
"The design of the camp is meant to prompt questions," says manager Raz-Wilson Dube. My tented suite is awash in watercolour hues inspired by the pristine wilderness the camp works to protect. Water lily motifs abound, while a wardrobe and shower screen feature enlarged underwater photographs by artist Andrea Crawford. It's a serene environment to retreat to after the hot, dusty game drives we embark on over the next couple of days, the throaty belly laugh of hippos lulling me to sleep at night.
Later, another puddle jumper flight brings us to the Linyanti Wildlife Reserve in northern Botswana. Nestled in the heart of the reserve on the banks of Osprey Lagoon is Wilderness Safaris' DumaTau, which reopened in 2021 after a reinvention by San Francisco–Johannesburg design firm Luxury Frontiers, known for its stylish camps across Africa and in Costa Rica and Utah. It's hardly fair to call my suite a tent, as the door swings open to reveal a canopied bed dressed in salmon-pink linens, overlooking a plunge pool that backs onto the lagoon. The trumpet of an elephant welcomes me, and I step outside to find the majestic animal striding through the water steps away from my balcony.
When the elephant disappears around a corner, I retreat to the lounge area, where two "curiosity boxes" with facts about two of the region's key species—elephants and wild dogs—decorate the walls. These design elements echo a larger "curiosity room" I meander through later. There, I learn that the Linyanti has the highest concentration of elephants in Africa. The 100 per cent solar-powered camp was designed around animals' ancient migration trails, and I cross paths with another elephant munching on leaves as I follow the wooden walkway to the lobby.
"Our presence here deters poachers," Luck explains later that afternoon as we chase elusive cheetahs down a forested trail. "The camp experience is about exposing guests to the splendour of these animals," he adds. The area is also a corridor for wild dogs—although they prove shy during my time there. But earlier, we watched, mouths agape, as a pride of lions feasted on a water buffalo.
There's still one last leg of my journey, which will take me back down to the delta to Jao, where a modernist treehouse embraces a green operating system and is part of a community antipoaching committee. The camp's grand Centre of Knowledge Museum showcases artifacts, maps, botanical pressings, and books, inviting guests to learn about the area's flora and fauna, and how the camp contributes to their conservation.
But for now, I linger by the water with a sweating gin and tonic in hand, watching the treeline fade to a black silhouette against a smouldering tangerine sunset. It's the kind of moment you want to tuck away like a treasure, and Botswana's fragile ecosystem is just as precious.