The Deer Valley Difference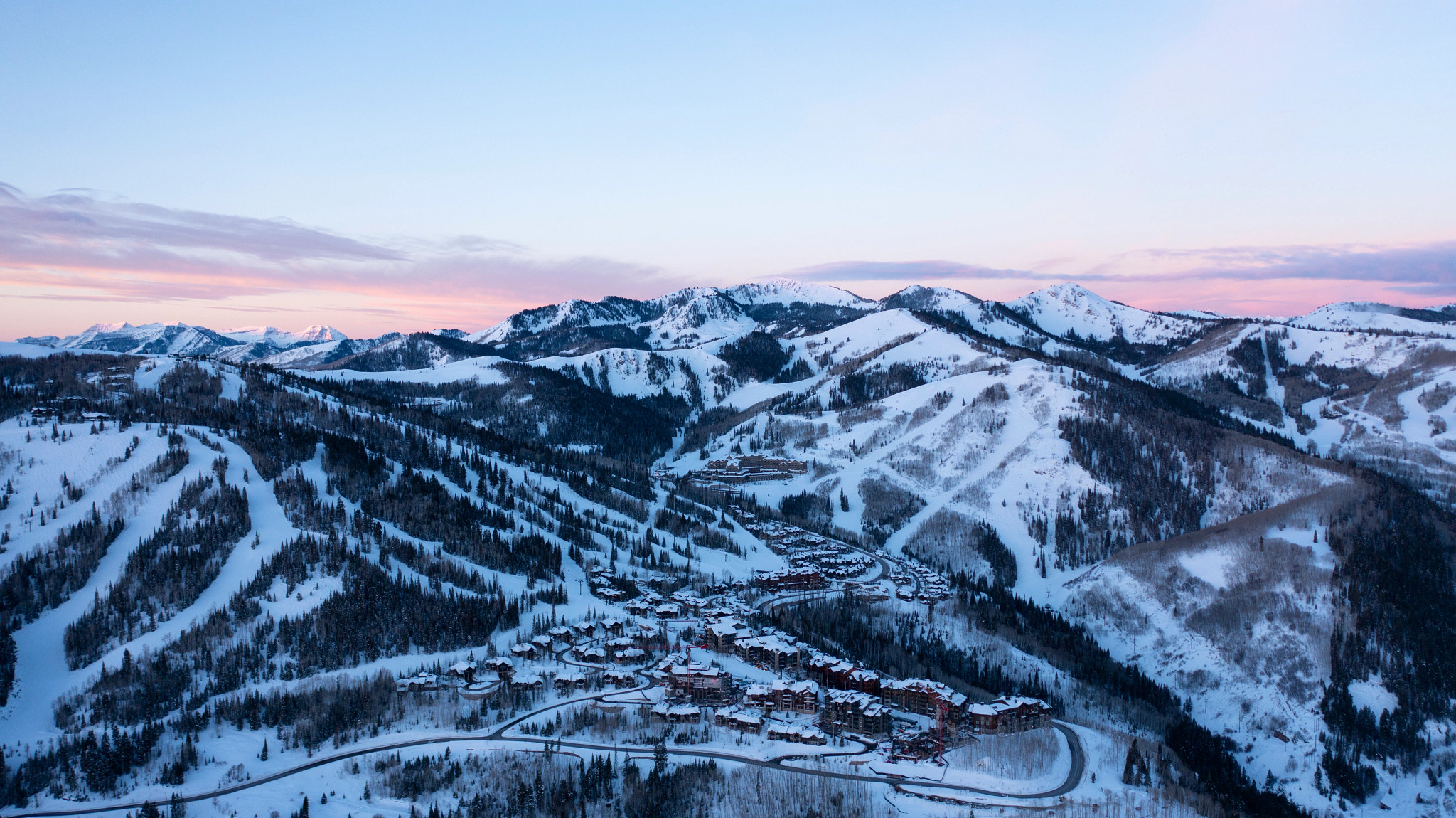 For over four decades, Utah's Deer Valley Ski Resort has been breaking visitors in gently. The epitome of North American alpine posh, our continent's answer to upscale European powder playgrounds like St. Moritz and Davos also offers extensive beginner-friendly terrain, limits on skier numbers, uncompromising customer service and a world-class ski school.
Nestled in the photogenic Rocky Mountain Wasatch Range near historic and hip Park City, with its Main Street lined with colourful buildings built during a 19th-century silver-mining boom, Deer Valley hosted the freestyle mogul and aerial and alpine slalom events for Salt Lake City's 2002 Olympic Winter Games. For the past quarter-century, the resort has also hosted elite international athletic competitions like the FIS World Cup and Freestyle World Championship events.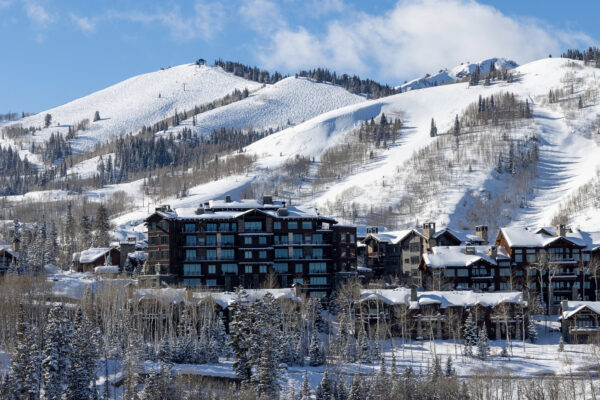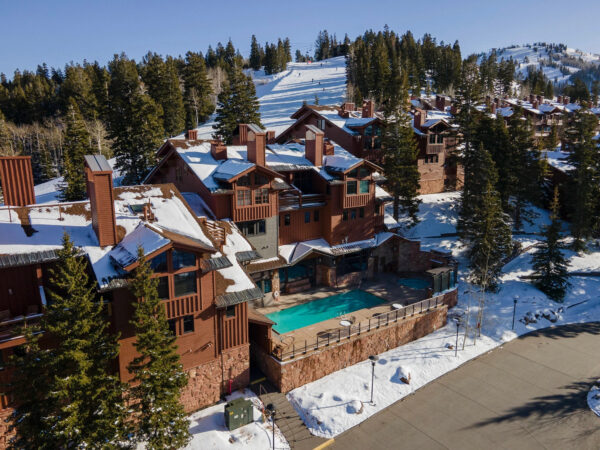 Professional pedigree aside, Deer Valley really delivers when it comes to finding your ski legs. About a quarter of its more than 2,000 acres of varied terrain spread over six peaks is beginner friendly, with plenty of green runs on lower slopes clearly marked "slow skiing" zones, ideal for novices. And should a first-time snowplower inadvertently take a chairlift to any of those initially intimidating summits, there's always a gently meandering green escape route all the way down to the resort's base at Snow Park Lodge.
Not content to rest on its beginner-friendly reputation, Deer Valley invested $6 million (U.S.) last year alone into improving the introductory skier experience. Upgrades include opening up more beginner terrain, grading learning areas to offer mellower pitches, installing automatic safety bars, and reconfiguring lifts to allow first-time skiers more time to learn without the pressure of boarding a chairlift. And because Deer Valley remains one of only three ski resorts in North America that still ban snowboarding, skiing novices needn't worry about rogue and rowdy snowboarders cutting them off, crashing into them, or otherwise causing mayhem.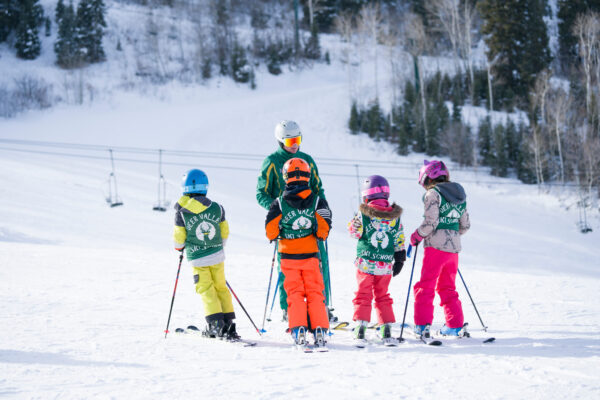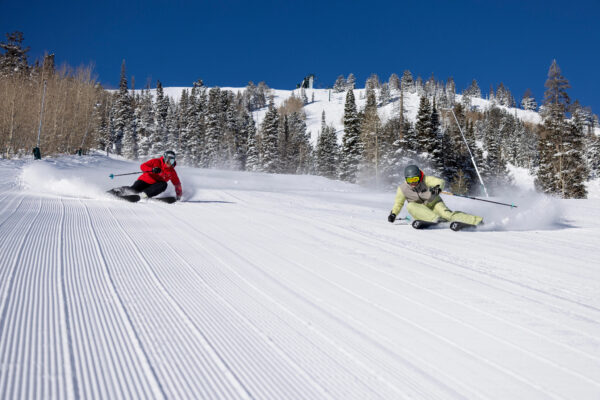 For guests who can afford it, taking lessons at Deer Valley's acclaimed ski school is worth the investment. It is one of the largest schools in the country, with over 500 of the industry's top instructors. You can choose from highly customizable private lessons, Max 4 lessons limited to four participants, or one of the resort's popular first timer packages that includes a lift ticket, rental equipment, and a lesson. Snow Park Lodge also has a state-licensed child-care facility offering daylong care for nonskiing kids 2 months to 12 years. Whichever learning option you choose, you'll likely soon be perfecting wedge turns and side stops after just a few rides up the ski conveyor and down the hill with your coach, ready to soon tackle those immaculately groomed beginner runs tantalizingly nearby.
All the lessons and assistive infrastructure won't do much good, however, without a ski resort's most important ingredient: plentiful snow. Deer Valley lives up to Ski Utah's marketing slogan, The Greatest Snow on Earth, averaging 6.5 metres of fluffy dry powder each season, more than enough to ensure fabulous gladed tree-skiing through tranquil aspen forests and replenish powder stashes hidden among the steep and deep chutes that flow from the resort's multiple peaks. To find these hidden gems, join one of the daily complimentary mountain tours that, depending on your ability, can take you into some glorious technical terrain hidden from the corduroy cruising masses.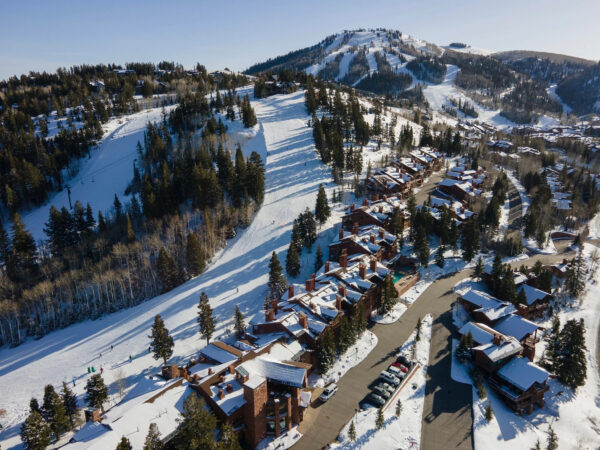 Of course, a memorable ski vacation is about more than experiences on the slopes. Elevating all facets of the customer experience is where Deer Valley really shines. Complimentary guest services include a curbside ski valet, overnight ski storage parking at Snow Park Lodge and at four other connected base area parking lots via shuttle, and free electric charging stations. There's even a free on-demand ride service available to owners and guests staying at Deer Valley Lodging's large selection of slopeside condos that will transport you anywhere you want to go around the resort or into Park City in Cadillac Escalade comfort, like a visiting movie star attending the Sundance Film Festival that takes place here each January.
Dining is another highlight of a Deer Valley ski getaway. The resort offers a variety of gourmet options, including award-winning restaurants and cafés for everything from casual to fine fare. Among the most popular are Fireside Dining in Empire Canyon Lodge, offering a multicourse feast featuring local favourites from the European Alps served from stone fireplaces, such as giant blocks of Swiss raclette, roasted lamb, and Swiss chocolate fondue; the legendary skiers buffet at the midmountain Stein Eriksen Lodge; and this season's newest, Cast & Cut, a seafood and steakhouse in Snow Park Lodge.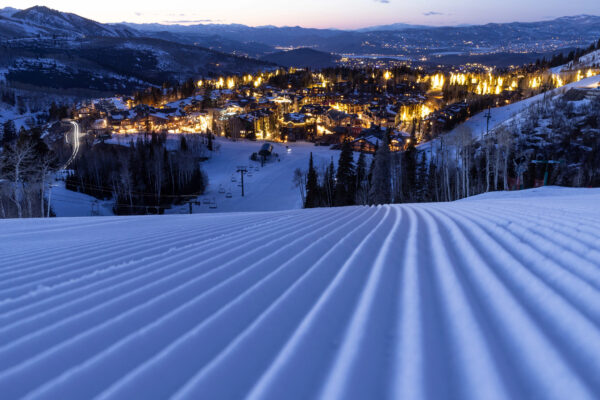 Being just five minutes' drive away from Park City's plethora of enticing eateries is also an advantage. Among the most popular is Tupelo Park City, which serves globally inspired New American cuisine like grilled Iberian pork shoulder, roasted Idaho trout, and Maine lobster pasta.
So there you have it, a North American ski resort where posh meets powder and everyone is treated like a visiting celebrity. There may be bigger, more technically challenging hills, and destinations boasting more authentic mountain culture, but for exceptional service, a superb ski school, and upscale amenities, Deer Valley is hard to beat. Just ask the owners of those gargantuan chalets, some the size of city blocks, lining America's most manicured slopes, why they chose Deer Valley. Because it's a first-class lesson in luxury.
SIDEBAR
Deer Valley Ski Resort is 58 kilometres east of Salt Lake City. Access from SLC International Airport is easy, with plenty of shuttle and private transfer options. Much of Deer Valley's accommodations, which range from luxurious to opulent, is conveniently ski-in ski-out, and there are five-star hotels and condos. Deer Valley is partially accessible with the Ikon Pass.