Scandal-Ridden Elkhart Collection Auction Features Rare Cars Like Wayne Gretzky's GT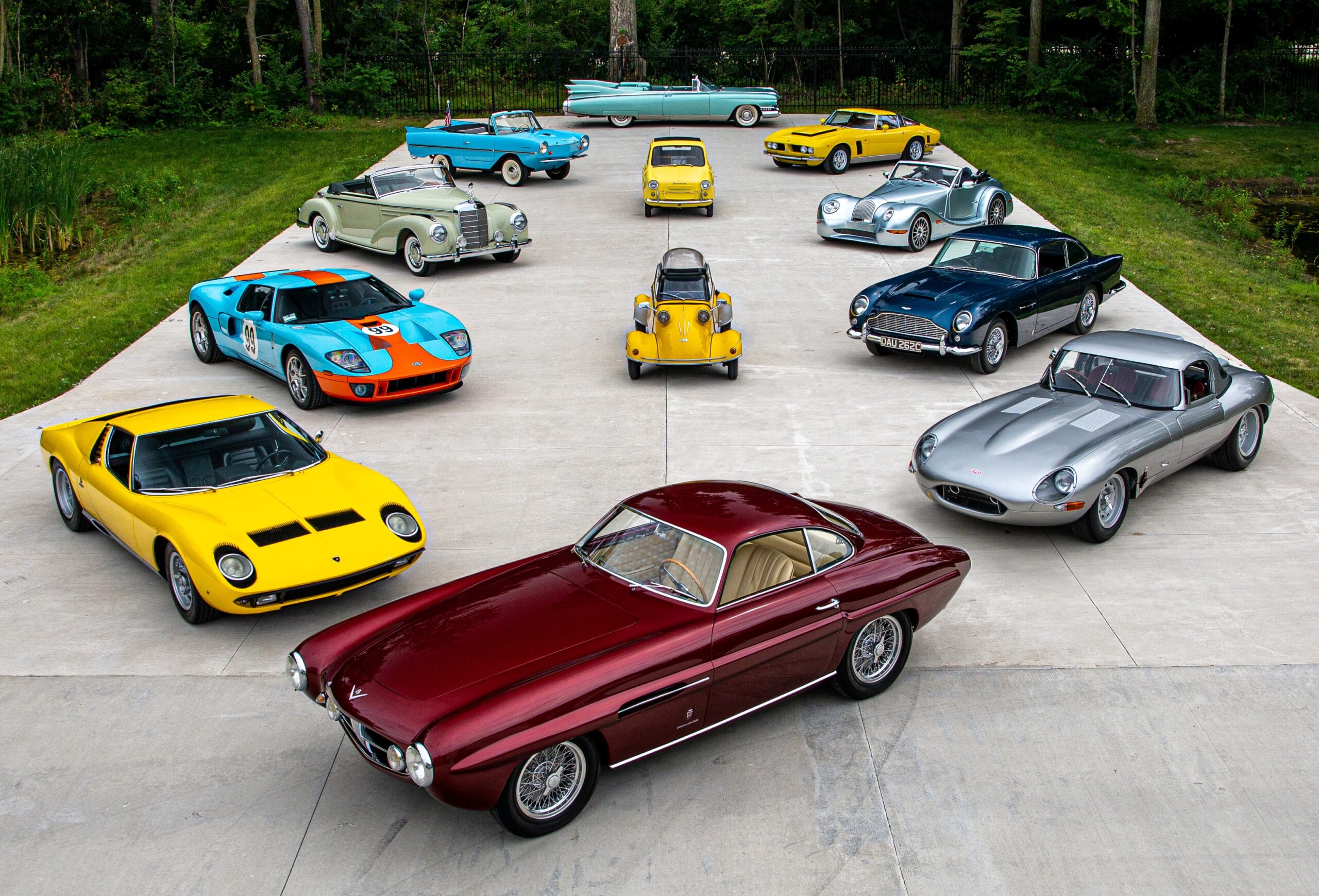 Private car collections go on sale all the time, but few have ever been up to the standard of the Elkhart Collection, which will be be up for auction by RM Sotheby's this fall. This is a collection of more than 240 cars, all in meticulous condition, with some really precious and unique gems for sale, including a 2006 Ford GT Heritage owned by Wayne Gretzky.
The circumstances of this sale are pretty interesting, too. Najeeb Khan, owner of the collection, is also the founder and former head of an Elkhart,Indiana-based payroll firm called Interlogic Outsourcing. Khan was accused of fraud exceeding $100 million last year, and then resigned from the company and filed for personal bankruptcy. A judge ordered that Khan sell off much of his collection to repay creditors and, well, here we are.
While the auction was originally scheduled for May 1, it's been postponed to October 23 to 24, which gives us even more time to drool over the cars in this collection and point out a few highlights, too.
This car has a pretty unique owner history, as it was first sold to Dutch real estate mogul Maurits Caransa, who, famously, was kidnapped and negotiated his own $4-million ransom. A subsequent owner upgraded the engine to seven litres with an advertised 435 horsepower. Grifo offered a remarkable combination of a chassis designed by Italy's great automotive engineer Giotto Bizzarrini, a reliable Chevrolet V-8 engine, and svelte coachwork drawn by Giorgetto Giugiaro and built by Bertone. This example received a pretty significant restoration, and even competed in the 2016 Copperstate Rally.
Another car with a unique owner history, this Phantom II was acquired by cigarette magnate W. F. Player before landing in the hands of Lord Doune, the Earl of Moray, a descendant of King James V of Scotland and with an impressive automobile collection himself. Two decades later, it was sold to another collector who restored it to what we see now, with a dark green finish. It's a charming car that will surely stand out in any garage or collection.

There are a few modern cars in the collection, as well, and one that caught our eye is this Shelby Series 1. Only 249 of these cars exist, and this model was ordered by the collection before it was made. What makes the Series 1 so important is that it was the only car designed and built entirely under the direction of Carroll Shelby. With a 320-horsepower V8 under the hood, it can hit 96.5 km/h in just 4.4 seconds. This example seems pretty perfect, with just over 4,300 kilometres on the odometer.
In 1952, Nash asked famous Italian designer Pinin Farina to tackle the Healy, and the result is what we see here. This 1953 model won best of show at the 2000 Pebble Beach Concours d'Elegance. The odometer reads over 100,000 kilometres, but the car looks perfect. One of the most important parts of this vehicle is its removable hardtop, which is one of three known surviving prototype tops built back in 1954.
Another incredibly special contemporary pick in the collection is this Alfa Romeo. Only nine were ever made, and each was sold directly to some of the world's most influential and important collectors. Based on the Dodge Viper, this Alfa Romeo TZ3 features stunning body work by Norihiko Harada, which is inspired by the original 1960s Tubolare Zagato. Under the hood of this car, however, is a 600-horsepower V10, a dramatic engine to go with the dramatic design.
________
Never miss a story. Sign up for NUVO's weekly newsletter here.