Sacro Bosco: A Mystical Sculpture Park Near Rome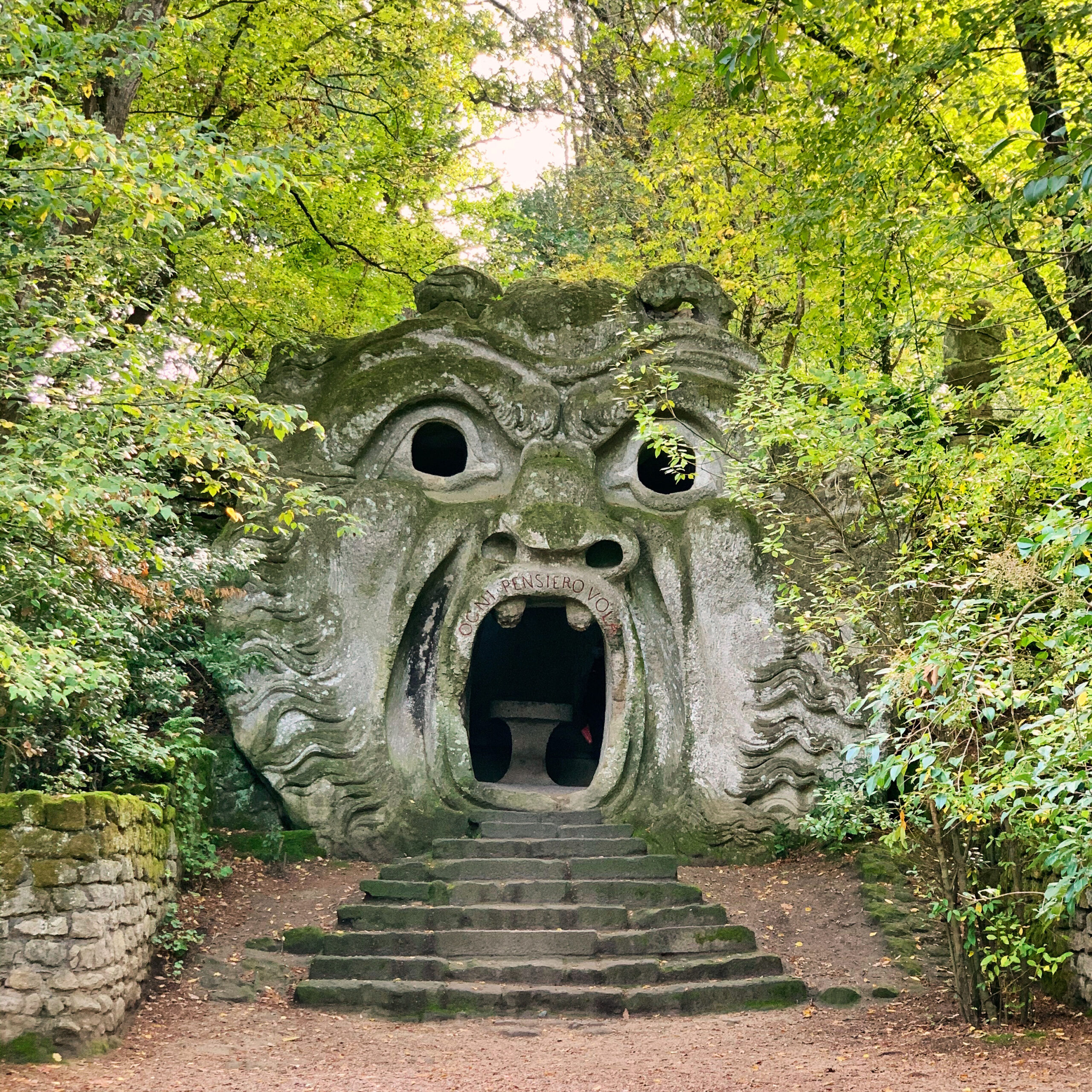 About an hour north of Rome, in Tuscia, a region of little villages where aristocratic families built their palaces centuries ago, there is a mystical place called the Sacro Bosco di Bomarzo (Sacred Wood of Bomarzo) or the Parco dei Mostri (Park of Monsters). Entering the seven-acre sculpture park, you're greeted by a pair of sphinxes. Follow the meandering paths, and you encounter moss-covered statues of ogres, monsters, beasts, and mythological creatures. There are colossal wrestlers, a dragon, an elephant, nymphs, Greek and Roman gods, a crooked house, and a mausoleum. But the most iconic figure is the hell mouth that has become a symbol of the park, framed with an inscription that paraphrases Dante.
No one knows for sure who sculpted the larger-than-life statues in the Sacro Bosco. The reason for its creation is equally mysterious. Built for Prince Vicino Orsini in the late 16th century, it may have been an homage to his late wife Giulia Farnese, but according to art history professor John Garton of Clark University in Massachusetts, who's working on a digital preservation project of the Sacro Bosco and a two-volume book about it, there's little evidence to support this.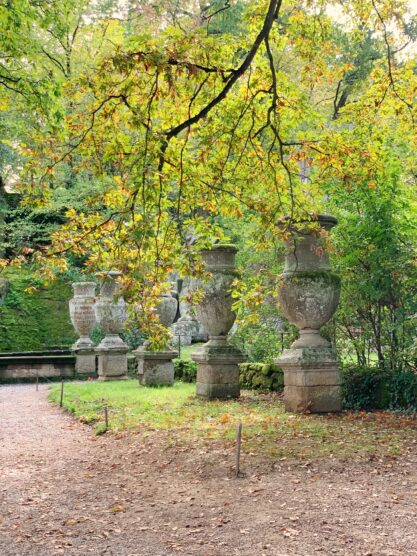 Unlike the formal Renaissance gardens of the era, this mystical mannerist garden follows meandering paths rather than rigid geometries. And unlike most sculptures that were carved in a studio and then put on pedestals, these were carved in situ from giant boulders made of local peperino stone.
"From which direction and how it was meant to be toured—if indeed it was meant to have a certain itinerary—is unknown," Garton explains. "And so to be wandering around, lost in the Sacro Bosco, to be surprised coming around a corner, is very much the point that the patron intended, I think."
The sculptures are full of symbolism, some taken from ancient myths, others inspired by Dante's Inferno and other books. "It's very much a mélange, or a montage of interesting and dynamic monsters, old ruins, and sites," Garton says, explaining that Orsini was keen to play up the grotesque and monstrous elements of the garden. Some of the beasts were likely inspired by stories of travels to the Middle East, while architectural elements recall nearby necropolises built by the Etruscans, a pre-Roman civilization that lived in the area.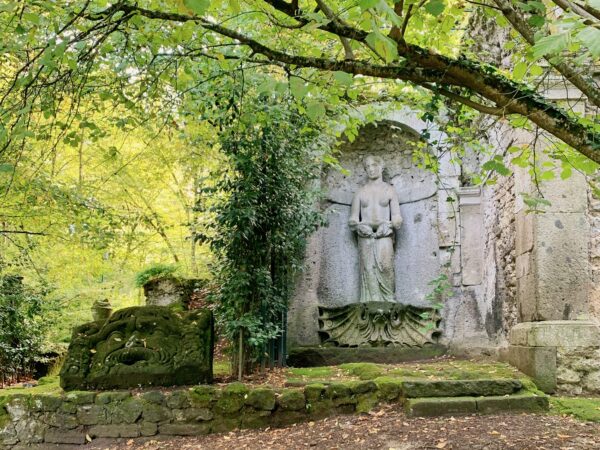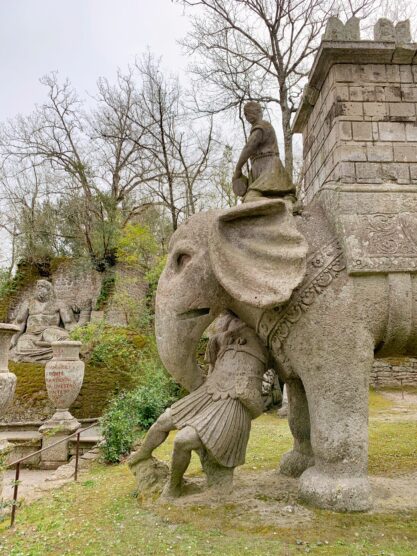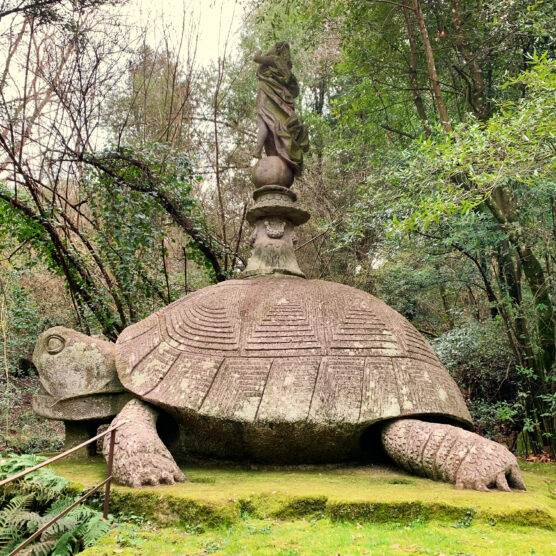 Walking through the Sacro Bosco on a pleasant fall day is reminiscent of the scene in Fellini's 1962 film La Dolce Vita in which Marcello finds himself at a party in the palazzo of a noble family, whose members lead their guests through the darkened grounds holding candelabras and into a creepy, semiabandoned building on the estate. Nowadays, you can only visit the Sacro Bosco during the day, but during Orsini's time, it would have been possible to visit it by candlelight at night. Back then, some of the sculptures functioned as fountains that spouted water, and it might have been animated by music too.
After Orsini's death, the Sacro Bosco fell into disrepair. The fountains stopped working, and the park became overgrown and abandoned, all but lost to the ravages of time. It was rediscovered in the 20th century and returned to the consciousness of artists, writers, and travellers thanks in part to a film by Salvador Dalí, who visited in 1938. It later served as inspiration for the Tarot Garden, a monumental sculpture park in Tuscany by French American artist Niki de Saint Phalle. Giovanni Bettini restored the Sacro Bosco in the 1950s, and it still enchants visitors to this day.
"I think it's a unique survivor of a new mode of landscape design that aspires toward literary reference and toward a full experience, somatically and audibly," Garton says. "To step into Bomarzo is to step back in time."
Photography by Laura Itzkowitz.