Unbound with Living Vehicle
In a life bogged down by inundated work inboxes and gridlocked traffic jams, there often percolates a fantasy to escape from the nine-to-five grind—to drop everything and drive off into the sunset.
Enter Living Vehicle, a line of luxury trailers developed by architect Matthew Hofmann to support what he calls a mobile lifestyle. Hofmann and his wife Joanna have been living transiently for the past decade, travelling wherever their whims directed, home sweet home found in various small living quarters—vans, boats, and, yes, trailers. Harnessing this first-hand experience, as well as a previous venture refurbishing over 400 customized mobile spaces (vintage Airstream trailers and the like), Hofmann has unveiled Living Vehicle as an elevation from its recreational counterparts.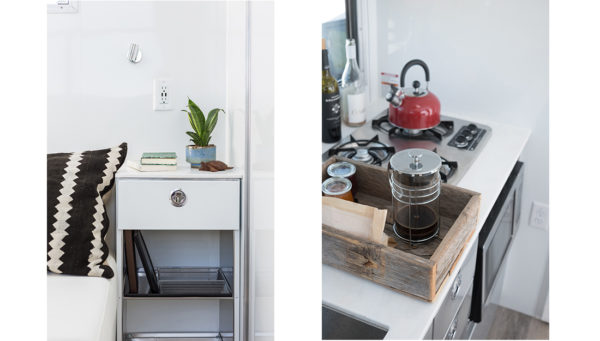 "Living Vehicle is fundamentally designed for full-time use," Hoffman says of the product, the first 10 of which were released early 2018 after a year of development, with another four units ready to hit the road this summer. Forget a weekend sojourn, everything from Living Vehicle's four-season capabilities to improved indoor air quality makes it a sustainable option for a lifestyle overhaul.
While hitching the 212-square-foot space to your ride may inspire a minimalist mindset, roughing it, this is not. Sectioned into living area and aluminum-structured kitchen, bedroom and teak-dressed bathroom, the Living Vehicle is custom-built from countertop finishing to bedroom layout (either fixed or foldout for maximized space) and completely outfitted with solar-powered staple appliances and creature comforts alike—think combination washer-dryer for efficient one-go laundry and high definition television. Fold-down patio with barbecue and stargazing-ready skylights elevate the romance of a nomadic lifestyle, so anytime adventure calls, answer it: easily accessible cargo storage can hold kayaks, mountain bikes, or skis to quickly grab and go.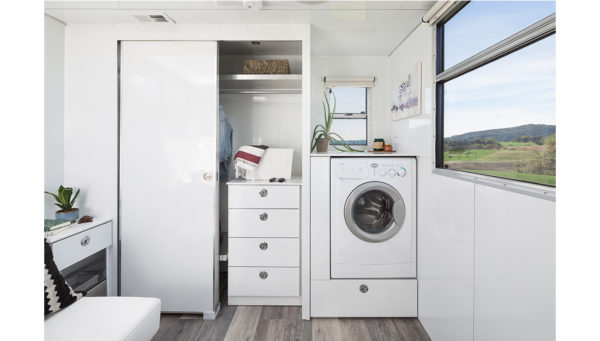 While Living Vehicle's off-roading gear certainly suits the travelling kind, you need not shirk all responsibilities. An omni-directional Wi-Fi antenna secures a reliable Internet connection ideal for running a business on the go—take it from Hofmann himself, who looks after the company's CEO duties from his own Living Vehicle, whether perched atop Bryce Canyon or settled in the company's Santa Barbara home base. "Living a mobile lifestyle allows me the freedom of choice … the ability to choose to do the things that matter most to me," Hofmann says, calling time the most valuable resource.
Living Vehicle turns life into an open road where the only limits are the ones you set.
Photos by Matt Wier.
_________
Never miss a story. Sign up for NUVO's weekly newsletter, here.