First Look: The Wall Street Hotel
The corner of Wall and Water Streets, location of the Tontine Building, has been a noted destination in New York City's financial district since 1792. Its latest incarnation is the Wall Street Hotel, welcoming guests since summer 2022 and owned by the Paspaley family, an Australian ownership group.
The building has had several incarnations: as a peaked-roof coffee house in the 18th century, a six-storey building in the 19th century, and a 14-storey Beaux-Arts "skyscraper" in the 20th century. The next transformation began in 2021, resulting in 180 contemporary-style rooms and suites, with architecture by Stonehill Taylor and interior design by Rose Ink Workshop and Charles & Co.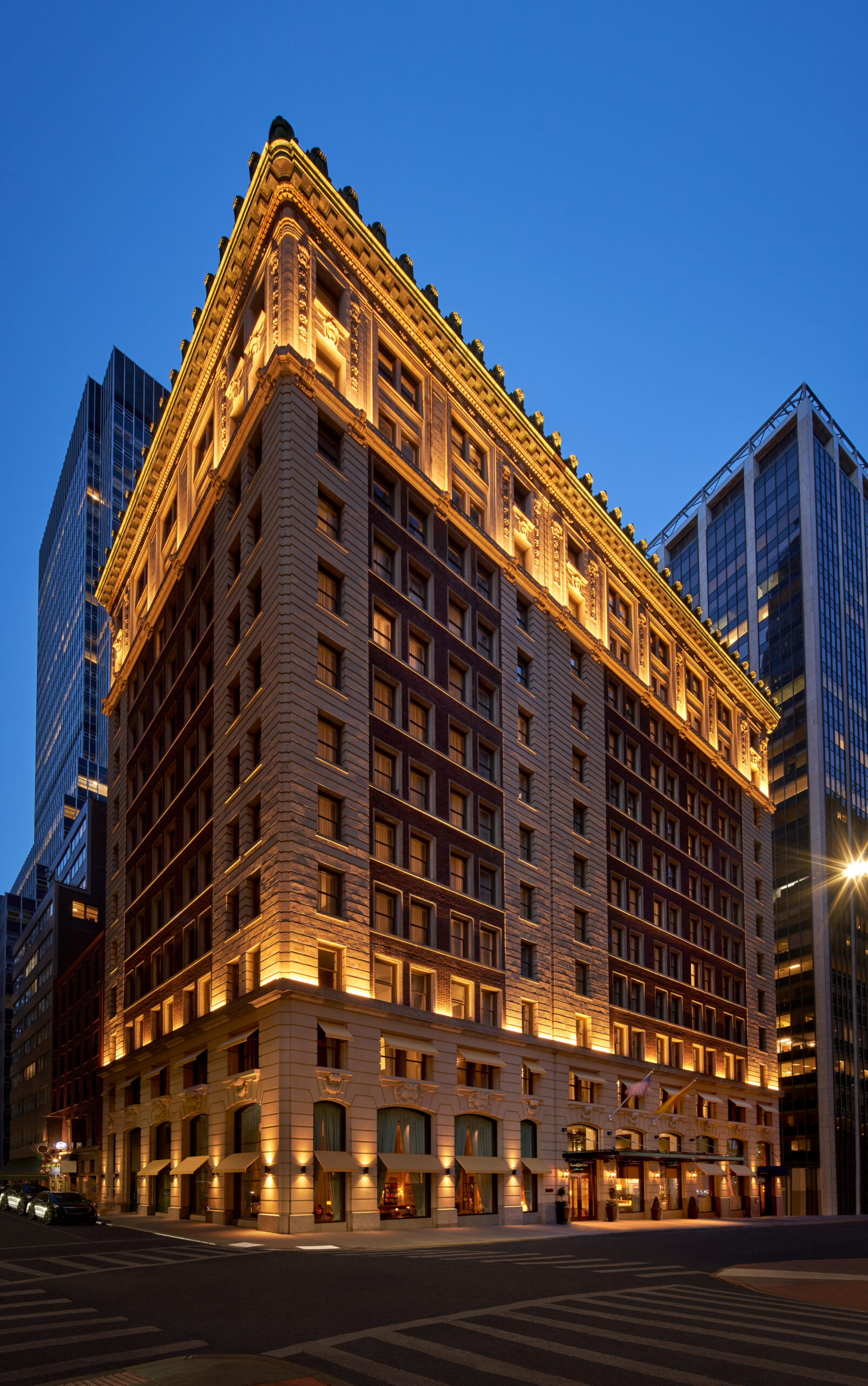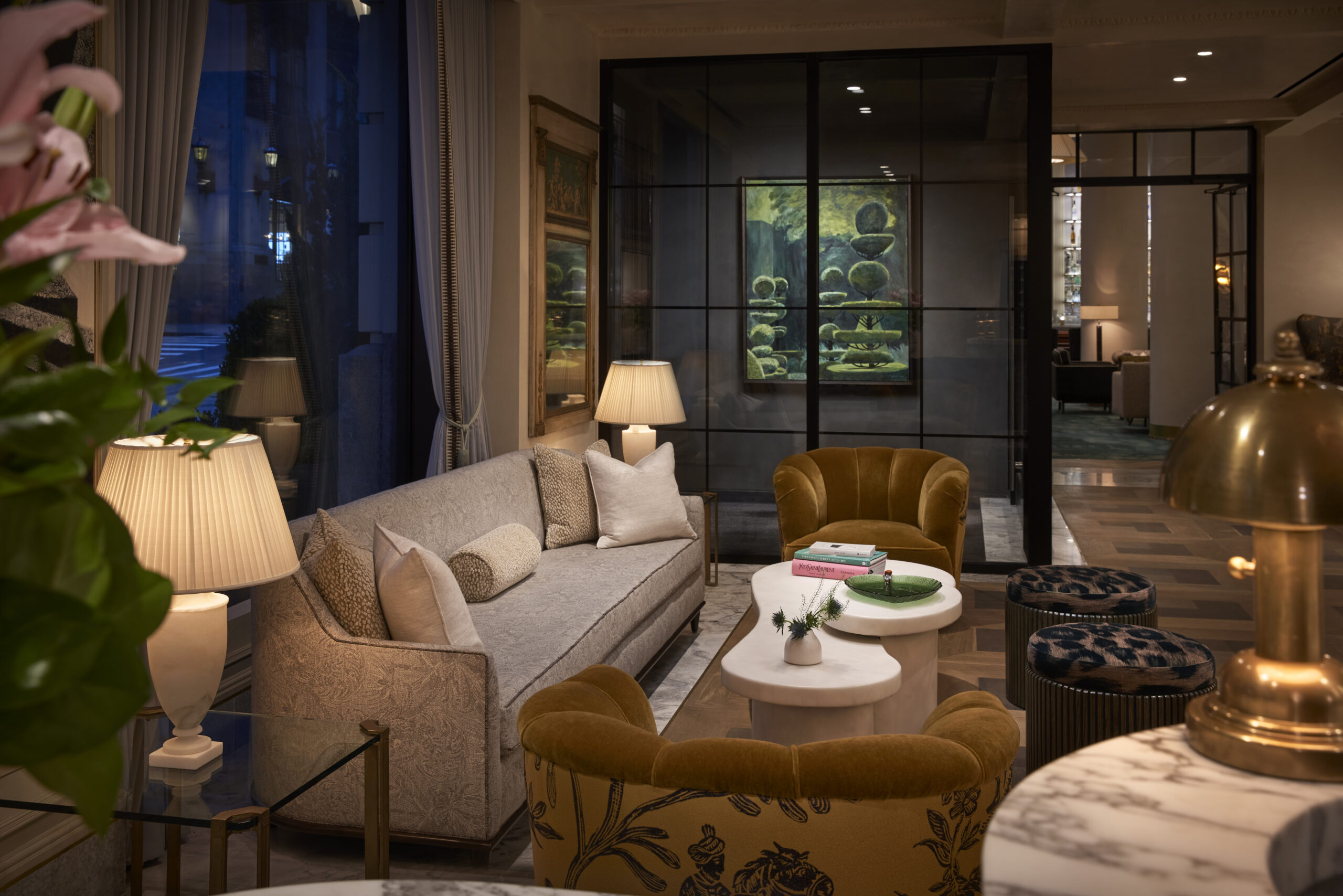 In the lobby, the marble reception desk forms a backdrop to a pair of gold velvet chairs adorned with leafy patterns paired with a sleek grey couch, while the adjacent maximalist Lounge on Pearl features a custom wallcovering of the Manhattan skyline (a collaboration between Rose Ink Workshop and de Gournay), a historic fireplace formerly installed in the Waldorf Astoria, and cozy sitting areas with boldly patterned and overstuffed seating and grey velvet stools intimately arrayed around the bar. This welcome oasis from Manhattan's busy streets has a custom art piece by Copenhagen's Poppykalas Floral Design Studio, in lively shades of red, orange, and pink. The hotel's noteworthy art collection also features contemporary Australian Aboriginal art, a custom commission from the APY Art Centre Collective, who created a series of painted works on paper.
Executive chef Rick Horiike and chef John Fraser oversee La Marchande, a modern brasserie melding classic French techniques with a globally inspired list of ingredients and a French-focused wine cellar with more than 100 wines, exclusive French vermouths, and signature cocktails.
At the Wall Street Hotel, guests are asked before arrival to provide personal preferences for prestocking in-room snacks and drinks or a variety of necessities for a pet travel pal. Rooms range from 300 to 800 square feet and are decorated in a soothing palette of grey and blue. One of the notable design features above each button-tufted padded headboard is the custom art mural by Rose Ink Workshop and Phillip Jeffries, combining a photograph of a nebula with a scan of an antique mirror.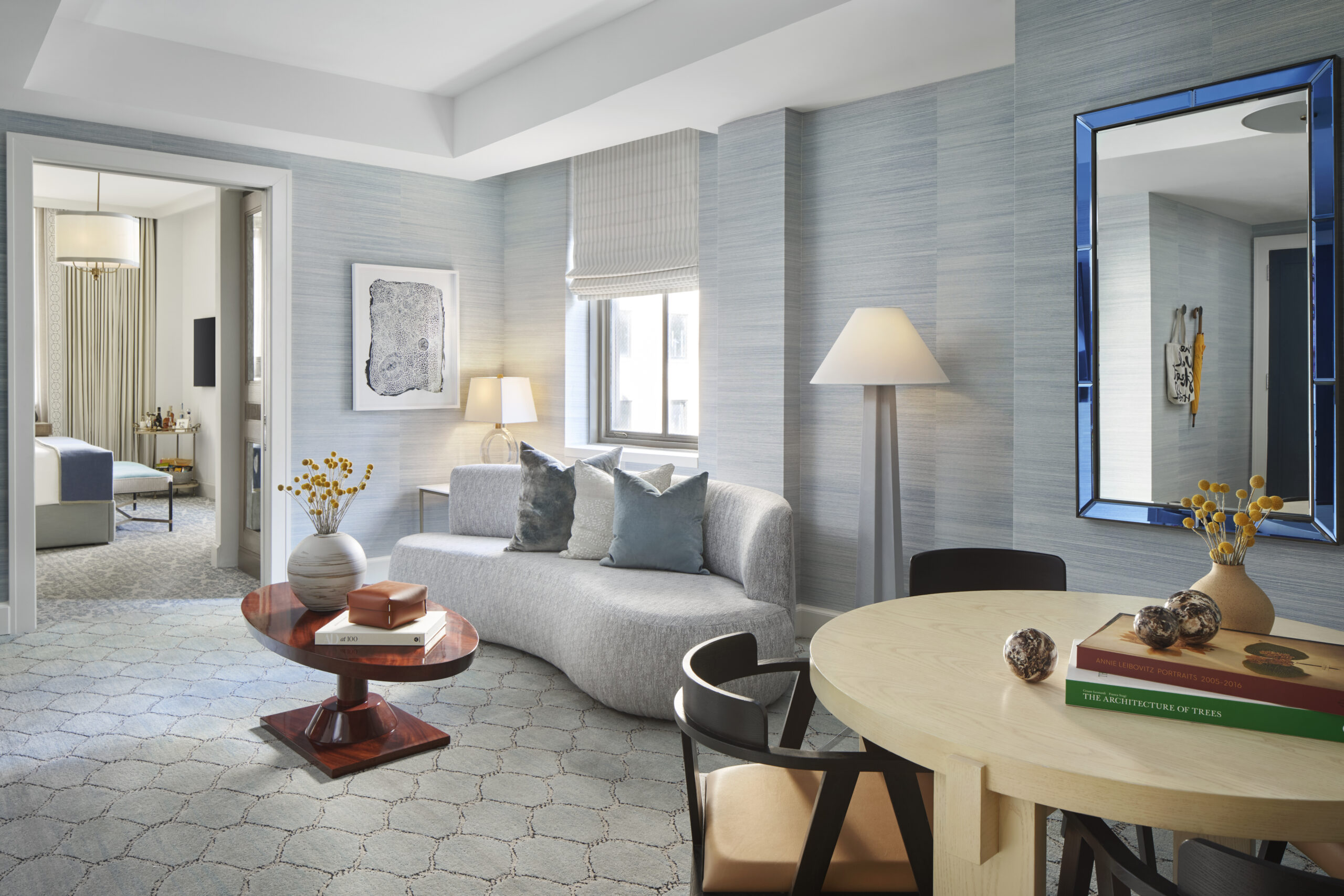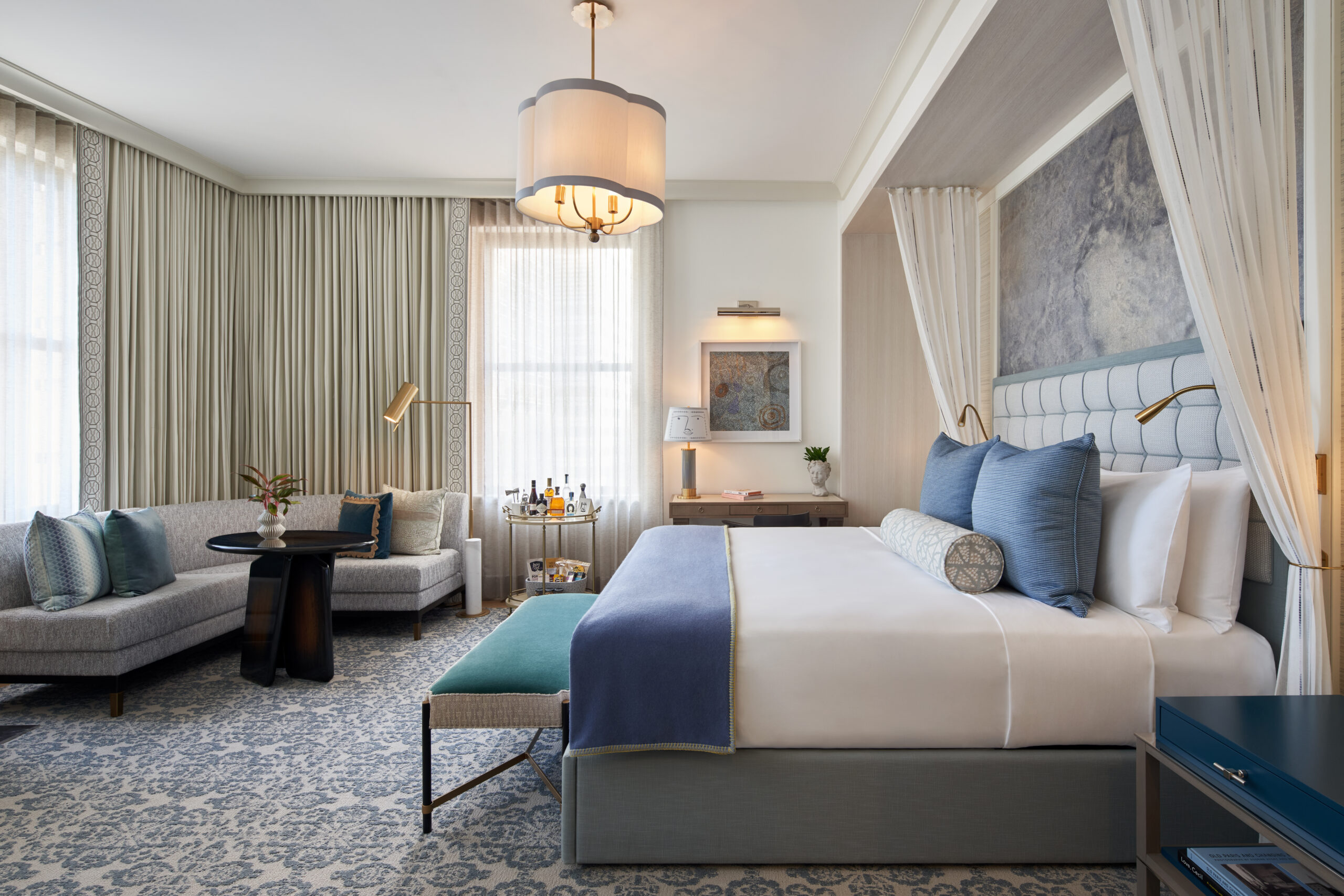 Befitting a financial district address, there are several tech benefits ensuite including Samsung Smart TV, Bang & Olufsen bluetooth speakers, and additional luxuries like a small library of titles about New York, fashion, art, glamour, and photography.
There are four suites: Carnegie, Nesbitt, Otto, and the brag-worthy corner option—the 700-square-foot Great Pearl Suite on the 14th floor with a Bryte Balance smart bed and its app to customize for better sleep, Frette robes, and Aqua di Parma bath toiletries.
Amenities include twice-daily housekeeping, 24-hour in-room dining, and a fitness centre with Peloton bikes, Technogym treadmills, interactive Mirror fitness screen, and a personal trainer available by request. Complimentary Velosophy bikes are available to explore the financial district, and those who need to keep up the competitive spirit can borrow from the hotel's strategy board games collection. The Wall Street Hotel is a member of Preferred Hotels & Resorts L.V.X. Collection.