First Look: La Fantaisie in Paris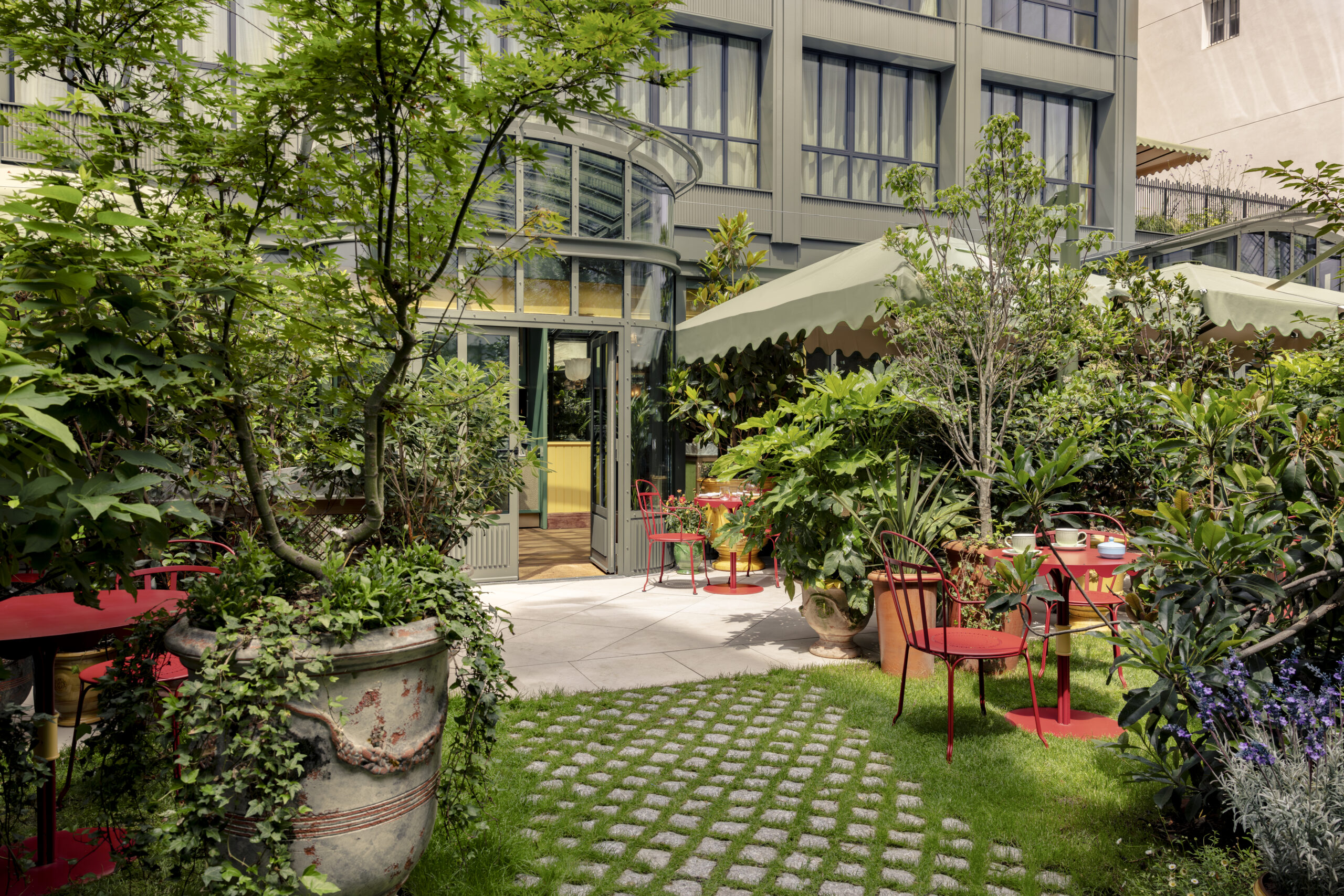 Faubourg Montmartre's newest hotel is La Fantaisie, where whimsical decor welcomes guests to a garden-inspired haven. It is located on Rue Cadet in Paris's ninth arrondissement, a street named for the 16th-century master gardeners (and brothers) Jacques and Jean Cadet, owners of Clos Cadet, suppliers of fruits and vegetables to the court, and inspirations for the hotel's design.
The latest hotel in the Leitmotiv Hotel Group, La Fantaisie was designed by Petitdidierprioux, which renovated the 1970s structure, and Martin Brudnizki of Martin Brudnizki Design Studio, which was responsible for the exuberant and playful decor.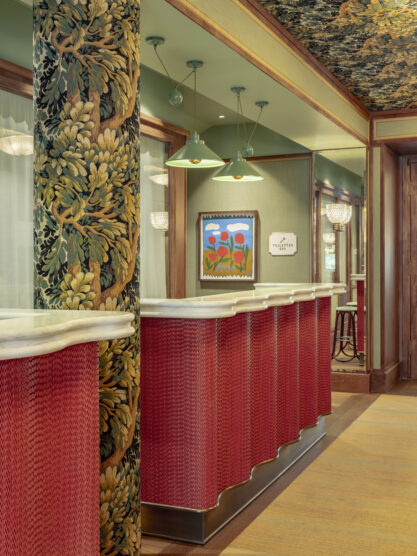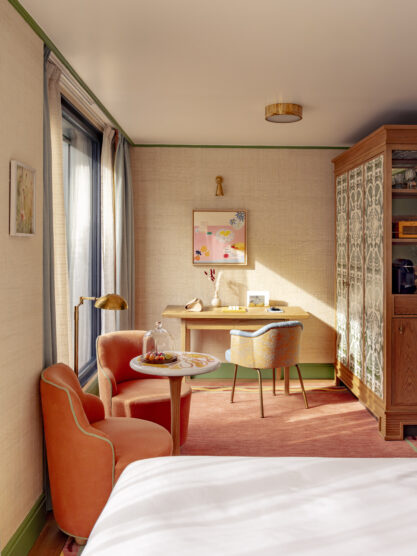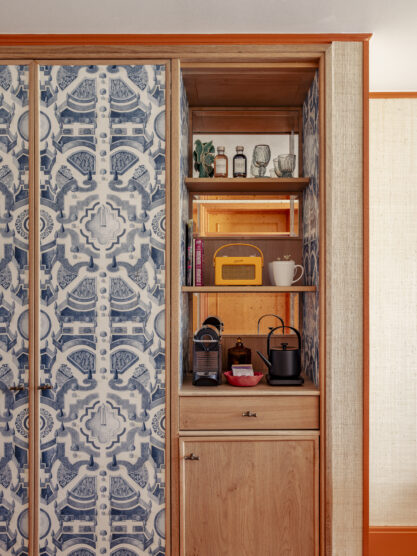 This project, Brudnizki's first in Paris, welcomes guests with a splash of red leather on the reception desk, followed by a palette of soft green tones, warm yellow hues, shades of coral, and garden-themed additions, creating a decadent environment from main floor to rooftop. Brudnizki also added lavishly upholstered furniture, floral wallpaper, and subtle textures. The wallpapered and carpeted hallways are their own stage, and the garden is a revitalized courtyard, with dining and lounging amidst the greenery.
The 63 rooms and 10 suites include several custom creations by MBDS, such as headboards, bedside stool, round table with a yellow abstract design, and bedside lampshades paired with handpainted ceramic bases. Ensuite amenities include Holidermie toiletries, wireless speaker, macarons, juices, and an espresso martini maker. Art sources enhance the garden theme and include pieces from French ceramist Daniel Milliner and African artist Mafalda Vasconcelos.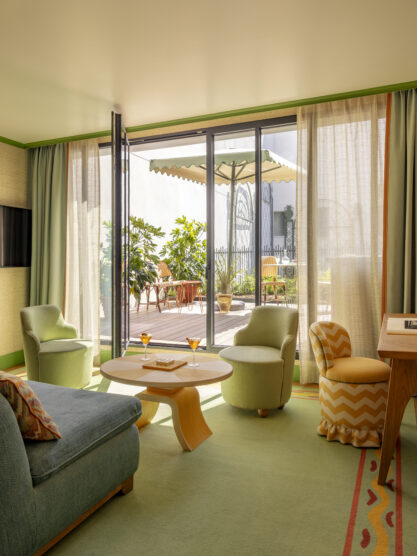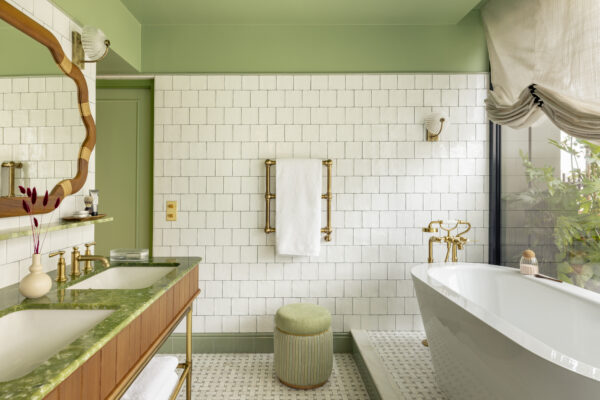 The Junior Suite Terrasse features soothing shades of yellow, blue, green, and coral, a sunny terrace with wicker furniture, and a stunning bathroom with white tiles, verde ming marble counters, walk-in shower, soaker tub and a custom curved wood-framed mirror from MBDS.
The hotel's dining options, all meat-free, are under the culinary direction of chef Dominique Crenn, returning to her native France after a successful career in the U.S. where she was the first and only female chef in the country to earn three Michelin stars, for Atelier Crenn in San Francisco.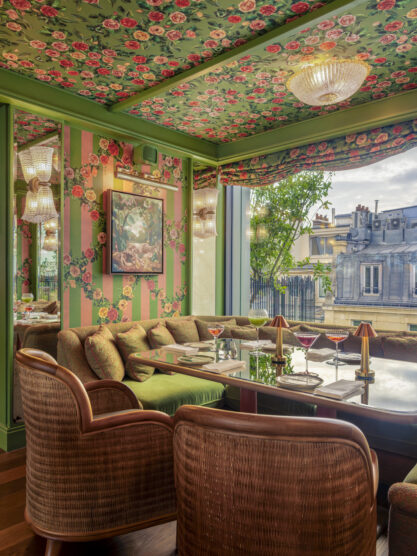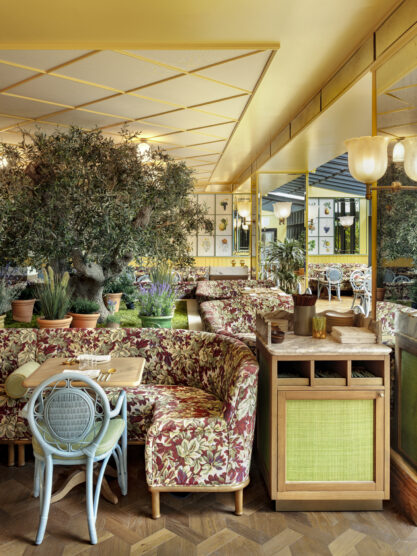 Golden Poppy, with decor reminiscent of an antique greenhouse, has bright-yellow walls and blue wicker chairs by MBDS (and in the centre, a flourishing herb garden). Le Café, with yellow stools and green banquette seating, is a calming space to plan and sip a morning café au lait, while Bar Sur Le Toit is the place to enjoy chef Crenn's California-inspired cocktails while perching on MBDS-designed pink bar stools beneath a hand painted floral ceiling by Adam Ellis and a gentle glow from the bar's Murano glass lamps, also by MBDS. Views of the nearby Paris rooftops are a bonus.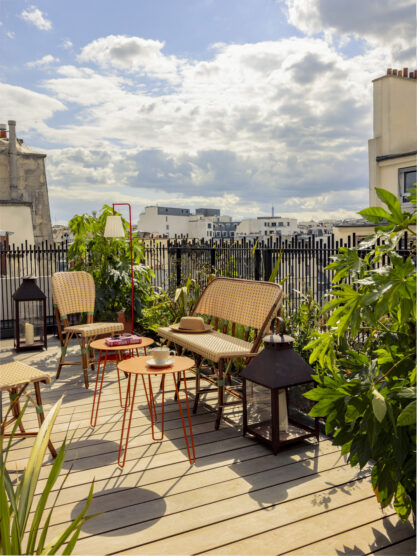 La Fantaisie's spa, in partnership with Holidermie, opening soon in a former car park, will offer therapies based on vegan products. The calming sanctuary with green armchairs and delicate mosaics of plants will include baths, sauna, and hammam.
Photography by Jérome Galland.