Design Space: Mimco Chadstone by Studio Doherty
A sculptural green storefront for a beloved Australian bag brand.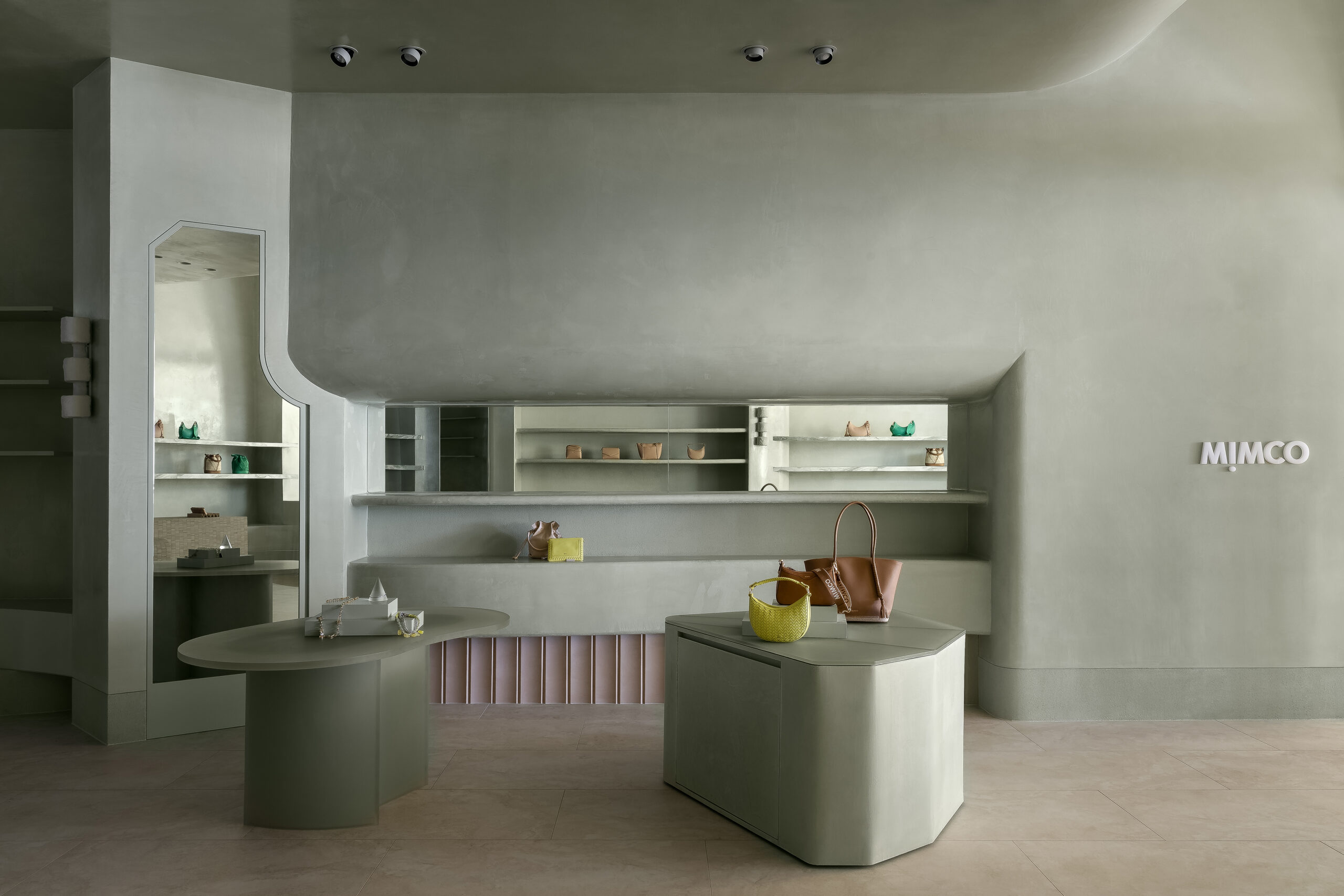 Rather than mind-numbing rows of racks illuminated by fluorescent lighting, the new flagship location of sustainable Australian bag and jewellery brand Mimco in Melbourne's Chadstone Shopping Centre offers a serene approach to retail. Designed by Studio Doherty, also based in Melbourne, the Chadstone Mimco is awash in a custom glossy sage-green wet-look render that serves as the base of the design.
A massive light-green arched façade and floor-to-ceiling windows beckon shoppers into the store. The winding display plinths ebb past the glass. The simple colours, mainly a single shade of pale green with pink accents, complement Mimco's products, curving walls and ceilings create an organic and calm environment, and layers of materials add depth to the space.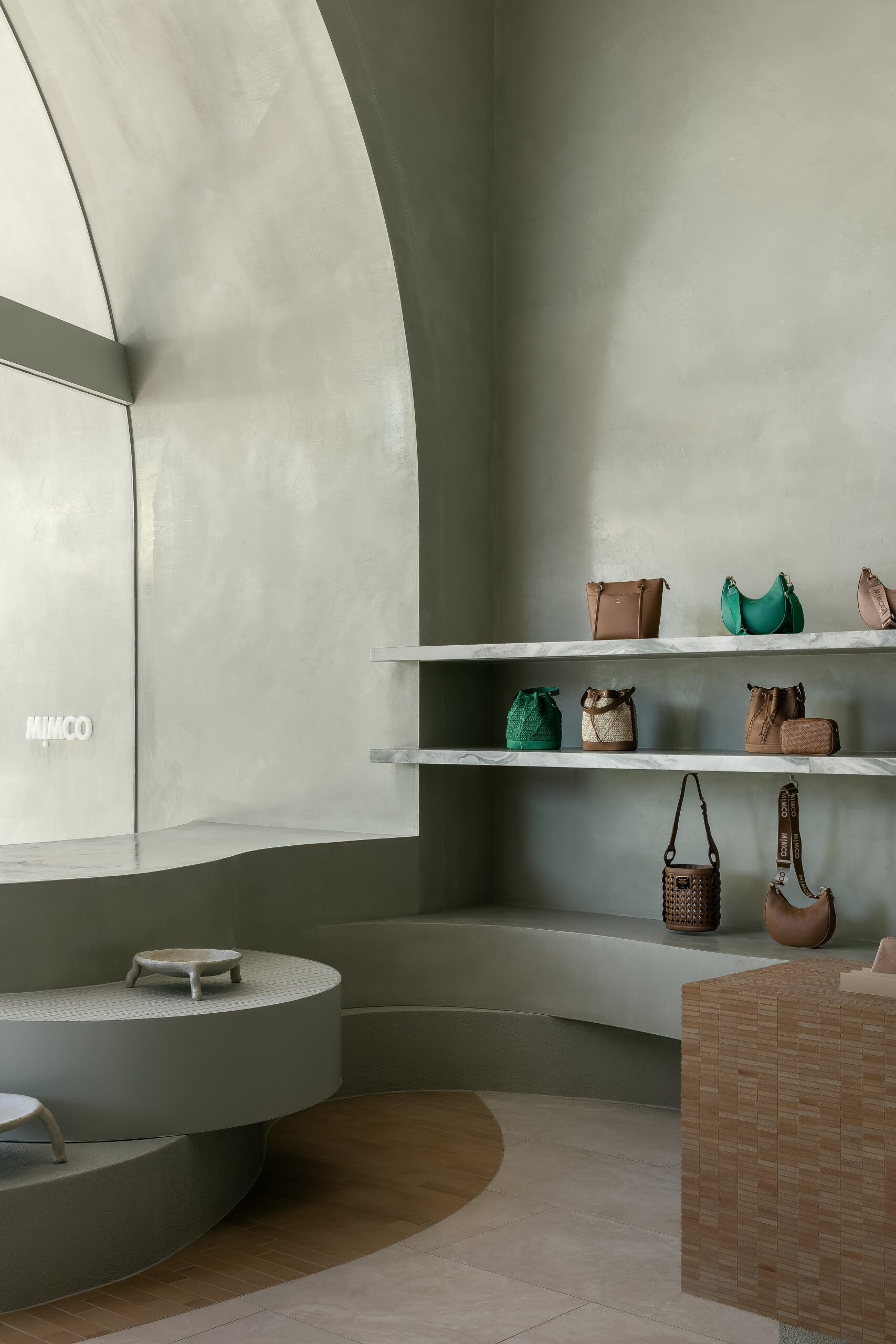 Mimco, founded in Melbourne in 1996, wanted the new store, completed last year, to be timeless, while marking a new chapter for the brand. The flagship had to be exciting and sophisticated yet versatile enough to showcase changing product lines. With double-storey ceilings and sculptural displays, it's a striking storefront.
Plinths and tables in a mix of textures and shapes serve double duty, offering display space while guiding shoppers through the store. Some are smooth with amorphous shapes; others are tiled in green or a rainbow of subtle pinks, and a hanging rack is anchored in a green-marble base—built-in shelves create additional storage. Toward the back, a pink-tiled column, haloed overhead by a circular ceiling cutout, is intersected by a floating display plinth.
With a lower bulkhead and mirrors, the jewellery portion of the store is intentionally more intimate to reflect the delicate nature of the products. To contrast the gloss of the render on the walls, the tiles and stucco kickers have matte finishes.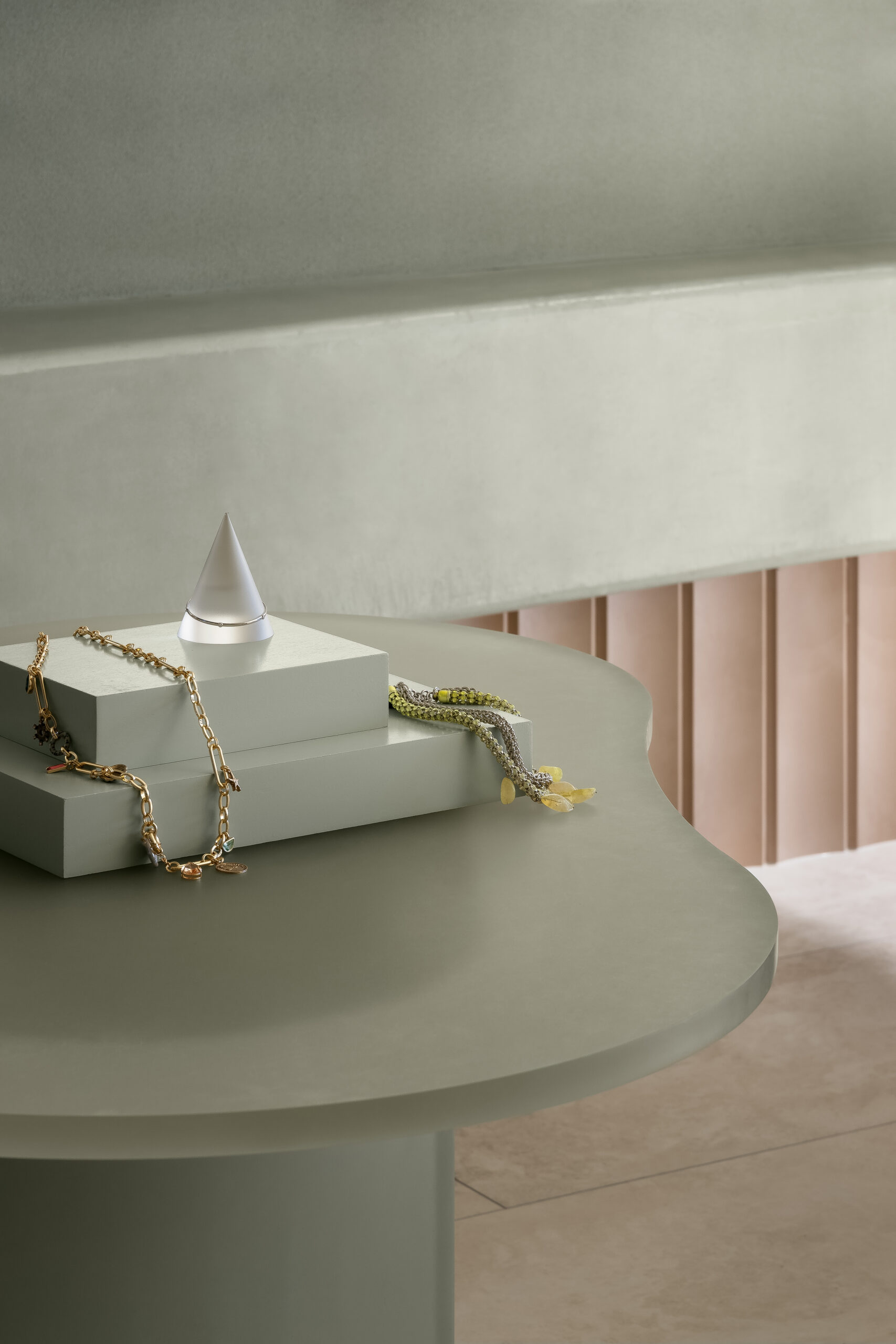 As a nod to the brand's heritage, Melbourne designer and artist Jordan Fleming created custom wall lights, dubbed the Hinge Lights, that mimic the clasp found on many Mimco bags. Studio Doherty's Mimco flagship demands to be noticed with its arches and curves while creating a tranquil shopping experience for lovers of the brand.
Photography by Timothy Kaye.