Awards Season: The Finale
Shinan Govani on the Oscar marathon.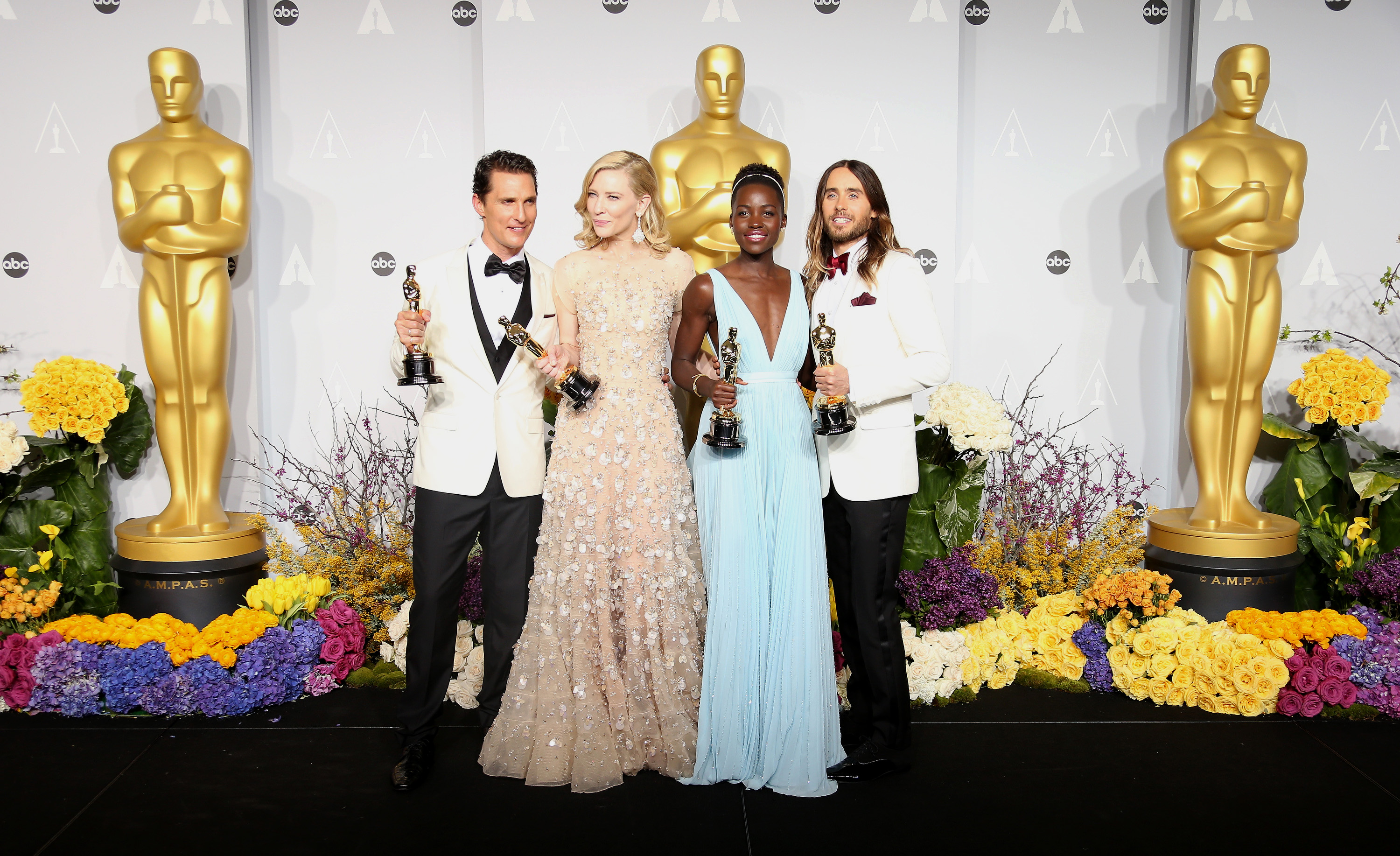 And the Oscar went to…
Now that the 86th Academy Awards have been left in the bin of history, and all that's left are the sore tushes engendered from over-sitting at the Dolby Theatre, and the delivery bills racked up for the bijoux lent to starlets, it's time to take a moment to consider some of the lessons from this year's Oscar night.
First: movies are global, more than ever. While there is an impulse to think of Hollywood as a homogeneous idea, or even a central place, it's actually much more nebulous, as this year's awards season showed. Exhibits A, B, C, and D: the Best Picture award went to a film about a wholly American period in history, directed by a man from England (12 Years a Slave, Steve McQueen); the trophy for Best Director was nabbed by Mexican Alfonso Cuarón; and last, but not least, the duo of actress awards went to a Kenyan and an Australian—Lupita Nyong'o and Cate Blanchett, respectively. The movie business is actually quite a porous place, and provenance is hardly the point. Fame is its own country.
Take, for instance, a certain French-Canadian director who rocketed his two male leads to Oscar wins. More proof of Hollywood's mosaic. While his name was not on a ballot, Jean-Marc Vallée, the director behind Best Picture nominee Dallas Buyers Club leaves these Oscars with his stock solidly up. His voice mail right now is likely full. "I'm booked until 2016/2017," Vallée has said. "And now I'll have a new film every year for the next two or three years."
Another takeaway, cemented at the Vanity Fair Oscar Party on Sunday: that span of time between certain festival circuits, like the Toronto International Film Festival crunch in September, and the Oscars can be a long one for an actor. Nyong'o as recently as last summer, was an unknown, yet at the party, I saw the official Oscar prom queen laughing and dancing with Bill Murray. In another section of the star-studded fete, I noticed Jared Leto cosying on a sofa with Hollywood royals such as Anjelica Huston and Jane Fonda. While Leto has been famous, and famously cute, for a long time, nobody predicted he was going to be the proud proprietor of an Oscar, and have the kind of mojo he suddenly has for acting. The awards season can create weather of its own this way.
Like in many political campaigns, additionally, it's not the polls that count, but the votes on election day. And like in life, it's about a marathon, not a sprint. American Hustle went into this year's Oscars with a whole 10 awards, including a Screen Actors Guild Award for Outstanding Performance by a Cast in a Motion Picture, and a feeling that it might be the consensus-builder of all films in contention. Yet it left empty-handed on Sunday, zero awards. Only two films have had worse shutouts: 1977's The Turning Point, and 1985's The Color Purple, both of which were nominated for 11 awards, and left with none.
And then there's Leonardo DiCaprio. He's at exactly at the halfway point to Peter O'Toole's record of eight nominations without a win. It's worth asking: what does the guy have to do? The consensus seems to be that the more-than-capable actor ought to go the Matthew McConaughey route and lose some serious weight for a role, or simply wait it out in the manner of another classic leading man of his time, Paul Newman, who was nominated seven times between 1959 and 1983 before he ever got anywhere. (He received an honourary trophy in 1986, and then went on to win Best Actor outright the following year, for his turn in The Color of Money). In the meantime, chin up, Leo.
Now, who's ready for some 2015 Oscar predictions?
Read more Awards Season stories.
Photo: by Dan MacMedan, Getty Images.