M.A.C Cosmetics Celebrates 35 Years of Individuality
More than three decades of makeup as fashion.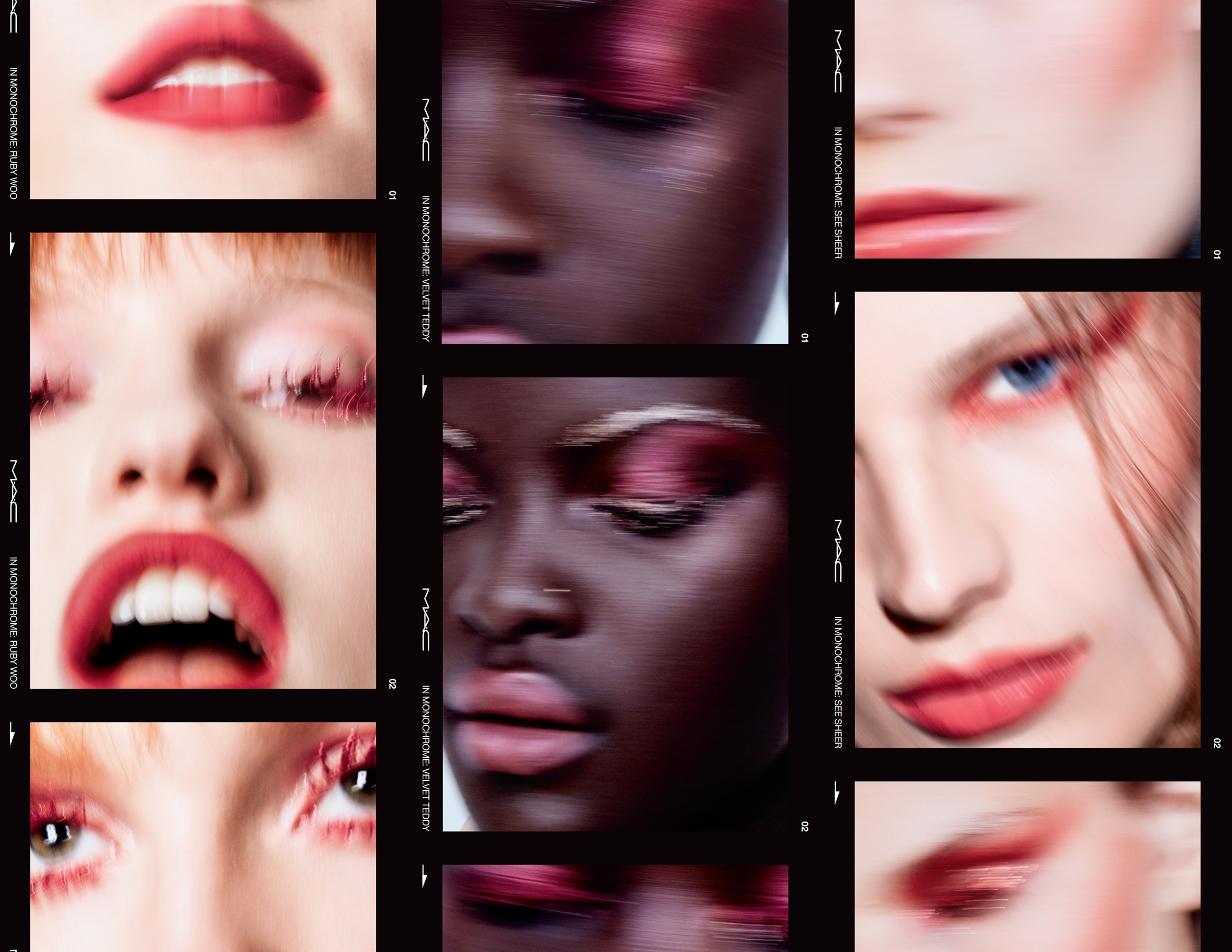 Their beauty counters are staffed by tattooed, pierced pro makeup artists; their marketing campaigns are fronted by drag queens; and their foundation shades are designed to suit every skin colour and tone, with the credo, "All Ages, All Races, All Genders." This may sound like the making of a cosmetics line launched in the politically-aware atmosphere of 2019, but in fact, it's a brand that has been around since the eighties: Canadian-founded label M.A.C Cosmetics, which celebrates its 35th birthday this March.
Photographer/make-up artist Frank Toskan and hairstylist Frank Angelo (dubbed "The Franks") co-founded M.A.C. (an acronym for Make-up Art Cosmetics) in 1984 in Toronto within a cosmetics landscape dominated by traditional beauty halls with snooty counter staff and only a limited range of products. "There were fewer cosmetic options for people of colour, people who identified outside of traditional norms, and men who chose to wear makeup," says M.A.C senior artist Caitlin Callahan. "Our founders felt that miss and decided to create their own products."
"[We] were encouraged to maintain our individuality to show our customers that they all belonged. We were pierced, tattooed, all in black, and having a party."
Success was pretty much instantaneous. "It started as a necessity for photographers, models, and artists who needed these colours and textures, but through word of mouth, became a retail brand," says Callahan, who joined M.A.C. in 1992. "[We] were encouraged to maintain our individuality to show our customers that they all belonged. We were pierced, tattooed, all in black, and having a party."
But it wasn't all just fun and games—the company leveraged its new-found success to raise awareness and money for HIV/AIDS by creating the M.A.C. Aids Fund in 1994. As part of the campaign, the now-iconic Viva Glam lipstick was released, with all proceeds going towards the fund. The first face of the campaign? Drag queen Ru Paul, accompanied by the slogan, "I am the M.A.C Girl."
"I had a sheltered life, so my first encounter with M.A.C was seeing Ru Paul and just thinking how stunning and glamorous she was," says Larry Yeo, a celebrity makeup artist in his native Singapore, who got his professional start working at a M.A.C counter.  "I remember I would go to work and paint my head and face like a work of art."
The brand is also known and loved for the quality of its products and innovations such as Lipglass, an ultra-shiny, non-sticky lip gloss, and Eye Paints, the earliest versions of eyelid primers. Then there are cult favouriteslike the Ruby Woo lipstick, an intense, matte red, and of course, the Studio Fix foundation, which now comes in an industry-leading 63 shades (it had 42 shades before Fenty was even a glint in Rihanna's eyes). The brand is also a leader in encouraging recycling. In its earliest years, it launched the Back to MAC program, which allows you to return six empty pieces of packaging to a M.A.C store or via the website, and receive a free lipstick in exchange.
M.A.C was partly acquired by Estée Lauder Companies in 1994, and sold completely in 1998 after Frank Angelo died. Some say it's lost some of its anarchic spirit as a result, but the company's profound impact on cosmetics culture and beyond continues to reverberate today in brands like Fenty and Kat Von D, and even the now mainstream reality TV show, Ru Paul's Drag Race. To date, the M.A.C AIDS Campaign has raised more than $490-million U.S. ($644-million Canadian) for the fight against HIV/AIDS and campaign faces for Viva Glam have now included everyone from kd lang to Pamela Anderson, and Elton John to Ariana Grande. "We have always regarded makeup as fashion, not beauty. That breaks apart the stereotypical 'face' of beauty–it is art, an accessory, an expression," says Callahan.
Even though M.A.C is now owned by a U.S. company, it continues to be Canadian in spirit. "While operations have moved around the world, we maintain our plant in Markham, Ontario and still make a great deal of products there," says Vancouver-based Callahan, who was born in Victoria, B.C. "I travel a great deal internationally and M.A.C people are so excited to hear I was 'made in Canada', too. M.A.C showed the world that Canada is a forward-thinking, inclusive, and fashionable place to be. I'm proud to be part of a family that initiated acceptance of individuals for who they were."
_______
Never miss a story. Sign up for NUVO's weekly newsletter, here.