Aboard El Transcantábrico in Northern Spain
Setting off for Spain, it's difficult to stop myself from reciting, in an overblown Cockney accent: "The rain in Spain stays mainly in the plain." Soon, though, I find a softer Hepburn tune more fitting to my circumstances. After unpacking in my cozy room aboard Renfe's luxury tourist train, El Transcantábrico, I settle against my headboard to watch the flurry of vistas whip past the window, and can't help but agree: "There's such a lot of world to see."
Of the itineraries offered by Spain's Renfe rail line, I've opted for the route aboard El Transcantábrico Clásico, Spain's first tourist train, launched in 1983. The eight-day journey rides the narrow and winding track through "Green Spain" (the northern coast, known for its lush foliage) with stops in Ribadeo, Llanes, Santander, and more. These are pilgrimage cities—located along the Camino de Santiago (or the Way of Saint James), and demarcated with scallop shell–shaped signs and checkerboard patterns above church entryways. My train is heading in the opposite direction of the thousands of pilgrims annually seeking to pay respects in the old quarter of Santiago de Compostela at the resting place of Jesus's first martyred Apostle.
El Transcantábrico hosts up to 52 passengers in 26 sleeping cabins, among elegantly refurbished dining and lounge cars, some dating back to the 1920s. This particular itinerary tours through five of Spain's 17 autonomous regions. We disembark in many port cities, some studded by beaches like the stunning Beach of Cathedrals, named for its buttress-like eroded rock archways. We weave our way, via bus coach, into the Asturian highlands with mist-shrouded lakes. Bilbao, with its undulating Frank Gehry-designed Guggenheim Museum (with rotating exhibits as well as a permanent collection that includes sculptures by Louise Bourgeois and Richard Serra), contrasts the preserved medieval town of Santillana del Mar, where nearly every house bears a noble family's coat of arms.
As we travel north along the Bay of Biscay, one passenger, a Madrid local, clutches at her heart as she professes, "There is nothing like the north."
As we travel north along the Bay of Biscay, we uncover forests of eucalyptus trees, rolling valleys, and rocky shorelines. One passenger, a Madrid local, clutches at her heart as she professes, "There is nothing like the north." Indeed, there are plenty of Spaniards onboard, seeking out these nooks within their own nation. My fellow international travellers tend to continue their Spanish travels after we end in León. Madrid, for instance, is but a quick hop away, and feels utterly different from the northern cities, which by comparison have characters informed by their Celtic backgrounds or strong fishing culture. The country's historic fishing industry itself is an important part of the Transcantábrico journey—as expedition leader Maria Scheredre promises, "This is very much a gastronomic experience."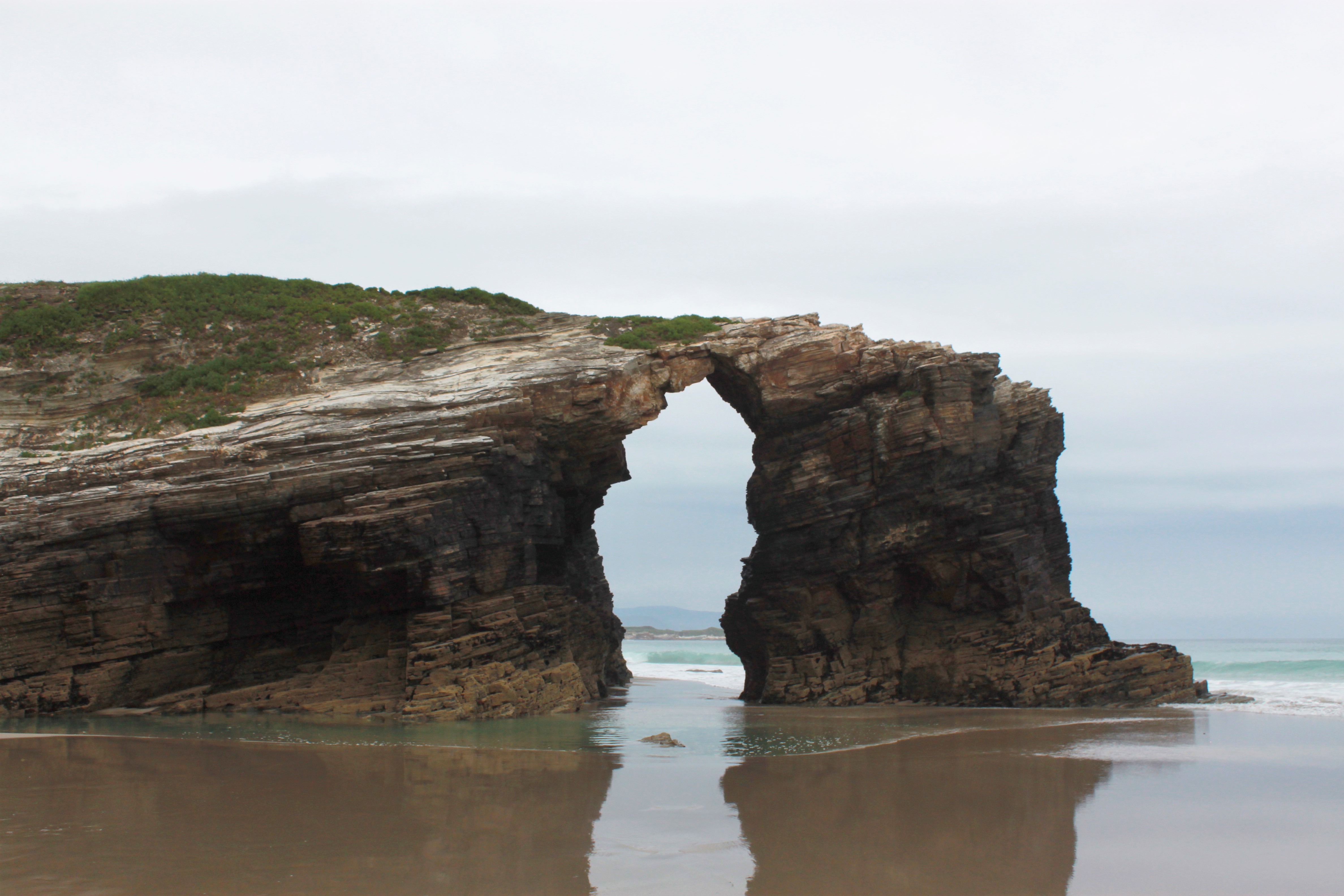 Seafood lovers will relish platters of gooseneck barnacles and giant prawns, sardines and scallops galore, and varieties of fish from tuna to turbot. Local fare also offers sought-after acorn-fed Iberian pork, the spectrum of Asturian cheeses, and cassoulet-like fabada stew laden with white beans. Nestled in the Picos de Europa mountains, El Casín de los Lagos sets the scene for a local cider tasting, while wines from the northern Rías Baixas, Rioja, and Rueda regions fill guests' glasses at three-course meals, served in the cities' Michelin-starred restaurants and luxe Paradores hotels or onboard the train's dining cars, where passengers sit two by two amid plush seats and brass lamps—decor of a bygone era's splendor.
Evenings wind down with entertainment in the lounge car—a drink demonstration, a magic show, live music. In the midst of our travels, a violinist serenades our group with "Moon River", and I can't help but smile at the serendipity.
_________
Never miss a story. Sign up for NUVO's weekly newsletter, here.