In and around the Bulgari serpente-scaled booth at Baselword this year, Fabrizio Buonamassa Stigliani sauntered with a gait of confidence. Stigliani, senior director for the Bulgari Watches Design Center added another record-breaking timepiece to the company's repertoire with the Bulgari Octo Finissimo Tourbillon Automatic. For those keeping score, this is the fourth record-breaker from Bulgari's Octo Finissimo collection.
Bulgari first introduced its Octo Tourbillon Finissimo in 2014, with a 1.95 mm movement housed in a compact 5 mm case. Two years later, the Bulgari Octo Finissimo Minute Repeater set the world record as the thinnest hand-wound minute repeater. The emergence of the Octo Finissimo Automatic timepiece last year set a world record for the being the slimmest automatic watch on the market. And now, in 2018, we have the release of the Bulgari Octo Finissimo Tourbillon Automatic, the world's thinnest of its kind—thinnest automatic watch with the thinnest tourbillon movement—at 3.95 mm.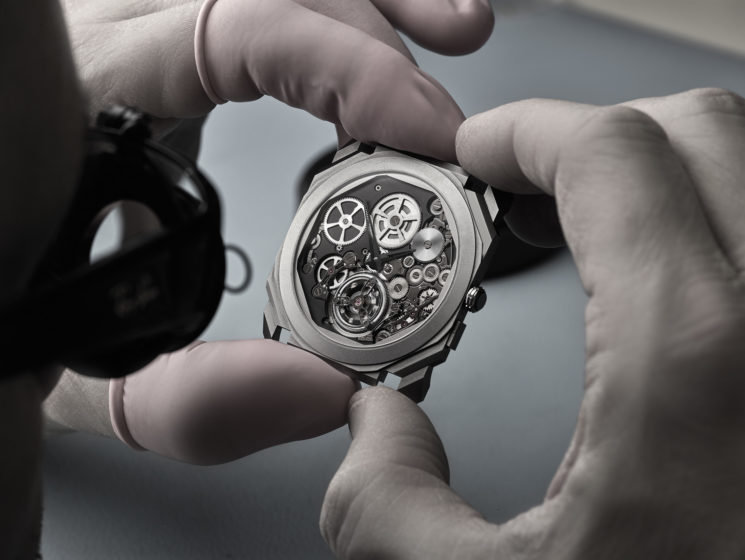 How did Bulgari achieve this degree of slenderness? "The process is about finding a solution," says Stigliani. "The approach is the same be it airplanes, cars, watches, or furniture. You solve the problem." Stigliani holds up both arms to showcase his wrist wares; on his left, the Octo Finissimo Automatic in sandblasted pink gold, and on his right, he wears the Octo Finissimo Minute Repeater Carbon (limited to 50 pieces). "You find a solution," he repeats point-blank. "And you have to do it in a beautiful way." There is an overwhelming trend in the industry to slim down watches and "it is the role of the designer to make sense of the innovation," he says.
The race among watch manufacturers to break ever more svelte records is ongoing—Piaget has its Altiplano Ultimate Concept and Audemars Piguet's new concept model is the world's thinnest automatic perpetual calendar. There are hundreds of brands on the market which means thousands of new products every year. Each manufacturer is consequently looking to stand out from the crowd and to deliver a distinctive watch. Such is the case with any iteration of the Octo Finissimo—when you see it, you cannot mistake it for anything but Bulgari.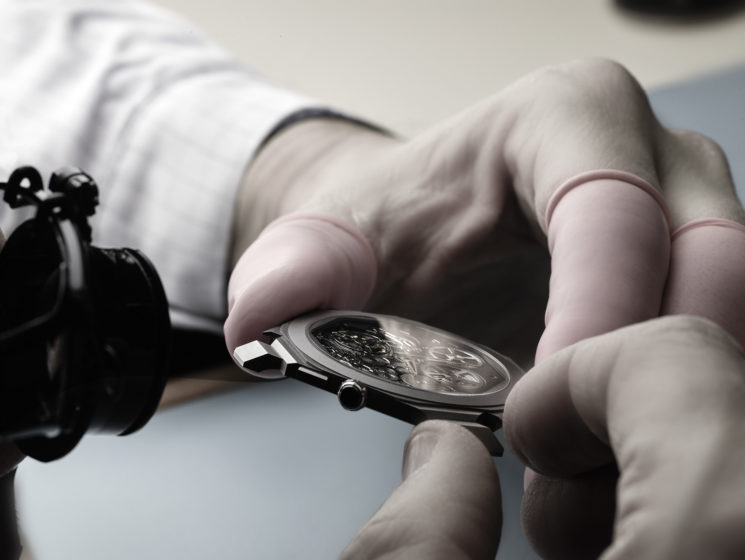 The latest Bulgari Octo Finissmo Tourbillon Automatic houses the Calibre BVL 288 which measures 1.95 mm thick and delivers 52 hours of power reserve. Placed within the titanium case, revealing the open-worked skeleton movement, the watch measures 3.95 mm; that's two stacked loonies.
The making of an ultra-thin watch is not a shrinking of an existing model, but a notable undertaking—and Bulgari effectively demonstrates why it continues as best in class.
_________
Never miss a story. Sign up for NUVO's weekly newsletter.