Learning to drift with the Mercedes-AMG Driving Academy.
Sitting in the dark, my headlights wash over a hard snowy surface before quickly disappearing into the complete void of my surroundings. The world outside my windshield appears arctic and empty. Heavy clouds block the night sky, wind and blowing snow rushes all around, ice shifts beneath my tires.
It's the dead of winter and I am near Gimli, Manitoba. Technically speaking, I am just offshore of Gimli, parked on the frozen mass of Lake Winnipeg and supported by 150cm of solid ice. With hand-studded tires doing their best to manage the 503 horsepower from a Mercedes-Benz AMG C 63 S, I'm here to slip, slide, and drift around this tundra-cum-playground in a sample of the annual AMG Winter Sporting driving program.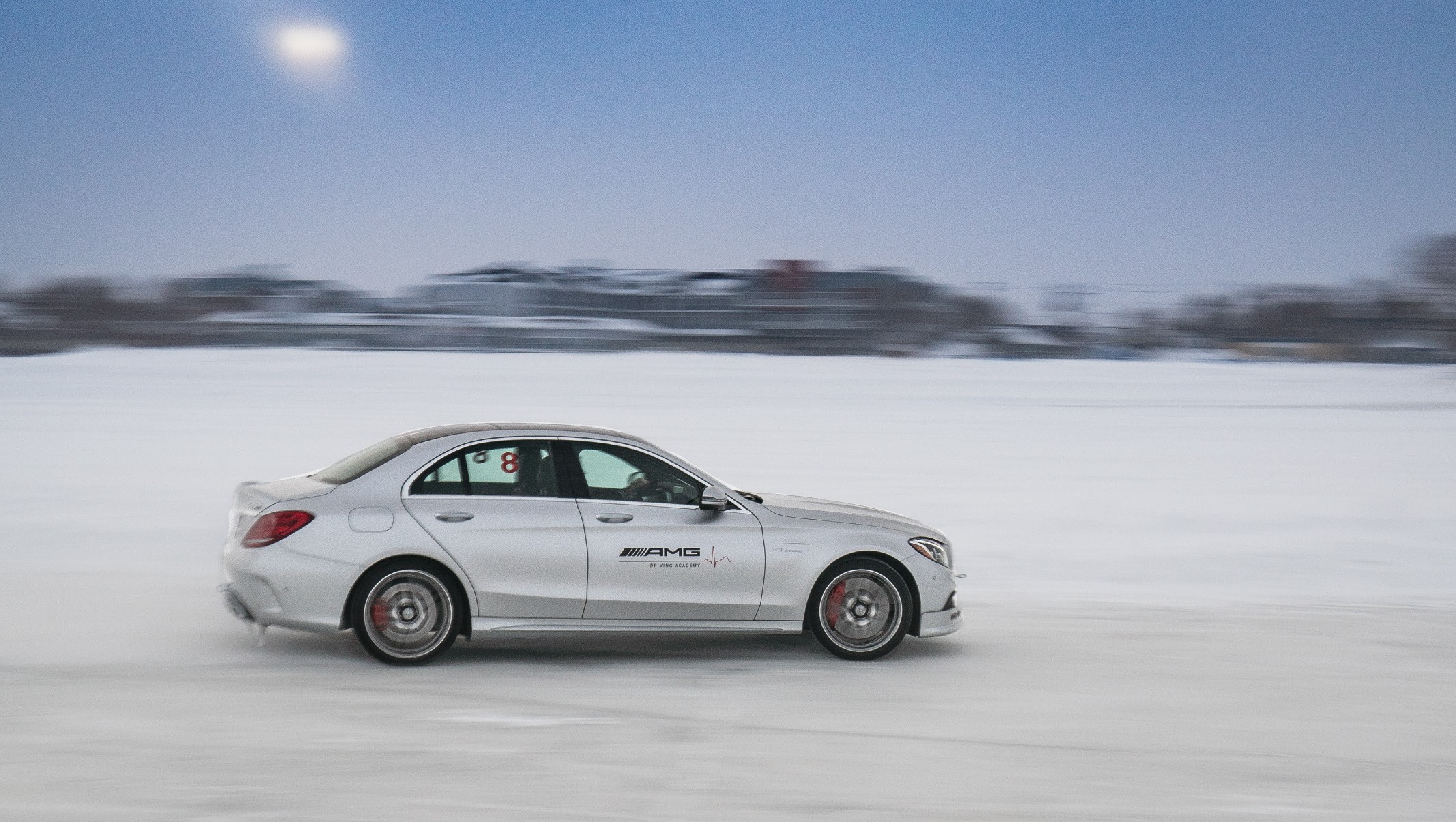 Now in its second year on Gimli's ample supply of frozen waterfront, the AMG Winter Sporting program is part of AMG's worldwide Driving Academy and offers multi-day programs where clients pay to drive AMG vehicles on a series of snow-lined icy courses that cover more than 325 acres of frozen lake. While the program is relatively new to Canada, AMG has been running a similar program in Sweden for more than a decade. AMG Winter Sporting comes in "Performance," "Advanced," and "Pro" levels, and the packages include the hotel, transport, food, driver education sessions, in-vehicle training, and ample opportunity to get behind the wheel of ice-prepped AMG sedans.
I am just offshore of Gimli, parked on the frozen mass of Lake Winnipeg and supported by 150cm of solid ice.
With the goal of expanding driver skill and comfort in a low-friction environment, three very different vehicles are used for the various skill-building sessions. The all-wheel drive 375 horsepower AMG CLA45 4MATIC sedan, the rear-wheel drive 503 horsepower AMG C 63 S sedan, and the monstrous 603 horsepower all-wheel AMG E63 S.
Practically speaking, the details of each car are not all that important to understanding the AMG Winter Sporting experience. During my one and a half days on the ice for a sample of the "Pro" level course, I was cycled through several opportunities to drive each model. The CLA is light, responsive, and very forgiving. Being rear-wheel drive the C 63 S feels the most natural to drift but is also very quick to spin when my novice skills weren't up to the task. Finally, the E63 S's weight and long wheelbase make it a car that rewards balance, patience, and smooth inputs. Given the right mix of those disciplines, it's an impressive drift machine.
The next morning, daylight reveals a massive complex of tracks meticulously groomed into the snow covering Lake Winnipeg. With a hut for staging the various drive groups (and to help keep everyone warm), we ran multiple sessions designed to push our skills to the limit in a safe environment and under the patient tutelage of AMG's instructors. While spins and light contact with the surrounding snow banks were a common occurrence, a more spirited exit from the track would ensure a date with "the Vulture", a matte black G-Wagen prepped to quickly pull a car from the snow and put a considerable dent in your ego. Sometimes you get lucky and your car can be dug out and then pushed free of the snow bank; I was not that lucky.
While attempting to chain multiple slides together into one continuous stylish drift through a slalom course, I managed to firmly lodge my CLA 45 deep in a snow bank, with AMG's chief instructor Reinhold Renger sitting right seat when I slid off course. Thankfully, like all of the instructors available during the sessions, Reinhold was kind, patient, funny, and very good at his job. After the Vulture provided a quick extraction, I was back on the course and Reinhold had me sliding on power and transitioning nicely from one cone to another.
While spins and light contact with the surrounding snow banks were a common occurrence, a more spirited exit from the track would ensure a date with "the Vulture".
Left to my own devices I progressed slowly through each session. Thankfully, with each new course or challenge I had the option of having an instructor ride along to help advise on everything from speed and timing to eye line, throttle input, and steering technique. Sure, you could go and rip around in an AMG for a few days, have a few spins, maybe meet the Vulture, and then head home happy. But you'd have missed a great opportunity to have AMG-specific instructors (not freelance drivers, which is very rare in this type of course) teach you the skills in a safe and controlled setting.
The AMG Winter Sporting program starts at $2,995 for a two-day "Performance" level and tops out with the "Pro" level, which ensures a one-to-one car to driver ratio (no sharing) and spans three days on the ice for $5,595 (including lodging, transport, and meals). With dates throughout February, total registration is limited by the nature of the program and available dates have proven to be in high demand. While entirely accessible and designed to match and grow with the skills of each participant, the AMG Winter Sporting program is undoubtedly an enthusiast experience and I found it to be well-managed, exciting, challenging, and fun.
By the end of the day my confidence and comfort had grown and when Reinhold offered to come along on track-style course in the E 63 S, I accepted with only a faint fear of repeating my performance in the CLA 45. Practice makes perfect.
_________
Never miss a story. Sign up for NUVO's weekly newsletter.