At Home with Alberto Alessi
The Italian abode on Lake Orta.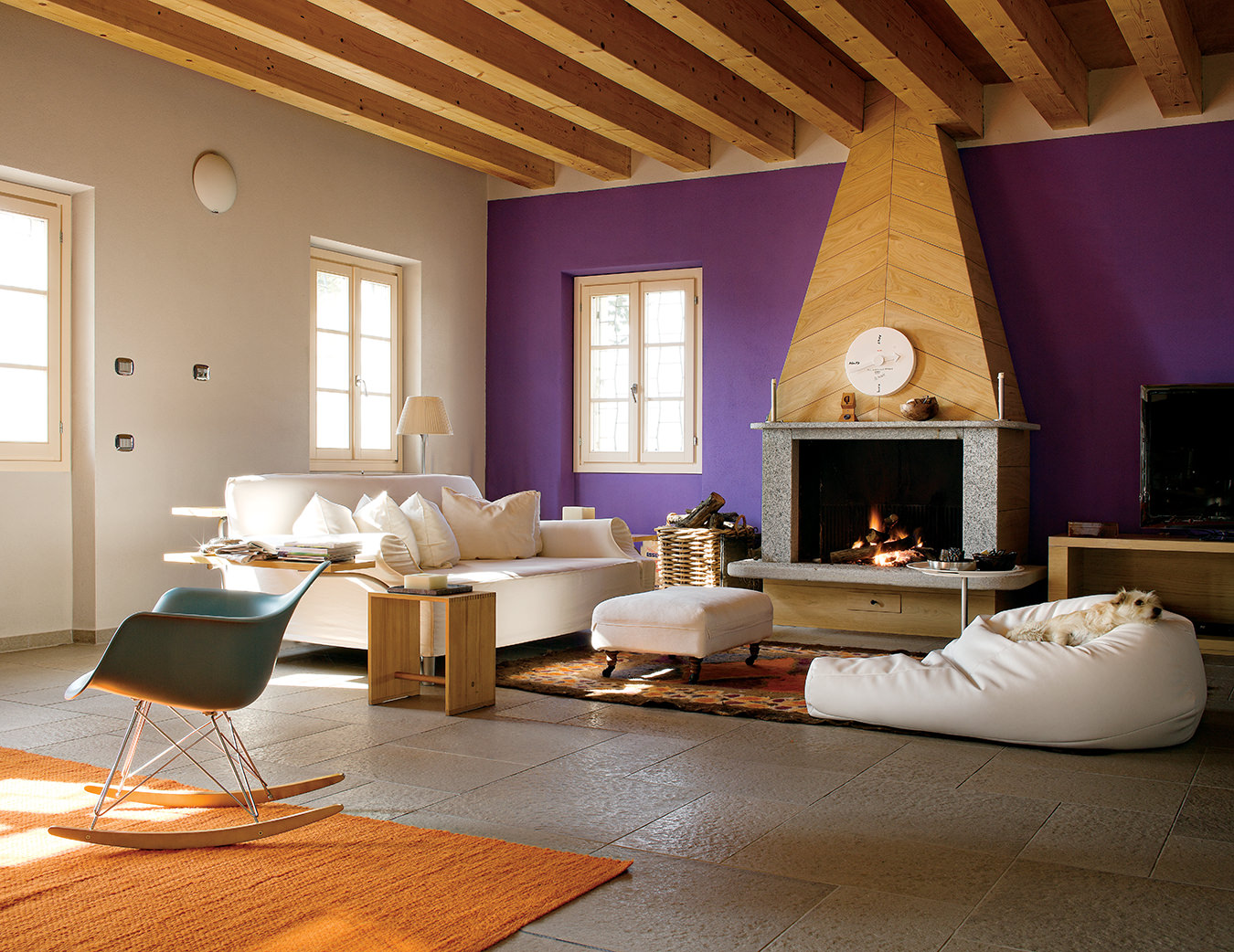 Finding the "golden ratio" in a human life, that is, living in pleasing proportion—work in proportion to pleasure, solitude in proportion to friendship—means establishing a fine balance of what we must do and whatever we can imagine. This must be one of the most elusive pursuits known to humankind. Alberto Alessi, who is the third-generation director of Alessi, the Italian design brand renowned for its world-class designers as much as for the iconic architectural tea sets and cartoonish salt and pepper shakers it produces, discovered what would become the site of his pursuit—to put work, leisure, family, and a passion for wine into some magical proportion—40 years ago, when he first saw Cascina Eugenia, a 350-year-old farmstead overlooking the island of San Giulio on Lake Orta in northwestern Italy. But that pursuit only really began 13 years ago, when he was able to buy the property, and began restoring the home within a landscape that surely represents a golden mean of nature and nurture, landscape and design.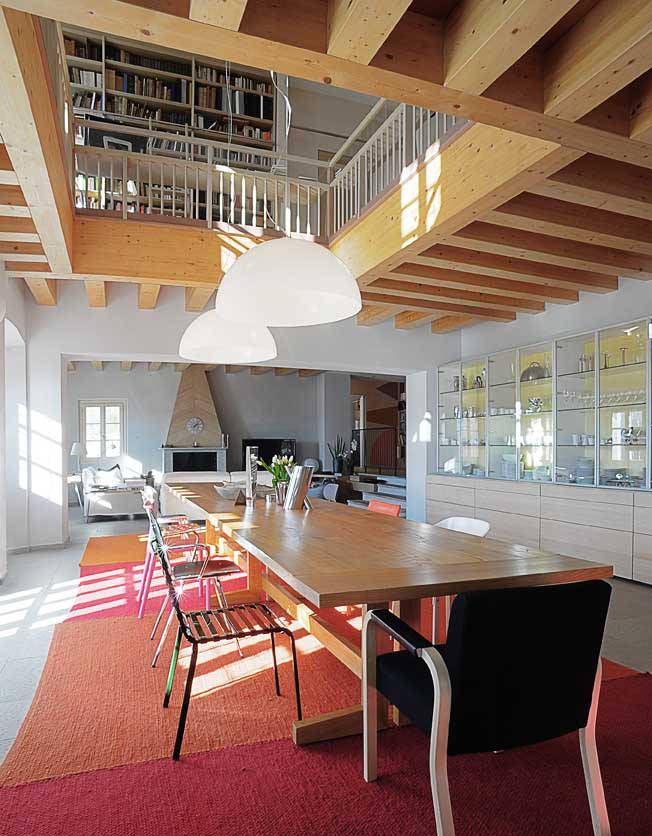 The Cascina, about a 10-minute drive from the Alessi factory in Crusinallo, had withered under neglect until it went on the market. Alessi, whose family hails from the nearby village of Luzzogno, bought it and, four years ago, moved in along with his wife, Laura, their daughter, Emma, and a dog named Emily. Alessi applied all the creative strategy that has proved so crucial to the brand's success over the past 90 years to turning the farmhouse into a home. He cherry-picked his architects and experts—among them old friends—to restore the historical buildings, whose façades remained unchanged from the early 19th century; redesign the three-bedroom house; kit out 800 square metres (8,600 square feet) of wine cellars; and finesse seven fields of gneiss- and granite-rich soil into vineyards. Here French oenologists have been creating a biodynamic, commercial pinot noir and chardonnay in a voluptuous bottle designed by Alessi himself—which, despite thousands of design projects overseen by Alessi, is his first and only creation.
Alessi tapped Atelier Mendini, led by brothers Francesco and Alessandro (the latter famous for his role in the architectural group Memphis, who had designed his previous home in the 1980s). "Because I have known them for such a long time and because I am very anxious about working with architects," says the man who has collaborated with designers for decades, "I had some confidence that they could make my home, not their building." Early sketches mapped the interiors of the house as elements of the surrounding landscape and included a communal table in the dining room set at an acute angle to the walls in fine feng shui fashion. The first three plans were refused by building authorities in Torino; the fourth plan, which was accepted, ensured that, outwardly, the property would retain its historical look while allowing them to throw the interiors open, creating airy, modern spaces instead of a warren of small antique rooms.
Alessi's brief to his celebrated architects was clear. "No carte blanche," he recalls. "I wanted calm and tranquility, and a poetic approach." Most important was that the brothers create a double-height space on the ground floor for kitchen, dining, and living areas, spaces which they gave quirky contrasts: steel work surfaces beside blond wood and stone salvaged from the property itself (the wood of three chestnut trees frames the fireplace); a purple glass ventilator hood above the range that matches a purple wall opposite; and graphical ceiling beams that enliven more biomorphic shapes, like a transparent spherical Bubble chair by Eero Aarnio that hangs from them, and an extra-large version of the curvaceous La Cucina Alessi kitchen designed by Alessandro Mendini and Gabriele Centazzo. "We all cook, but separately," Alessi says, "because I love cooking and I make a mess."
The family works, eats, and chats around a massive chestnut dining table designed by Mendini. An oddball variety of iconic chairs by Jasper Morrison, the Bouroullec brothers, Enzo Mari, Richard Sapper, and Naoto Fukasawa seem to converse around it also. "The home is a mirror of our life, so also of our work. I often work at home, sitting at the chestnut table," Alessi says. "All the furniture has a special relationship to my work and my friends, who are [its] designers: the different chairs, for example, were an attempt to find the perfect tool for sitting, eating, and drinking, which, of course, has not yet been found."
Alessi's brief to his architects was clear. "No carte blanche," he recalls. "I wanted calm and tranquility, and a poetic approach."
The swimming pool, which Alessi uses almost every day, features a sauna, as well as a little personal history: the doodle-like graphic tiling on the pool floor was designed by Alessandro Mendini, a tribute to the enduring friendship the two have shared. "It is an interpretation," Alessi explains, "of the complex way that he and I have communicated since 1977."
Alessi calls himself "a good consumer of wine" and has made the vineyards, cellars, wines, and bottles (with labels designed by Spaniard Martí Guixé) part and parcel of the home itself. The area, rich in rainfall and sandy soil, has been home to vineyards since at least the ninth century and, like kitchen gardens, some small batches of "American" wine and nebbiolo are still grown for personal consumption. Alessi, however, has bottled his own biodynamic wine, which, since May 2014, has been available online, and includes a series of "author proof" bottles, blending experiments offered as numbered art multiples.
Following the instructions of winemaker Christian Prudhomme, the Mendinis based their design of some parts of the winery buildings, cellars, bottle storage, and trolleys used to transport the wine on the golden ratio (1:1.618), and added gravel to maintain the humidity of the cellars: "Bottles," says Alessi, as if revealing the intimate foible of a close friend, "hate to be in a dry space."
Clearly a labour of love, the winemaking has become something of a design problem, like those he resolves daily at Alessi headquarters. Usually he and Laura spend half of their weekends on the wine (tasting, distribution). "In the first years, we did all kinds of work related to the cultivation and winemaking—except driving the tractor; I hardly drive my own car—in order to know what we were doing. It was precision that I wanted, to have everything in my own hands, but now I'm not sure it was a good idea because we bring home the problems of the cellars too easily," he says with, one suspects, no regret at all.
The most gratifying problem-solving that Alessi did resulted in his design of the Leo bottle. Devoted to the production of enduring objects, he views the disposal of empty bottles as a vast waste when each could enjoy a second life as a decanter, candlestick, or vase. Having conducted extensive historical research on archetypal wine vessels, in the end he created a pear-shaped design that conforms to the golden ratio (like the cellars) and reflects the influences of the "Vitruvian Man" sketch by Leonardo da Vinci, and a jug shape common in Renaissance paintings and art, as well as the elemental form of heated glass in the act of being blown.
For Alessi, perhaps the most intimate part of the property—because, like the cabal of chairs downstairs, it enshrines memories and friendships as much as objects—is the third floor. It leads to a little tower overlooking the vineyards and is where Alessi keeps prototypes and design projects that, for one reason or another, were never finished. "In the [third-floor space], I'm organizing my private museum, where I collect memories of my life in the Alessi factory: old furniture created for Alessi by Ettore Sottsass, Alessandro Mendini, Future Systems, Hani Rashid," he says. "But my most precious object is a 2,000-year-old lacrimarium that came from the tomb of the Princess of Gravellona in a village near the factory."
A small phial in which ancient Romans collected tears of grief, the lacrimarium was placed in the tomb, beside the loved one. For all its simplicity, it is, perhaps, one of the most expressive objects ever designed. It also just so happens to look very much like the Leo.
Photos by Santi Caleca.