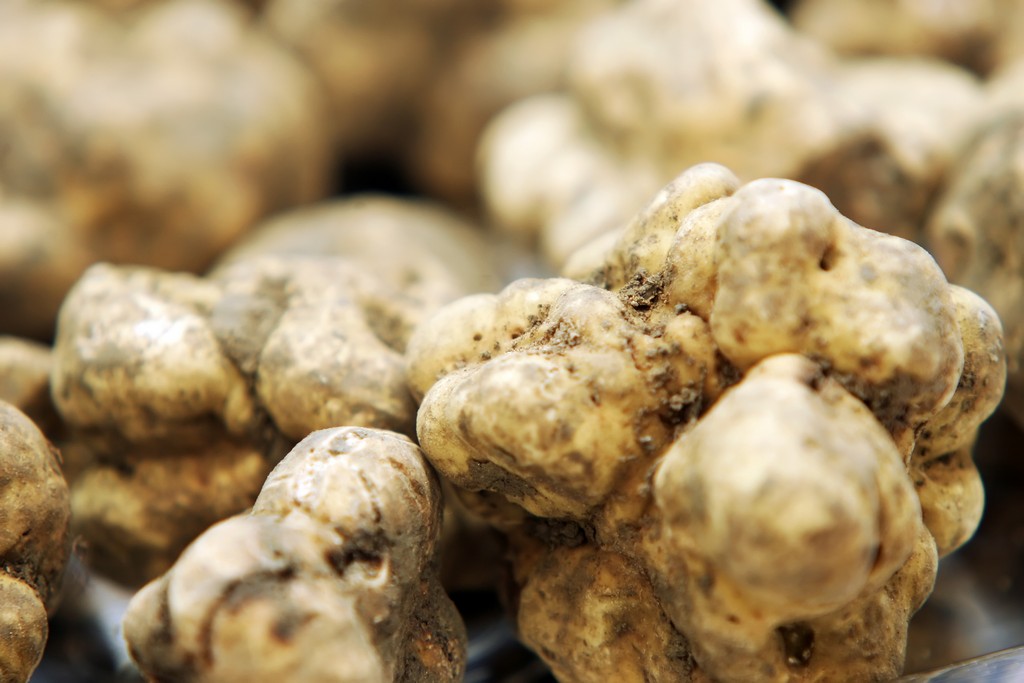 For many years, there has been a specialized tool lying in the bottom of my kitchen drawer—a tool designed to shave papery slivers from that most precious fungus, the truffle.
My shiny truffle shaver was a gift from an Italian winemaker, visiting Canada for one of those elegant wine dinners, crowned by the aromatic slivers of white truffles he doubtlessly ferried across the ocean along with his Dolcetto, Barbaresco and Barolo wines.
But I have never had one of these fragrant mushrooms in my kitchen. So the special tool sits in the drawer, as useful as a shoe buttonhook or some other outmoded gadget—which made my recent trip to Alba, the home of that rarest and most valued white truffle, a dream come true.
In the new upscale Eataly supermarket in Turin, where the finest Piedmontese ingredients and artisanal Italian foods are offered in a kind of old-fashioned market setting, I catch a whiff of the distinctive sweet and earthy aroma of truffles somewhere between the vegetable marché and the hand-rolled agnolotti and tagliatelle in the pasta shop. Behind the truffle counter, an employee slides open a refrigerated glass case (reminiscent of the one in my neighbourhood sushi bar) and proffers a knobby orb resembling a potato, with a price tag of €800 (around $1,200). Like a tiny truffle museum, each case holds a different collection, and there are thick books of photographs that evoke the misty woods among the hilly vineyards of the Langhe where these perfumed fungi flourish. It is a tantalizing taste of things to come, for I will be in Alba tomorrow.
Alba is, unequivocally, truffle central. Every October and November, the medieval town holds a truffle fair, which includes truffle booths lining the historic town centre, music and fireworks. There is also an auction where buyers from around the world bid to take home the biggest and best. Last year, Macao casino owner Stanley Ho paid a record $330,000 (U.S.) for a massive 1.5-kilogram truffle discovered near Pisa, dubbed "the biggest truffle of the century".
And even though the season has been dry, limiting supplies and boosting prices, I'm confident I will taste truffles. At this time of year, restaurants in the region offer special truffle menus; besides the various truffle-infused products always available here, for an extra €50 you can add a few grams of white truffle, shaved over fresh pasta with butter and sage, polenta, or cheese fonduta.
The scent of the rare fungus hangs in the air as we wind through the old cobbled streets, emanating from the shop Polleria Ratti Elio. Jars of truffle paste, local cheeses topped with slivers of black truffle, and truffle-infused sausages and olive oils fill the shelves. Black-and-white photos depicting the family's truffle hunts adorn the walls.
Owner Mario Bordino pulls trays of white and black truffles from his deli case. A sniff of both quickly answers the question of why the white truffle, found only in Alba, is more valuable than its more common and far less fragrant jet-black cousin. The aroma of white truffles is powerful and strangely seductive, which is why they are usually served raw, to finish dishes, unlike black truffles, which are often cooked and are used in most of the products on Bordino's shelves. He explains that not all truffle products are authentic; synthetically produced truffle oil is often used to add fragrance.
At the restaurant Enoteca Regionale del Roero in Canale d'Alba, I finally have the opportunity to devour my first white truffle in Piedmont. Luciano Bertello, my host, recommends I try his favourite dish from the pricey truffle section of the menu: uovo in cocotte, fondutadi Bra tenero, poached egg and cheese sauce with truffle. At €70 (about $110), this is surely the most expensive boiled egg I have ever had. It arrives in a white coffee cup set on a white plate, with buff-coloured strips of paper-thin truffle floating atop the creamy cheese sauce. There is no tall garnish, no drizzled dots of any special reduction on the plate—nothing save a cup of egg and cheese, a basic vehicle to carry this extraordinarily aromatic cargo.
I'm instructed to stir the whole thing up, mixing the cheese and truffle with the soft orange egg yolk. It forms a golden, soupy mass, and every mouthful is pure heaven. The sweet musky flavour is sensual, and shockingly addictive. How the young chef Davide Palluda coaxes so much pleasure from a simple coddled egg, a bit of cheese sauce and a handful of shaved fungus, I will never know.
Alas, my shiny truffle shaver is destined to remain unused. While I'd like to purchase a whole specimen, I'm not sure that I could bring it into Canada—and I'm absolutely certain that if I tried to smuggle it in, even among my dirty socks, the airport dogs would sniff it out immediately. The only truffles I carry home are in pictures, but the vivid memory of their incredible flavour and almost hypnotic fragrance is enough for me.
Photo by ©Luckynick/Dreamstime.com.
November 1, 2008
Updated: November 27, 2014