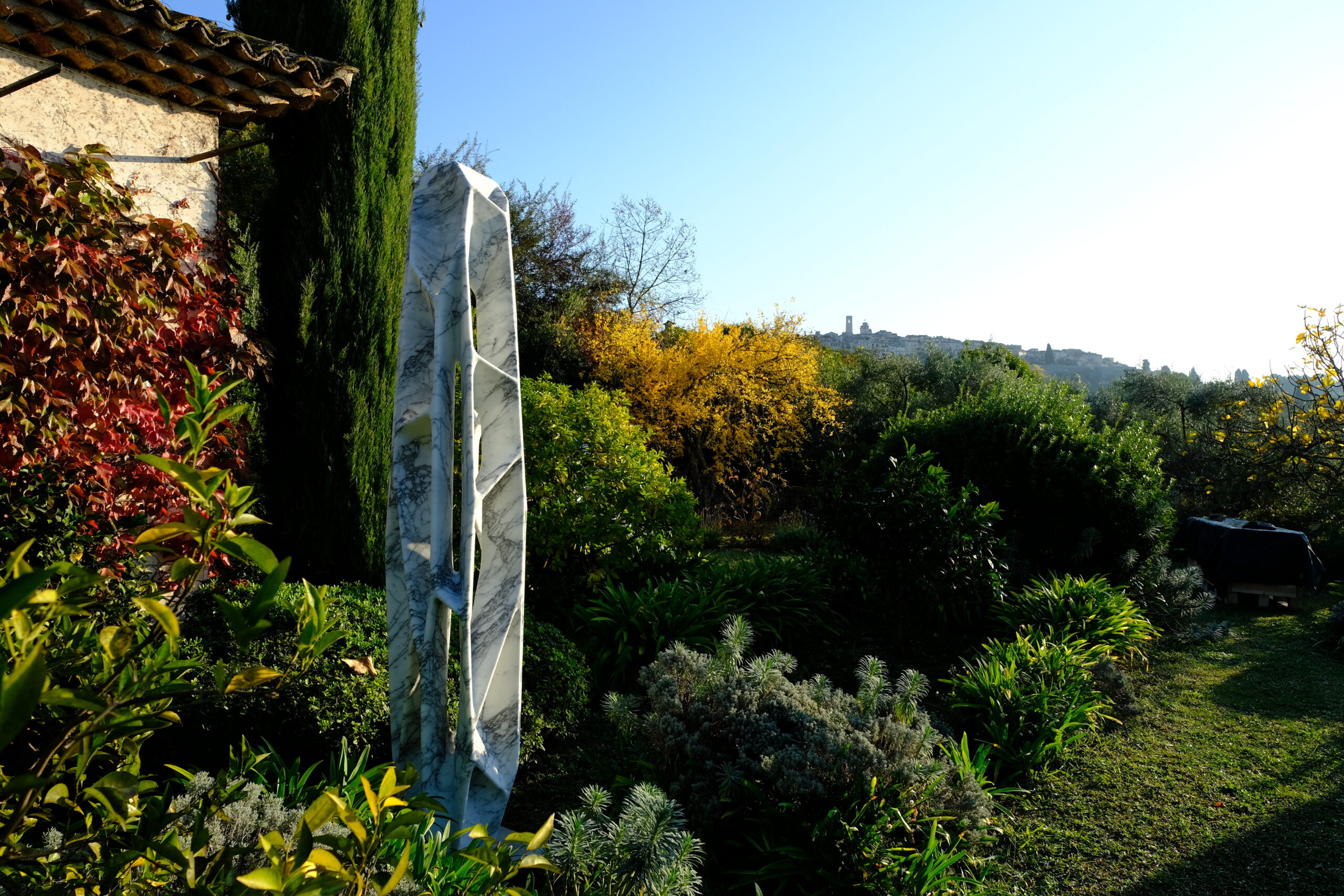 The Arik Levy Sculpture Park Opens In the South of France
In a serene valley in Saint-Paul-de-Vence on the Côte d'Azur, a secret garden awaits. Seen from medieval ramparts, the garden stretches languorously across three acres of olive groves, along with towering cypresses, flowering citrus trees, lavender plants, and bursts of agapanthus, all reaching toward the blazing Mediterranean sun. Within this bucolic sprawl are a home and studio for two artists: Arik Levy, an industrial designer of international renown and a multidisciplinary creator of sculpture, photography, and video art, and his wife and fellow artist Zoé Ouvrier, who makes figurative woodcuts and paintings.
This May, three years after moving to the storied French village from Paris, where they lived for 17 years, the couple opened their home and grounds to private tours by appointment year round. A 20-minute drive from the Nice Côte d'Azur airport, the Arik Levy Sculpture Park will host seasonal exhibitions showcasing the artists' monumental artworks, their home studio, and the verdant local landscape. Visitors will encounter an outdoor exhibition of more than two dozen artworks, including several from Levy's well-known Rock series. In totemic stacks or crystalloid clusters, the sculptures look like enormous gemstones forged from industrial materials such as steel, bronze, and glass.
Down by the stone-lined lap pool, surrounded by cypress trees, a Corten steel sculpture resembles a scaled-down version of Levy's striking RockGrowth Hermitage, a 20-metre-tall, 140-ton monolith in mirror-polished stainless steel commissioned by the future Hermitage Contemporary Moscow to occupy its front entrance. Unsurprisingly, the Russian art museum's opening, originally scheduled for this summer, has been put on indefinite hold.
Having grown up in Israel, Levy is no stranger to war, but in conversation he prefers to set politics aside. "I come from a place where, when I was five years old, I was wearing a gas mask in a shelter," he says. "I know war. I have experienced war, as a soldier, as a son, as a father. I have seen people disappear in front of me. It's not just an abstract concept or opinion I've read about on Instagram. I don't get into that topic with people, because I'm involved with it in a very different way."
Levy's first foray into art was as a 15-year-old self-described beach bum in Tel Aviv, where he was born in 1963 and spent his formative years. "I'm severely dyslexic, so school was a daily nightmare," he says. In art, he found his "little paradise." His parents couldn't afford to send him to art school, and "we were buying rice, water, and gas masks and preparing to go to the army," he says. He looked to the sand and waves around him for inspiration, and started painting surfboards, eventually turning approximately 1,500 of them into unique canvases. He had his first art exhibition in 1986.
Two years later, he followed a girlfriend to Switzerland and studied product design at Art Center College in La Tour-de-Peilz, focusing on car design. "That taught me a lot about materials and structure, and gave me insight into what I was really keen on doing, which was sculpture and painting," he says. He then spent some time in Japan, which was a revelation, he says. "I was so attracted to the attention and care one would put into trimming a bonsai, for example. The ceremony of doing things was fascinating to me." In the 1990s, he moved to Paris, working as an instructor at design schools and starting his own studio. His projects included furniture, lighting, jewellery, and objects for clients such as Vitra, Ligne Roset, Baccarat, Vibia, IKEA, and Swarovski. "Design, for a while, was the sponsor of my art. It was easy for me to earn my living through that, and all the money went into sculpture," he says. "Now I do a lot less in design, because I don't want to do services. I have only kept a few very dear relationships. Now art has grown to what I always wanted it to be: my full-time occupation."
"I see things differently and am constantly learning new things about myself." —Arik Levy
Levy has also designed stage sets for contemporary dance productions. In 2009, he was awarded the title of Chevalier des Arts et des Lettres de la République Française by the minister of culture in recognition for his contributions. Consequently, he set up exhibitions, and now the park, like a stage. "I think about what people see from where they are, how they approach and interact with each sculpture, and what stories each sculpture will tell them. When I guide people through the park, I take them on a trip. It's not a curator setting up an exhibition. It's me interacting in constant dialogue with my work."
Levy's interest in theatre and movement fits perfectly in this home, which was designed for its previous occupant, French prima ballerina Sylvie Guillem. The former rehearsal space that Levy and Ouvrier now use as their art studio has soaring ceilings and a dance floor with springs, which accommodated Guillem's balletic leaps in the past and prompts explorations in scale for Levy and Ouvrier's artworks in the present. The Arik Levy Sculpture Park is "the first time in my professional and artistic life that I have lived with my works in full scale where they should be, in the garden and in my house," Levy says. "I see things differently and am constantly learning new things about myself."
Levy follows in the footsteps of a long line of artists who have embarked on journeys of self-discovery in the South of France, with its sublime light and balmy climate. Giants of art history such as Pablo Picasso, Marc Chagall, Alberto Giacometti, Henri Matisse, George Braque, and Joan Miró have left a legacy here, evidenced by the number of world-class art destinations dotting the region. What sets the Arik Levy Sculpture Park apart on this busy collectors circuit is the experience of touring an artist's home, studio, and exhibition of the artist's works. "We are not an institution open to the public," Levy says. "People can have a picnic in the garden, but we show them around, we bring them into our personal space. It's very intimate."
Until now, Levy has shown at galleries, fairs, and auctions. His works are in major collections, including the Museum of Modern Art in New York, the Israel Museum in Jerusalem, the Victoria and Albert Museum in London, and the Centre Georges Pompidou in Paris. "The beauty of a gallery is that there is extra oxygen there," he says. "Works are isolated in an antiseptic environment so that they can be seen in their most recognizable states. But when people come here and see the works in a living house, they can understand how they function in dialogue." Building a forum for the sharing of ideas is one of the sculpture park's ambitions. Levy sees it as "a place where opinions are expressed in a full-frontal way, without the barriers that exist in fairs and galleries. My work is a crossover between a few different subjects: nature, science, what it means to be human, and social codes." The pomposity and pretension the art world can be infamous for don't feel possible here, with natural beauty in such wild abundance that one is humbled into a state of awe.
Building a forum for the sharing of ideas is one of the ambitions of the Arik Levy Sculpture Park. The industrial designer sees the endeavour as "a place where opinions are expressed in a full-frontal way, without the barriers that exist in fairs and galleries."
"I sit outside in the sunshine sketching here and feel as if I am being caressed by the scent of jasmine," Levy says. "It is almost narcotic." He describes how blossoming cypress trees paint the place yellow with pollen, and how snow roses recently invaded an olive tree, turning it into "a small mountain covered in soft powder." When the wild grasses and orange, lemon, grapefruit, pine, and laurel trees are trimmed, their essential oils are released into the air, creating a perfume that lasts only until the wind changes.
"Every four to six weeks we eat a different fruit from the garden," Levy says. He lists jujube fruit, feijoa, arbutus—"like small strawberries but with a little acid, fantastic!"—nèfle du Japon, lemon caviar, and Mirabelle plums. There are 30 fig trees heaving with swollen fruit, and the couple press their own olive oil. "The house is on a slant, so if you step 20 metres away from it, it disappears. You find yourself lost in a wilderness." Levy has considered his sculptures' reassuring presence as familiar, human-made objects in this untamed expanse. As you are magnetically drawn to greet one sculpture, another will appear in your line of sight to lead you deeper into the terrain.
Like any good gallerist, he has also paid attention to lighting, here from the sun. "Temples, churches, and synagogues are designed so that the light comes in at a certain time of day and hits an exact spot in a specific way," he says. "That happens here naturally with the light beaming between the cypress trees, creating zones of light and shadow."
As live-in custodians of the sculpture park, Levy and Ouvrier pay close attention to natural rhythms, everyday rituals, and changing seasons. Forms inspired by nature are manufactured in industrial materials and then returned to the wild. Depending on the angle of approach, pattern of weather, casting of light, or time spent in solitude and stasis observing the world around you, different perspectives emerge.
In slowing down and becoming receptive to the beauty around him, Levy has been rewarded with gifts from his garden. "There's one balcony I seek out in the morning that's like a bird observatory, with birds talking to each other, insects buzzing and humming, and squirrels jumping from tree to tree," he says. It's here that you will likely find him when you visit the Arik Levy Sculpture Park, sitting in his own private box at the theatre, enjoying a new and original performance on show every day.