Siblings Christiane and Jean-Yves Germain founded Canada's first boutique hotel 30 years ago.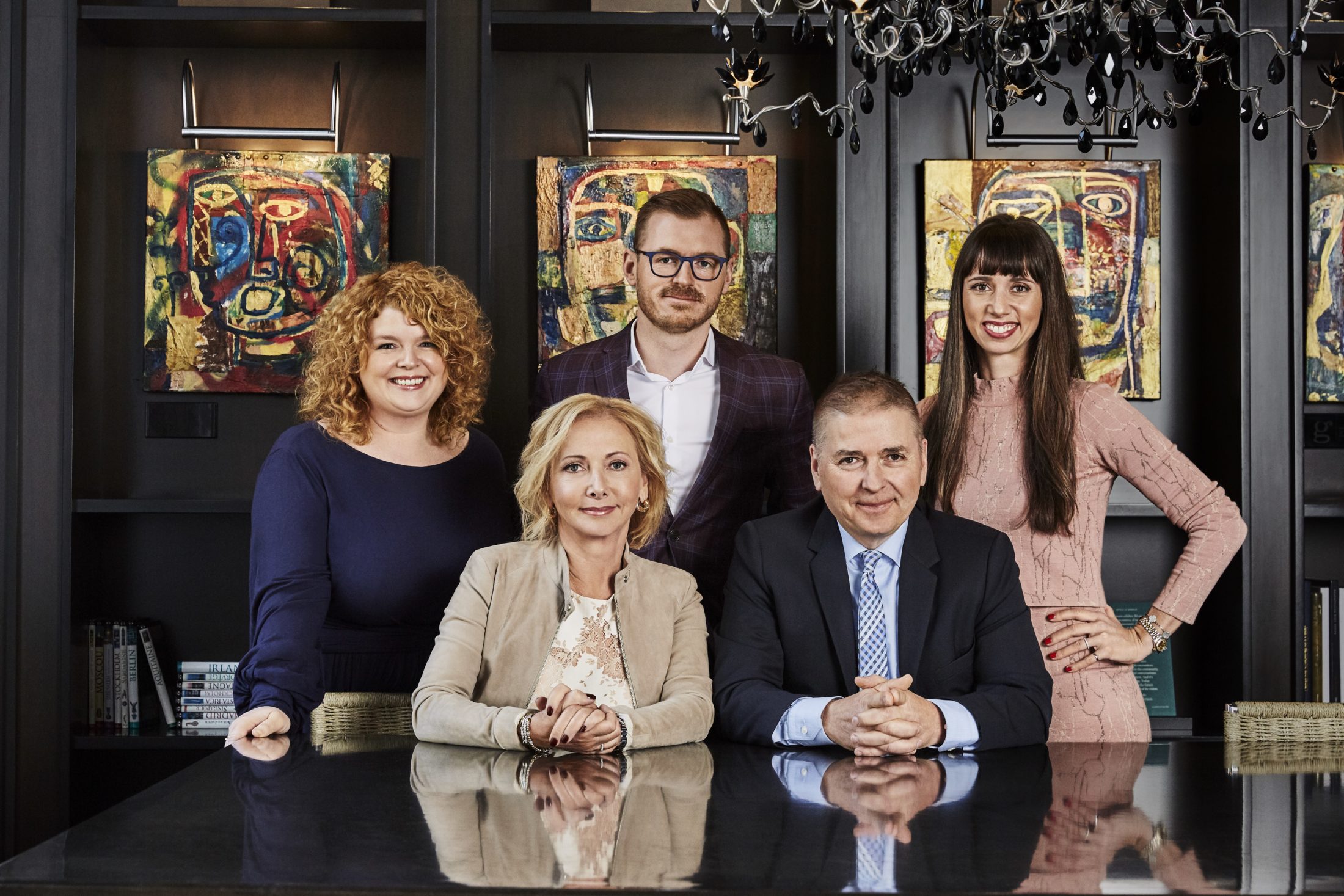 What makes a hotel a boutique hotel? The small number of rooms? The art in the hallways? The selection of bitters available in the lobby bar? Or is it that each boutique hotel is predictably unpredictable, a space reflecting its owner's sense of style?
When Christiane and Jean-Yves Germain opened Hôtel Le Germain-des-Prés—Canada's first boutique hotel, with 126 rooms—in Quebec City in 1988, they had a strong vision, but they didn't use the b-word. "Today, you can find a boutique law firm or boutique ad agency," says Christiane. "But back then, people only knew it as retail."
The adventure began with a stay at New York's Morgans Hotel, revamped in 1984 by Studio 54 co-founder–turned–hotelier, Ian Schrager, and Parisian interior decorator, Andrée Putman (who went on to collaborate with Azzedine Alaïa and Louis Vuitton). Its loud checkered tiles and cold steel fixtures wouldn't have been out of place in a loft, but they were unheard of at the time on Madison Avenue. (Although the New York hotel closed in 2017, Morgans is credited with pioneering the boutique hotel phenomenon.) Back then, business travellers expected hotels to provide a place to sleep and little else.
The Germain siblings, it should be noted, didn't have hotel design in mind when they headed for New York. They intended to gather inspiration for their four Quebec City restaurants (and a discotheque). In their early 20s, they were already following in the footsteps of their parents, Victor and Huguette, who started with a dépanneur (convenience store) outfitted with a lunch counter in the 1950s, opened a steakhouse called Le Fiacre in 1962, and expanded into property management. But by the time Christiane and Jean-Yves checked out of Morgans, they had a plan. They would sell their businesses, convince their father to lease them one of his office buildings, renovate, and open a hotel unlike any other in Canada. And they would do it as co-presidents. Says Christiane, "It took less than a day for us to decide—"
"—Let's do a hotel!" finishes Jean-Yves.
Thirty-one years later, that property is still in operation—it reopened under a new name, Alt Hotel Quebec City, in 2008—as is their second, Le Germain Hotel Quebec. Opened in 1997 in the Vieux Port neighbourhood, it occupies two buildings: the city's first eight-storey skyscraper and the former Quebec City Stock Exchange. The neighbours were at one time a who's who of bank headquarters, and now the stone structures have been converted into restaurants, architecture firms, and art galleries. There are views of the St. Lawrence River to the east, while a walk in the other direction checks all of the Instagram boxes: the city's iconic fortified wall, a smattering of wartime cannons, plus a vista of churches, seminaries, and heritage buildings. Beyond that, contemporary Quebec City is a rolling, evolving mix of hip, natural wine bars, monuments, and hypermodern museum exhibits.
After Quebec City, their next stop was Montreal in 1999 ("To prove it wasn't a fluke," says Christiane), then Toronto in 2003. From a single, independent, family-run hotel in Quebec City to a burgeoning company with three brands (more on this later) and 18 properties in seven provinces, Group Germain welcomes guests in Calgary, Saskatoon, Winnipeg, Ottawa, Montreal, Charlevoix (their first countryside hotel and spa), Halifax, and St. John's. Alt Hotels, a modern, European-style, mid-market hotel brand was introduced in 2007. Created on the premise of no-frills chic, Alt Hotels has the contemporary design and warm approach to hospitality that Group Germain hotels are known for, but without the bells and whistles of a luxury property. Alt+ is yet another banner from the Germain Group, currently one property in Brossard, Quebec, whose loft-style spaces and kitchenettes encourage long-term stays.
Most of the new builds are strategically multi-use, making it possible for them to be located in city centres. For example, the Germains' Ottawa property had them working as part of a consortium with DevMcGill and EBC Inc. to create a 23-storey complex that includes the hotel, condos, a theatre, and classrooms, plus the expansion of the Ottawa Art Gallery (a $60-million investment from the private sector and $40-million from the city and the University of Ottawa). Germain Group also has a stellar track record within the industry—it has ranked among Canada's 50 Best Managed Companies for over a decade—and with guests, every single property earning a TripAdvisor Certificate of Excellence.
"Who's smiling and who isn't?" asks Hugo, son of Jean-Yves, in-between test shots. There's a group gathered at the Old Quebec property for a family portrait. As Group Germain's director of development, he travels across Canada researching sites for future hotels, revisiting cities three to five times a year, and meeting with tourism boards and chambers of commerce. Above all, he says he has to get a feel for a place at street level, so he explores up-and-coming neighbourhoods to see if they suit the brand. "We can't just look at a city. We need to know where it's going to be in 20, 30 years."
Hugo's sister, Clarah, surveys the first photos and advises her family on how to adjust their poses and placement. A self-identified "creative mind", she's the company's long-time social media manager and, at 35, the youngest of the bunch. Currently based in Montreal, her next stop is a new role at the Alt Hotel St. John's alongside her boyfriend, a former Joe Beef chef, who will oversee the property's upcoming restaurant, Terre (as in Terre-Neuve). Christiane's daughter Marie Pier, the regional director and director of hotel design, graduated with a BA in engineering from Queen's and has spent the past year overseeing a $20-million renovation to Le Germain Montreal. The hotel opened in 1999 in a building constructed in 1967; the project is being helmed by the Germain Group's long-time architectural partners, LemayMichaud. Asked when it will relaunch, Marie Pier and her mother exchange looks and laugh. "Let's say by the end of 2019!"
"The goal is 20 hotels by 2020," interjects Hugo. He confesses that, at first, he just liked the way it sounded, but then it stuck as a company-wide goal. Four new properties were opened in 2018 alone, and they have also announced plans for an airport hotel in Ottawa and a multi-use building in Edmonton's Warehouse District, whose completion will get them to that 20/20/20 goal.
And what of the West Coast? It turns out Vancouver is a bit of a white whale, especially for father and son. "He said to wait until after the Olympics for the prices to come down," says Hugo, gesturing toward Jean-Yves with an exaggerated look of exasperation. Jean-Yves shoots right back. "The takeaway is, it will never be cheaper than it is today."
This is, admittedly, a dizzying legacy: three decades of dates, and names, and brands, and branches of a family tree. But it all seems manageable when you're in the presence of the Germains. Their dynamic lends some insight into how they run the company: endlessly flowing conversation, switching between English and French, occasional heated debates, inside jokes, gentle mocking, quick resolutions, rinse and repeat.
Of course, there's much more to the company than these five family members (two of Jean-Yves' children didn't go into the family business—"None of us ever felt pressured to work for them," adds Marie Pier). They meet with an executive board every month, and the company employs more than 1,200 people across the country. But hospitality is in their DNA, and it's felt at every level. Just as their generations of experience put them ahead of industry newcomers, this relatively informal hierarchy gives them an advantage when up against large hotel chains (including those that have launched smaller boutique brands in an attempt to capture a more youthful or design-conscious market, like Marriott's Moxy properties and AccorHotels' Greet offshoot, set to debut this summer).
"When there's an opportunity, we can position ourselves pretty quickly," explains Hugo. It's a strategy that can be applied to everything from partnering with a condo development company to commissioning pieces by a local artist. Anyone who's ever worked in corporate hospitality knows how much (and who) goes into every single proposal and approval. The design of a swimming pool. The plants in the lobby. The placement of a pen.
"Big hotels can have, how do you say, a process of 'decision by death,' " says Marie Pier, who has spearheaded several collaborations with Canadian makers, most recently a deal with Montreal model-turned-perfumer Ruby Brown. The two met in line for coffee at the C2 Montreal Commerce + Creativity conference in 2017, and they were working on a project shortly after. "Our brands just made sense together," says Brown by phone from her Mile End atelier. She ended up creating a custom bergamot-tea scent for the Alt+ in Brossard, then a line of amber-hemp amenities for the renovated Montreal property. "They weren't afraid of me making an ultra-niche scent, something riskier. They gave me total carte blanche."
The hotel is also great at showing the rest of Canada what Quebec does best. Their branded linens, down duvets, and pillows are currently for sale at Simons, another Quebec City success story that's still family owned and is expanding across the country. Staff uniforms were designed by Montrealer Marie Saint Pierre—Alt+ staff are outfitted by Frank and Oak—and her bright red decorative Karwai pillows/art pieces can be found on beds at the Quebec City property. At turndown, the handmade chocolate on the pillow comes care of Montreal's Geneviève Grandbois. (The team's agility also extends to collaborations with non-Canadian suppliers. Back in 2014, Group Germain was the first brand in the country chosen by Tesla for the company's Destination electric vehicle charging program, due to their shared commitment to sustainability.)
This thoughtful, homegrown approach isn't just good business, it's essential to the ethos of so many modern travellers. While Jean-Yves says their guests still put location and value above all else, what people expect when they enter the lobby has changed over the decades. "[When we started,] people who were travelling were trying to do the same things they did at home," says Christiane. "They'd say, 'I have peanut butter every day, I want to eat peanut butter here.' Now they want to know about local flavours. And our country not only has a lot to offer, but specific things in different cities."
Clarah agrees. "People are mixing business and leisure more and more."
"The guests we are targeting are looking for experiences," says Jean-Yves.
"A bit more stimulation," adds Hugo.
"They want to stay and explore," says Marie Pier.
And it makes sense for the Germains to be the ones to bring this to them. After all, back in 1988 they were so willing to take risks on this strange, new curated hotel concept, it cost them potential funding. As Christiane recalls, a group of would-be investors came in from Toronto to the Quebec City construction site and were shocked to find sleek showers in place of the standard bathtubs. So rigid were they in their vision of what a guest room should look like, they withdrew their loan, and left the Germains with a word of caution. "They told us, 'If it doesn't have bathtubs, it will fail,' " recounts Christiane.
More than three decades later, it's safe to say that those investors were wrong, and that underestimating the Germains isn't a wise idea. Because, while the family has grown in size (Hugo and Marie Pier each have two young children) and the business in scope, it's all built on strong roots. "It's important to remember, whatever we do—and back to our parents—it's always been about service," says Jean-Yves.
"We're hoteliers, we run a business," adds Christiane. "But the business is people."
Like Quebec City itself, with its cross-section of monuments and modernity, the company is proof positive that change is good—but history is priceless. 
_________
Never miss a story. Sign up for NUVO's weekly newsletter, here.