The Secret Life of Molokai
Discovering "the most Hawaiian island."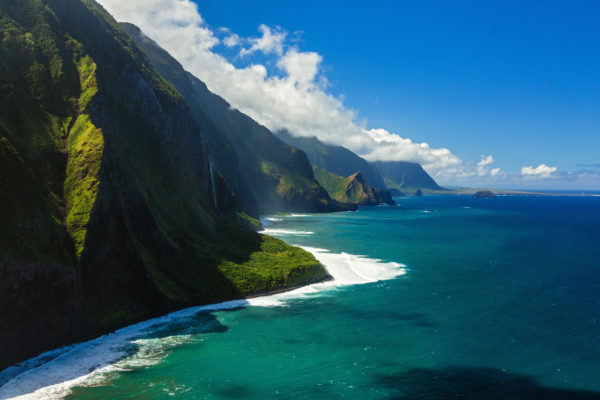 I almost don't want to tell you about Molokai. Besides, it's not my story to tell.
While visiting the island's lush Hālawa Valley, I am reminded of this—firmly, but politely. "So many people forget to go to the source," says 78-year-old Pilipo Solatorio, seated on a bench outside his home. "Too many people forget to speak to us about our history. Instead, you know what they say in the university books when they refer to our culture, our stories? 'Two natives…' Why aren't our names in those books?" Solatorio, the last living kupuna (wise elder) of the valley and a fierce proponent of oral history, has memories and words of wisdom that could fill those books tenfold.
The ancient Hālawa Valley may have been the birthplace of Hawaiian civilization when Polynesians settled here as early as 650 AD. For hundreds of years after, the sound of Pū shells being blown would echo around these mountainous valley walls. Today, only 10 or so people still call the remote area home, living without cell phone service and powering their homes with generators and solar panels; Solatorio is one of them.
It was also here, at the age of five, that Solatorio was chosen by his grandfather as his successor, the person who would ensure that the traditions of his people were not lost—or told inaccurately. His son Greg is the next chosen one, who will continue in his footsteps, and the father-son duo are the subject of a 2015 documentary called Sons of Hālawa, detailing the process and relevance of choosing a successor in the modern age. They also run Hālawa Valley Falls Cultural Hike, leading culturally immersive excursions to the dramatic Mo'oula Falls nearby, and sharing their stories along the way.
On Molokai, there are zero traffic lights, two gas stations, and over 160 kilometres of coastline.
Molokai is home to around 7,500 people and 40 per cent are native Hawaiians—the highest concentration of all the state's main islands. There are zero traffic lights, two gas stations, and over 160 kilometres of coastline, with the southern side of the island boasting the most extensive coral reefs in the state. Dubbed "the friendly isle", it is a world apart from the slick shopping centres of Maui and crowded Waikiki beaches. Instead, it resembles old Hawaii with its small-town spirit and the genuine warmth of its people. There are a handful of rentable condos to book and just one hotel, the 47-key Hotel Molokai, currently revamping its rooms (if you go, reserve the newly renovated deluxe ocean suite). Charmingly, nothing on the isle can be built higher than three stories—or, as some say, the tallest palm tree.
With no malls, outdoor sports are the recreation of choice on Molokai (including hunting local axis deer) or sipping brews on the beach while "talking story"—sharing conversation. Additionally, lore and legend are part of the rhythm of daily life, and a cross-generational ritual of storytelling remains. I experience this first-hand after joining a dawn paddle with the local Wa'akapaemua Canoe Club to spot huge sea turtles diving in slow motion through the deep reefs. Another canoe pulls close to ours, and before long someone is sharing with me an ancient Molokaian legend about a hill-dwelling giant as we float side by side in the early morning light.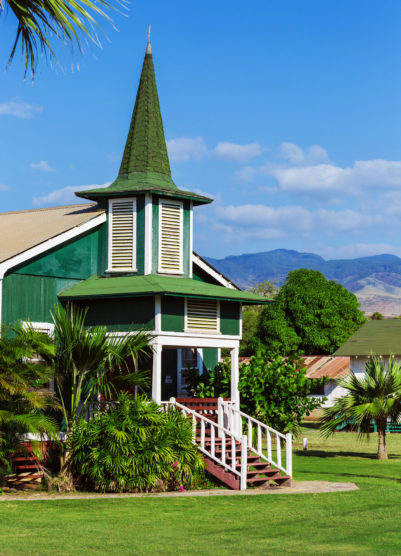 Therein lies the magic of this place, and those who make it their home echo this sentiment. If travellers bring good energy to the island, they generally get along with those who live there. Those pushing development or too much change will garner bad energy from the locals. Part-time resident Monk (who goes by one name), a painter based in Parksville, B.C., recalls her introduction to Molokai three years ago. "I am convinced that most people are 'called' to Molokai and their lives are never the same again," she says. "The beauty of the island is undeniable, but the real beauty is in the people of Molokai. Within 10 seconds of meeting, you start to have a deep and meaningful conversation. The island is not just a place, it's a beacon of pure light in a world that increasingly is lost." After one visit, you'll realize she is right.
Despite its current outlook, one region of Molokai has a difficult past. From 1865 to 1969, the secluded Kalaupapa Peninsula was a leper colony (leprosy is also known as Hansen's disease), and almost 8,000 Hawaiians and immigrant plantation workers were torn from their families and exiled there. Six or seven elderly permanent residents are still "checked in" to the facility today. It is possible for visitors to hike down a 488-metre cliff (and back again) to Kalaupapa National Historical Park for guided tours of the colony, or fly into a small airstrip nearby. Today, local activists have taken a major role in humanizing those who were affected by the disease through global campaigns and art initiatives.
"The island is not just a place, it's a beacon of pure light in a world that increasingly is lost."
As Molokai is an agricultural mecca, it's well worth visiting some of the growers' plantations, be they for coffee, taro, or flowers, as some do welcome visitors. When I hop out of the car at Molokai Plumerias, close to the town of Kaunakakai, a kaleidoscope of orange butterflies flutters by. Owner Dick Wheeler and his wife preside over 3,000 blooming plumeria trees. Their soft scent hangs in the air as Wheeler explains how they organize tours, showing people how to pick the flowers and learn to make leis in the garden. "We are really private people, but tourists just started driving in anyways. So, we started showing them around."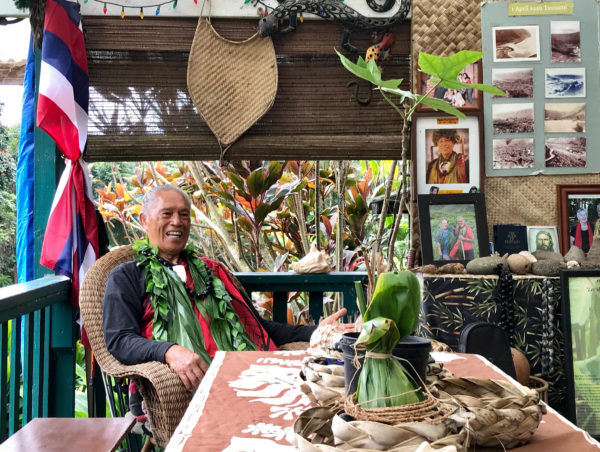 Word of mouth also takes travellers over to Purdy's Natural Macadamia Nuts, where owner Tuddie Purdy has been educating visitors about organic "mac nuts" since the early '80s, inviting guests in free of charge to crack open raw nuts by hand before eating them with macadamia blossom honey. When I inquire where I can buy a few bags' worth, Purdy says feistily, "We are not here to sell the nuts. I mean, you can buy some in the shop there, but that's not my purpose. I'm here to teach you." Explaining the meaning behind these pure, unprocessed Molokai macadamia nuts is his good-natured goal.
I'm reminded of a conversation I had earlier, while visiting Solatorio in the Hālawa Valley. Before I left, his son, Greg, stopped by to share a few words. "In our culture, there is still a physical and spiritual aspect to everything around us," he explained. "But today our most sacred things become trinkets or souvenirs." Reaching into a bowl, Greg scooped up a kukui nut that had been scratched to reveal its oils, then set it alight with a match. "In our culture, kukui means light. Our people used to make candles out of them. When a resort gives you a kukui nut lei, they don't tell you the true meaning—that it represents a ring of light."
Photos ©Hawaii Tourism Authority (HTA)/Tor Johnson.
_________
Never miss a story. Sign up for NUVO's weekly newsletter, here.