Time for an explosion of colour.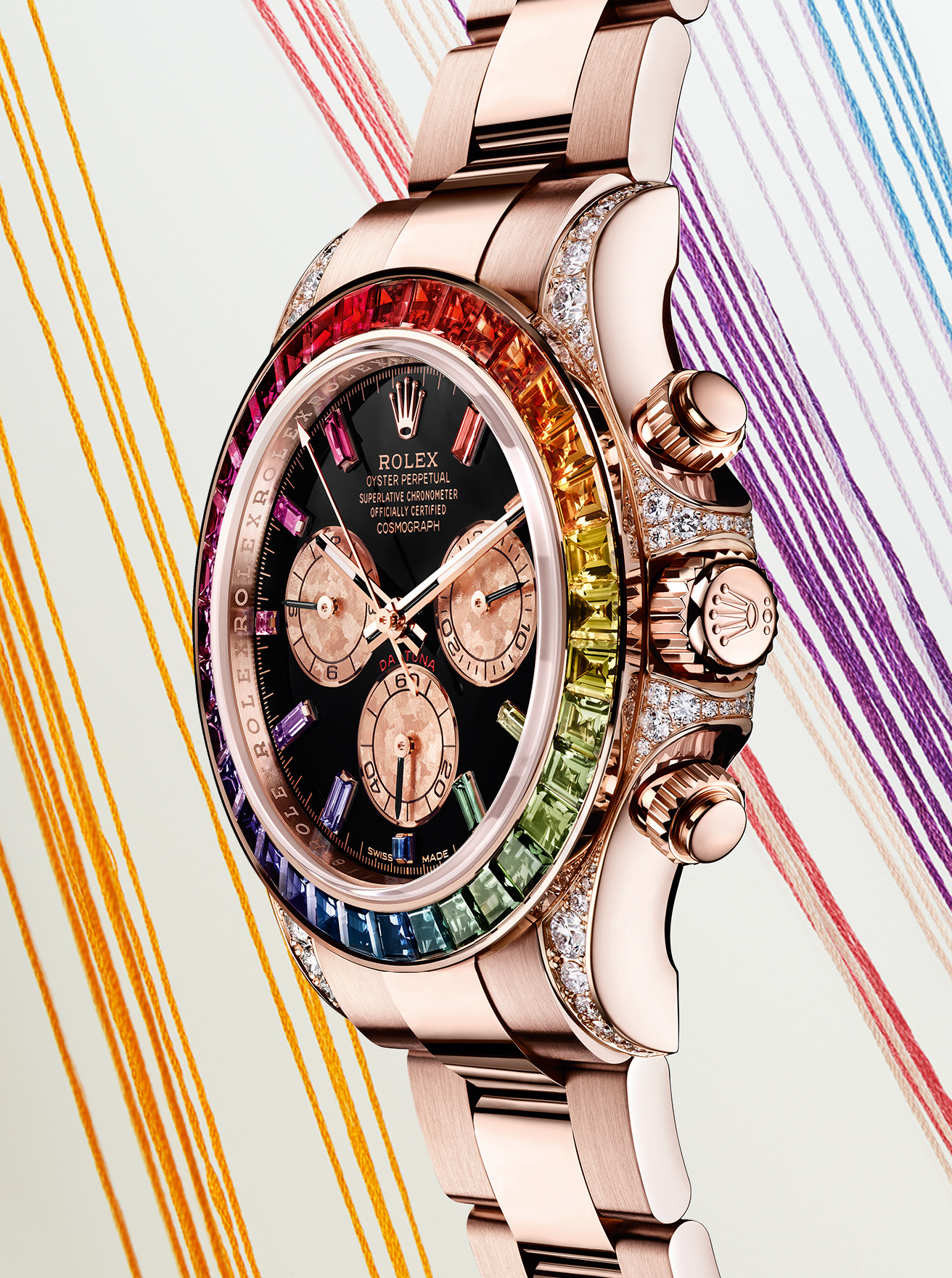 The pattern red, orange, yellow, green, blue, indigo, violet—as ordered by Sir Isaac Newton over three centuries ago—has extended far beyond the schoolyard mnemonic of Roy G. Biv. Lately these multicoloured stripes have dominated high street fashion; as well, a rainbow food creation is being debuted daily, it seems, with gastronomes posting pictures of their Technicolor foods at an alarming rate.
Even the traditional Swiss watchmakers are creating their own rainbows. Not everyone wants a black, white, grey, or blue timepiece—some like their time with an explosion of colour, and luxury watch manufacturers are using diamonds and gemstones to speak volumes about colour.
The first-generation Rolex Daytona Rainbow, as it has affectionately been dubbed, was introduced in 2012 and produced for only a brief spell in yellow or white gold. Since then demand has risen, with the watch selling for more than double its original price on the secondary market. At Baselworld this year, an Everose gold (Rolex's own alloy of rose gold) version paired with a black lacquer dial, officially named the Rolex Cosmograph Daytona reference 116595RBOW, was released, and in lieu of the characteristic tachymetric scale, the bezel is set with a gradation of sapphires in rainbow hues. The case is adorned with 56 brilliant-cut diamonds set into the lugs and crown guard, and the dial features 11 baguette-cut sapphire hour markers, each of which matches the colour of the corresponding point on the bezel of 36 baguette-cut sapphires (the 12th hour marker is the Rolex crown logo). There aren't too many timepieces that upon release become cult classics—this one has, and it's a safe bet this Rolex won't be appearing in any boutique display cases, as demand is lofty.
Not everyone wants a black, white, grey, or blue timepiece—some like their time with an explosion of colour.
Since its inception, Hublot hasn't been afraid to be different. When Carlo Crocco founded the brand in the 1980s, its distinctive designs and unique innovations set it apart from more conventional watchmakers. (Use of a rubber strap is commonplace with sport watches today, but its popularity came about after Hublot's pioneering usage.) The Big Bang Unico Sapphire Rainbow is housed in a 45mm Big Bang case, crafted from ice-like sapphire crystal, with a composite resin dial that allows for a clear view of Hublot's in-house Unico chronograph flyback movement. The 18-karat white gold bezel is set with 48 baguette-cut stones—sapphires, rubies, topazes, and tsavorites—in all the colours of the rainbow, ranging from vivid pink through arctic blue all the way to fiery orange.
The Brilliant Flying Tourbillon by Jacob & Co. gives you the rainbow in scintillating form. This feminine timepiece features a richly covered dial showcasing the one-minute flying tourbillon carriage with a power reserve of 100 hours. The latest variation, released at Baselworld this year, has a dazzling rose gold case with 359 invisibly set baguette sapphires and 346 brilliant-cut diamonds, along with one cabochon-cut sapphire on the crown. Jacob & Co. continues to scale the heights of over-the-top jewellery and watchmaking, pushing the limits of what is possible through creating one-of-a-kind pieces for royalty and rappers alike.
The highly prestigious Corum Romvlvs collection welcomes another sophisticated member of the Romvlvs Billionaire watch this year. The jewellery timepiece is constructed with a flying tourbillon movement sculptured on a sapphire plate and bridges. The first Corum Romvlvs watch was groundbreaking when it was introduced in 1966: it was the first timepiece to lack hour markers on the dial, rather, engraved on the bezel. On this Romvlvs 44, the hour markers on the baguette diamond–set rose gold bezel are a prism of sapphire baguettes, in addition to 154 baguette-cut diamonds; it is worn on a green alligator strap. The transparent dial provides an unrestricted view of the marvellous hand-wound CO 374 movement that beats at 21,600 vibrations per hour. This timepiece is a majestic example of Corum's craftsmanship.
Chasing rainbows is no longer just child's play; the rainbow seems to have some staying power. And although these timepieces—memorable in form and impressive in detail—aren't created for everyone, those who dare, win.
_________
Never miss a story. Sign up for NUVO's weekly newsletter, here.