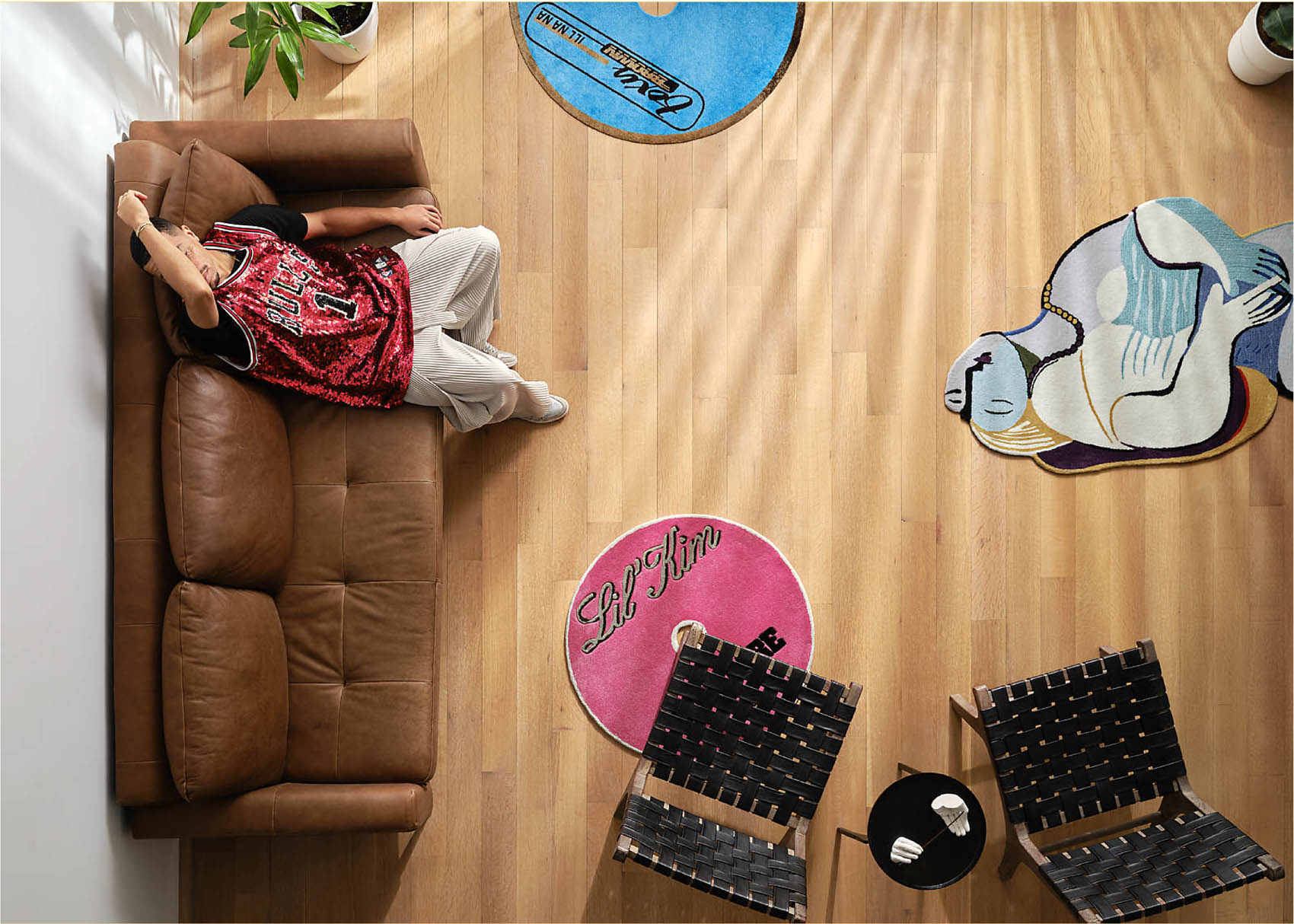 Designer Sean Brown of Curves on Remixing the Creative World
I arrive at Sean Brown's east-end Toronto apartment at the same time as his mail carrier, her arms full of Brown's recent eBay purchases. Upstairs in his kitchen, I watch him rip open a bubble mailer and extract a pair of Kangol bucket hats, then slice through a thin box's taped seams to produce a pair of patchwork denim jeans. For Brown, shopping isn't just accumulation, but also a research and archival practice—a study of his own past and the art, music, and design that shaped his finely tuned sensibilities.
Brown is the co-founder and creative director of Curves by Sean Brown, an independent design brand known for the idiosyncratic spin it puts on quotidian objects. It is best known for its CD rugs, hand-tufted reproductions of the imagery and typography printed on the compact discs of Brown's youth. Not the album covers, mind you, but the discs themselves. Introduced to immediate demand in 2020, the range focuses on '90s and Y2K-era classics like Lil' Kim's Hard Core, Daft Punk's Discovery, and Jay-Z's Vol. 3… Life and Times of S. Carter but also includes older records like the Beatles' Yellow Submarine and Sade's Love Deluxe.
While the rugs have drawn most of the attention to date, the rest of Curves' offerings bear a similar sensibility, playful in its enchantment with details often overlooked. Brown's designs tend to play in the space between industrial and organic, and he eagerly takes on less obvious objects and categories: an incense holder made from a cast of Brown's own hands, his right index finger and thumb pinched to hold a stick of incense, his left palm cupped and upturned to catch ashes; colour-changing umbrellas, printed with lyrics to songs like Mobb Deep's "Quiet Storm" that reveal themselves when the fabric gets wet; the Spill Coaster, a mirrored drink coaster with the irregular shape of a liquid slowly spreading across a tabletop. There is an element of trompe l'oeil to much of Brown's work—it has a sense of humour. Curves recently released a generously proportioned chair cheekily titled Inflatable Ego Chair.
While Brown examines his eBay haul and vacuums up packing debris, I take in the rest of the apartment. It's a multisensory time capsule of the millennial era. A Frame TV on an easel stand in the corner is playing a looping medley of old music videos. Back issues of Vibe, The Face, and other influential mags are displayed on custom Line To Line shelving, surrounded by a vast collection of toys from The Simpsons, an old PlayStation, and other time-and-place touchstones. With time, the composition reveals itself as more complex. Oddly shaped rugs dot Brown's floors like a chain of islands. One pair Brown had made just for his place represent shunga scenes, a genre of Japanese erotic art traditionally rendered in ukiyo-e woodblock prints. I was drawn to a long, slender piece of Indigenous Canadian art depicting a totem pole with a bit of contemporary flair and a smaller painted portrait of a mournful Pagliacci-esque clown. Though he collects with the visual canon of his youth in mind, he also trusts his eye to include complementary pieces from other eras and other cultures—influences that are creeping into his more recent work.
Brown, 36, was born in Toronto to parents with Jamaican roots. "My mother was more carefree, easygoing, thrift shopper, into the arts, and photography, and that kind of thing," Brown tells me. "My dad was the rigid tradesman—survival mode for his kids. Standard immigrant story." As a child, Brown was into both athletics and art, excelling at soccer while sketching whenever he had a free moment. He recalls seeing Aladdin and The Lion King in the cinema and wanting to one day work for Disney as an animator. His parents split when he was young, and he bounced from home to home, neighbourhood to neighbourhood, school to school, eventually ending up in foster care.
Through his tumultuous teen years, Brown stuck with design, gravitating toward fashion as he began to earn enough from part-time jobs to buy cultural conduit magazines like The Source and XXL and the clothes advertised within by brands like Rocawear and Sean John. "I just really wanted to be making clothes," he says. "I was drawing Biggie and Tupac and Left Eye and all the artists who died on T-shirts in high school." He then went to the mall and screen-printed the sketches onto fabric with little biographies on the tags, obsessed with details, presentation, and packaging.
_________
Though he collects with the visual canon of his youth in mind, Sean Brown also trusts his eye to include complementary pieces from other eras and other cultures.
In 2004, Brown dropped out of high school, assembled a portfolio, and began a brief stint studying at Toronto's International Academy of Design and Technology two years later. He worked at influential Toronto menswear boutique Nomad and before long began launching his own ventures, including a clothing line called NEEDS&WANTS that found success internationally, buoyed by positive press from outlets like GQ. In 2014, New York Giants player Victor Cruz wanted to invest in NEEDS&WANTS, Brown says. "We're in New York, and we're going to parties with him, and I thought that was the moment. But now that I look back, it was far too early for anything to happen to me."
Brown's love for print media led him indirectly to his next major project. For the second issue of the magazine he produced to promote NEEDS&WANTS, he featured an up-and-coming singer from Oshawa named Daniel Caesar. After a photoshoot with Caesar at the Aga Khan Museum following its opening, his manager asked if Brown would be interested in steering his creative. "I just believed in it so much," he tells me. When "Get You" was released, things took off, and he had to go on tour. Suddenly, Brown found himself providing creative direction for a burgeoning star while trying to maintain his own practice. In 2018, he debuted Curves as a solo gallery show comprising photo essays and objects that, taken together, illuminated his creative process.
The onset of the pandemic kicked off a reflective period. "Everyone's locked down," he recalls. "The music industry as we know it is coming to an end. I'd just moved into a new apartment, so I was like, What do I actually want around me? Because I'd never had to think about buying a bunch of furniture to fill a space."
There was a period when he swept the world of rap and pop culture under the rug. "I tried to adopt minimalism. I'm still a minimalist to a degree, but I'm also a maximalist," he says. Eventually, he began to embrace how these influences helped him understand design and photography and how they informed his personal style, with humour shaped by The Simpsons and rap magazines studied like encyclopedias. "Why would I have gotten rid of that to try and adapt or fit into various subcultures when I could just carve out what I already was?"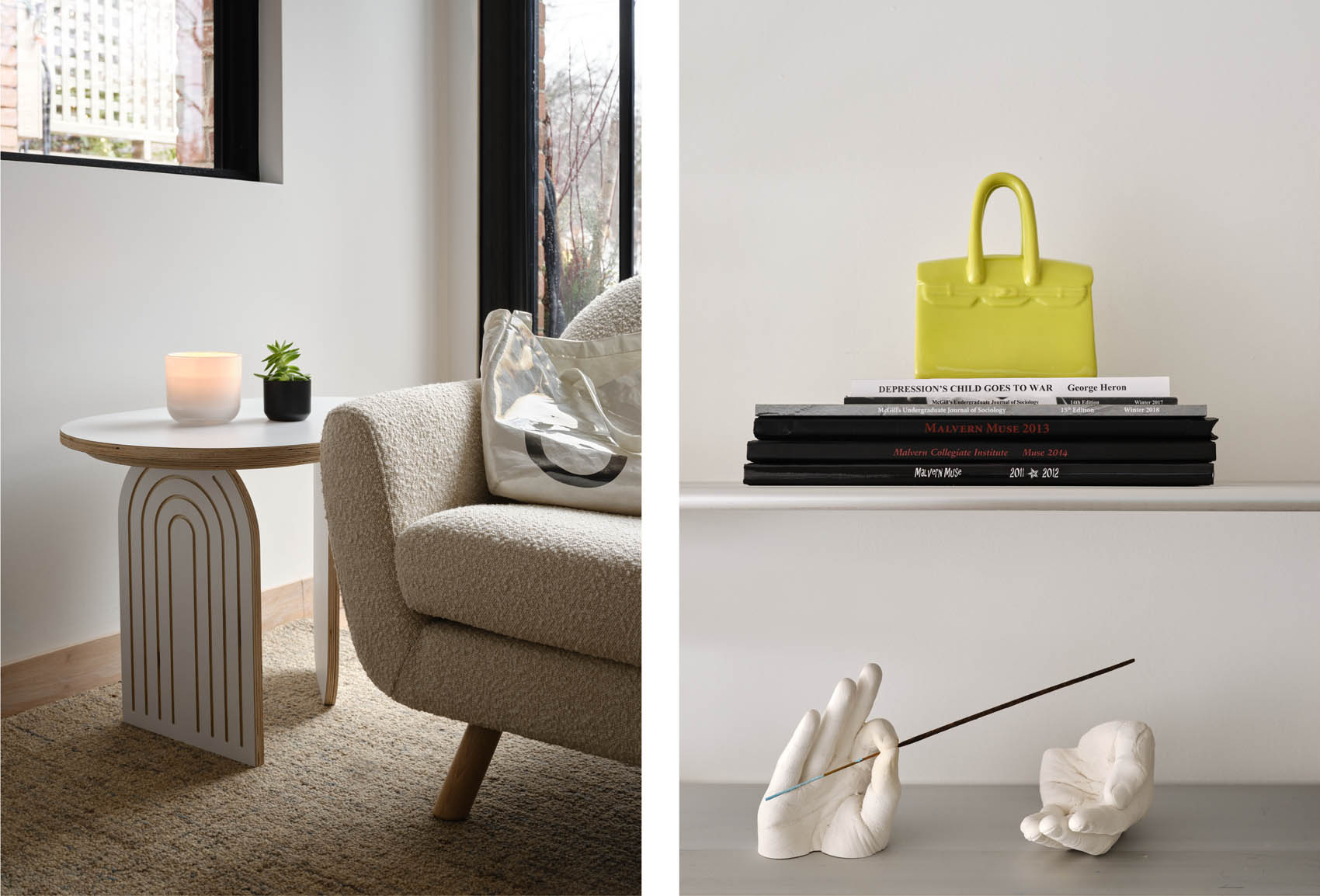 Brown began reimmersing himself in the media of his formative years. "I started meeting up with all these DJs and radio hosts from back in the day, people selling shit on Kijiji, and started collecting all my shit again," he tells me. At the same time, he was trying to furnish his new apartment and found options on the market unsatisfying. "I go to West Elm, I go to CB2, buy these rugs, lay them down, and they're wack. I'd return them and all this shit. I'm like, 'Yo, I'm just gonna start making rugs—fuck it.'"
With the help of his Curves partners, Iva Golubovic and Zach Aburaneh, the CD rugs were quickly prototyped and hurried to production, spurred on by a Twitter post from Brown that confirmed how immediately consumers connected to them. The rugs appeal to the collective ephemeral, reminders of not just the music and visuals of a different generation but one of its dominant technological forms. They exposed Brown's work to a new audience and provided a platform for Curves to build on.
"The CD rug thing is like a hit record, no pun intended," Brown says. "And you just cannot create that moment in time again—yeah, that's what people know you for. It's always going to be a part of your story." And yet, he explains, "I was coming to terms with my own maximalist interests and all the things that inspired me when I was a kid, but if I want any kind of longevity, then it's going to have to start being about products that speak to a broader audience of people with the same sensibility that stems from all this shit."
As Curves continues to expand its offering, Brown hopes it will one day take a place next to globally recognized brands like Alessi and Umbra. "I see us eventually having a full-range product line that could fill a store," he says—creating a more timeless product line, something that can appeal to the stay-at-home mom, the kid who just got his own dorm room, and newlyweds. Something for everyone and their space, not just for someone who grew up on Jay-Z's Vol. 3 album. He notes, "My own interests are changing, like what I'm looking for in a space and what I believe is lacking in other people's spaces. Those are the things that inform what I design or which experts we lead on to try and bring something to life."
"My own interests are changing, like what I'm looking for in a space and what I believe is lacking in other people's spaces. Those are the things that inform what I design." —Sean Brown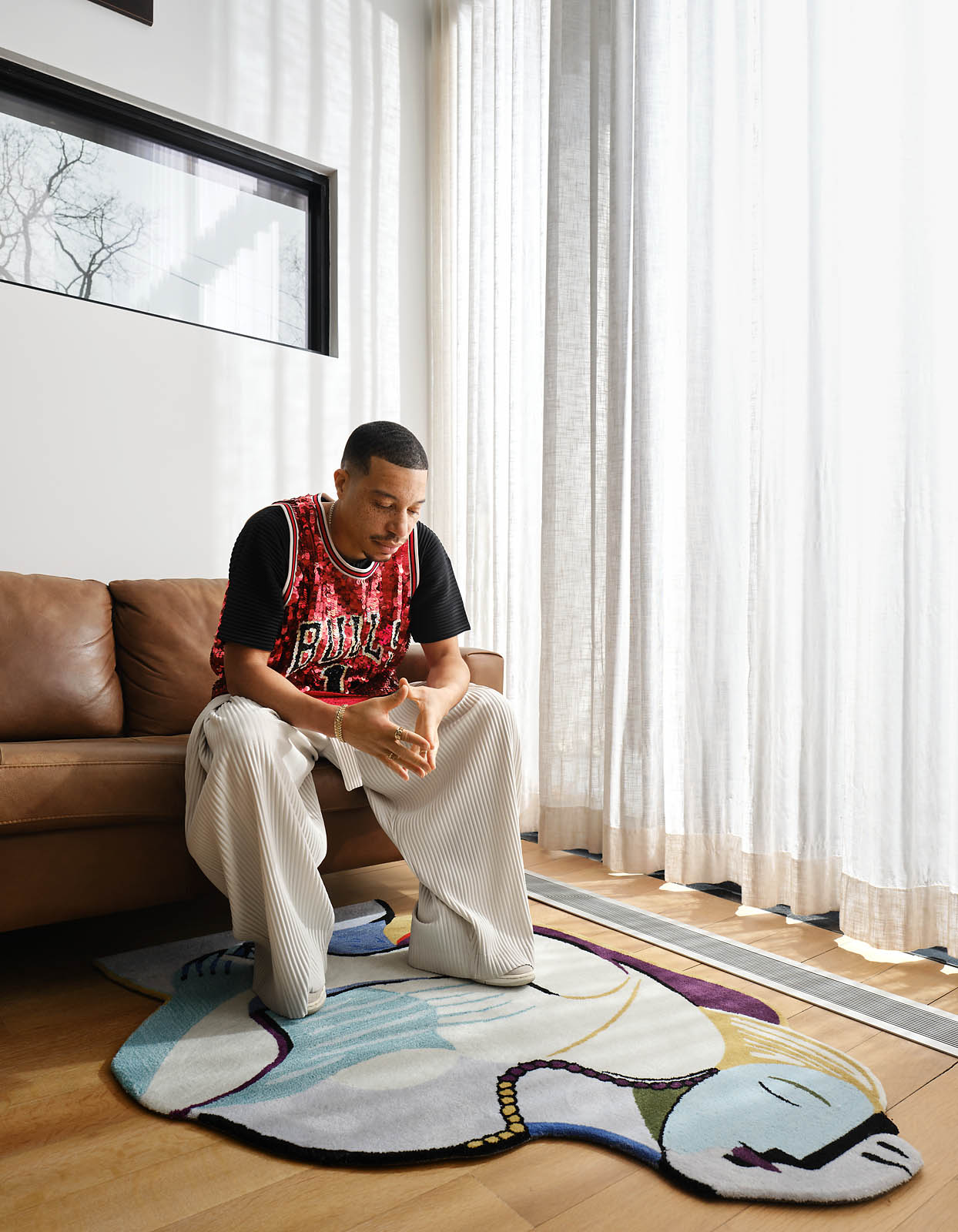 Brown's next projects seem to be pulling him in two directions at once—or two different expressions of similar ideas. He is interested in applying his design philosophy not just to home goods but to homes themselves. He is developing a residential design project called Hypatia, inspired by his own experiences growing up in subpar housing and grounded in the belief that creativity flourishes in thoughtfully considered, well-constructed spaces. "I know what a good space for someone who's creative can look like," he says. Hypatia will be a long-term endeavour, though. He had a couple of meetings with developers but found they were more interested in the return on investment than residents' quality of life. "I can just feel it's going to take years to get that one in motion."
At the opposite end of the scale spectrum, Brown has become fascinated with the world of miniatures. He started buying old dollhouses to figure out adults' and children's fascination with them. "I know that I'm on the right path because if I look at Hypatia, Curves, dollhouses, everything is pointing towards me and space. I just know the next 10 years of my life are going to be about me and space, and I feel like I've got my hands in all these different things that have to do with homes and shelter and space."
For now, though, Curves continues to expand its offering. Its Archway collection is its most fully realized release to date, carrying one motif through a series of different items, from bookends to a low-slung chair inspired by an African birthing chair Brown saw online. "I think practicality is missing from people's homes," he says. "But I do think that things that are of necessity can have the same kind of sensibility as the design of the Ego chair. And I think that's our point. It could be the simplest thing, like the dispenser of your dish soap, or your kettle, down to the lint roller."
That mixture of consideration and levity is refreshing in a cultural moment in love with optimization at every opportunity. Take, for instance, the Puddle Mirror, big brother to the Spill Coaster. This design expands the spilled-liquid motif to two feet by two feet and is intended to be placed on the floor. It recalls Isamu Noguchi, who also had a penchant for laying mirrors on the floor. It's hard to conceive of such a mirror as an optimal use of space, yet it's visually stimulating, inverting the room across an unfamiliar axis. It's a simple gesture, rewarding in the way it prompts the viewer to reconsider conventional decor, what it does and how it shapes our way of seeing the world. It seems to suggest that different ways of seeing the world could encourage different ways of being in the world—one of Brown's calling cards.