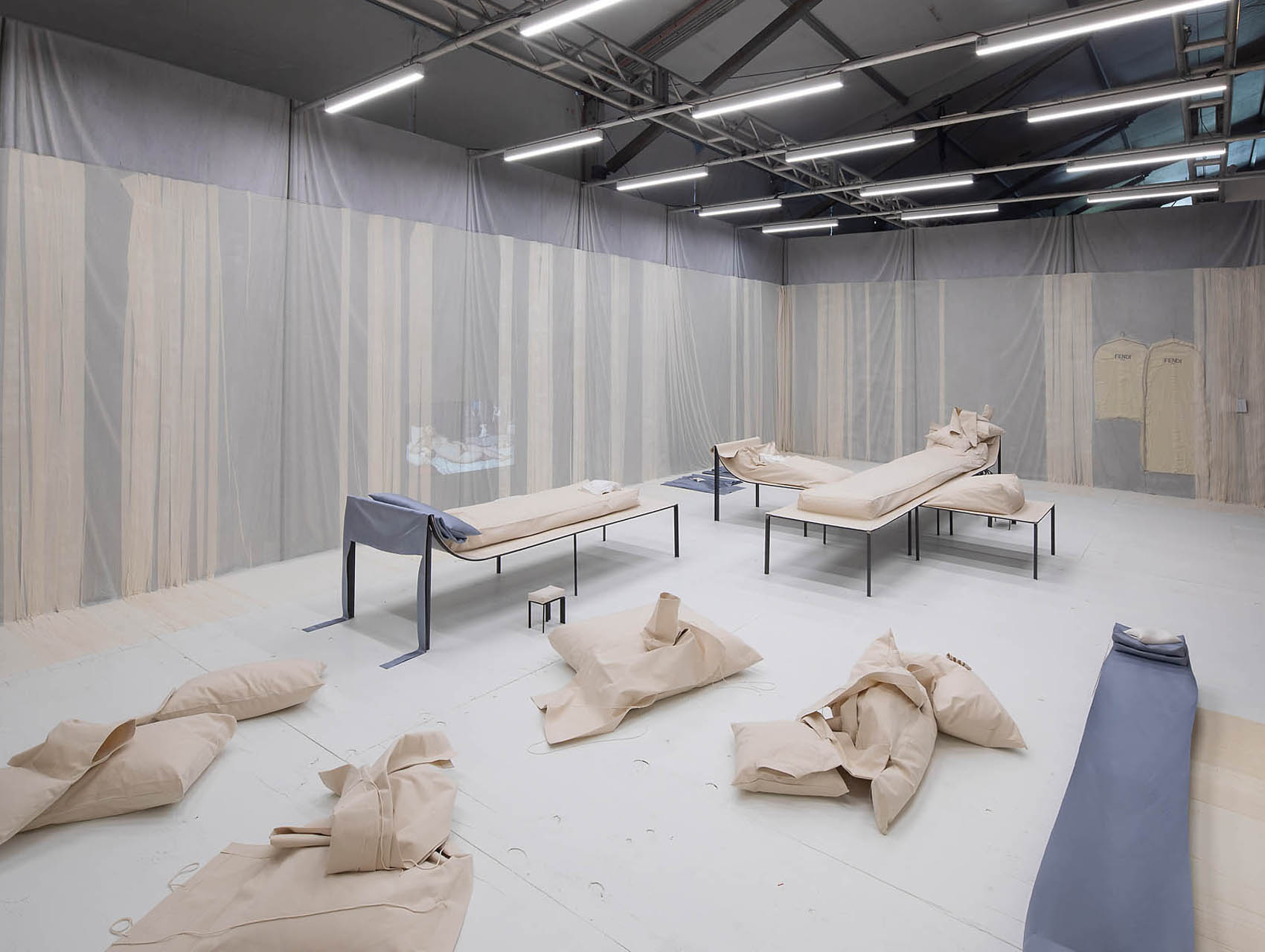 Fendi on the Intersection of Fashion and Design
At Design Miami, the Roman fashion house presented Lukas Gschwandtner's Triclinium.
Lukas Gschwandtner credits his mother as his earliest design influence. The first thing the Austrian artist recalls making as a child was a handbag for her. "Something about carrying things around," he says. He was given a sewing machine one birthday and spent his days using it, his nights consumed with literature. "I like to get lost in historical research," says the not-yet-30 creator of Triclinium, the installation exhibited at Design Miami this past December by invitation of Fendi that references historical portraits of women reclining on furniture.
As the name suggests, Triclinium references the chaises longues upon which ancient Romans would gather and socialize—a fitting connection to the fashion house founded in the Eternal City in 1925. For Silvia Venturini Fendi, creative director of the label that bears her name, the intersection of fashion and design is a "wonderful admixture and contamination"—and thus the association with Design Miami for the past 14 years.
Technically, Design Miami is a design fair, but the abundance of Fendi Baguettes, Berlutis, and Breguets suggests otherwise. Art and design fairs seem to be the new fashion weeks. Among the works of art and collectible design, swarms of aficionados, curators, critics, and gallerists wander from booth to booth, decked out in the season's finest fashions.
In their purest form, art and design fairs are trade shows, but like fashion weeks, they garner press, social media coverage, and celebrity endorsements. Little wonder, then, that fashion brands want a piece of the art and design fairs' pie. And while fashion shows are by invitation only, these fairs are ticketed public events that receive tens of thousands of visitors.
Venturini Fendi believed in Design Miami early on, with the company's stake in the fair growing significantly every year. "When we first attended Design Miami, we were the only ones from the fashion world," the company's third-generation matriarch stated at a dinner in celebration of the Triclinium reveal. "Now, it's become an event that cannot be missed because of its creativity. There are many other fashion houses here today, which proves its cultural energy."
Gschwandtner was coming off a solo show at Jermaine Gallacher's showroom in London and another with his gallerist Maniera in Brussels before the Design Miami assignment. "I was visiting my mother in Vienna, having coffee with her in the garden, when the call came from Fendi," he says. "Excited, nervous, and oh, fuck," he recalls of his reaction. Upon receiving the commission, he travelled to Rome to visit the Fendi ateliers and immerse himself in the archive.
His work engages with the scale and measurement of the human body and how it interacts with space, furniture, and objects in historical and contemporary contexts. He studies the body language that a piece of furniture suggests and how using the furniture interrupts and repurposes that language.
Triclinium is a continuation of Gschwandtner's Pillow Portrait series that showcases wearable canvas sculptures inspired by historical portraits of women reclining on furniture. Works of art Gschwandtner references include Antonio Canova's Pauline Bonaparte as Venus Victrix; Titian's Venus of Urbino; and Sleeping Ariadne, the reclining Roman Hadrianic sculpture evoked in Giorgio de Chirico's painting Solitude (Melancholia) of the sculpture in front of arches reminiscent of the Fendi headquarters at Palazzo della Civiltà Italiana.
_________

Silvia Venturini Fendi believed in Design Miami early on, with the company's stake in the fair growing significantly every year. "When we first attended Design Miami, we were the only ones from the fashion world," says the third-generation Fendi matriarch.
There is a tranquil repose to Gschwandtner, the installation for the Fendi booth a reprieve from the chaotic hum of design week. "I am obsessed with craftmanship," Gschwandtner says. "I make everything—I am welding, I am stitching, I am building." For an artist whose career is on the rise, this may prove to be difficult to continue as demand and commissions are coming in at a quick clip.
Fendi gave Gschwandtner carte blanche, so he took the brand's iconic Peekaboo handbag and ripped it apart. "It was a very spontaneous thing," he says. "I was thinking of how it was made." The artist poured plaster into a Peekaboo to better understand its construction. The resulting plaster casts of the Peekaboo's interior compartments are displayed throughout the Fendi booth, and Gschwandtner sees the pieces as "archiving a moment, like a relic of Roman times and museums."
First revealed in September 2008 on the runway for the spring 2009 Fendi collection, the Peekaboo doesn't have the fabled history of an Hermès Birkin or a quilted Chanel 2.55 bag, but it has become equally iconic and a modern classic. The bag has seen many sizes—medium, small, mini, petite, and even a men's version—and is updated with new colours and materials each season. But one of the most original interpretations of Fendi's Peekaboo handbag is Gschwandtner's deconstruction and repurposing of that commonplace yet luxurious object.
The Fendi booth, assembled by Gschwandtner, was draped in calico, a plain-woven textile of unbleached cotton used in pattern making and a fabric already established as a key motif in Gschwandtner's practice. "This fabric is the most silent, and with it I can really focus my attention on my construction and form becomes sculptural." Walls were covered in the fabric, and at some points drape on drape created a masking-tape effect.
_________

Triclinium, the installation Lukas Gschwandtner created for Design Miami, references the chaises longues upon which ancient Romans would gather and socialize—a fitting connection to Fendi, the fashion house founded in the Eternal City in 1925.
There were plenty of ideas tucked away in the minimalist space, with the artist exploring shape and texture through the canvas-covered chaises longues. Venturini Fendi noted that Gschwandtner's work for Design Miami was very pure and clearly demonstrated the freedom he was given.
There was no better occasion than Design Miami for Fendi Casa to inaugurate its first boutique in North America in the heart of the Miami Design District, a neighbourhood known for its sleek architecture and as a shopping destination. The opening of the boutique stateside follows Fendi Casa Milano with Fendi Casa Shanghai, set to open later this year. In the main window of Fendi Casa Miami, chaises longues by Gschwandtner took centre stage.
Fendi Casa is leveraging its years of successful showings at Design Miami to present an expanded lifestyle collection that reflects a collaborative spirit. Having worked with established and up-and-coming designers like Chiara Andreatti, Dimorestudio, and FormaFantasma over the years, the maison has reedited and entered their work into the Fendi Casa collection.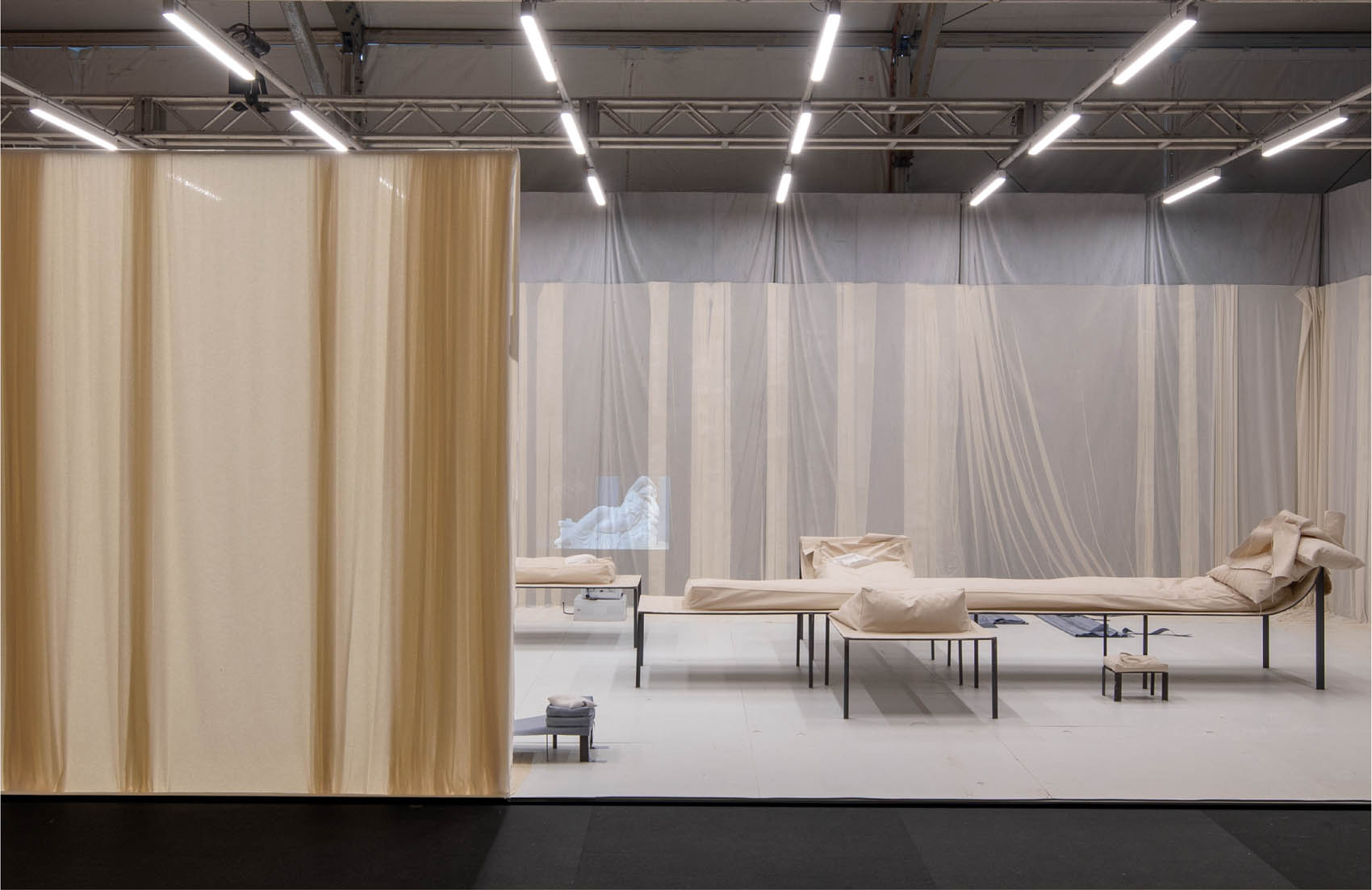 Organized by Venturini Fendi, the revised collection further represents the brand's commitment to design, and together—dining tables, chairs, armchairs, sofas, and bedroom furniture, as well as outdoor pieces—the items create a concrete expression of the company's aesthetics and creative values. Says Venturini Fendi: "It's increasingly key to engage in conversation with international creative talents who can add their own contribution to the evolution of the Fendi aesthetics beyond commercial boundaries."
Triclinium marked a departure from Fendi's previous Design Miami commissions, which include the likes of Kueng Caputo and Peter Mabeo, who put forward more conventional presentations of furniture. Gschwandter's work is conceptual and experimental. As a creative partner, he is a daring choice. A gamble Fendi went all in for. 
Photos courtesy of Fendi.