The Books You Need on Your Spring Reading List
by Premee Mohamed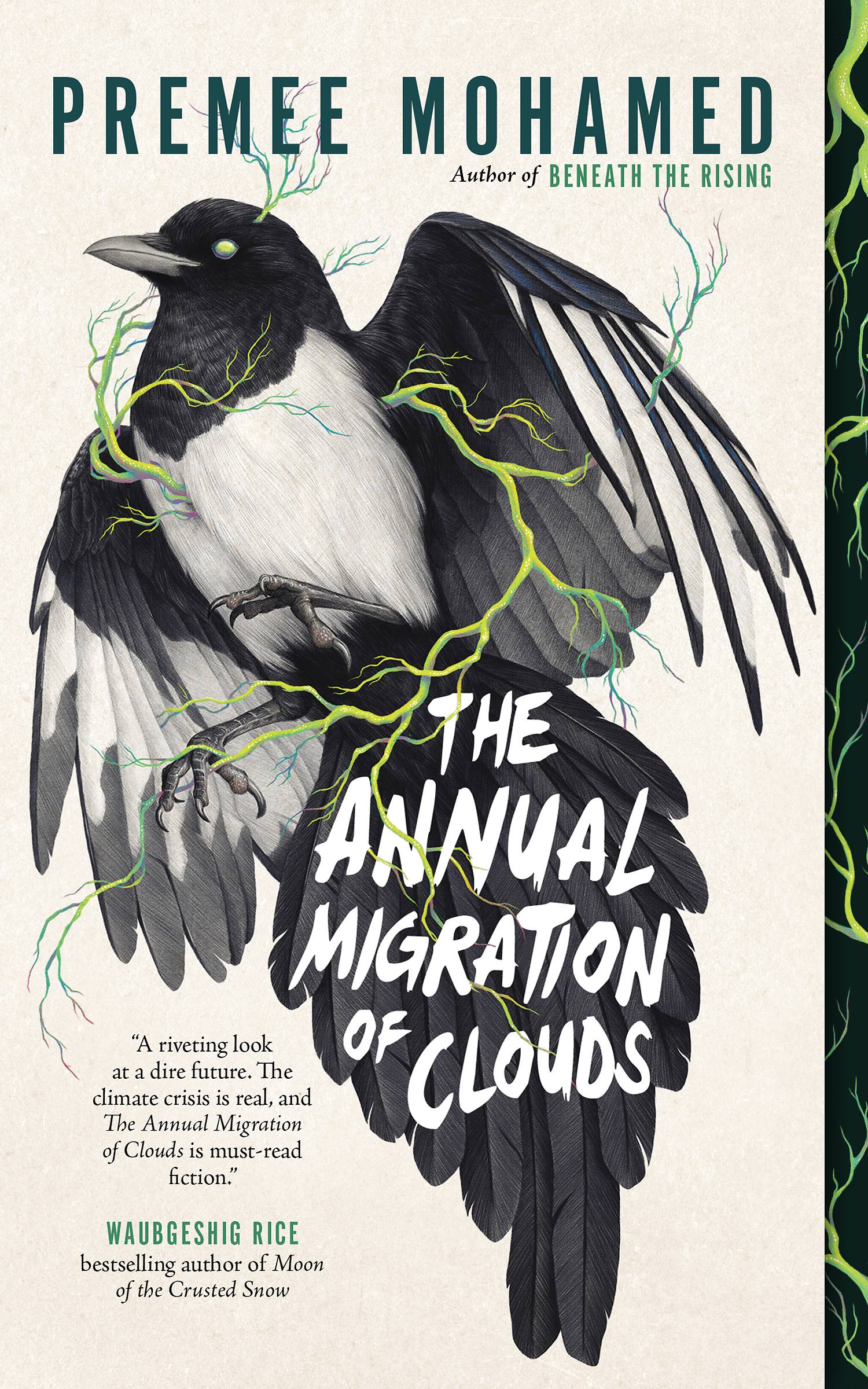 In scientist and author Premee Mohamed's novella The Annual Migration of Clouds, a work of speculative fiction, the world has already ended. Ravaged by climate disasters and conflict, those who have lived to inherit the aftermath are equal parts scrappy and stubborn. Reid, a young woman and host to a mysterious fungal parasite, lives in one outpost, an eccentric, bric-a-brac collection of hunters and crafters and traders in the remains of an Albertan university. When she's given the impossible, all-but-unprecedented opportunity to join one of the few remaining—and far more technologically advanced—predisaster societies, her adventure begins, but not necessarily in the ways one might expect.
A compelling interrogation of the heroic "call to adventure" and its costs, Reid's debate on whether to leave her community introduces a vibrant cast of characters and various small but affecting moments of survival, generosity, fear, and anger. Reid's complicated relationship with her mother, who shares her illness, is particularly well rendered. More than simply an absorbing speculative story, The Annual Migration of Clouds is a prescient page-turner about the strength required to turn from cynicism to hope.
by Fleur Jaeggy
Swiss-born author Fleur Jaeggy's sparse, incandescent prose has been praised by Sheila Heti and Susan Sontag. Recently translated from the original Italian by Gini Alhadeff, The Water Statues is one of Jaeggy's earlier works, a slim and experimental volume—part play, at times prose—centred around Beeklam, an isolated man who keeps statues of "grief and stillness" in his humid, flooded basement; and Katrin, a reserved but adventurous girl who lives in an ornate, rotting pavilion.
In translation, Jaeggy's prose is enchanting, precise, penetrating, and punctuated by gorgeous surprises. The language itself matches Beeklam and Katrin's world, scaffolded with the unique and hazy logic of dreams. The characters move through scenes oddly, interacting with relatives, servants, and strangers, but always at a distance. Failed connection ripples through the book; characters are united only by their loneliness. The Water Statues can be, at times, opaque (and those new to Jaeggy may find it more rewarding to begin with some of her other, more direct texts), but its hypnotic language, surreal landscapes, and acute understandings of isolation—and the long shadow it casts—leave a haunting impression.