The Patek Philippe Mystique
What makes the world's most sought-after watch so hot?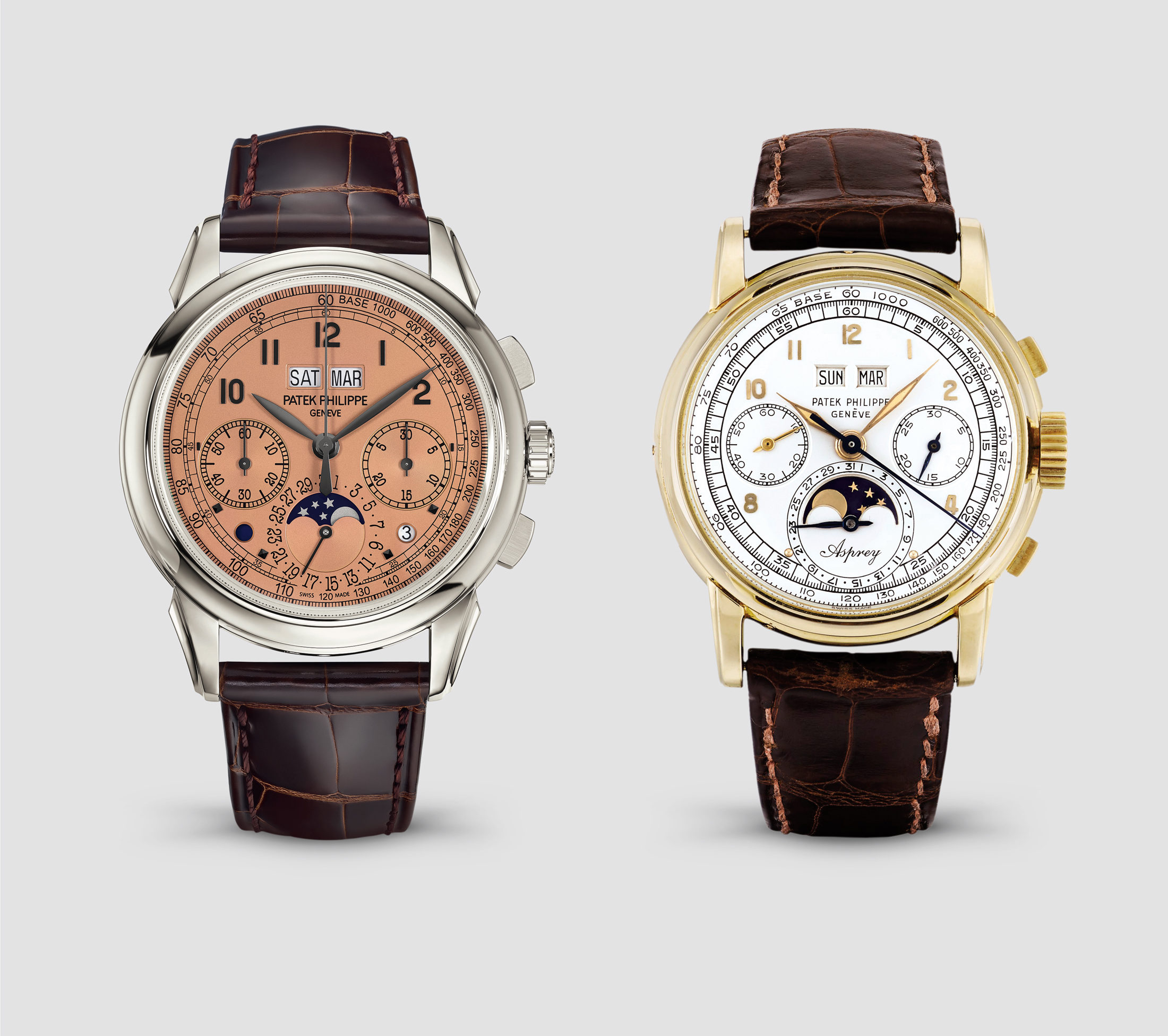 Unlike a piece of art—where aesthetics, taste, and provenance are the main value factors—a watch has something else to prove. In addition to qualifying as an object of beauty, it must be an impressive work of micromechanical engineering. Its maker—a company, not an artist—must have full in-house production and a heritage of excellence, with no lapses in its past that might sully its reputation, such as a lower-cost sub-brand or a period of all-quartz production. A company must show that it has produced to consistently high standards and have a current collection that represents the culmination of excellence and innovation. No one delivers this package better than Patek Philippe, and the proof is in the secondary market sales records.
The highest price ever paid for a watch, sold by Sotheby's in 2014, is 23.2-million Swiss francs ($24.4-million U.S. at the time) for the Patek Philippe Henry Graves Supercomplication, a pocket watch with 24 complications that was constructed over a seven-year period beginning in 1925. The largest sum ever paid for a wristwatch at auction is $11-million (all currencies U.S.), for a stainless steel Patek Philippe Ref. 1518—a record that held until 2017, when a Rolex Daytona previously owned by Paul Newman sold for $17.75-million (a price based more on provenance than on the merits of the watch itself). The top price paid for a watch at auction in 2018 was for a Patek Philippe Ref. 2499 perpetual calendar chronograph, co-branded by Asprey of London and sold by Sotheby's for $3.9-million. Of the top eight watches sold at auction in 2018 in the two main markets (New York and Geneva), four were Patek Philippes, accounting for more than $8-million of the total $13-million value of that group—which includes another anomaly of provenance: a decent but unremarkable Omega that sold for $1.8-million because it was once owned by Elvis Presley. It would be impossible to tally all auction figures over the past decade, but it would not be unreasonable to surmise that Patek Philippe watches dominated sales in every year.
To the uninitiated, the big question is: What makes Patek Philippe so special? Daryn Schnipper, senior vice-president and chairman of the International Watch Division at Sotheby's, tells part of the story. "I think a lot has to do with the fact that it has essentially been run by only two families over the last 179 years. They keep meticulous archives, and they are happy to share extracts from those archives and confirm the authenticity of their watches. It gives buyers a certain amount of confidence." By comparison, she says, "Some of the other top brands, you can't get certification on their vintage watches. Also, the quality of most vintage models is not anywhere near the same as for these vintage Pateks."
Patek Philippe was founded in 1839 by Antoine Norbert de Patek, who was joined in 1845 by Jean Adrien Philippe. It was acquired by brothers Jean and Charles Henri Stern in 1932, and is still owned by the Stern family. The Sterns were top dial makers at the time, and one of the few companies in the industry with the means to make such an acquisition. The Sterns wisely maintained the level of excellence established by the founders, focusing on watches finished by hand in small series, a policy that remains in effect to this day. Current president Thierry Stern told me last summer that the company is producing about 58,000 pieces a year. "We may increase the production slightly, but not by much. I'd say the increase should be around 1 per cent per year. No more than 2 per cent."
He explains the value factor. "Patek Philippe is doing everything in-house. This is the most important thing. Today a lot of companies are promoting watches, but they are not manufactures. They are buying parts here, cases there, and assembling them. Patek Philippe is a watchmaker; we concentrate on the engine inside. We have 17 calibres and those are used to make over 40 different movement variations. We can restore our old pieces, and we can account for everything we have ever made. So, the trust for the brand is very high because when we say we are doing everything internally, we can show it. There is history behind it."
"Patek Philippe is doing everything in-house. This is the most important thing. Today a lot of companies are promoting watches, but they are not manufactures."
Says Paul Boutros, head of Americas and international strategy advisor for the watches division of auction house Phillips in Association with Bacs & Russo: "Patek Philippe has a consistent history of the highest quality. Their focus is on precision and high complications, particularly the combination of perpetual calendar and chronograph."
Patek was indeed the first watch company to create a perpetual calendar chronograph wristwatch, the Ref. 1518, introduced in 1941. "The design of the 1518 was so pivotal, it set the architecture for the brand," notes Boutros, referring to the twin apertures at 12 o'clock, two chronograph registers at 3 and 9, and circular date display with moon phase at 6 o'clock. "The Ref. 5270 in the current collection is the same basic design. It [the 1518] was so ahead of its time that it's still relevant today."
Ref. 1518 was discontinued in 1954. Then came the next in the series, the 2499, which was followed in 1986 by the Ref. 3970. That was followed in the 1990s by the 5020, and then in 1996 by the Ref. 5004. In 2004, the Ref. 5970 was introduced; it was produced until 2011. In the current collection, the Ref. 5270 and Ref. 5204 (which replaced the 5004) perpetual calendars continue the legacy. With each variation, the timepieces have been improved or tweaked in some way (technically, aesthetically, or both), but the basic design has remained the same. All are extremely valuable at auction, but the 1518 and 2499 command the highest prices because they are so rare. They were in production before modern automation came to the industry, and so were made in extremely small quantities—fewer than 400 each. As mentioned previously, the $11-million watch that holds the record for the most expensive wristwatch ever sold is a Ref. 1518. The top two watches sold at auction last year, for $3.9-million and $3.2-million, were both Ref. 2499s. Also in the top eight was a Patek Ref. 530, a rare pink gold chronograph made 80 years ago, which sold for $669,070 and a Patek Ref. 3974 minute repeater perpetual calendar that sold for $1.02-million. Speculators, beware: in order to purchase any new minute repeater from Patek Philippe, you are required to fill out an application form and state your reasons for wanting one in a personal interview with Thierry Stern.
Another hot vintage piece is the Nautilus, introduced in 1976 and coveted for its modern design. At a 2013 Phillips auction in New York, a first series Nautilus Ref. 3700, which would have retailed for $3,100 in 1976, sold for $137,500 at Christie's. The current model is the Ref. 5740 Nautilus perpetual calendar and the list of aspiring owners at the Patek Philippe boutique in Vancouver (opened this past December by the Birks Group), continues to grow.
Boutros would like to uncover another gem: somewhere out there is a Ref. 2499 Perpetual Calendar Chronograph once owned by John Lennon. But here is the difference between Patek Philippe and other brands. Unlike the "Paul Newman" Rolex Daytona, which refers to all vintage Rolex Daytonas from the series with the same dial design as the one owned by Newman, the 2499 is not nicknamed the John Lennon. "Collectors know John Lennon owned a 2499," says Boutros. "But they love it for other reasons."
_________
Never miss a story. Sign up for NUVO's weekly newsletter.