The Anywhere House, Alberta
James Whitaker builds a prefab home lakeside in Grande Prairie, Alberta.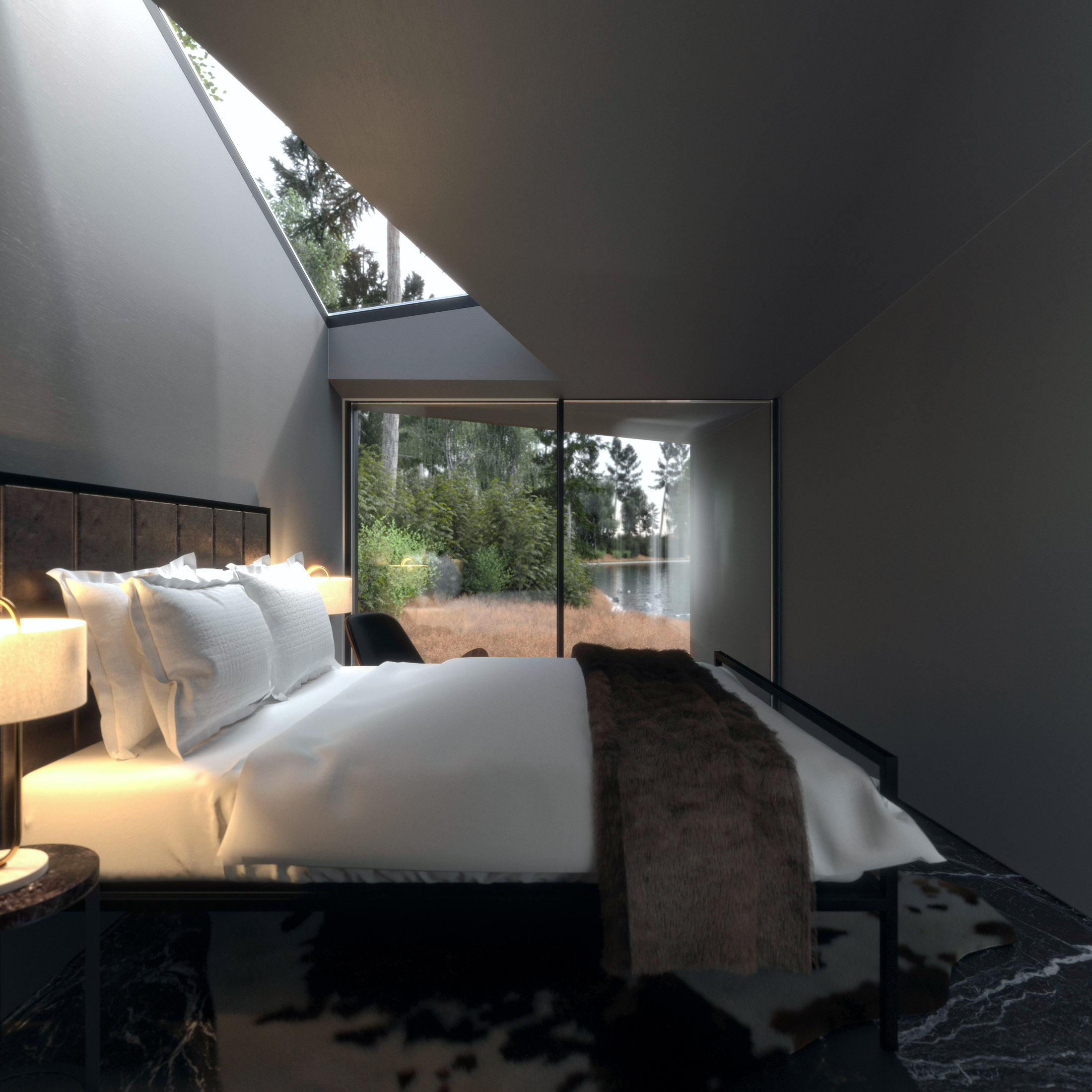 In fall 2017, a house designed by London architect James Whitaker burst from the desert floor in Joshua Tree, California. After that, the proverbial phone started ringing off the hook. Made from standard shipping containers painted bone white, the house was anything but standard. The containers radiate out like a sunburst at a variety of unusual angles, forming openings onto the landscape for its occupants that are as unique as that landscape itself. Unfortunately, the dynamic-looking radial construction consumed both time and money. But now, the principle behind it—creating a diversity of interfaces between the architecture and its surroundings—has informed Whitaker's design of a modular, prefabricated residential concept dubbed the Anywhere House.
"Part of the fun of the Joshua Tree residence is taking a highly generic, transportable element and turning that into a unique, site-specific piece," Whitaker says. "However, what I really enjoy about it is that each container frames a different view across the landscape." From the cleverly siloed interiors, the view outward is sometimes short, where the container faces the hillside for privacy, and sometimes long, but every room is unique. "I took that idea to the Anywhere House," explains Whitaker, who will debut the first one in Grande Prairie, Alberta, this spring. "The doorways where the modules connect are set at a variety of angles, meaning that depending on which order you arrange them in, you can achieve a huge variety of different angles, allowing each room to frame its own unique view."
The Anywhere House modules may not rise up into the sky, but they do connect in a remarkable number of configurations. For the first house, there are seven modules—three different bedrooms, a bathroom, a kitchen, a study, and a living room—to which a garage will be added. Whitaker plans to design more modules, including a couple of different living rooms and a sauna. "There is no limit to how many units you can have, and any unit can be connected to any other—there is an infinite number of permutations possible," he points out.
"There is no limit to how many units you can have, and any unit can be connected to any other," says James Whitaker of his Anywhere House. "There is an inifite number of permutations possible."
Generally, prefab is a preferred mode of building because it is cheaper than traditional construction, and faster on a site where local labour is scarce or conditions make a long site build problematic. "In my opinion, a lot of prefabricated buildings are considered a success if they meet one of these criteria," says Whitaker. "But without anyone stopping to ask, 'Are they any good as a piece of architecture?' It's like early laptops, which used to be expensive and rubbish in equal measure, but we would all accept the sacrifice of performance because they were portable."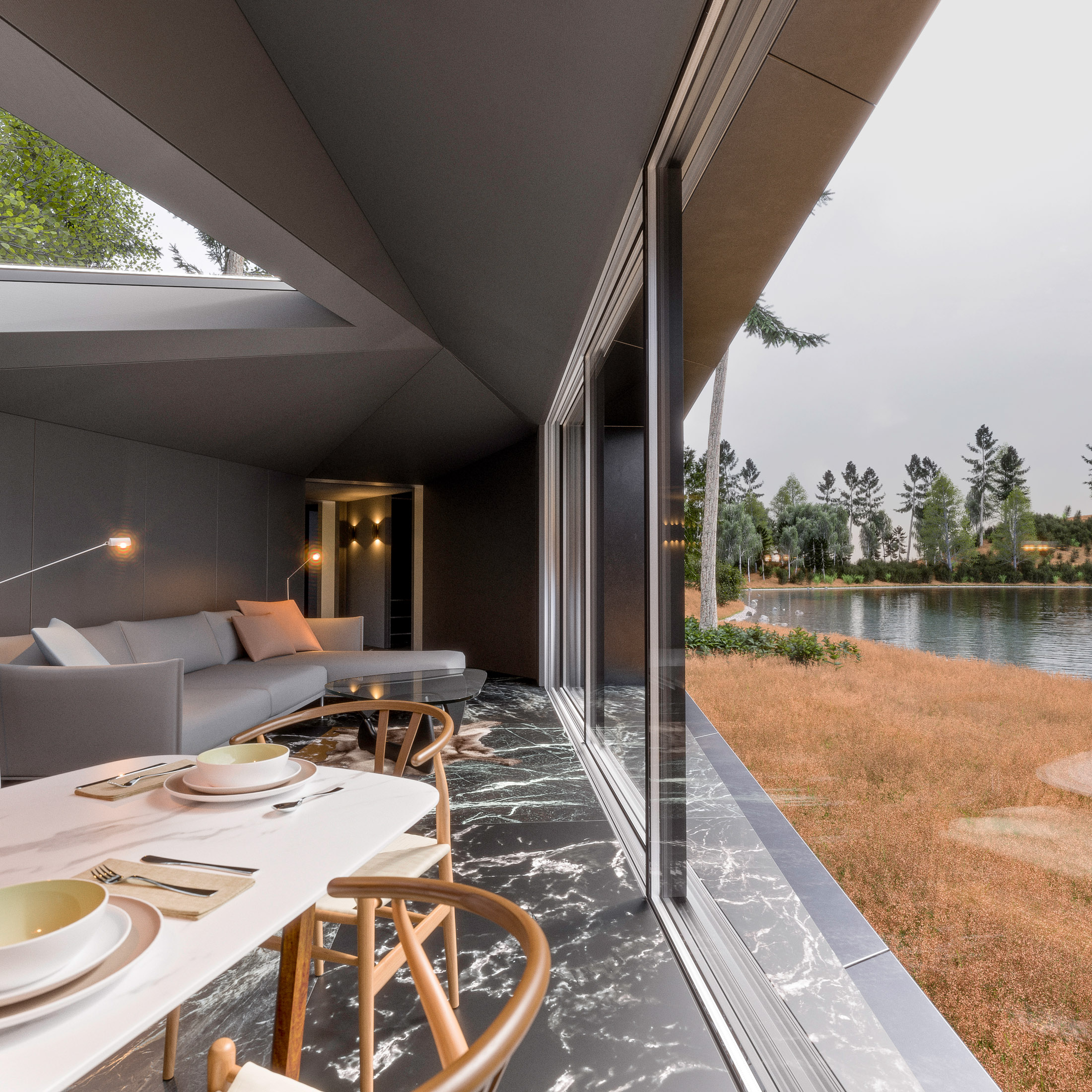 Twenty years ago, prefab architecture focused on the virtues of building a new home from a template, slashing costs and reducing schedules across the board—design, labour, materials, transport. Prefab construction can avoid weather delays, cut project time in half, use less materials, and offer more control and flexibility in terms of skilled labour and enhanced quality. Modular Building Institute executive director Tom Hardiman once compared traditional construction with shipping scores of auto parts to someone's driveway, along with a dozen workers to assemble them.
Today, prefab designers have begun to address socio-economic and urban planning issues. Launched this past fall, Yves Béhar's YB1 house for LivingHomes was designed to address the epidemic of scarce and costly housing stock plaguing the San Francisco Bay Area—which, no doubt, will increasingly affect many cities. And Dutch company Heijmans has been building short-term and emergency tiny homes in the Netherlands as the country catches up with the construction of rental housing.
Whitaker ended up building the first Joshua Tree as a way of avoiding weather delays. With all the benefits of a nearby suburb, the Grande Prairie site is a spacious, grass-carpeted, lakeside sanctuary subject to harsh winters. Whitaker realized that the Anywhere House would allow his client, an entrepreneur, to take advantage of the low cost of out-of-season construction, rather than waiting around for the snow to melt.
The Alberta home will be a single sprawling floor with a single two-floor module, a study, "perched up almost like a crow's nest, to provide a retreat," Whitaker says. In the future, however, the house could include taller units if modules are added. Right now, Anywhere Houses are built as one-offs and tailored as needed. Talks are ongoing about how to manufacture and sell the house in larger quantities, but one solution doesn't fit all. "A module that has been designed with the Canadian weather in mind isn't going to be the perfect fit for Mexico," explains Whitaker. "The Anywhere House sold in Sweden would be subtly different to the version sold in California to take into account differences in climate, earthquake activity, and local regulations." Besides that, you may stumble upon an Anywhere House just about anywhere.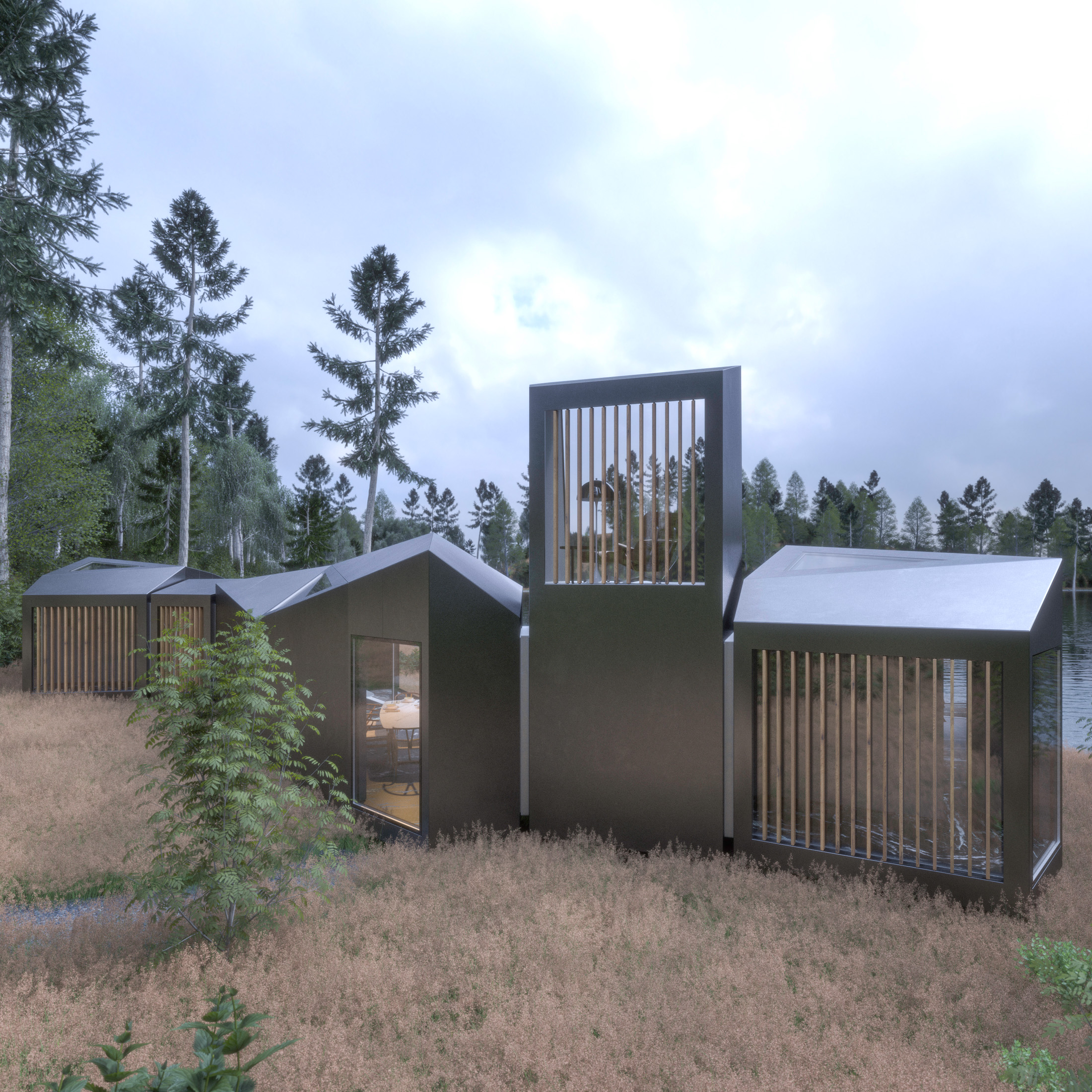 _______
Never miss a story. Sign up for NUVO's weekly newsletter, here.