The New Cheval Blanc in Saint-Tropez is the Height of French Riviera Chic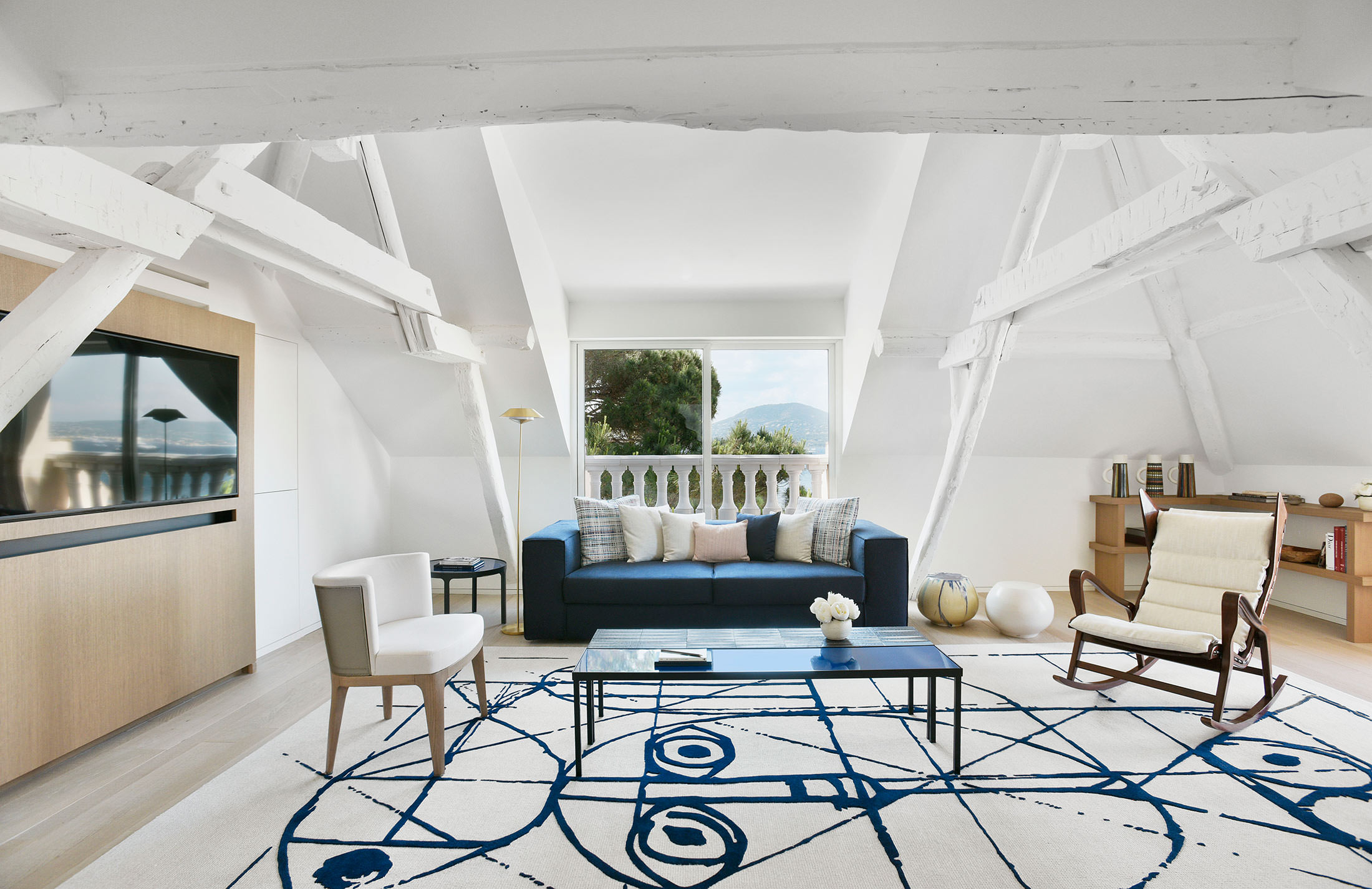 Saint-Tropez has been the domain of the beau monde since the 1950s, and this sun-kissed French Riviera enclave has lost none of its lustre. A case in point is the newly opened Cheval Blanc St-Tropez, by luxury authority LVMH (Moët Hennessy Louis Vuitton). A complete reinvention of the former property, this beachside 30-key maison is an intimate hideaway 10 minutes from the heart of old Saint-Tropez by foot.
Built as a private villa in 1936, the champagne-pink maison with sugar-white balustrades has undergone some major nips and tucks with the rebrand—but thanks to a soft touch retains a timeless beauty. French architect Jean-Michel Wilmotte (whose work includes wings of the Louvre, the Musée d'Orsay, and Amsterdam's Rijksmuseum) dresses the interiors in minty whites, with contemporary pops of signature blue and whimsical ceramics by mid-century modernist Roger Capron. All 30 rooms and suites have terraces, 28 with views over a parasoled beach, petite pool, and glittery gulf polka-dotted with pearly superyachts.
Swarming with pleasant, elegantly outfitted waitstaff armed with methuselahs of Provençal rosés, ready to respond, "Je t'en prie!" to even the most impossible of requests, Cheval Blanc St-Tropez attracts a lay-low crowd of connoisseurs for whom money may be no object, but discreet, fine service is considered priceless.
The three-Michelin-starred La Vague d'Or by chef Arnaud Donckele ratchets up the maison's exclusivity and extravagance factor. With sun-ripened vegetables grown in a garden not 3 kilometres away and fresh local fish served in ceramic dishes art directed by Donckele himself, every course substantiates the sky-high star rating. Breakfast and lunch (served in the same space, yet treated as separate restaurants) are similarly well-mannered, your-wish-is-my-command affairs. During breakfast, expect trolleys piled high with fresh French bread, yogurt, cheeses, and meats.
A high-ceilinged, airy Guerlain spa—resplendent with serene water features, a snow shower, and a perfume cellar—is on the property's lower level. The Glamour in Saint-Tropez treatment, in which three practitioners simultaneously massage, make-up, and coif you in 90 minutes flat, is unsurprisingly one of the spa's most popular treatments.
_________
Never miss a story. Sign up for NUVO's weekly newsletter, here.