Perpetual Bride and Cultural Icon: Alma Schindler Mahler Gropius Werfel
The source of her appeal.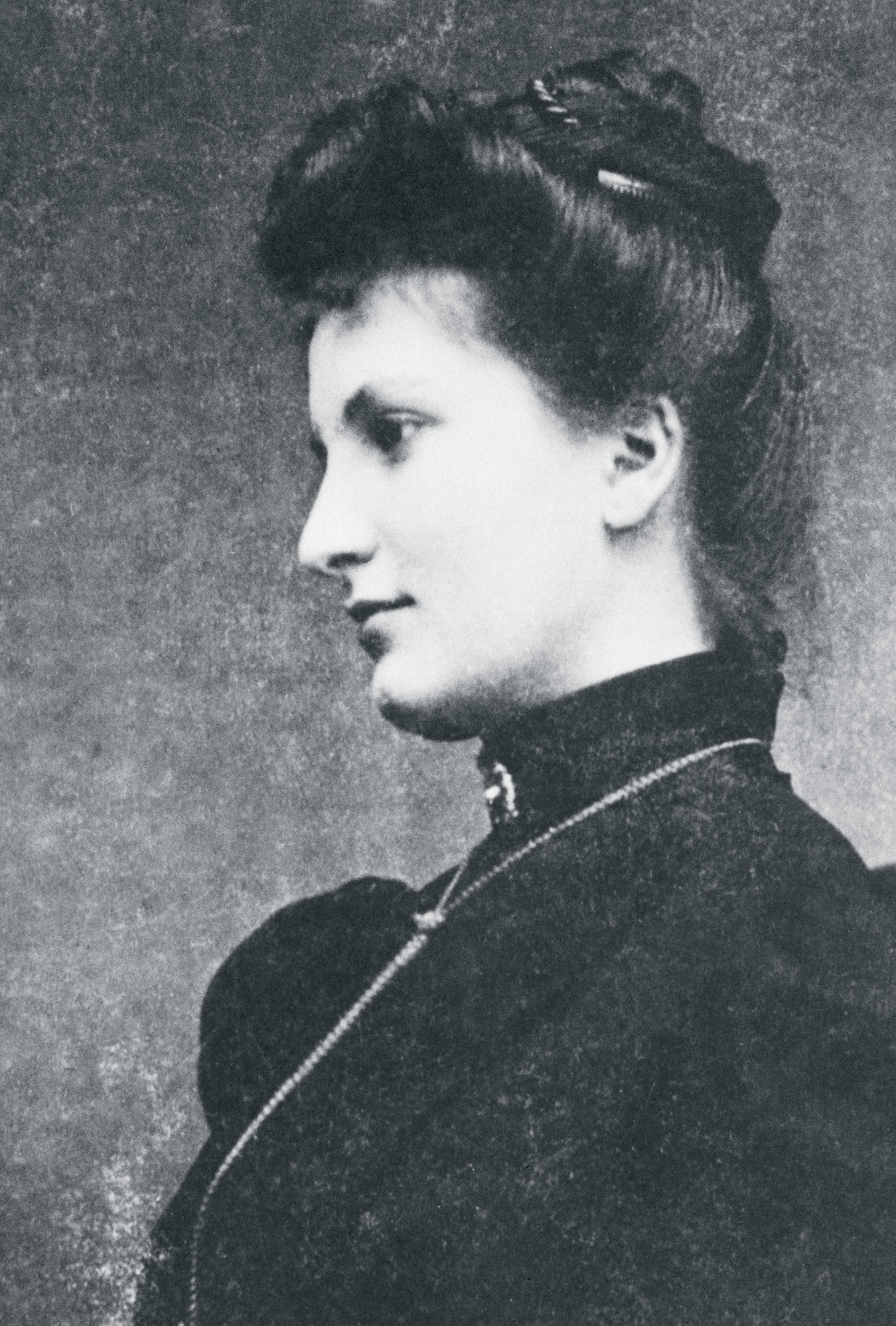 She lived a long, well publicized life (1879-1964). She knew and loved, was married to or had affairs with, some of the most famous men of her time. Now, decades after her death, she is still, if not famous, then legendary. Songs, operas and movies have been based on her tumultuous life. The most recent of these being Bruce Beresford's Bride of the Wind in 2001.
All the actresses who have played her, including Sarah Wynter in Bride of the Wind, were better looking than she was. One studies the vast photo archive of Alma Schindler Mahler Gropius Werfel and wonders at the source of her appeal. From the time she was a young girl, Alma tended to be heavy, even by the standards of the time. By her early thirties, Alma was thick-hipped and round-faced, her weight and height recorded as five feet-three inches, 140 pounds. Perhaps she was once, as Tom Lehrer put it in his song, "The loveliest girl in Vienna." More likely, Alma wove her spell, and having wove it, everyone believed she was the loveliest, and if she wasn't, it didn't matter. She had other attributes, and they manifested themselves early on.
Her father was a decent landscape painter whose friends were all accomplished in the arts. Alma studied sculpture and piano from early childhood and read voraciously. At age 15 she fell in love with critic and theatre director Max Burckhard. The next year the painter Gustav Klimt fell in love with her. He was 35 and living with society dressmaker Emilie Floege, whom he abandoned immediately upon meeting Alma. Klimt followed Alma when she went to Italy on a vacation with her parents, hiding behind potted palms in hotel lobbies, peeking from behind columns in the colonnades. Whenever possible, Alma escaped for liaisons with Klimt in Venetian palaces. Back in Vienna, when the novelty wore off, Alma distanced herself from Klimt.
She was next entranced with Alexander von Zemlinsky the composer, who gave her music lessons and fell hopelessly in love with her. Zemlinksy was the only person recognized by Arnold Schoenberg as a mentor. At his studio, the young girl met people like Schoenberg, Anton von Webern and Alban Berg. No one understood her physical attraction to Zemlinksy, whom Alma herself described, while she was seeing him, as "a hideous gnome. Short, chinless, toothless unwashed." And atonal, too. Meanwhile Zemlinsky was writing to her: "Your beautiful body: I'm mad to possess you."
The affair with Zemlinsky illustrates two characteristics that would be consistent throughout Alma's life: most of the men she formed lengthy attachments with were physically unattractive and she criticized them thoroughly while involved with them. Criticized them both to their faces, to others, and to her beloved diary.
Men of all ages lined up, literally, at her parents' door. Others contrived to cross her path, begged invitations to luncheons and parties were she might put in an appearance. Offers of marriage arrived as frequently as the bon mots of her step-father's witty guests. The one she accepted was from the least likely, if most ardent, suitor: the stooped, nervous, unhealthy appearing director of the Vienna Court Opera, Gustav Mahler, who was 19 years her senior and whose music she did not and never would, like. They were married in March, 1902 and from the beginning it didn't work. Alma had known that it wouldn't. The great man expected his young wife to dedicate her life to facilitating his work. He lived by a rigid schedule to which Alma must be a servant. As well, Mahler forbade her to pursue her own musical interests. He judged her few songs and piano sonatas to be amusing but trite. He was right, which only made matters worse.
By the time Alma was 25 years old, in 1904, she had two children. She was restless and her chores usually precluded any social life that didn't revolve around Mahler, and when he came home he was too tired for socializing. She did, however, have two friends, the composer Hans Pfitzner and the pianist Ossip Gabrilowitsch. They visited her when Mahler was on tour or at the Opera. By 1909, Alma was juggling chores for Mahler, which included tending the books and managing their homes, and conducting liaisons in spare moments. She had men visiting her for 15 minutes at three p.m. on Thursday. One time she was making love in the parlour with Gabrilowitsch while unbeknownst to either of them, Gustav was in the next room. Mahler waited until the pianist had left to make his presence known.
Then the architect Walter Gropius appeared. He treated Alma as if she was a single woman, calling on her whenever he wished. He had no interest in music and no respect for Gustav Mahler. He wrote Alma love letters that Gustav often got to read first.
Men of all ages lined up, literally, at her parents' door.
Although ill, Mahler accepted an invitation to tour the United States. Not only was the money good, it provided the opportunity to separate Alma from her admirers. Unfortunately, Gustav brought along his physician who naturally was attracted to the young woman.
Alma remained married to Mahler until he died in 1911, after which she enjoyed playing the great man's widow, being guest of honour at festivals and concerts. Meanwhile she continued her love affairs and took up with the artist Oskar Kokoschka who was just as volatile and emotionally unpredictable as herself. Their romance lasted on and off for years, no matter who each one happened to be married to. Kokoshcka was her equal and the love of her life. That being the case, it didn't stop her from marrying Gropius.
This marriage barely registers on her romantic chart. They lived together hardly at all. For Alma, it was sort of a novelty: marriage to a man who wasn't considered ugly. When Gropius informed her he was starting his own school of architecture and design called The Bauhaus, and that this necessitated their moving to Germany, his wife rejected the notion. She had no interest in his ideas and little physical attraction to the man; as well, Oskar Kokoschka was in Vienna as was her new amour, poet Franz Werfel.
Werfel fit all Alma's usual criteria; he was a bit of a genius and not very attractive. She complained about his "jewishness," just as she had complained about Mahler's. She tried to keep him out of the coffee houses which were considered low class. Yet, they had evidently had a satisfying sex life, and she was pregnant with Werfel's child while married to Gropius, who thought the baby was his. He never learned otherwise and was broken hearted when the child died young.
As Hitler rose to power, Werfel ignored the threat while his wife flirted with Nazism. She said nothing when the Nazis burned Werfel's books and banned Mahler's music. She began an affair with a priest named Johannes Hollnsteiner (she "took" his virginity), an ardent admirer of the Fuhrer who later quit the Church to join the Nazi party.
By 1938, the danger to Werfel and to Alma for being married to him was unavoidable. The couple joined the flow of Jews, liberals, radicals and "undesirables" circulating throughout Europe, pockets filled with forged documents. In Marseilles in 1940, they were fortunate to meet Varian Fry, "the American Pimpernel," who was shepherding geniuses out of France, over the border into Spain and on to Portugal where they could, hopefully, take ship for America. Mahler, Werfel, Fry, his assistant, and Heinrich and Golo Mann, brother and son of Thomas, took the train from Marseilles to the Spanish border. Varian had limited each of them to one piece of baggage. Alma showed up with seven heavy suitcases. Alma remained steadfast despite the hero's protests, and Fry bent to her will. She would have expected nothing less of him, or any other man.
Soon they were in Hollywood, California. Werfel wrote novels and sold them to the movies for lots of money, works like The Star of the Unborn and The Song of Bernadette.
Werfel died in 1945. Alma refused to attend the service for him, telling a friend, "When they die, I never go."
For awhile she revelled in being Werfel's widow. In a few years, his star had eclipsed and she once again became the widow of Gustav Mahler. During these years, the late 40s and early 50s, she was romantically linked to composer Bruno Walter, novelist Erich Maria Remarque and, last but not necessarily least, her house servant.
Alma moved to New York in 1952, having purchased a brownstone on 72nd Street. She hardly left her house, and rarely at night, because she was afraid of black people. She contracted diabetes but refused to admit it because she considered it "a Jewish disease." She drank a bottle of cognac a day.
People came to her. She was, after all, a legend. As the end approached, Alma was given to telling her male visitors that she never wore panties. In her last days, she thought she was living in Plankenberg in Austria, that she had met Crown Prince Rudolf while mountain climbing and was going to have his baby.
She would have been pleased to know that her death, on December 11, 1964, from pneumonia, attracted as much attention as had Gustav's 53 years earlier.
Before her passing, a reporter asked her how she had managed to attract so many great men to be her lovers. She replied that she made them feel important, adding that none of them had been all that good in bed or particularly well-endowed, either. Her lovers were many and varied from the day she began her beguine. There were three famous ones whom she married. And God knows how many between.
Photo courtesy of CORBIS/MAGMA.