2-2-16-5F Shimomeguro Meguro-ku
Tokyo 153-0064
Japan
+81-3 6661 3750
info@nendo.jp
This certainly isn't Nendo's first venture into the world of edible delights. With a portfolio including chocolate pencil shavings, Häagen-Dazs ice cream cake villages, and syrup-filled chocolate paint tubes, the Japanese design house is no stranger to the sweet medium.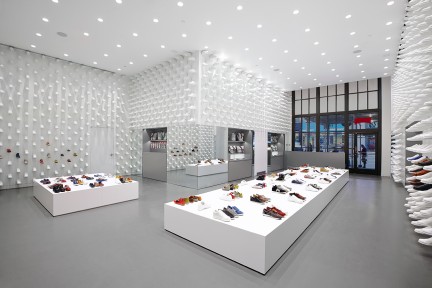 For Toronto-born, now Tokyo-based Oki Sato, design solutions tell stories. While the use of manmade objects and spaces risks becoming mundane when unimaginative and repetitive, Sato believes that these everyday items and environments have the potential to create meaningful experiences. His designs, as a result, merge utility with quirkiness and charm.
Every so often, you meet someone who seems to operate on a different plane, like 35-year-old designer Oki Sato. Sato says the sort of witty yet poignant aphorisms you could imagine coming from Andy Warhol. "At lunchtime, I go to the same restaurant. I have the same bowl of noodles," says Sato, in Toronto for the Interior Design Show (IDS).