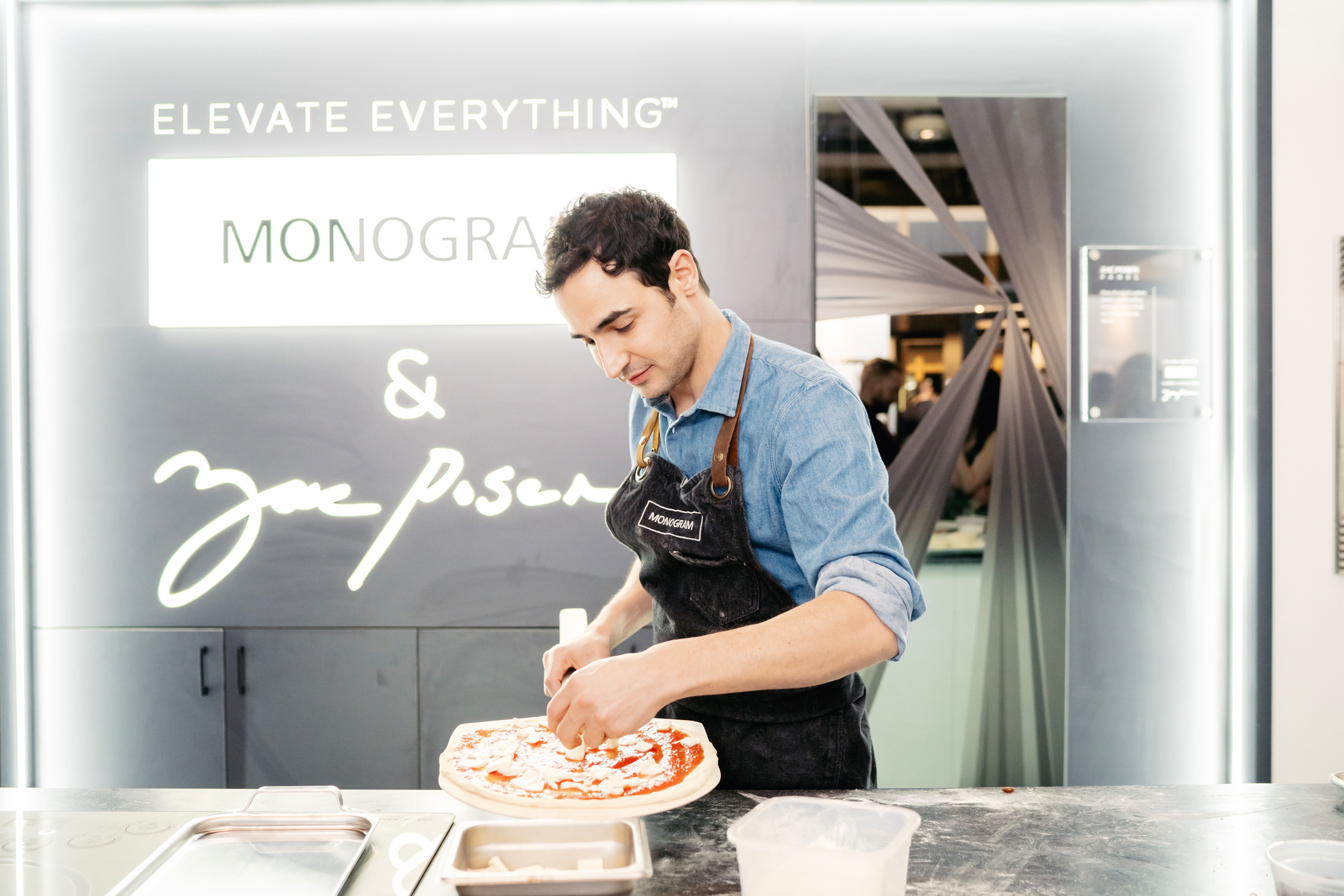 At the opening night of this year's Toronto's Interior Design Show, fashion designer and former Project Runway judge Zac Posen tossed pizza dough high into the air—expertly, too—in the makeshift kitchen purpose-built by high-end appliance brand, Monogram, for the four-day trade show, whose latest iteration closed on January 20.
Known for dressing Uma Thurman, Julianne Moore, and Princess Eugenie—who wore a Grecian style rose-coloured Posen gown to her royal wedding reception in October—the 38-year old New York designer is not only a trusted celebrity dresser, but also a beloved cookbook author and Instagram chef (enjoy a delightful scroll through #cookingwithzac). No doubt his culinary pursuits put him top-of-the-list when Monogram was looking to enhance their signature column refrigerator. Posen rose to the occasion, and the sleek result made its Canadian debut at IDS19: a chic panel door—one-of-a-kind, and not for sale.
"The collaboration really comes from my love of cooking, what I call my fashion detox," says a chatty Posen as he curls into an armchair after spending hours on his feet preparing and serving food to visitors of Monogram's IDS booth. "It's a different kind of creative expression."
Variety is, after all, the spice of his life. There was that occasion in 2013 when Posen designed a Q50 Infiniti sedan, and last year alone, he crafted new uniforms for Delta Airlines and helped his painter father, Stephen Posen, mount a series of art exhibitions. This, of course, was all on top of his duties at his eponymous fashion house and creative director of women's fashion for Brooks Brothers, America's oldest clothing brand.
Monogram, the latest in a series of non-fashion brands wanting to work with him, approached last Christmas, basically giving him two weeks (and free rein) to come up with "something that feels design-y and glamorous and signature that pops but [fits] into our world," as Posen puts it.
Preferring to work from instinct rather than a sketch, he began the design process as he always does, by experimenting with different materials.
"I played around with wood, and I played around with fabric," says Posen. "I also thought of hand-painting. And then I thought, as a New Yorker, as someone who's sometimes lived in small kitchens, that I wanted to expand space in my kitchen. That's how I ended up with a smoky mirrored surface—which is also good for checking out your Zac Posen outfit and your lipstick before running out the door."
The glass has a hand-crafted look and feel, the result of etched diagonal lines inspired by stretched tulle. "Tulle is an emotional reactionary fabric for people," says Posen, "and I work with it often."
For the Monogram project, he notes how he draped the airy material on a panel mock-up, "playing with the idea of froth and frosting, different densities, to give dimension and femininity and modernism at the same time."
It's an approach he honed while designing one of his Old Hollywood glamour dresses, some of which reside not only in the closets of A-listers and the permanent collections of the Victoria and Albert Museum in London, but have had the equally immortalizing honour of being strutted down the red carpet of the Met Gala. It was something of a full circle moment, as a young Posen once interned at the Metropolitan Museum of Art's Costume Institute, receiving a hands-on education in fashion history before taking up formal studies at Central Saint Martins in the U.K.
"I am always interested in emotion, quality, innovation, where the past, the present and the future meet," Posen says. "I do everything fully and passionately in life. You only live once, and so you've got to give it your all."
_________
Never miss a story. Sign up for NUVO's weekly newsletter.