Helle Mardahl's Mood-Enhancing Glassware Will Inspire Even the Most Modest Host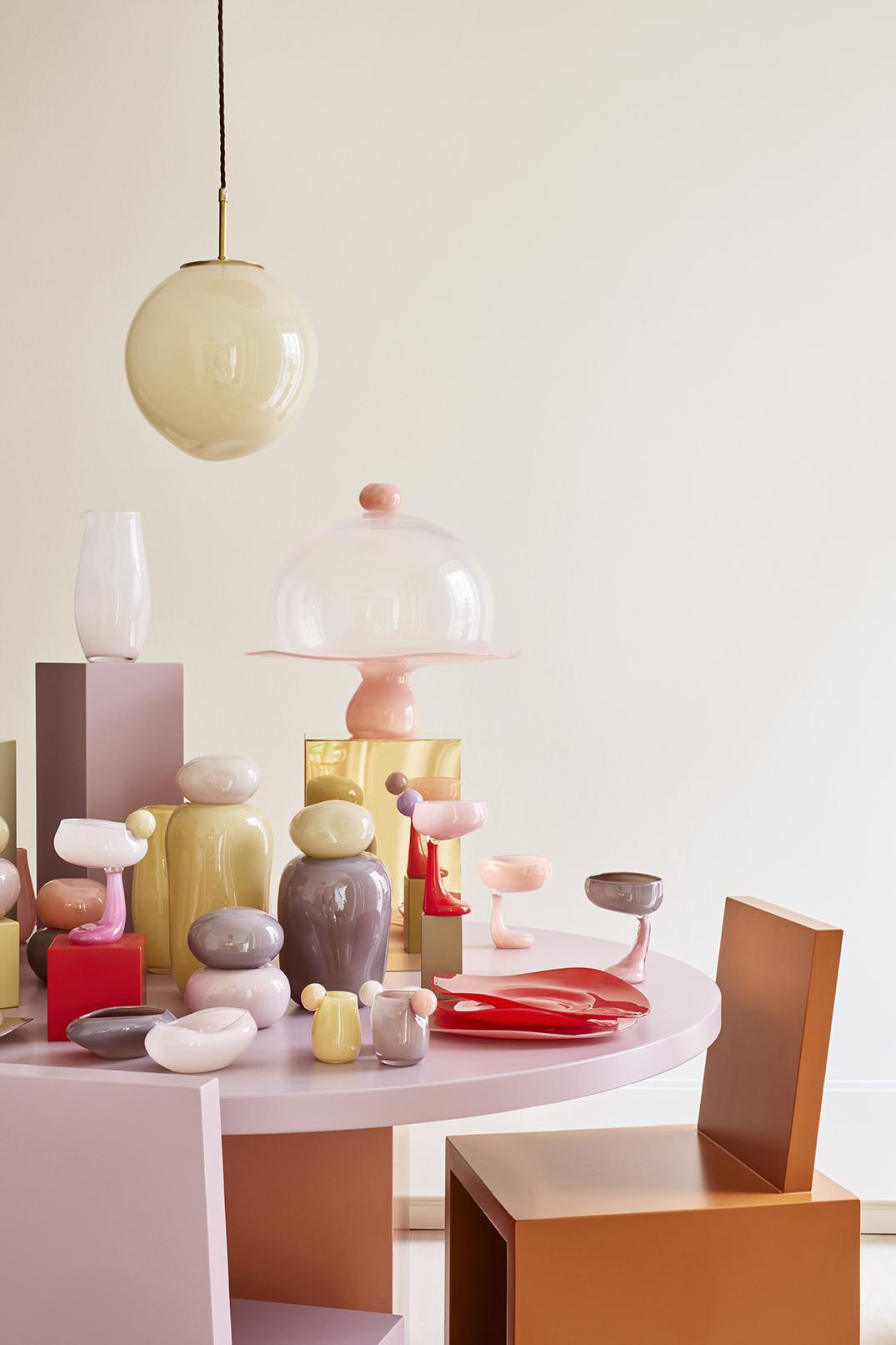 Helle Mardahl's lavish glassware is a whimsical twist on the more traditional (and stagnant) table setting.
The Danish artist works across mediums, exploring fashion, painting, sculpting, and interior design that all comes together symphonically in her collection of home accessories.
The mouth-blown pieces, all one-offs and hand-signed by formed fashion designer Mardahl, include mint-green biomorphic table lamps and pink champagne glasses with curvilinear stems. Each unique item is produced in Denmark with an acute attention to quality at every step.
Inspired by colourways for clothing and art pieces, Mardahl strays from the common porcelain themes seen in serving plates and glassware and opts instead for confectionary colours plucked from her sweet tooth.
"This is a reinterpretation of your typical idea of tableware that complements my candy universe," she says.
Her most recent Cocktail Cream Tea and The Cherry on Top collections are emblematic of her self-described quirky and eccentric personality, where you can pick from bubblegum-pink cake trays and honey-orange vases to create your own dreamy atmosphere.
Unafraid of excess, Mardahl reminds her clients to have fun when party-prepping by pairing your favourite pieces with your favourite foods (think mussels served on sky-blue trays and cocktails sipped from sculptural stemware).
"I am not afraid of distractions. Use it, wear it, live it! It's all about love!" Mardahl says.
We caught up with the Copenhagen artist to discuss her design approach and to help you curate your own fantastical tablescape.
What was your approach to designing your "functional art pieces" in your Cocktail Cream Tea collection?
We eat with our eyes just as much as our mouths, so it had to be something that would stimulate your senses and make your food or drink both look and taste better. And like all of my other glass objects, I am drawn to the dynamic and the imperfect, which is why the shapes are so organic, emphasizing that each object is unique.
Tell us about your approach to blending high-design tableware with incredible food.
The important thing is to use what you've got and make it personal. With one of the Bon Bon glasses, it's cute to put a few fresh flowers in them and place it on the table as a decoration, whereas the Bon Bon plates (great for toppings like olives) can be mixed with your usual plates.
I also like to combine old and new tableware, both heirlooms and new unique pieces—this adds personality and soul to the decoration. For example, the company Royal Copenhagen was always part of the table setting at my childhood home.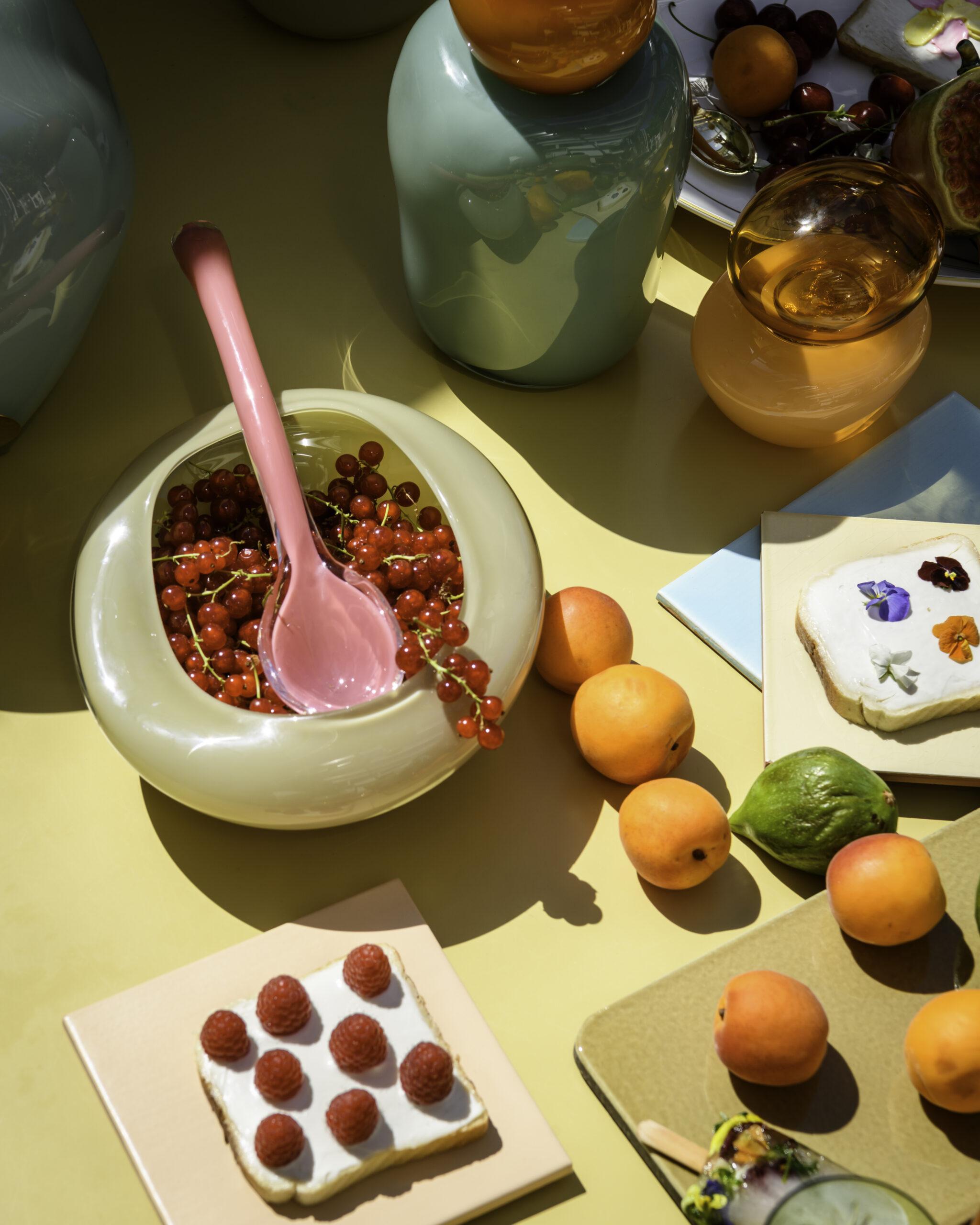 What kind of dinner parties have you hosted using your own glassware?
Not long ago I hosted my husband's 40th birthday party, where I created a boom of a scene with champagne, seafood, and overwhelming flower bouquets joined by my cocktail glasses, plates, candy dishes, and big bowls. I went all in. Imagine if every day could be like that!
Every time I'm hosting a dinner party, I see the table as a blank canvas. I've used the candy dishes paired in different colours for both snacks, desserts, and meals (they're great for fresh coriander, too). The Bon Bon glasses are good for both water, tea, and cocktails, and are very easy to implement in a table setting. I've designed them to embrace each mood and vibe.
Your mood-enhancing collections seem to be created from a place of joy and experimentation.
I find it liberating to experiment with a lot of patterns, materials, and colours, and for me, it makes my mood better if I add a little colour.
When hosting dinner parties, I'm just really focused on giving my guests a good experience. It's important that people feel welcome and at home when visiting us. It's all about creating a relaxed and informal vibe.
How do you see your designs fitting into different people's spaces around the world? 
I think the fascinating thing about designing is that as soon as my designs leave the store, they get a new life, a new personalized expression. My main goal is to bring colour and joy into spaces, something that makes people smile. And I really want to give each owner of a candy object the liberty to use them exactly as they desire.