Tel Aviv's R48 Puts a High-End Spin on the Bauhaus Boutique Hotel
Mixing modernism and Israeli cool with an all-star team of international designers.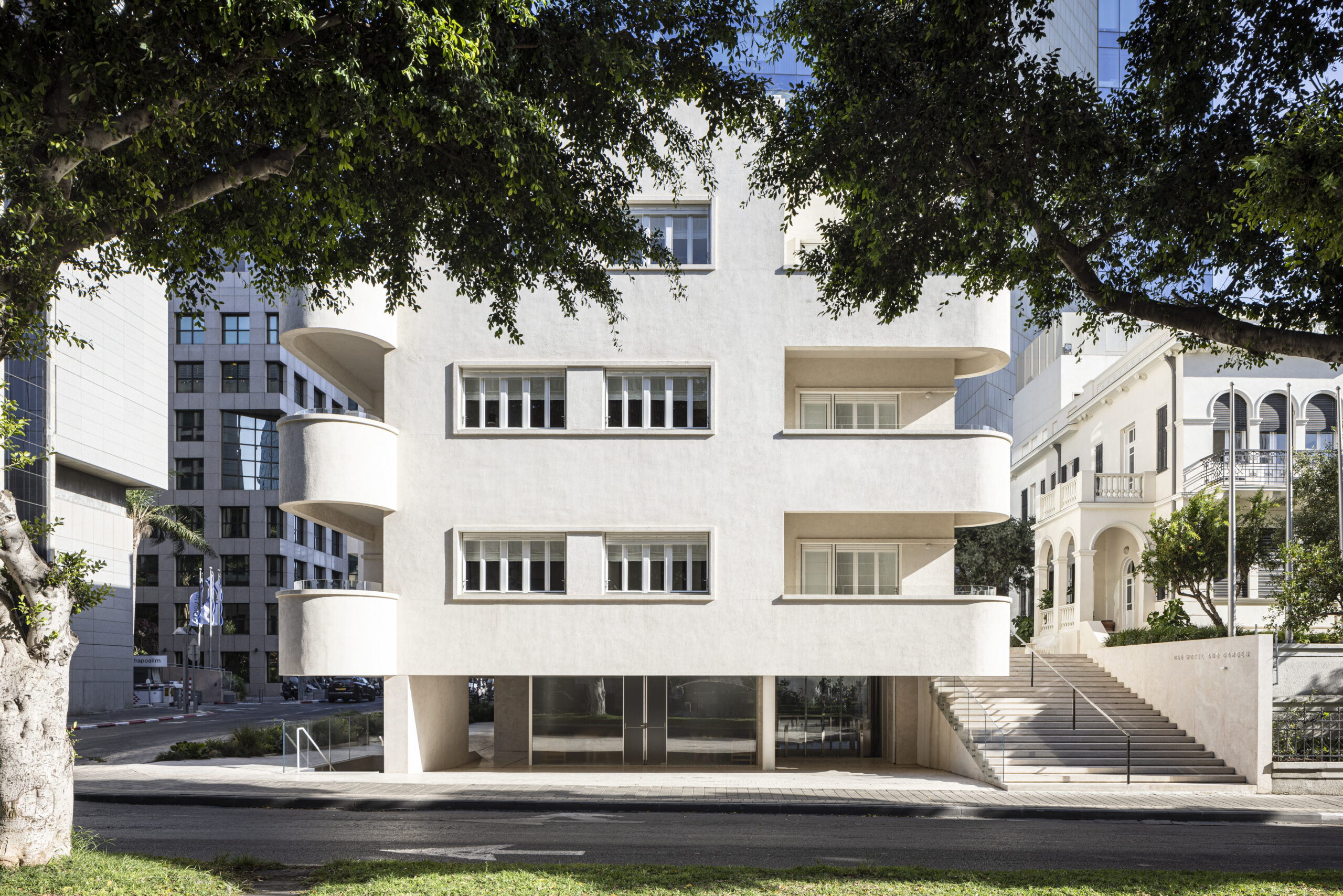 Bauhaus curves and barely there earth tones come together in the flawless, upmarket new boutique hotel R48, located in a blindingly white 1930s building on Tel Aviv's prestigious Rothschild Boulevard.
The 11-suite property is a collaboration between local Israeli hospitality group R2M (the tastemakers behind Hotel Montefiore, often considered Tel Aviv's first upscale boutique hotel) and husband-and-wife Torontonians Gerry Schwartz and Heather Reisman. As well as respectively founding Canada's Onex Corporation and Indigo Books & Music, they are also the duo behind the Heseg Foundation, a charity dedicated to helping soldiers, which is in a historic building next door to R48.
The partners enlisted the top names in design for the project, a 10-year endeavour. Tel Aviv architecture firm AN+ preserved, restored, and extended the once L-shaped building into a square of glass and white concrete. City-chic understated interiors are dressed by the famed French Studio Liaigre, and meticulous but sensible landscaping is by Piet Oudolf, the Dutch landscape visionary behind the High Line in New York and the Entry Garden Walk in the Toronto Botanical Garden.
The result is stunning. Filled with natural light, the ground floor spills out into a courtyard of perennial grasses and umbrellaing ficus trees. A small bar and signature gastronomic restaurant offer mainly Israeli ingredients in a modern menu of up to 11 courses. With just 22 covers and booked solid, the restaurant, helmed by celebrated chef Ohad Solomon (of the Tel Aviv hotspot CoffeeBar, also by R2M) has a chef-table format with all the action on display. A massive breakfast of fresh tomatoes, avocado speckled with crystals of sea salt, house-made labneh in olive oil and za'atar, and a mountain of still-warm bread is served in the same space—all brought to your table (no buffets here). Downstairs, a more casual, all-day brasserie-style restaurant is on the way, and there's also a surprisingly spacious gym and meeting room.
The 11 suites flow across the upper three floors, with the magnum opus the penthouse (Number 30) on the rooftop. All rooms follow a formula: glass walls are draped with almost-sheer white curtains, letting in a dazzling amount of natural light. The custom Liaigre furniture is the height of modern elegance, clean and without frills. Fabrics by Meira Sitton wrap the rooms in texture. The stairwell, with original 1930s bannister, architectural steel window frames, and terrazzo flooring, is wonderfully lit by a new skylight. The gallery-worthy art collection, which took two years to amass, adds colour. All pieces are by contemporary Israeli artists, apart from the Leonard Cohen print in the lobby.
Overlooking the canopy of trees and the skyline of glittery high-rises, R48's rooftop terrace is a highlight, with a green infinity pool warmed by the Mediterranean sun, comfortable lounge chairs, and chill beats. Cool cocktails (like the Armano, made with white Israeli vermouth, passion fruit leaves, and chamomile) are just a phone call away.