Has Yabu Pushelberg Created the World's Best Coffee Cup?
Big thinking, small design.
George Yabu and Glenn Pushelberg, the famous partners behind the interior design firm Yabu Pushelberg explore new territory for their freshly launched homewares line, the appropriately named departo, which features what may be the World's best coffee cup. It's a culmination of a voyage that made them ponder thorny issues such as the environment and consumerism, but then again, they are used to thinking big.
Ever since the two Canadians skipped the lineup and strutted through the front door of Ian Schrager's Studio 54 in the '70s, their vision and scope has played out on a global scale in blue chip retail environments, hotels, and resorts — think Louis Vuitton, Lane Crawford, Tiffany & Co. and The Four Seasons. Going full circle, they unveiled Schrager's The Times Square Edition hotel in 2019, with a nightclub inspired by the legendary hotspot, once located just a few blocks away.
So how can they translate grandiose, conceptual, and immersive thinking into something so humble you can wrap your mitts around it? By applying the same rigour that's earned them fans for close to four decades in the design realm. "Getting deep within something is in our DNA and our history," says Glenn Pushelberg. "With an interior it's always complete and always thoughtful in every possible way, so applying that same rigour to a coffee mug is actually simpler for us — and satisfying because it's faster."
And so departo was born, encompassing dishware, table linens, and folding campaign-style furniture for a micro hotel room that could be hung on the wall so the room can expand and contract. The folding chair posed a particular conundrum, it had to prove strong enough to hold a large person, yet be light enough to be toted by a small one.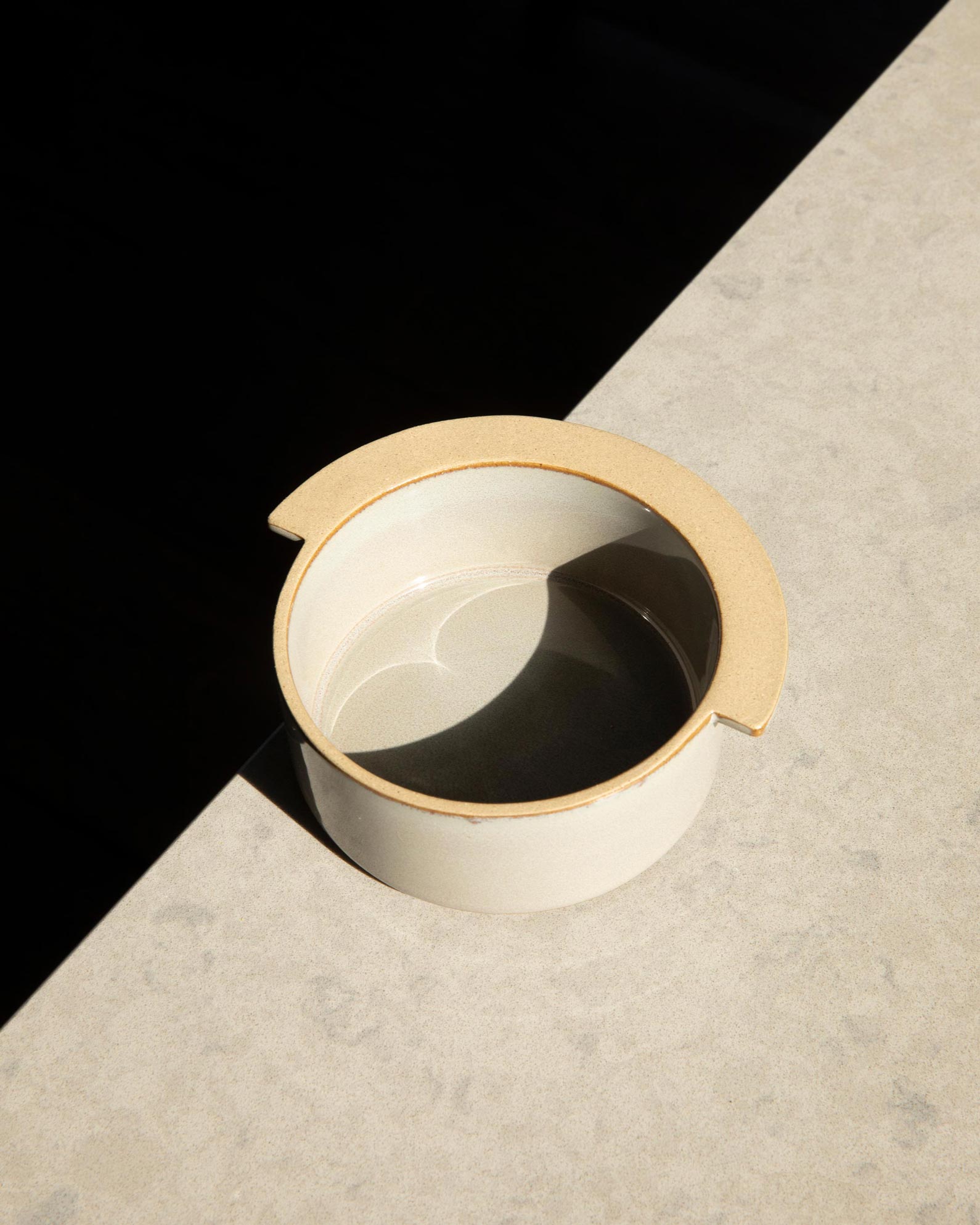 Pushelberg explains: "We believe we are living in a time when people are much more nomadic and much more informed because they are nomadic. As you move around you want a level of portability. Disposing of things is a social no-no. If we can create beautifully designed products that have inherent beauty and are reasonably priced, you'll keep it and collect and add to it, especially if you can make things stack or fold up or have multiple functions."
Pushelberg recounts that when he and Yabu were young, they aspired to buy pieces by Heath Ceramics, a mid-century Sausalito-based brand favoured by Frank Lloyd Wright. "Finally we could afford to buy a Heath cup for $70-80, but I can sell our coffee cup for $23 and it's stackable, it's ergonomic, and there's more interesting glazes," he elaborates. "We have a matrix of colours that work on their own, or in any combination with the linens. It's simple and easy."
George Yabu observes that consumers are slaking their thirst for acquisition and becoming more inquisitive, swapping stuff for exploration. "In order to do that, not everyone can buy a beautiful Hermès coffee mug. But you can travel and experience things, and can then come home and sip out of a really nice departo coffee mug." The mug's greatness lies in its commitment to reasonability and changing material practices as well as its design.
_________
Never miss a story. Sign up for NUVO's weekly newsletter here.