These Content-Creating Couples Run Businesses Together. Here's How They Set Boundaries.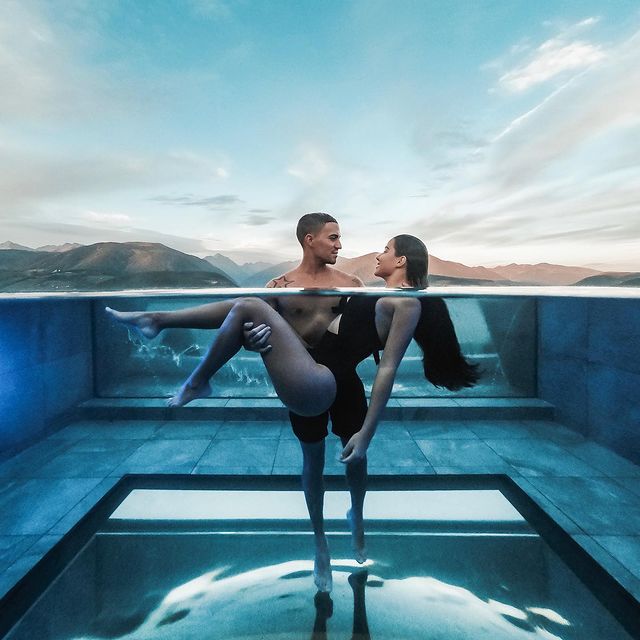 As travel photographers sought to distinguish themselves on Instagram, solo content creators came to be called Instagram influencers—and seemed to pop up everywhere. For Katerina and Yinon Horowitz, and Jeremy Austin and Angie Villa, however, the path was somewhat more complicated: they veered toward couples content and carved out a niche in the crowded category of ascendant Instagram stars.
While their images undoubtedly showcase romantic photos, these accounts also spotlight resorts, destinations, and itineraries tailored to travelling with a romantic partner. Anyone who remembers planning their first trip with a partner may recall how overwhelming it can be. Not only do these content creators plan trips, but their job revolves around travel, often requiring the couples to spend hours on end together, from working to working out, which can blur business and leisure hours. So how do they manage it all?
We spoke with both content-creating couples to learn about establishing a business plan, setting boundaries, fostering patience, and making time for one another while creating content for luxury brands and running their Instagram channels. On top of the freelance work, the Horowitzes founded the Mosaic stories app to help content creators design interactive stories on social media, and Villa and Austin launched The Creator Retreat, a hands-on master class held at high-end properties around the world.
Here are their seven tips for running an Instagram-oriented business with your other half.
Have a clear vision of your relationship before jumping into business together
It may sound obvious, but new businesses require tasks outside the scope of romantic relationships, such as creating an LLC and setting up a payroll system. Villa and Austin note that "before you do that, you want to really trust each other." They also explain, "We have a plan and goals and keep them to ourselves. We don't tell the world. Rather than drive along and wave to everyone, we zoom along into our future and what we want. It can be just us anywhere and we're happy—we're not trying to please people."
Evaluate your passions and whether you enjoy working together
Before running their own business, the Horowitzes held separate jobs and both enjoyed travelling on their own. When they met and began travelling together, they recognized it was an equally shared passion they could build a company on. Austin and Villa add, "If your business is based on your passion, you'll always have inspiration and motivation." In addition to having passion, the Horowitzes recommend a trial run to see if you actually enjoy working together. During this time, they say, pay attention to what could become friction between you and your partner outside running a business, and whether you're able to manage it.
Have a clear understanding of the business you want and create a long-term plan
Once you establish a strong foundation with your partner (and soon-to-be business partner) and the type of business you want to start, looking toward the future is key. Austin and Villa say, "Create a vision board for what you want to do together, create affirmations, dive into spirituality together, meditate together, learn each other's minds so that way you can build a successful business together." The Horowitzes add, "There are so many important questions you want to answer together, like 'how do we feel about outside partners, investors, developers? Do we want to build a billion-dollar business or do we want a lifestyle business that pays the mortgage?'" Once you designate a long-term plan, it's easier to stay on track when hurdles arise.
Establish separate responsibilities and stick to them
Part of long-term planning is allocating responsibilities. Both couples say the best way to handle this is to assign roles based on each other's strengths. "Each of us owns their side of the business, makes the important decisions, and takes responsibility for failures," Austin and Villa explain. "We consult each other and still make decisions together, but only one of us has the final say on every issue that concerns their area."
For the Horowitzes, the roles are divided into creative (run by Katerina) and business and operations (run by Yinon). Austin and Villa are both strong photographers so they share shooting responsibilities, but when it comes to operations, Angie controls finances, and Jeremy manages editing and finalizing content. Once the tasks are divided based on strengths, the couples say a lot of the friction dissipates due to respecting each person's role in the company. The Horowitzes remind us, however, to "make sure you stick to the separation no matter what."
Celebrate wins and recognize losses 
When you're in business together, you may forget to celebrate wins since you both see challenges regularly, which may obstruct important daily accomplishments. Austin and Villa emphasize the importance of celebrating both the small and the big wins. "We set a lot of goals for ourselves and keep our standards high. When you do hit those goals, you should celebrate," they advise. And just as celebrating maintains perspective, both couples emphasize the significance of recognizing faults and failures. "From our mistakes we learn," Yinon says. "We talk about what caused the mistake, what could be a good solution for next time, and what kind of safeguards we can develop to prevent them from happening again."
Practice both patience and listening
These qualities are pertinent in any relationship, even more so when you may spend up to 24 hours a day together for weeks on end. "When you lose your composure, you can't organize your thoughts," Jeremy says. "If you're patient when things go wrong, in any situation, it doesn't matter." The Horowitzes add the importance of listening: "There are disagreements all the time, and that's natural—we're two different people, and the only way to come together is to listen."
Invest in each other outside the business
Working with your romantic partner blurs lines. Both couples warn: don't allow the business side to seep into the relationship. That means not talking about work after a certain time (for the Horowitzes, that's after 10 p.m., and for Austin and Villa, it's during meals and exercise hours). It's also important to carve out time specifically to disconnect from the business side of things—taking long walks, watching movies, or going on long trips—dedicating a day or two to experiencing the destination from behind the camera and screens.
Austin and Villa note, "We are our business, so we have to be airtight about keeping emotions in line." Though separating the personal and business aspect of the relationship is the greatest challenge, it's also the greatest reward, as the Horowitzes conclude: "You get to do everything with the person you love and trust the most." They explain that it's natural for business to spill into personal life, but that's when the strong foundation of their romantic relationship rises to the forefront. "We remind ourselves our relationship is more important [than a business argument], and we just focus on investing in it."