Chef Robbie Robinson's Five Sails Revamp
West Coast flavours meet French techniques.
Five Sails Restaurant is most definitely not the new kid on the block. Opened in 1986, when Vancouver was still finding its culinary stride, the restaurant is now one of the city's established dining institutions. But it's not a place one happens upon from the street. Inside the convention centre, up two extralong escalators plus a flight of stairs, the unassuming entrance makes it feel like a hidden gem. The downtown waterfront address closed in 2019, reopening under new management in mid-2020. Since then, chef Robbie Robinson has ushered in a new era for Five Sails. With stints at Michelin-starred restaurants in Europe (including two years in Gordon Ramsay's U.K. kitchen) and numerous decorated restaurants closer to home (like a leadership position under executive chef Ron McKinlay at Canoe), Robinson has been cooking since he was young. "When I was 10, my sister was working at a local Vancouver restaurant. I often went to see her to walk home together," he says. "One day I was waiting for her to finish and opted to help her with some cleaning duties, and that was my first time to see the kitchen environment. Instantly, I fell in love with the whole atmosphere."
The new executive chef came on board at Five Sails in October 2021 and took over as executive chef in spring 2022, facing early setbacks beyond his control, like the pandemic and labour shortages. It may have been a blessing in disguise—he used that time to build and develop his team, an investment that ultimately paid off. Robinson says he can "confidently say we're ready to bring Five Sails Restaurant to the next level of Canadian cuisine," and central to his menus' success have been the international and esteemed crew: general manager Jason Husmillo, assistant general manager Angus Porter, pastry chef Daria Andriienko, and culinary director Alex Kim.
While it would have been easy to lean on the expansive westward-facing views of Vancouver Harbour and the mountains beyond, that's not Robinson's style. Instead, the team at Five Sails opted to create a dining experience that could easily stand on its own two legs, with locally driven simple but progressive menus that combine Robinson's West Coast roots with French techniques alongside an innovative and creative drinks program. But the views are surely an asset no one is complaining about.
Serving a weekend tea service along with the usual roster of dinner, lunch, tasting, and cake menus, Five Sails has no shortage of tempting bites and libations. Robinson's favourites at the moment are the Quebec foie gras with local wild mushrooms and Alberta sweetbreads, and the seared Pacific scallops with pink apple crumble and endive. When I visited, the lobster bisque with seared scallops and a bright confit sunchoke was so good it had my soup-hating dining partner ladling up the last drop.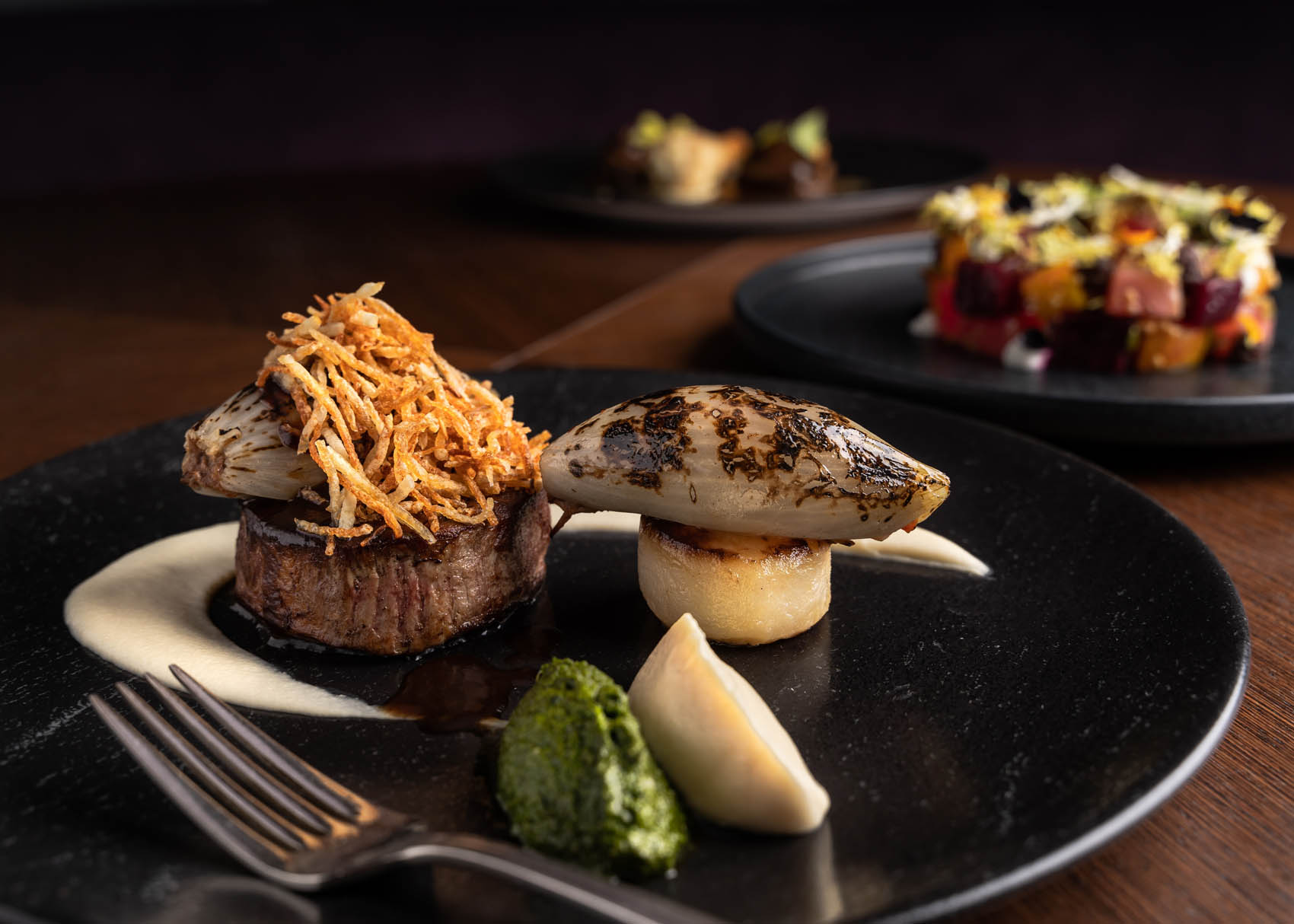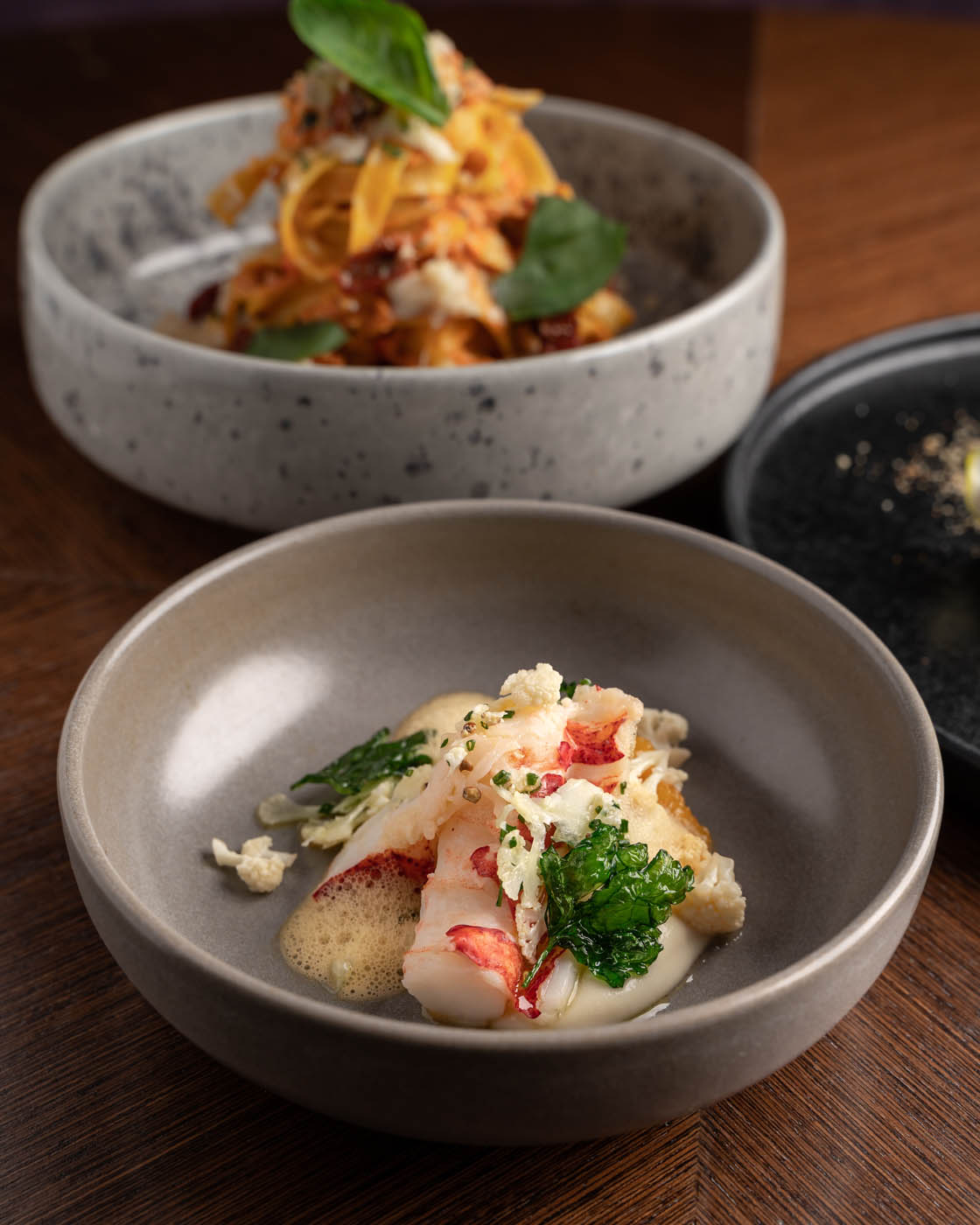 The spring offerings will be launched this month. Whatever is on the menu when you stop by, Five Sails remains a great spot for impeccable eats and some of the best views in the city. As for Robinson, he's proved himself capable of upholding the reputation and legacy of Five Sails for years to come, but he's got his sights higher: "We will continue to train and build the next generation of chefs and cooks that will keep Vancouver at the front of Canadian cuisine."