Cartier Recognizes Female Entrepreneurs with the Women's Initiative Awards
Honouring women in business.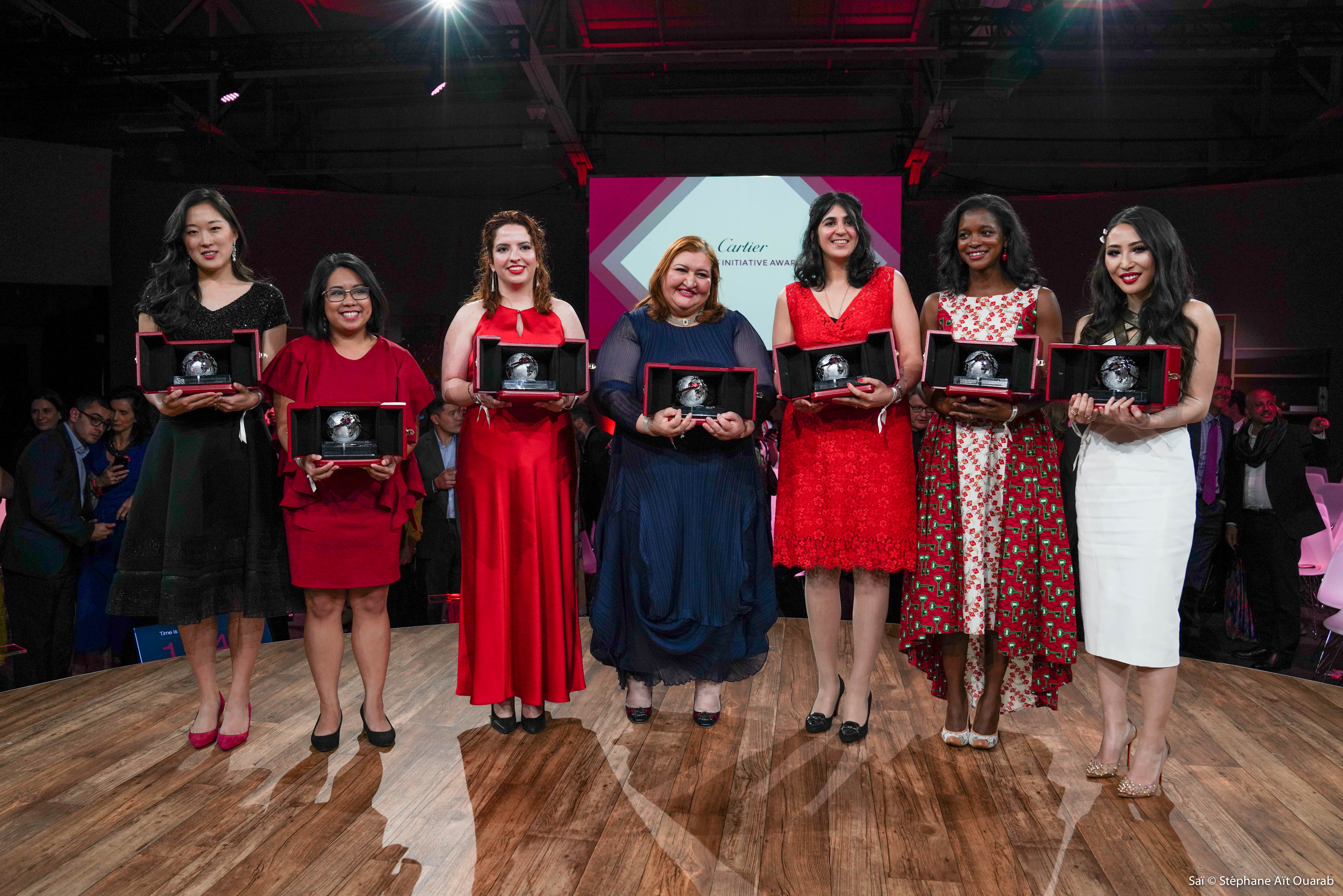 At a packed house at the Wing, a female focused members club and co-working space in San Francisco, Katie Anderson made a facetious remark: "My Cartier watch looks really nice by a toilet." There is a cognitive gap between Cartier and toilets. "I am not in jewellery. I deal with toilets," quipped Anderson, founder and CEO of Save Water Co. "We are really opposite ends of the spectrum." But Cartier's well-kept secret is its annual Women's Initiative Awards (CWIA), an international business competition founded in 2006, which provides funding, mentorship opportunities, and a platform to female entrepreneurs. CWIA is the how, and the why, Anderson spoke Cartier and toilets in the same sentence.
Since its inception, more than 18,000 women worldwide have applied to the Cartier Women's Initiative Awards, and earlier this month, the Bay Area played host to the awards ceremony, the first time it has taken place in North America. "San Francisco, the heart of the global entrepreneurial ecosystem, is a place where countless ground-breaking ideas have grown into flourishing business and technological revolutions," said Cyrille Vigneron, president and CEO of Cartier International, of the choice of location. The culmination of the year-long process saw nearly 2,900 applications from female founders pared to 21 finalists. After a week of coaching, networking, and final presentations to 35 judges, Vigneron announced the seven laureates (one from each region of the globe), each of whom received $100,000 (U.S.) to help scale their company (along with a Cartier watch).
The Cartier Women's Initiative Awards is the world's largest women's business competition and one of the most meaningful aspects is its focus on females who are in the beginning of their entrepreneurship journey. Anderson is the North American laureate from 2017, and her company Save Water Co. focuses on implementing water saving measures in high-density commercial real estate. Her conservation efforts have shown to decrease water and sewer costs by as much as 65 per cent, repairing and replacing infrastructure—primarily toilets. Since the company's start in 2014, Save Water Co. has saved over 7 billion litres of water (for perspective, that's 91 Bellagio fountains) and deferred over 900 tonnes of waste destined for landfills. This year Anderson is on track to hit $7-million in revenue. "I come from extremely humbling beginnings," recounted 33-year-old Anderson to the group of business start-up—minded women that were in attendance at the Wing. "My hometown is Dodge, Texas, population of 165 people. I knew no business people. Business minds to me were people of a different breed; gifted with some level of ideation that was not available to me." Of her personal experience with the Cartier Women's Initiative Award: We frame it [CWIA] as a competition, but it's community building, a worldwide community of inspiring women."
"We are still in the process of seeing firsts. You women are real life architects of change. The people who challenge what is, imagine what can be, and move humanity forward. For every woman, to realize that when she stands up, opens her mouth, pushes against the status quo—she's creating the ripple effect. She's actually creating a tidal wave."
The Ripple Effect was the theme of this year's awards program, paying tribute to the female entrepreneurs who serve as catalysts for change and growth within their communities and the broader society. The seven business sectors that were selected for this year's competition were health, technology, education, energy, agriculture, finance, and fashion. Caitlin Dolkart, who is based in Kenya, launched Flare, a platform that connects emergency responders with regular people using a real-time digital map. "In Kenya, there is no centralized emergency response number. Kenyans may be the fastest marathon runners in the world, completing the race in two hours," she explains, "but the average wait time for ambulances is nearly three hours." For cash-strapped communities in Pakistan, where over 40 per cent of the population lives off the grid, Fariel Salahuddin has created Up Trade, whereby villagers exchange livestock, namely goats, for solar water pumps. "Village women spend up to four hours a day commuting to distant wells for water, one of life's most basic needs." Salahuddin sells the goats through her digital platform and connects villagers with energy partners who supply the pump, installation, and maintenance.
Margaret Magdesian was the competition's Canadian finalist. As CEO of Ananda Devices, she heads a team whose expertise in stem cell microfluidics and nanotechnology has produced a microdevice for growing human mini-brains and mini-spinal cords; these are known as organoids, or organs on a chip. The technology allows drugs to be tested directly on patients' derived tissues. "When I started entrepreneurship, it was really clear cut that women can only go so far," said the 46-year-old doctor, neuroscientist, and mother of two expressing the frustration at the discrimination and unconscious bias that comes with being a female entrepreneur. "The thing about raising capital [Magdesian is seeking $1.5-million] is most VCs are looking for a fast return. Everyone wants to become rich, fast. And then they look at me. I'm not Mark Zuckerberg. I'm not a college dropout. I finished all my studies. I have my master's. I have a Ph.D." In Canada, four per cent of venture capital money goes to female funds. In the United States, the figure is even lower at two per cent. "Not only is Cartier putting the spotlight on us," said Magdesian of her experience with CWIA, but "we are developing a network of relatable mentors and fellow businesswomen."
Ananda Devices was created in 2015 with the impetus that drug treatments for neurological diseases are frequently ineffective due to the lack of access to human neurological tissue. "Women have much higher chances of developing Alzheimer's and dementia," a fact, as Magdesian notes. "And yet, 75 per cent of medication is tested on male subjects, especially in rats. But rats do not develop neurological disorders, so they don't feel pain in the same way as we do. So, I wanted to do something about it." As Magdesian points out, the issue is not the drugs itself, "there is plenty of drugs everywhere. The issue is we don't know how the nervous system works in humans, in females." Enter Magdesian's bright idea to produce microchips whereby blood is taken from patients to develop the human-organ-on-a-chip platform. In partnership with the Montreal Neurological Hospital, blood is ethically taken from female consenting patients and then "put on a small device that grows mini-brains and mini-spinal cords, innervated skin and then we test the medication directly on this tissue."
"The idea when we launched was that all the pharmaceutical companies will use it [the technology] and test and accelerate drug development. But that has been exhaustingly slow," said Magdesian. On the other hand, cosmetic companies have jumped-in immediately. Why? "Because they have the huge pressure from the population to stop using animals for testing. And when we show them alternatives and we show them how we comply to regulations and reduce animal experimentation, immediately they came." The L'Oréal Group has been Ananda's largest supporter. "When they first approached me, I was, 'I am a neuroscientist, working with cosmetic companies.' I felt a tug in me. But at least we are reducing animal use."
While this technology has applications in cosmetics, Magdesian is determined to popularize its use in pharma. Having lost her own mother at the age of 14 as a result of medical illness, Magdesian's Ananda Devices is a business venture that stands for a purpose that is much more than just profit driven.
The collective support for each woman's internationally-derived idea was felt throughout San Francisco's Fort Mason Center for Arts and Culture, where the awards ceremony was held, and where the 21 female finalists painted a daunting image of what it's like to try and make it in business as a woman. Following a specially curated TED session, powerhouse speakers Lupita Nyong'o and Maria Shriver took to the stage and offered their own words of encouragement. Said Shriver, "We are still in the process of seeing firsts. You women are real life architects of change. The people who challenge what is, imagine what can be, and move humanity forward. For every woman, to realize that when she stands up, opens her mouth, pushes against the status quo—she's creating the ripple effect. She's actually creating a tidal wave."
The success of the Cartier Women's Initiative Awards can't be overemphasized. Among the business start-ups selected as finalists, 80 per cent are still in business. And, as Mercedes Abramo, Cartier's president and CEO for North America explains, "this is the perfect example of a catalyst for step-by-step growth and societal change, evidenced by the fact that the companies it [CWIA] supports have gone on to create 7,000 jobs."
The laureates for the 2019 Cartier Women's Initiative Awards include:
Yeon Jeong Cho for her company SAY Global, South Korea
An online language service that trains retired seniors in Korea and connects them to Korean language learners worldwide.
Carmina Bayombong for her company InvestEd, Philippines
An investment platform providing student loans to underserved youth using a proprietary credit rating algorithm.
Zineb Agoumi for her company EzyGain, France
An affordable space-saving and connected gait rehabilitation device that secures patients at the pelvis and monitors their progress.
Ran Ma for her company Siren, United States
Smart socks for diabetics made of Neurofabric, a proprietary technology fitted with micro-sensors to monitor foot temperature and guard against foot ulcers.
Liza Velarde for her company Delee, Mexico
A blood test that detects the presence of circulating tumour cells (CTCs) in cancer patients, enabling physicians to better monitor progress of the disease.
Hibah Shata for her company Maharat Learning Center, United Arab Emirates
A learning centre offering behavioural therapy and educational support to children and young adults with special needs.
Manka Angwafo for her company Grassland Cameroon, Cameroon
Services to enhance African food supply chains through affordable asset-based financing to smallholder farmers.
_______
Never miss a story. Sign up for NUVO's weekly newsletter, here.