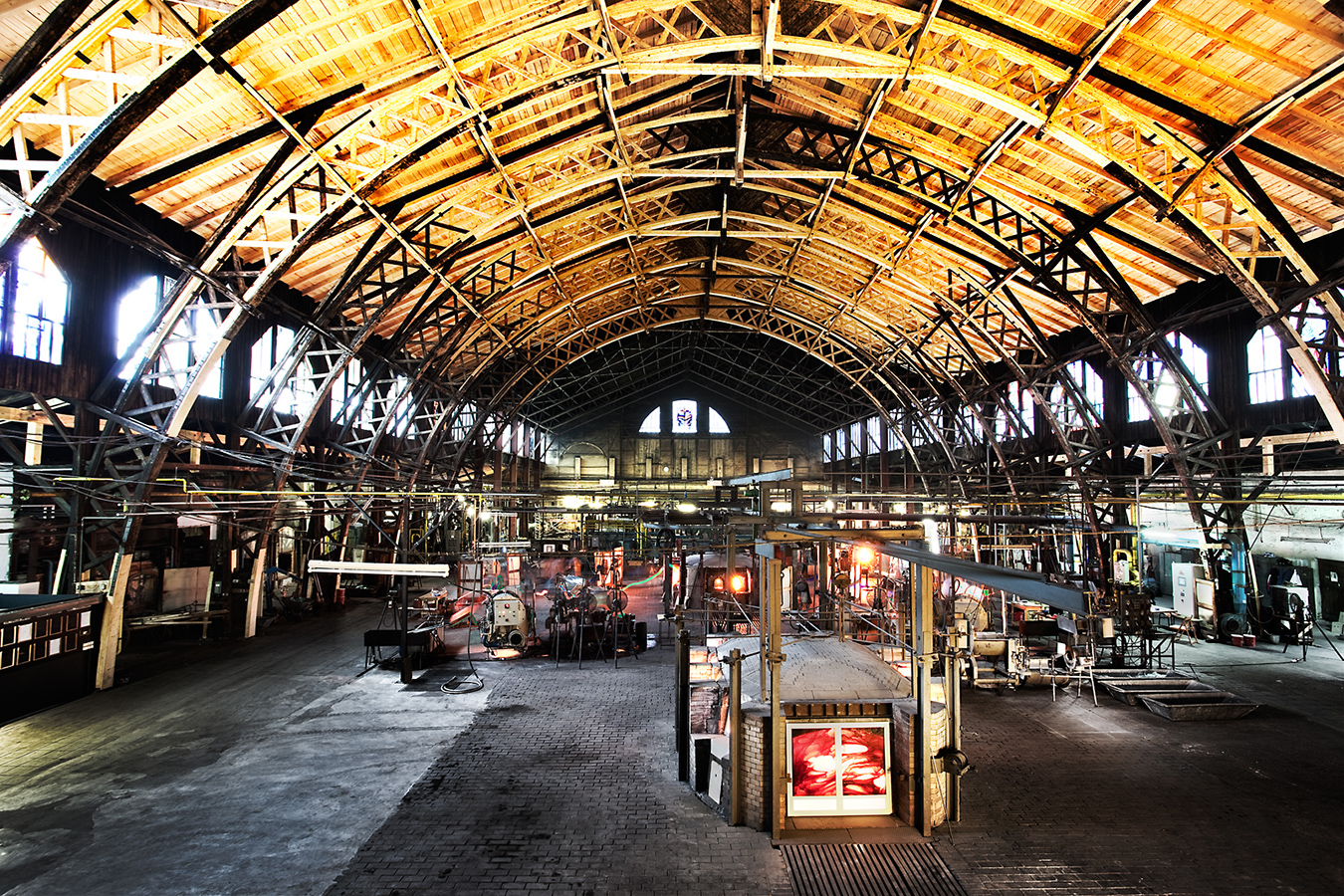 At Glashütte Lamberts, one of the last three mouth-blown sheet glass companies in Europe, it doesn't take long for most would-be craftsmen to discover that they can't take the heat. "About 80 per cent don't make it through that first day," says president Hans Reiner Meindl during a walk through the company's manufactory in Waldsassen, Germany. "If they last a second day around the furnaces, they usually last for a while."
The few good men who can muscle their way around the workshop's two 1400ºC furnaces share traits of physical strength and talent, but also a strong dedication to keeping a time-honoured practise alive. For over 75 years, Glashütte Lamberts has produced glass that is distinctly brilliant, transparent, and unique, all the result of a laborious production process. The raw materials—quartz sand, sodium carbonate, and limestone—are entirely sourced from local German companies, and those fragile sheets that leave the factory premises are, today, proudly trademarked LambertsGlas.
"It is a case of new traditions that reference the past," says Meindl of the workshop. "People are very proud to work here because it is keeping alive an ancient tradition." Skilled artisans are carefully trained in two hand-blowing methods, working closely with powerful furnaces that burn 24 hours a day to accommodate round-the-clock shifts. The physicality of the fast-paced production process is more than impressive, as small teams tend to individual ovens and work through the myriad steps that lead to the final product. This includes heating and dipping molten glass onto the end of a pipe, and then, with simultaneous spinning and blowing, working the glass instinctively into a desired shape. It's far more difficult (and technical) than it sounds: with rods engulfed in fire, a craftsman must know precisely how long to leave the molten mass in the oven before pulling it from the embers, rising phoenix-like from the flames. Timing is everything. The final cylinders are then scored, cut, and ironed with a wooden block, all by hand, to achieve their flat, window pane–like look.
An on-site storage warehouse is stacked floor-to-ceiling with vibrant pea green and dewy blue glass sheets (among 5,000 other colours) that will be shipped off to create and repair objects that mass-produced glass could not do justice to. With 80 per cent of the total production exported to international buyers, much is destined for large-scale public art projects, such as installations at the Indianapolis International Airport (by Martin Donlin), the Hong Kong International Airport (by Karl Heinz Traut), and Taiwan's Kaohsiung train station (by Narcissus Quagliata). LambertsGlas is also often used to restore traditional stained glass windows in churches, mosques, synagogues, and to add classic design elements to administrative or government buildings.
The small-town workshop building itself garners few visitors, but those that do drop by unanimously marvel at its wooden edifice, which, over a hundred years ago, used to be a fairground space. "When architects walk in they just stare up at the ceiling, not at what's going on in the factory," Meindl laughs, referencing the building's dramatic arched roof. "Still, we are not doing this for show, remember, we are not a show factory at all—we are a working factory." And a hard-working one, at that.