Swatch x MoMA Collection Timepieces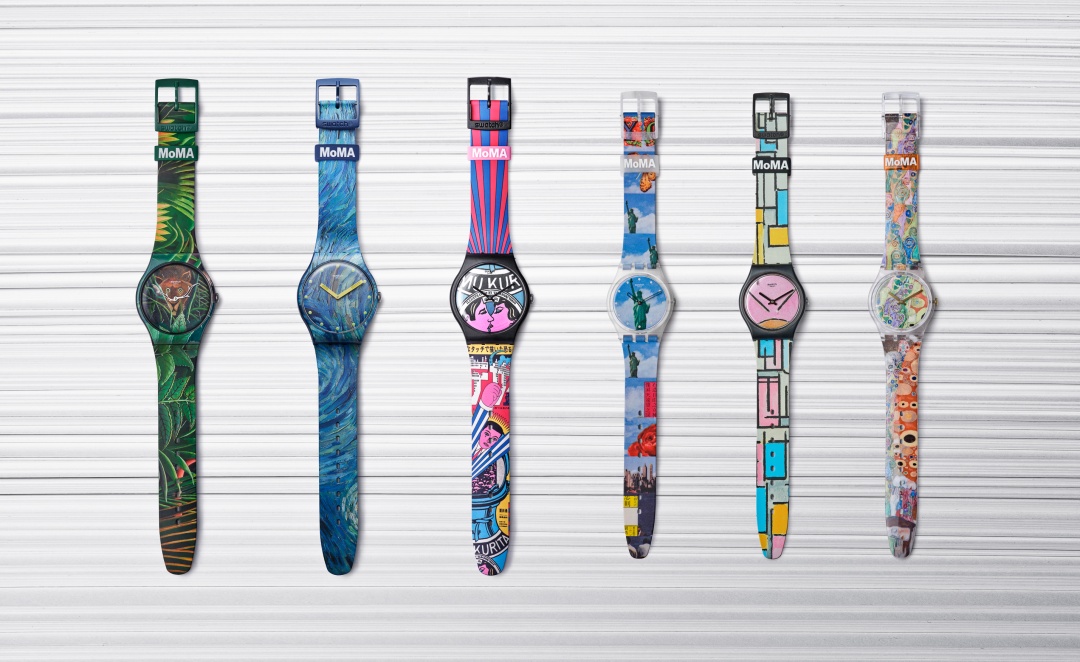 Time may be the great equalizer, but one's timepiece is very much an individual expression. The watch lies on the wrist as a reminder that minutes are passing away; the choice of one's timekeeper communicates a language beyond time.
By now, the history of the great Swatch watch is known: born as a response to the quartz crisis of the 1970s—the rise of the battery-powered watches from Japan that caused a seismic disruption to the traditional Swiss manufacturers. While Swatch was a far cry from a traditional Swiss Made timepiece, the plastic watch, first released in 1983, created a new segment for collecting: a fun, easy-going watch that has more variations than any other example on the market.
Part art object, part timepiece, the Swatch artist collaborations continues to attract an extreme loyal fan base. "Art has always been seen as a way to communicate emotions to the world," says Carlo Giordanetti, CEO of the Swatch Art Peace Hotel via video call from the Swatch headquarters in Biel, Switzerland. "Artists from many different disciplines and countries have been able to bring art to the wrist of people. Today, we celebrate one more collaboration of Swatch with the world of arts."
Swatch x MoMA is the latest special edition, comprised of six watches inspired by artworks in MoMA's collection. "Working together with Swatch to develop this product line and select artists and artworks was a really interesting and dynamic process," says Robyn Sayetta, associate director of business development for MoMA. "We knew that Swatch would do a fantastic job of adapting the artwork to the Swatch watch form."
The masterpieces from MoMA's collection that have been reinterpreted into everyday accessories include The Starry Night by Vincent van Gogh; Hope, II by Gustav Klimt; The Dream by Henri Rousseau; Composition in Oval with Color Planes 1 by Piet Mondrian; The City and Design, The Wonders of Life on Earth, Isamu Kurita by Tadanori Yokoo, and New York also by Tadanori Yokoo. (If you're a fan of the entire collection, it will be available in a special box set. Alternatively, each watch will also be available for individual purchase.) In addition, Brazilian contemporary artist Beatriz Milhazes, known for her colourful abstract paintings and prints, has created an offering for Swatch X You, a custom platform where each of us can design our own Swatch watch style using Beatriz's artwork.
Swatch X You is a digital program that allows anyone to create their own watch within an artwork presented on the Swatch platform. While Swatch already makes a glut of models and designs, personalizing a watch is what Swatch X You is meant to let you do. There are three artworks that Milhazes has selected as canvas for the newest Swatch X You program: Suculentas Beringelas (Succulent Eggplants), O Espelho (The Mirror), and Meu Bem (My Darling).
"Finding the way to interpret artworks the way we do at Swatch is a nice challenge," comments Giordanetti. "The idea is to bring the art of galleries out of galleries, out of museums, and to have it on the street. You having a Mondrian on your wrist means you have a story to tell."