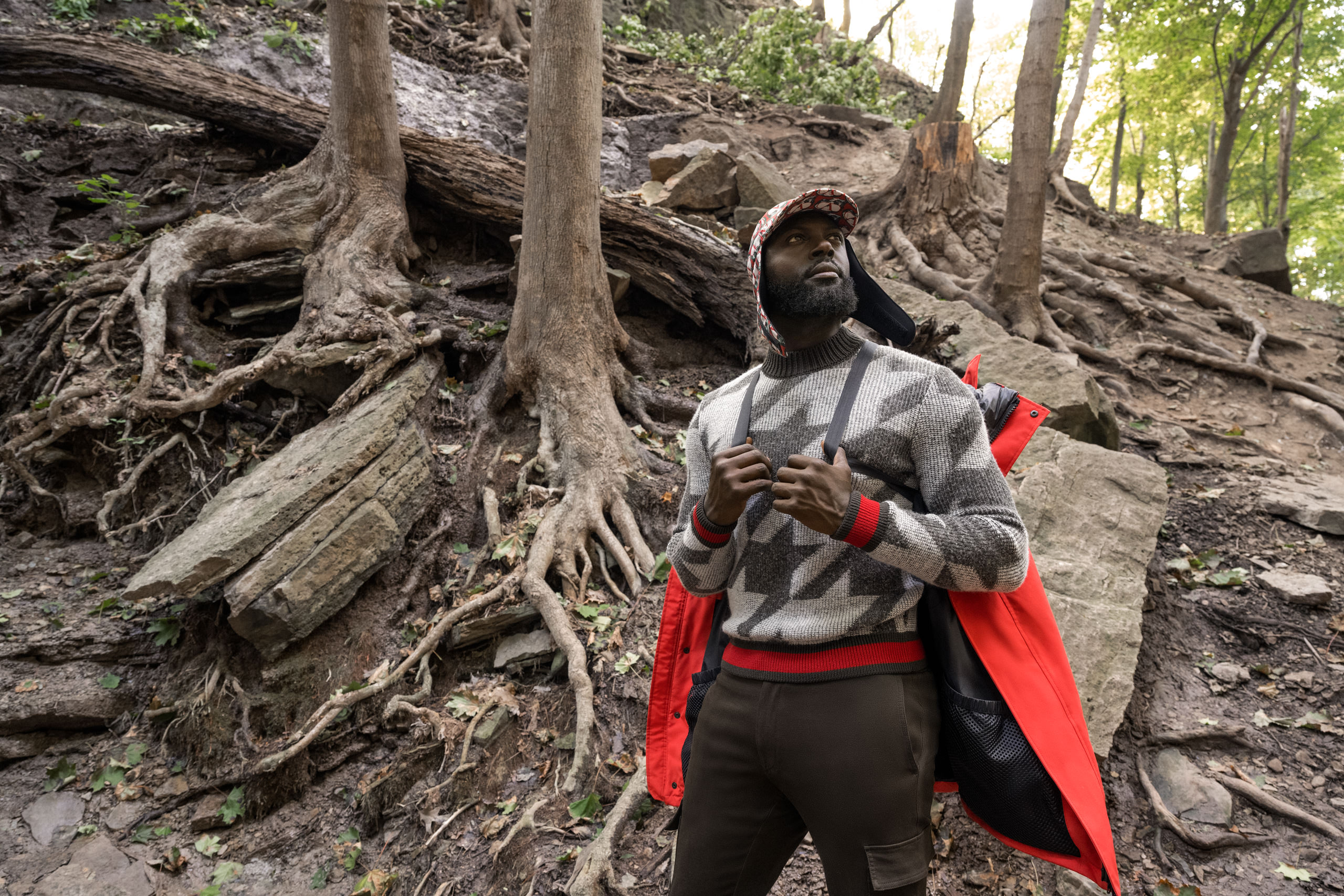 Mario Rigby: The New Explorer
_________
When the expedition is over and the adventure at its end, Mario Rigby, modern-day eco-explorer, returns from the desert or the shore to a triplex in Toronto's Little Italy. There, in his apartment, he occupies both his mind and his time dreaming of ways to decolonize the essence of his craft. For Rigby, who is increasingly recognized as a socially conscious adventurer, the concept of "conquest" must be severed from the expedition if the explorer is to have any meaning or purpose.
"It's not about being the world's first to do something anymore," the 34-year-old adventurer says. "We are transitioning away from the concept of 'I need to be the best' or 'I need to be the fastest.' We're becoming more collective and collaborative. We have to be. Especially right now." In the niche world of professional explorers where ego can often rule, Rigby is a small yet refreshing character with growing influence. His drive to normalize BIPOC in outdoor spaces and to overcome environmental and social injustices through exploration have led him to cross Africa on foot, cycle across Canada, and kayak the length of Lake Ontario.
Born in Turks and Caicos, Rigby grew up in Germany. He moved to Canada along with his mother when he was 16 years old and settled in Hamilton, where he became a local track and field star—competing internationally for the coral islands of his birth in 200- and 400-metre sprints—before moving to Toronto. At 25, he retired from track and became a personal trainer. In time, Rigby decided to move away from training, and when "short walks became long walks," he began his quest of inner exploration. He took to reading philosophical texts and dove into quantum physics before picking up Conquering the Impossible, the autobiography of Mike Horn, a South African adventurer who circumnavigated the equator by land and sea without any mechanized transport before doing the same thing around the Arctic Circle. Soon Rigby found himself overcome by an urge to go to the other side of the planet. In late November 2015, he quit his personal training job, sold all his furniture, gave up his apartment, packed a backpack, and boarded a plane for South Africa for what would ultimately become a two-year walk from Cape Town to Cairo across eastern Africa.
For Rigby, who is increasingly recognized as a socially conscious adventurer, the concept of "conquest" must be severed from the expedition if the explorer is to have any purpose.
Over the next 27 months, he walked 12,000 kilometres, staying with locals, sharing stories, and fostering a greater understanding of the complexities of the continent along the way. The feat was an emotional and physical upheaval of self; during the journey, he got caught up in an ambush while being escorted through an active war zone by Mozambican soldiers (he called his mother back in Hamilton just to hear her voice and to say goodbye while gunshots whizzed by overhead), was detained by Malawian police, and at one point contracted malaria. Still, he kept walking, through to Tanzania and into Kenya, Ethiopia, and Sudan. There were times when his shoes wore through and his feet got so raw that every step was accompanied by pain. (His mother twice couriered shoes to shipping stations nearest to wherever he was at the time.)
For three weeks he crossed a desert, from Sudan into Egypt. "I would walk all day through the sand under the sun with no one in sight," he says. "Then the stars would come out, and it would be just me and the cosmos." It was the most gruelling part of the trip but also among the most beautiful. A local camel herder resupplied him with water in the night, and he carried on again in the morn­ing until finally he reached the Nile, where he passed 3,000-year-old ruins and re-entered civilization. He ultimately ended his journey near the Great Pyramid of Giza and returned to Toronto a changed man. "It takes a particular kind of mentality to deal with solitude," he says.
It took awhile for word to spread about his journey through Africa, but before the end of 2018 the UN had named Rigby to its list of Most Influential People of African Descent. He took the honour to heart, having walked across Africa with the goal of inspiring other Black people from the continent to see him walking and get their own urge to set out and explore the world.
Rigby was still trying to figure out his next expedition and how he might pay for it (the journey across Africa had cost him $25,000) when he learned that Mountain Equipment Co-op's then-CEO, David Labistour, had released a statement (in October 2018) and called out systemic racism within MEC and the outdoors industry writ large. Labistour acknowledged that MEC had been part of the problem. Before long, Rigby had accepted an offer from MEC to serve as a brand ambassador. The retail chain also agreed to sponsor his 2019 summer expedition, which saw him cycle 7,300 kilometres across Canada from Vancouver Island to Newfoundland. His primary objective with the journey was to identify and represent diversity in the outdoor industry. He also wanted to inspire others to follow his lead and to promote human-powered adventures as an alternative to carbon-heavy travel.
Rigby came into 2020 with a vision of returning to Africa to kayak the continent's great lakes. Then COVID-19 hit, and he cancelled his expedition to Africa and opted instead to undertake a much more modest, much more localized adventure on Lake Ontario, which he completed in early August—a 20-day, 350-kilometre kayaking trip the length of the lake. "I wanted to show people that you could still have an adventure while following the public health guidelines," he says.
Though he doesn't yet know what his next adventure will be, he insists that wherever he goes and whatever he does, it will be for a cause far greater than himself. "To be an explorer now, you have to tread lightly," he says. "Be responsible, be eco-friendly, but also understand that you can learn from other civilizations. Not the other way around."
Art Director Sandra Zarkovic. Stylist Shea Hurley. Grooming Aniya Nandy for Plutino Group. Assistant Stylist Jonah Solomon. Assistant Photographer Kwaku Kufuor.
_______
Never miss a story. Sign up for NUVO's weekly newsletter here.